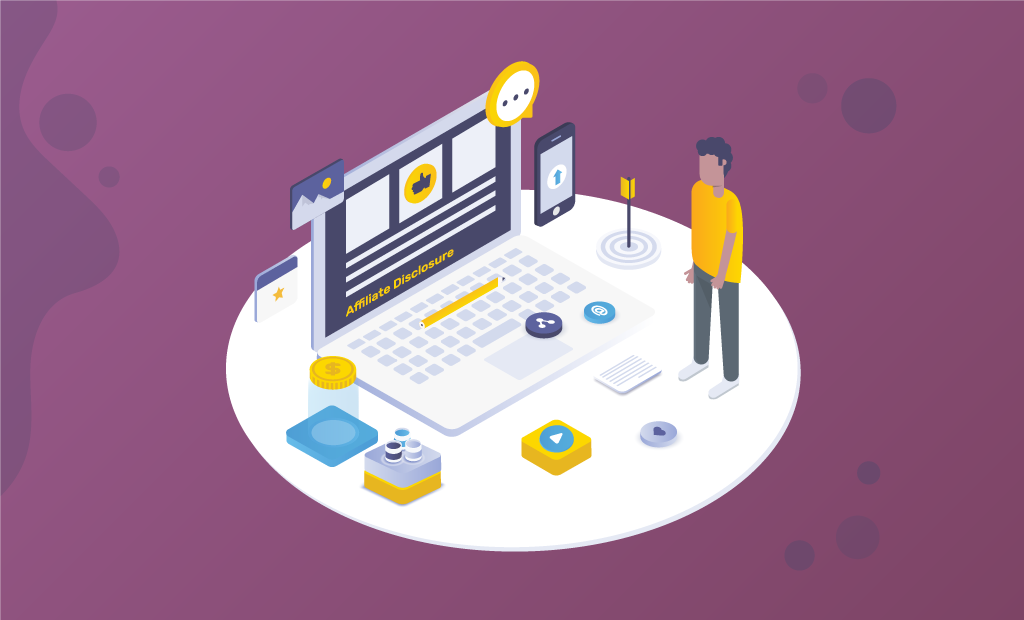 Everything You Need to Know About Affiliate Link Disclosures
Affiliate Marketing is an industry where more and more people are joining every day. Even YouTubers with millions of subscribers are now adding affiliate links in their videos' descriptions for products they discussed. They do it because it is an excellent complimentary money generator on top of their primary sources of income – Ads and Sponsorships.
There are many touching points between sponsorships and affiliate deals. Although affiliation is commission (performance) based while sponsorship is a more direct way of advertising, both are covered by similar disclosure rules. These rules apply to all affiliates regardless of their reach, content topics, or types. That means that a blogger with five visitors and a small WordPress website has to comply just as an influencer on Instagram with thousands of followers.
The above-mentioned rules incorporated into many platforms' Terms of Service are backed by laws made and enforced by the Federal Trade Commission (FTC).
Table of Contents:
What exactly are Affiliate Disclosures?
As a content creator of any kind, you are in a position of power. You have users consuming your content, and with that, you have some influence over their decision-making process on topics corresponding to your content.
For example, if you are a gardener with years of experience in the craft and you write articles every week regarding different methods of taking care of plants, using specific tools and substances, inevitably you are recommending these same tools to your viewer base. If you have also linked these items and are getting a monetary benefit from users buying them, but you have not disclosed this, you are not transparent and are taking advantage of your audience.
Why You Must Comply with the FTC
The Federal Trade Commission has set various laws in place to prevent shady practices concerning trading and advertising. As both are connected, advertising without complying with the corresponding laws can cost you a lot in fines, and even your entire business.
To protect customers from misleading advertising or such that is actively trying to take advantage of them, FTC is enforcing disclosures strictly, and results of this can be seen in recent history. In 2017 hundreds of content creators received cease and desist letters after recommending gaming gambling without disclosing affiliation or ownership participation in those businesses.
Why You Should Disclose Your Affiliation and Sponsors
You should disclose your affiliation because it is the right thing to do. Because your readers and watchers will have more trust in you and will know you are not trying to just make money off them. Building a community around your brand that knows you only recommend genuinely good services and products will only increase your affiliate commissions in the future.
Considering this, the argument of not adding disclosures, so you don't turn people away from your content sounds ridiculous. After all, hosting a website comes with its costs. Dedicating time off your day to make content or even having a crew to do it, is what a small business can be defined as being. Everyone online is aware that content creators should be compensated, and your visitors will have no issues with your affiliations as long as they are aware of them.
Another thing to consider is that even if you are not a US citizen or your business is not US based, FTC regulations still apply in cases when an American visitor reads your blog post. Furthermore, many countries have agencies similar to the FTC and laws covering affiliate disclosures.
Why You Should Disclose Your Affiliation with FastComet
If you are an affiliate of FastComet, you should disclose that relationship with your visitors as you have already agreed to our Terms of Service when creating your affiliate account. In our terms, it is clearly stated that you have the obligation of disclosing your affiliation. We retain the right to temporarily or permanently close your affiliate account, should it be determined that you are not in compliance with applicable FTC regulations.
How to Write an Affiliate Disclosure
Writing affiliate disclosures is not hard at all. Furthermore, there are a lot of templates already available online in case you are still unsure of how exactly to structure your disclosure. Here are the key factors which you should pay attention to:
Length
Disclosures do not need to be lengthy. 1-3 standard sentences are enough to convey the message. Avoid going into unnecessary details, or off-topic.
Simplicity
The language used is tied with the length of the disclosure. Using a clear and easy to understand explanation is what you should aim for when writing a disclosure. If you have an entire ToS paragraph on high-English, which sounds like something out of a law textbook – you are doing it wrong. Furthermore, using specific terms such as "PPC", "ROI", "API", etc. should be avoided, as you cannot assume the visitor knows what those mean or that he will take time to research them before clicking on a link.
Readability
"Read the small print" is what parents often teach their kids once the latter become old enough to sign contracts. However, disclosures should be easy to see and read. Bolding them or using a different font is an excellent way of making them more visible.
Positioning
The disclosure must be placed as close to the affiliate link as possible – preferably before the actual link. It can also be placed at the start of the page, but you should avoid placing it in the footer. Note that, for very long pages with many link anchors, this might not be the right solution.
Make sure you also take into consideration mobile visitors. The placement that works for the desktop viewport may be obscured by another element in your site's mobile version. Here responsiveness of your website also plays a significant role.
Examples of Affiliate Disclosure
Here are a few examples of great and often used affiliate disclosure templates:
"We provide professional and fully independent reviews. While monetary compensation is received, the compensation of services and products have no influence over our reviews."
"When you click on links to the products' sites and make a purchase, it may result in a commission being credited to us. That is how we finance this website, keep it running, and continually provide you with the most reliable information."
"This email contains affiliate links. When you click on a link and make a purchase, I may receive a commission for advertising the product (at no extra cost to you)."
Conclusion
Affiliate disclosures are something that you should embrace instead of shy from. They are a great way to be transparent with your community and keep the trust levels between you and your audience high. On top of that, with the proper disclosures, you cover your content's ins and outs of FTC's law enforcement.
Considering your business likely depends on all of the above-mentioned content-associated relations, you will do yourself a big disservice if you do not disclose your affiliate relations as you should.
If you still have questions on specific disclosure formatting or content, please write them in the comment section below or visit the official FTC press release for more information on affiliate disclosures.
The latest tips and news from the industry straight to your inbox!
Join 30,000+ subscribers for exclusive access to our monthly newsletter with insider cloud, hosting and WordPress tips!