How to manage the Payment Methods in ZeusCart
Updated on Mar 13, 2019
Payment Methods are one of the most important things you will need to consider when building your Online Store. Providing your customers with a large variety of payment methods will ensure the customer satisfaction from your Zeuscart store and also will remove the probability of a customer being lost because of the lack of a comfortable and accesible to them payment method.
In the next few lines of this tutorial we will show you how to configure a basic payment method provided by Zeuscart.
In order to access the "Payment Methods" manager you will need to access the Admin Dashboard of your Online Store and then navigate to Settings > Payment Settings.

You will come across a rich variety of Payment Methods to choose from. In this tutorial we will use PayPal as it is the most well known Payment Method. You will need to check the Status box to enable the Payment Method and add your merchant ID which for PayPal is your Email address associated with the PayPal account you wish to use.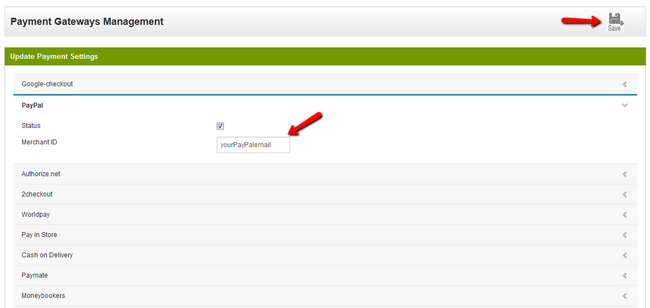 Once you click on the "Save" button you will succesfully apply the change and enable the PayPal Payment Method for your clients.
Congratulations! You now know how to configure the Payment Method of your ZeusCart based Online Store!