How to manage the discount coupons in ZeusCart
Updated on Mar 13, 2019
Zeuscart has a build-in module for creating and managing Promotion Coupons for discounts which can be applied to different categories or store-wide. Coupons can help you increase your store conversion rate or create special promotions.
To be able to be able to configure Coupon Codes in ZeusCart, you need to complete the following steps:
Let's begin!
Step 1

Adding a new Coupon Code

To add and configure a coupon code in Zeuscart, please login your Admin Dashboard and navigate to the Coupons section under the Coupons menu.

 

Please note that once you have created a Coupon you can only set it to Active/Inactive but you cannot remove it from this Coupon list. To add a new coupon click on the 'Add' icon at the top right corner of your screen.

Here you need to input several configuration options of your new coupon code:
Coupon Code - The code of the coupon code that your customers need to input to apply the discount during the check out process. (This will be randomly generated by Zeuscart and cannot be edited)
Coupon Name - The name of the coupon as it will appears on your Zeuscart coupon list page.
Discount - The amount of dollars that are discounted or the % of the discount.
Valid From - The date from which the Coupon is valid.
Valid To - The last date on which the Coupon is valid.
Minimum Purchase Amount $ - The minimum amount for an order needed to make the Coupon valid (In dollars).
Number of Uses - The amount of time the Coupon can be used by every used it is sent to.
Select Categories - Select for which categories the Coupon will be valid.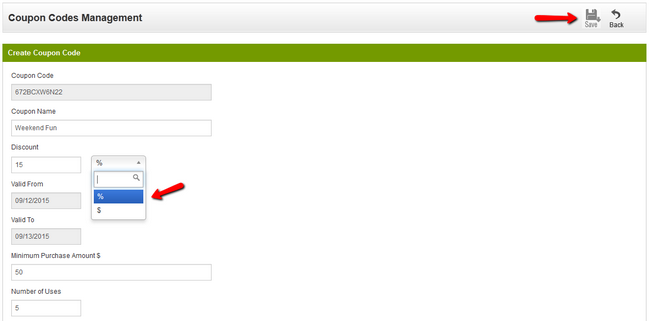 Don't forget to click on the "Save" button once you have configured the discount coupon and you will be directed to the Coupon list where you can send your Coupon.

Step 2

Sending a Coupon Code to your customers

After you click on the 'Send' button you will be directed to the Coupon management page. On this page you can list all of your clients by 3 different types and select to which users to sent the Coupon code to.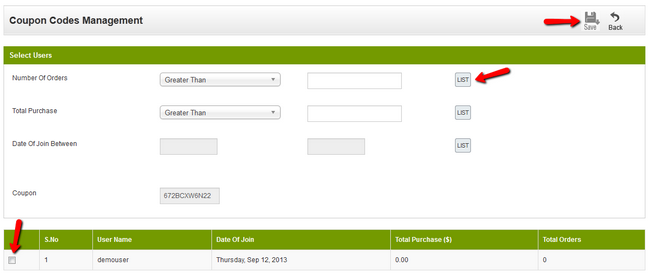 You can list your clients by:
Number Of Orders - Amount of orders the client has made.
Total Purchase - Total amount of purchase by client.
Date Of Join Between - You can set the date when the client has joined your site.
After you have clicked on the "List" button and you have a list of all the clients that correspond to the criteria you have set, tick the users you want to send the code to (all listed users in most cases) and click the 'Save' button. You will see the message "Coupon Code Send To Selected Users Successfullly". This means that the code was successfully send to their email addresses as intended and they can now use it in your store.