In this guide, we will show you some basic steps on how to optimize your PrestaShop speed and performance. These techniques will not only improve your PrestaShop page load time but also improve your Google PageSpeed score and GTmetrix.
To start, log in your PrestaShop admin dashboard and refer to Advanced Parameters, Performance section menu.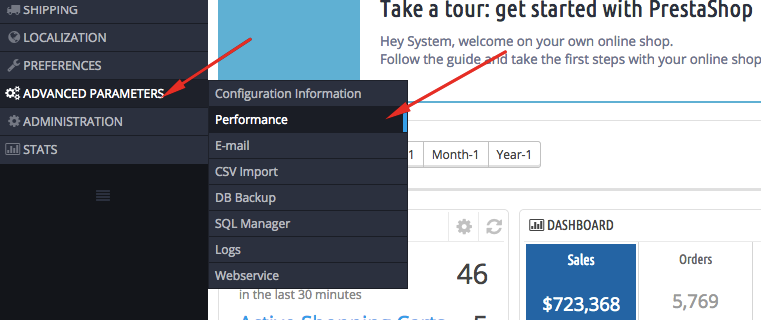 Under this section of your PrestaShop admin, you can find several configuration options to improve your PrestaShop performance.
SMARTY CACHE
The first option is related to the PrestaShop smarty template caching. You can significantly improve your website performance by caching the compiled version of the smarty templates.
First, make sure that your smarty template files are recompiled only upon changes. This will eliminate unnecessary operations on page load. We recommend setting this option to "Recompile templates if the files have been updated."
Make sure that Cache is set to "Yes" and select the cache destination. If you have a small to medium store with a relatively small database you can choose to have your cache stored in your database. Still, on our PrestaShop Hosting services, you can take full advantage of the fast SSD storage and leave this configuration to File-based caching.
Next, set your "Clear Cache" settings to "Clear cache every time something has been modified" to make sure that your changes are properly updated in the cache.

CCC (COMBINE, COMPRESS, AND CACHE)
The CCC section of the Performance section in your PrestaShop admin can be used to activate CSS, JS, and HTML compression, caching and to minify HTML automatically. This is extremely useful as these settings will greatly improve your website performance without the need to modify your code. Just make sure that your theme is compatible with these settings and activate them all.
On our PrestaShop Hosting plans Apache Optimization is fully supported. Activating this option will allow you to take full advantage of the web server compression via mod_deflate and set proper expiration headers to static content to reduce the number of requests to your site by explicitly instructing visitors' browsers to cache your static files locally.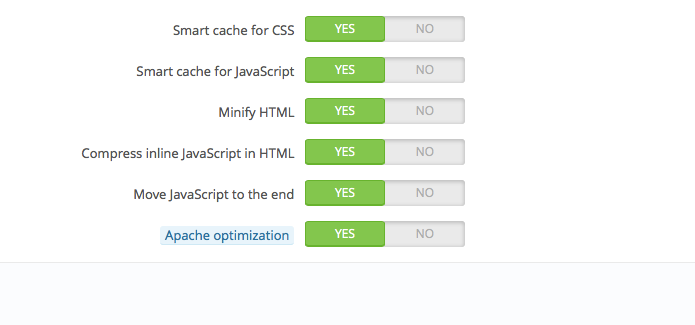 MEDIA SERVERS
Media servers are separate domains or subdomains pointing to your static files such as images and template files. Having your static content offloaded via a separate subdomain or stand-alone domain provides you with the ability to delivery cacheable content via cookieless address.
To set up a Media Server, you can follow our step-by-step guide on How to Setup PrestaShop Media Server.
CIPHERING
Switch to Rijndael with mycrypt lib instead of BlowFish Class. Mycrypt is faster than the BlowFish class and it is fully supported on our PrestaShop Hosting plans as the mycrypt extension is preinstalled. To set this, select the "Use Rijndael with mcrypt lib" and save your settings.

CACHING
PrestaShop supports four different types of caching:
File System - using cache files stored under the PrestaShop cache directory
Memcached - using Memcached and Memcache PHP extension
APC - Alternative PHP Cache - requires APC PHP extension
XCache - opcode caching which requires XCache PHP extension
On FastComet PrestaShop Hosting plans all four caching methods. To activate any of the available options, set Use Cache to Yes and select the desired Caching method.
For using File Cache you do not need to apply any additional configuration settings. For using APC and XCache you will need to activate these modules for your account. You can perform this via your cPanel following the steps in our tutorial on how to activate APC and XCache.
If you would like to use Memcached, please contact our technical support via your client area to have this enabled for your account.
USE CDN (Content Delivery Network)
FastComet is an official Cloudflare hosting partner and you can easily activate the CDN for your account via your cPanel following our tutorial. For more about what is a content delivery network and Cloudflare, you may review our Cloudflare tutorial and blog post.
ENABLE Google PageSpeed
PageSpeed is a web server module, which is currently available for Apache and Nginx. The purpose of the module is to apply all website optimization techniques recommended by Google, without the need for the end user to modify their websites or workflow.
As a result of the PageSpeed integration, in general, a website will run faster and provide a better experience for your visitors. This is achieved by applying the web performance best practices to pages and associated assets (CSS, JavaScript, images).
Google PageSpeed module is available on all PrestaShop Hosting plans and can be activated by adding the following lines to your .htaccess file:
<IfModule pagespeed_module>
ModPagespeed On
</IfModule>