You already have a great domain name, but you're not happy with your domain GoDaddy registrar? Don't worry, you can transfer your domain to another registrar, stress and hassle-free. The best thing is that when you transfer your domain over, you can manage all of your domain settings and billing from your FastComet account and have everything you need, all in one place. You can also use the domain name as a Private DNS or set it up with Google Apps. We will also send you an email when your domain is close to expiration to avoid any downtime due to missed domain renewal.
Here at FastComet, we make it super easy to transfer a domain registered with GoDaddy by guiding you through each step with simple instructions.
Table of Contents:
Prepare to Transfer the Domain Safely and Easily
Before continuing with the domain transfer, keep in mind that when a domain name is transferred away, the nameservers associated with your domain stay the same during its transfer from one registrar to the other. For example: if your domain name is using the default nameservers of GoDaddy, those nameservers will be preserved during the domain transfer, and thus you will not be able to change the nameservers until the transfer is complete.
This means that if you switched to another web hosting provider and your website was already migrated, make sure that your domain name is pointed to the new hosting provider before initiating a domain transfer. Again, you won't be able to change the nameservers until the domain transfer is complete.
Domain Name Registration and Web Hosting are separate services. The domain name transfer process will not migrate your website automatically. If you are a FastComet customer and you wish to transfer your website from GoDaddy, please submit a migration request from your client area. Our transfer experts will move your existing sites and emails free of charge, seamlessly, and with no downtime.
Special Offer:
Once the domain name transfer is completed you can take advantage of our special offer. We will renew your domain for one year free of charge.
The details listed here are only for transferring your domain's registration to another registrar. The transferring of the hosting for your site is a completely different process. You can read more about that process in the following article: How to transfer your website to FastComet.
Review Domain Name Transfer Requirements
Due to ICANN's Transfer Policy, domain names need to have been registered for more than 60 days in order for them to be eligible for transfer. This 60-day registrar lock is to prevent fraud and theft of domains;
You can't transfer your domain if it's within 60 days of а previous transfer;
Usually, the domain name should have more than 15 days before its expiration date;
For more thorough information, you can check our tutorial on domain transfer requirements.
Prior to attempting to transfer a domain away from GoDaddy, you must complete the following steps.
Steps to Transfer A Domain From GoDaddy
You should start by accessing your GoDaddy account where your domain is currently registered.
1. Log in and Access the Domain Manager Tools on your GoDaddy Account
The steps here are as follows:
Log in to your GoDaddy Domain Control Center: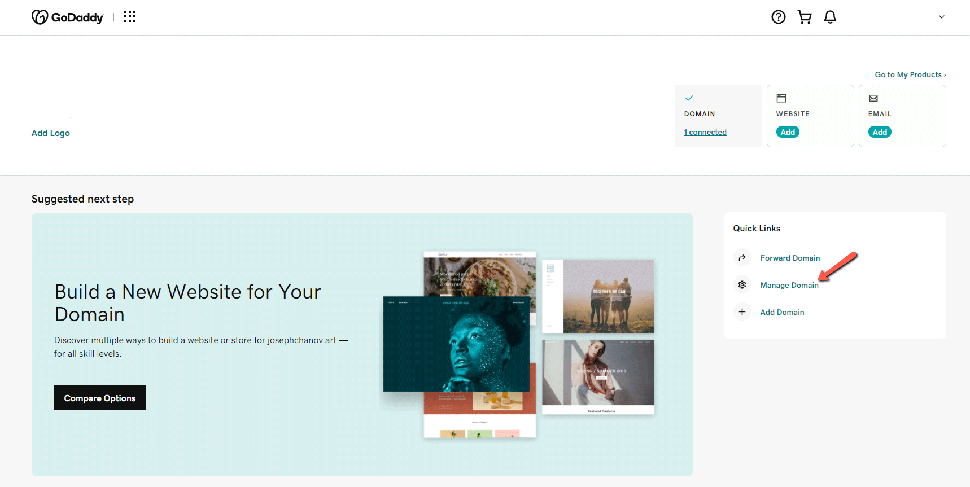 To select your domain name, click on it directly to access the Domain Settings page;
Under Additional Settings, select Transfer domain away from GoDaddy:

After reviewing the transfer checklist, select Continue with the transfer;
All communications regarding the domain name transfer, including the EPP/Authorization Code will be sent to the Administrative email address associated with the domain, so ensure that the contact information is up-to-date to complete the process.
Note:
Changing the Organization name for the registrant contact, or the First name and Last name for the registrant contact if an organization isn't the legal registrant for the domain name, will put the domain in a 60-day transfer lock.
3. Remove Privacy Protection
Domains registered with GoDaddy have Basic Private Protection by default. This limits the visibility of all domain contact information in the public GoDaddy WHOIS directory, except the organization, country, and political subdivision of the country (i.e., state, province, land, etc.). If you need to verify domain ownership, you don't need to remove Privacy Protection. Instead, add a TXT record. If you choose to turn off your domain privacy settings, all contact information associated with the domain will be visible publicly.
Log in to your GoDaddy Domain Control Center.
Select your domain from the list to access the Domain Settings page.
Scroll down to Privacy Settings and select Turn Privacy Off:

Review the changes to how your contact information will display on the public GoDaddy WHOIS directory.
Check the box next to "I agree to expose my contact information in the GoDaddy WHOIS directory" in the public GoDaddy WHOIS directory, and then select Continue: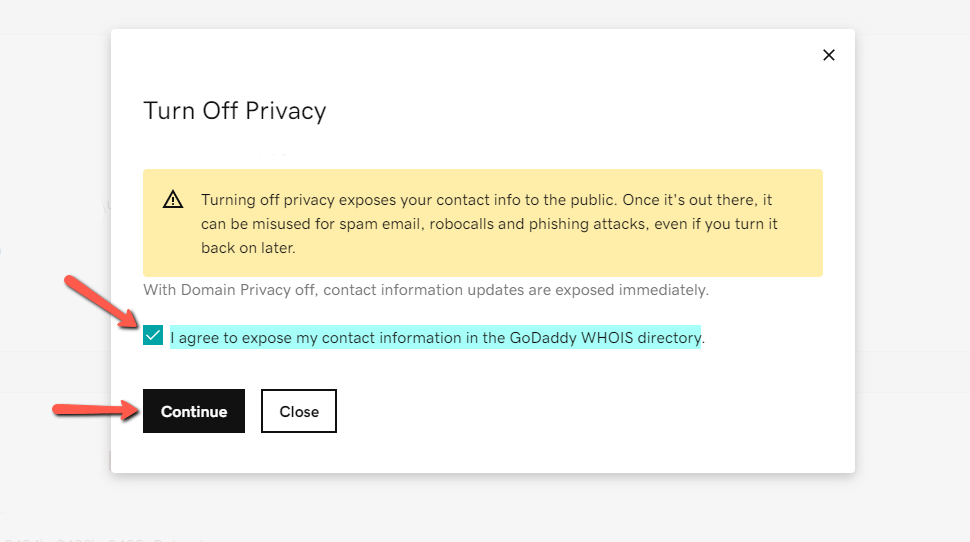 Note:
In case you have Ownership Protection on your domain, you will have to verify your identity.
GoDaddy will send the verification code via SMS or an authenticator app if you've had two-step verification enabled for more than 72 hours. Otherwise, they will send a one-time password to your domain registrant's email address.
Once you do everything, you will see a Success confirmation after your Privacy settings have been updated. Allow up to 24 hours for these changes to fully take effect in the public GoDaddy WHOIS directory.
4. Obtain GoDaddy Auth/ЕPP Code
The steps here are as follows:
Log in to your GoDaddy Domain Control Center;
To select your domain name, click on it directly to access the Domain Settings page;
Under Additional Settings, select Transfer domain away from GoDaddy:

After reviewing the transfer checklist, select Continue with the transfer;
If your domain ends with .UK, you'll need to enter the IPS tag* for your new registrar, then select Complete Transfer;
Next, select Click here to see Authorization Code, then Copy to Clipboard to copy your authorization (EPP) code. GoDaddy should also send you an email with your authorization code to the administrative email address on your domain name.
Select My Domains to go back to your list of domains.
*IPS tag - Internet Provider Security (IPS) tags are used by domain registrars to administer a domain name registration service and related Domain Name System (DNS) services.
5. Unlock your GoDaddy Domain
Before transferring your domain to FastComet, you will have to unlock it. To do that, follow the steps below:
Log in to your GoDaddy Domain Control Center.
In your list of domains, locate the column labeled Lock. If you don't see a Lock Column, you may need to customize your column display:

Toggle the icon from ON to OFF and unlock your domain;
Check on "Yes, I consent to unlock the selected domain(s)." and then click Continue: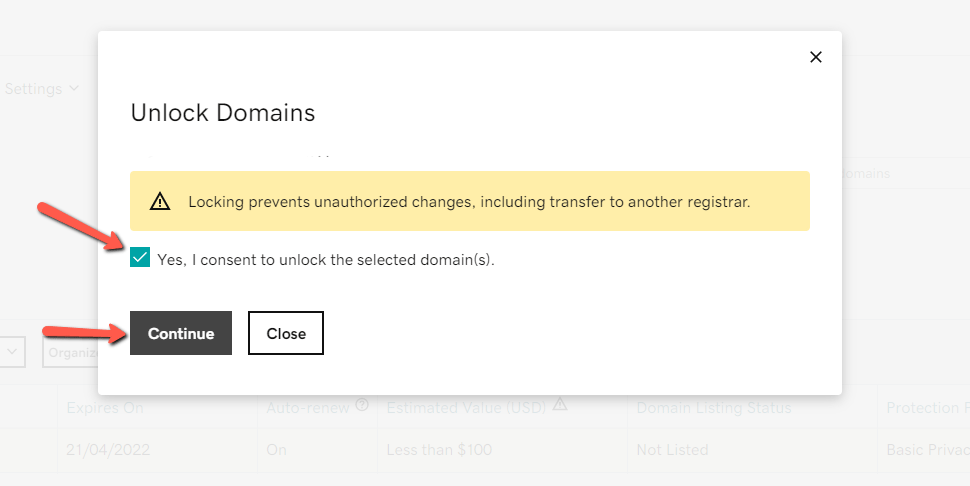 The Lock column will update to show OFF when the domain is unlocked:

After you are done, you should allow up to 1 hour for changes to complete.
Once unlocked, your domain can be transferred to FastComet.
Purchase Your FastComet Hosting Plan
The first thing you should do (if you haven't already) is to choose from our hosting plans. You can check our price list on your own, but you should consider contacting one of FastComet's Customer Care specialists, who will help you pick the best plan for your online project.
Once you have chosen your starting plan with FastComet, you can click on the GET STARTED button:

Next, choose the option "I already Have a Domain," and then click on the USE THIS DOMAIN button: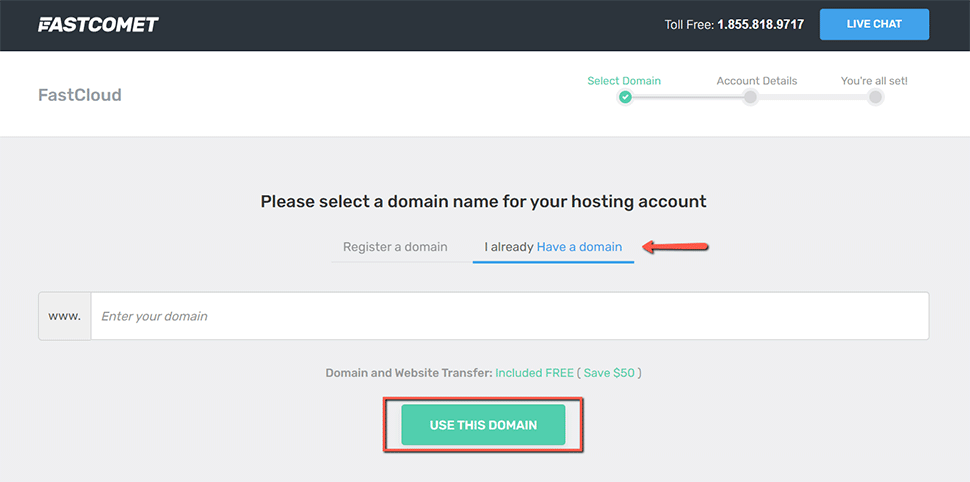 Note:
Choosing "I already Have a domain does not initiate the domain transfer. You need to do that additionally, as we explain further below in this post.
You will get to a screen where you have to input all your contact and billing info. Make sure that all the information is correct. Once you are ready, please go through our Terms of Service and Privacy Policy. If you agree with our terms, check the box, and finish by clicking on the button COMPLETE ORDER

Update the Nameservers to Point to FastComet
The transfer needs time to process. As your previous provider should release the domain to FastComet, it is a good idea to point your domain to the FastComet nameservers or via A record to the IP address, provided to you in your Welcome email, so that be able to start working on your website.
Changing your name servers while your domain is being transferred may cause the transfer to fail. Be sure that you have updated your name servers before the transfer begins so that your domain will be working as soon as possible.
Note: When you make changes to your DNS, please allow up to 24 hours for propagation after making the change. Thus, we recommend performing no changes on your website during that time as once the propagation is over, they may not be saved on the new server.
Submit a Domain Transfer Request to FastComet
As you may have already seen during purchasing your FastComet hosting plan, we provide domain transfer services to all existing customers. After transferring your domain to FastComet you get access to our user-friendly domain management interface and you can take full control of your domain.
To initiate the transfer process for your domain name, please make sure that you have access to your domain administrative email address. In case you no longer have access to that email address you may request to have that email changed by your current domain registrar.
When you have done everything in this post up until now and you are sure that all requirements are met, continue with the following steps:
Login to your FastComet Client Area;
Click on the Domain Transfer link under the Domains section in your Client Area:

Input your domain and select your domain extension to check if the domain transfer is available for your domain:

If you don't find your extension on the list, contact our technical support for further information. You can do that by submitting a new support ticket.
If your domain is available for transfer, click on the Add to Cart button to proceed:

Insert your Authorization (EPP) Code in the field shown in this screenshot:

If all requirements for the successful domain transfer are met, you should receive your domain transfer confirmation email shortly.
Note:
After changing your domain name servers, the new ones will be set after the domain transfer is complete. Your domain will not be modified by our registrar during the transfer.
Approve the Transfer of the Domain Name
Once the transfer request has been successfully submitted and the process has been initiated at the registry level (usually from 20 minutes up to several hours), you should receive an email to the listed administrative contact for the domain from GoDaddy informing you that the domain transfer request was received. This is a typical security measure. You will have to approve the transfer in your GoDaddy control panel to speed up the process:
Log into your GoDaddy account;
Click My Account;
Next to Domains, click Launch;
On the next page, on the top left, click Domains

→

Transfers:

Go to Transfers Out → To Another Registrar:

Select the check box next to your transferred domain, and click the Accept/Decline button in the top toolbar;
Choose Accept and click OK;
You will receive an email from FastComet once the transfer is complete. If you have not received the confirmation email in seven days' time, you should contact us to inquire about your transfer status.
Check the Status of a Domain Transfer
Domain transfers can take 5 - 7 days to complete. You may contact us at any time to inquire about your transfer status.