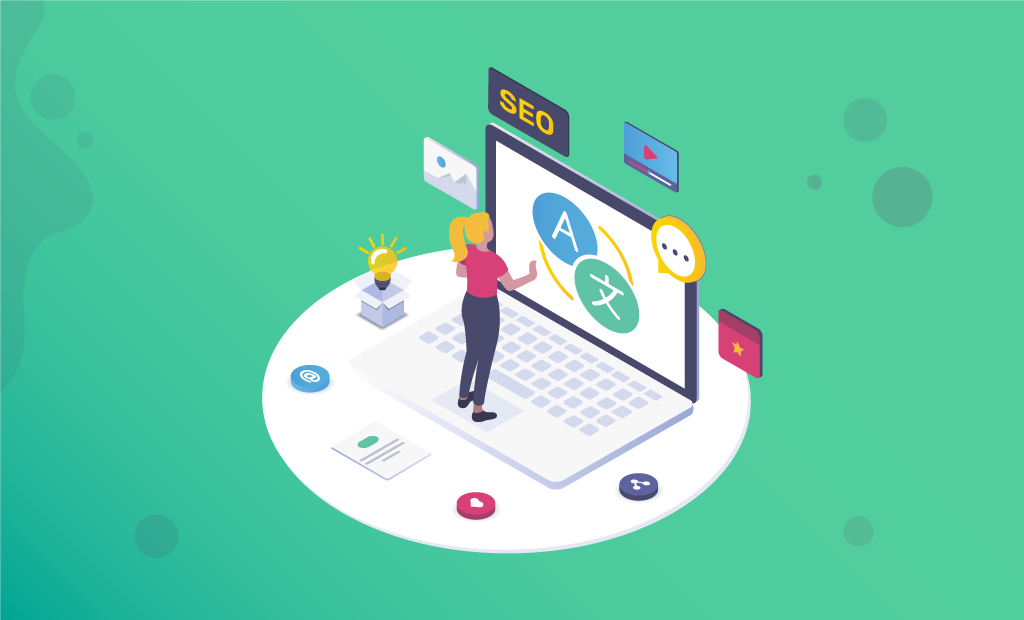 Top Multilingual SEO and Content Localization Strategies for WordPress
For your site to rank on top positions on searches, Google needs to understand the content. In multilingual sites, Google also needs to understand what's translated and which audience each language serves. WordPress SEO and Multilingual SEO (or international SEO) are all about reaching specific crucial audiences worldwide, preferably in their language. Many people look at WordPress blogs and reside in different nations. If you wish to drive targeted traffic to your WordPress site, make sure that you don't miss those key demographics.
Multinational companies generally rely on comprehensive local customer bases to ensure a successful international expansion. Local consumers that read your WordPress website will spread the word about it. If the site you own is not optimized for your target market, your new customer base will not be able to relate to you, your blog, your services, or your products. Simple as that!
This article will shed light on how you can incorporate multilingual SEO easily, reaching several language regions and making sure your aim is in the right direction — on key languages for your WordPress site or blog.
Table of Contents:
What is Multilingual SEO?
At the heart of Multilingual SEO stands the need to market and optimize content for different customers that speak various languages. For example, if you are looking to target the French language, it's not only for the users in France, but also Belgium, Canada, and all other 29 countries where French is considered the official language
In usual SEO strategies, one would optimize their content for a single language. However, with Multilingual SEO, you are optimizing content that is available for many languages, meaning your English website will need to have its French variant. That's where multilingual SEO can be tricky. Nevertheless, its rewards are quite beneficial since you are not only expanding your audience but also ranking for a specific language or region.
Here is a strategy for a successful WordPress site for multiple languages:
Multilingual Website: For this SEO strategy, you need to start with setting up the website for multilingual use, which includes technical processes such as:

hreflang: Duplicate content without optimizing for that target region can be tricky. For starters, you are going to be appealing to users who have different needs. Hreflang is the technical code for all multilingual sites. You can add hreflang tags in WordPress. By using those, you tell Google which page to show for a particular region or language. You can use the hreflang tag, which is a combination of language and region, to help Google rank these pages; otherwise, Google will consider it duplicate content.
Landing Page: You can choose which landing page visitors will see first. This way you can target both region and language.
Domain Strategy: You can choose your own domain, using ccTLD such as yourwebsite.ca for a French Canadian site. You can also have a subdomain structure: for example, a Canadian site that includes yourwebsite.com/en for English and yourwebsite.com/fr for French. Make sure that your URL slugs are translated, too.
Multilingual Site Maps: For Google to crawl your website, you will need a sitemap. You can use a WordPress plugin, like Google XML Sitemaps Generator. This allows Google to know that "This is the [French or Spanish] version of [your website] in English."

Multiregional SEO: Part of a multilingual SEO strategy is the multilingual SEO strategy. This is so your French speakers in the Ivory Coast will know the site is targeted towards them not towards French-speaking countries in France.
SEO Strategies: You can't have multilingual SEO without SEO strategies.

Keyword Research: As with all SEO campaigns, you still use keyword research so that your content ranks on Google for your multiple websites. The strategy here is to know the high-ranking keywords for the language region you're targeting. The region here is important, the UK will have different search queries than the US, though they both speak English.
Translated Keywords: Identify target keywords, and make sure you translate them. Make sure measurements, currencies, and phrases match the language region you're translating in.
Metadata: Page description, image alt tags, and social media – Image metadata (especially for infographics or images containing text) and social media metadata rank as well so don't forget to put the translated keywords here.

Translation: You can't just duplicate content, but you can't just translate the content either. A global SEO strategy must localize content to fit target audiences. This means you have to do the technical work, like mentioned before, the SEO work, and the language work. The language needs to be suitable for cultural differences in each region, in idioms and phrases local to that region, and in that language. For example, you can't say "buenos días" on your site if you're targeting Argentinian users because, for them, it's "buen día."
Content Localization: Content is King, so you're not just inputting translated keywords and leave it at that. Your content needs to be localized too, and it's one of the most important parts of a multilingual SEO strategy. Let's talk about it now.
What is Content Localization?
Content localization is the process of making sure that the native speakers of the target language are just as accommodated as the source language. For example, if you are translating from English to Spanish, you're making sure that your audiences in Spain, Argentina, Spain, and England are all equally accommodated. Without content localization, you'll be entering a new market to expand your business without seeming to know your consumer's needs. Content localization has a lot to do with meeting the culturally specific needs of your consumer base.
In some cases, you optimize the content on the homepage. In others, your content may stay the same for all your multilingual websites, but you have blog posts or news sections specific to that audience.
What is Local Search Query?
A Local Search Query is a question that was typed by a user with the interest to find services or products in their geographic area.
Some examples of local search queries can be when you are looking for a handyman, a retail store, a restaurant, or a nightclub. Local SEO favors small businesses over the likes of giants such as Amazon or eBay.
When you invest in local search optimization, you get your chance to be found by local consumers easily, and therefore increase your revenue. People often aim to purchase products from local stores or invest in local businesses. Everyone, including Google recognizes the value of local businesses. Google even has a set of specific local ranking factors that it uses as a measure to determine if your business is geographically relevant to a user that performs a "near me" search.
So, you don't need to worry about competing against large international corporations if you want to get your local business known among relevant consumers that are located nearby.
Why is Google My Business (GMB) Essential for Local Businesses?
The entire Google business model revolves around being undoubtedly the best search engine. Everything Google does is for the searcher's convenience. In case a potential customer is looking for a phone number, an address, or opening hours for your business, then they don't need to click through to your website. Such details are provided in your Google My Business listing, right in the search results.
You might ask "Isn't it bad if people don't need to click through my website?" The answer here is no, not really… Don't look at this as fewer clicks on your website, but rather as potential customers that find the information about your business more easily. If a customer only wants your phone number or to find out whether you are open on Saturday, they can find that information much more quickly (perhaps on the go) than if they had to click on your site. That leaves a satisfied user/potential customer.
Of course, for further information, they can always click on your website, but the point is Google My Business listings make it convenient for them by adding the quick option to check for specific info.
That's why setting up a Google My Business listing is worth your time. When you start looking a bit deeper, it is absolutely essential for every business.
Google's John Mueller:
"With Google My Business set up, you automatically have a location specified anyway.

So it's a little bit easier there.

But having all of that combined makes it a lot easier for us to actually understand this is a local result, and the user is local and they're looking for something local, therefore we should highlight this better in search."
Even when your business is solely "online," you would still provide your physical location for verification purposes, but you can choose not to display your address in your public GMB listing.
When it comes to having a Google My Business listing, there are a number of benefits. We will shed some light on the essential ones:
Your Website Can Get Included in the Local SEO 3-Pack
A local SEO 3-pack is the listing of three businesses you see first in the search results when searching for terms using keywords like "near me" or "near [Location]."
When you conduct a search for a local business, Google generates a list of potential businesses that fit your search query. The first things your potential customers will see are the three Google My Business listings, and you could be one of those if you do things right.
Your Website Ranks Better
In one of our previous posts, we explained why web hosting can have an impact on your SEO. Well, Google My Business is also essential for Local SEO as it enables your business listing to appear in local search results for queries specific to your services or products. Even broad queries with large search volumes display local results in a three-pack, and this is something small business owners can capitalize on.
You Control Your Information and Service Offering
Use Google My Business at least to put some basic information about your business into Google's Local Search index. However, Google My Business also offers various additional tools to help you when your goal is attracting and informing local customers. For example, you may add information like product lists, menus and prices, or accepted payment types, in addition to interactive features like photos and/or interviews. Furthermore, you can add coupons and special offers. Here's a secret – EVERYBODY likes those.
You Can Manage, Showcase and Respond to Reviews
One of the most important elements of a Google My Business listing is User Reviews. Back in 2018, Google even started a campaign to recruit users as "local guides", rewarding them when they rate and review local businesses. High-quality, positive reviews from your customers will greatly improve the visibility of your business and will increase the likelihood that a potential customer will visit your location.
You Can Learn More About Your Customers
The Google My Business platform enables local businesses to learn more about their customers by including lots of extra analytics data that you cannot find anywhere else. Here's an example: On Google maps, you can access info regarding the origin of requests for driving directions to your business. This can be particularly helpful when you want to target new customers in the area.
What is the Difference Between Localization, Internalization, and Globalization?
Part of a successful Content Localization strategy is knowing the difference between localization, internalization, and globalization.
Here are the differences between the three:
Localization – localizing is the process of adapting content to a specific locale, or a specific audience. It's about looking at the website, product, or service, through the lens of that specific audience. Content localization is an obvious part of localization.
Internalization – the process which is the opposite of localization. If you want to get technical, it's the process of making a specific product appeal to the larger world. So, internalizing your product will make your product have mass appeal. Content localization may go hand-in-hand with internationalization.
Globalization – this is the global term that's an umbrella term of all these processes. Localization, internationalization, multilingual SEO, multiregional SEO, these all fall under the broad term of globalization. The process of globalization is connecting with audiences all over the world, whether through targeting specific regions or being part of a broader international conversation. Content localization is part of globalization.
If you want to globalize your WordPress site, you can choose to localize or internalize, to do multilingual or multiregional, or to do all.
Why is Multilingual SEO Important?
We all want our websites to be found on Google. Typically, SEO strategies involve optimizing your content—content that you've put together in your native language. But if you want to target audiences in different countries and regions, you need to deliver content that is in their native language.
When you make your site available in many foreign languages, you can benefit from two things:
Reaching new audiences and a wider target market; and
Improving your chances of ranking in several languages and in specific regions.
For example, translating your English language content into French makes it possible for users searching in French to find the French version of your website. Ultimately, multilingual search engine optimization is about making it easier for people to find you.
However, it's about more than just providing straight-up translations.
Appealing to the local culture, whether by displaying local currencies, addressing cultural differences, or making references that will be understood and appreciated, will obviously help improve the user experience. And the better the user experience, the longer users will stay browsing your site. This in turn will reduce your bounce rate and signal to Google that you've got great content.
Google's ever-evolving algorithm takes these user behaviors into account, which means translating your content and optimizing for multilingual SEO not only helps visitors who arrive on your site, but will help drive more traffic to your site, too.
Multilingual SEO is fairly straightforward to implement as long as you know what you're doing, starting with the actionable steps below.
Start with Keyword Research
Content is a crucial part of your multilingual SEO strategy. Without it, you won't rank in Google. If you want to provide content in more than one language, you'll need to translate it for the different countries and regions you want to target. That means either adapting existing content on your site or creating new content.
A solid multilingual SEO content strategy starts should always start with keyword research. This means identifying the target keywords for each region and language, along with appropriate search terms.
You'll need to research your audience so you can understand the local culture. Because the keywords that might be relevant for your product or business in your language might be different—even when translated—for your target countries. There may even be colloquial or slang terms that people use, which you'll want to account for in your multilingual SEO strategy.
It's a good idea to have native speakers translate or at least check your multilingual content. This will go a long way to avoiding awkward mistakes and content getting lost in translation.
Make Sure Google Can Crawl Each Language
Let's start at the beginning – you can't rank your multilingual WordPress site if Google can't index it.
Services like Google Translate have made it easy to let people dynamically translate your website into any language (kind of like how the Chrome Browser can automatically translate text). Now, that type of translation is fine if you want to let people who are already on your site browse your content in their own language. But it's not what you want for multilingual SEO.
According to Google, "If you prefer to dynamically change content or reroute the user based on language settings, be aware that Google might not find and crawl all your variations." If you're serious about multilingual SEO, you need a tool that will help you create static, crawlable versions of your site. That means each language version needs a different URL.
For example, if you have a French translation of your site, it needs to have its own URL structure like fr.example.com or example.com/fr.
Pick the Right URL Structure For Different Languages
Search engines are pretty flexible with how you structure the URLs of your multilingual site, but Google does have some tips for how to choose the best URL structure.
Let's start with what you should do. Google recommends choosing from one of these three URL structures:
Subdirectories for each language – example.com/fr/
Subdomain for each language – fr.example.com
Country-specific domain name – example.fr for French visitors and example.com for English visitors. Note that some ccTLDs, like .ly for Libya, are used generally for other purposes that Google treats them quite generically.
However, Google does not recommend using URL parameters – e.g. example.com?lang=fr – because this approach:
Makes it harder for users to recognize geotargeting from the URL;
Doesn't let you use the geotargeting functionality in Google Search Console (more on that later).
The TranslatePress plugin uses subdirectories (aka sub-folders) for each language, which is one of Google's recommended approaches.
The Importance of WordPress Slugs
Beyond the overall URL structure, there's also another important consideration for WordPress multilingual SEO — the URL slug for individual pieces of content.
Some WordPress translation plugins won't let you translate the URL slug for individual posts or pages, which creates this awkward situation where you have:
example.com/hello-world
example.com/fr/hello-world
Instead of:
example.com/hello-world
example.com/fr/bonjour-le-monde
Why does it matter? Well, beyond just being more user-friendly, a good general SEO strategy is to use your primary keywords in your URL slug.
So if you can't translate the URL slug for each piece of content, you lose the ability to include your primary keyword in other languages, which hurts your translations' SEO optimization.
Using TranslatePress's SEO Pack add-on you'll be able to fully translate the URL slug in each language (directly from the front-end).
If you're looking to translate all your URL slugs from one place, you can use the URL Slug Translation interface. This makes it really easy to translate slugs one by one and use the built-in filtering and search options to make sure you don't leave anything out.
To access it make sure to switch from the visual translation editor to the String Translation tab (lower left).
Add The hreflang Attribute
The hreflang attribute is a small code snippet that you can add to the <head> section to tell Google all of the language and region variants of a page.
Your human visitors will never see it, but it helps search engines like Google understand the different languages on your site and point searchers to the translation that's most appropriate for their language.
Say you have two versions of the same content. One version is English, the other is French.
The hreflang tag lets Google know which version is which so that Google can serve the English version to English searchers and the French version to French searchers (Google will try to do this by itself, but the hreflang tag makes sure Google gets it right).
Here's an example of what the hreflang actually looks like behind the scenes:
<link rel="alternate" hreflang="en-US" ref="https://example.com"/>
<link rel="alternate" hreflang="fr-FR" href="https://example.com/fr/"/>
Where hreflang gets really helpful is when you have different variants of the same language.
For example, maybe you have one page for Spanish speakers from Spain and another for Spanish speakers from Mexico. The hreflang attribute would ensure that searchers from different countries get the proper localized Spanish version.
The hreflang attribute also ensures Google doesn't think you've got duplicate content. If you publish very similar content on your website across multiple pages, Google might get confused about which pages to show in SERPs. This could result in duplicate pages competing with each other, in turn negatively affecting the individual rankings of those pages.
You can avoid this kind of problem by using the hreflang attribute.
If you're using WordPress, the TranslatePress plugin will automatically add the hreflang attribute for each language that your site uses.
Create A Multilingual XML Sitemap
An XML sitemap is basically a "map" of all the content on your site. It helps Google find all your content and is just generally a good basic SEO principle.
For a single-language site, creating an XML sitemap is pretty straightforward. In fact, most SEO plugins will automatically create a sitemap for you without you having to lift a finger.
However, things get a little bit trickier when you have a multi-language website because each piece of content is available in different languages at different URLs. Furthermore, Google actually has a specific format that they want you to use in your multilingual sitemap.
In order to properly include each translation in your sitemap, you:
Use a <loc> element to define a single URL
Create child <xhtml:link> entries for each language version of the page
TranslatePress' SEO Pack add-on integrates with popular SEO plugins (like Yoast, Rank Math, SEOPress, etc.) and extends their sitemap functionality to help you automatically implement a multilingual sitemap that follows Google's recommendations.
Don't Use 100% Automatic Translation
This one isn't a hard-and-fast rule, and we're certainly not trying to say that automatic translation is always bad.
However, if you do opt to use automatic translations for part of your site, Google recommends that you use your site's robots.txt file to block search engines from crawling the automatically translated content.
Here's Google's reasoning from that same article — "Automated translations don't always make sense and could be viewed as spam."
So, for the content that you want to rank well, it's worth spending some time to at least manually review any automatic translations that you use.
TranslatePress makes it really easy to edit any content that has been automatically translated (via the built-in Google Translate or DeepL integrations). You can use the visual translation editor to manually refine the translations or set up translator accounts for native speakers to go over them.
Ensure You Can Configure Titles and Meta Information For Each Language
Your content's title and meta description are what normally show up in Google's organic search results. It's important to write a quality title and meta description to boost your organic clickthrough rate. And you also usually want to work your focus keyword into the title if at all possible.
On WordPress, you'll use a WordPress SEO plugin like Yoast SEO to control this information for each page. However, if the translation plugin that you choose doesn't let you translate the title and meta description for each language, you're going to miss out on the SEO benefits for the translated versions of your content.
So—make sure that you pick a translation plugin that will let you translate SEO metadata and other plugin data (which TranslatePress does).
Use the International Targeting Report in Google Search Console
Google Search Console is an important SEO tool that lets you view Google Analytics and manage how your site appears in Google search.
Beyond lots of helpful tools for general SEO, it also includes a special International Targeting report tool that helps you with multilingual SEO. Specifically, it helps you monitor the hreflang tags on your site and find any errors.
If your site has a generic top-level domain (e.g. .com, .org. or .net, you can use the International Targeting report tool to specify your site's target locale, but this feature is only useful if you want to target one country. For example, it would make sense to set the target to Canada for a site about restaurants in Montreal; it would not make sense to set the target as Canada if it also targets French speakers in France, Canada, and Mali.
You can learn more in Google's guide to International Targeting. Or, if you've already added your site to Google Search Console, you can head straight to your International Targeting report.
Conclusion
A multilingual SEO approach should not be tricky when you focus on your primary target audiences – the people that will likely be your consumers. This will dictate the ways you optimize content, as well as how you use language and region to your advantage. You should always have the user in mind, and, with the help of some technical knowledge, you'll be on your way to being a multilingual SEO pro.
If you have any questions or something to add, feel free to do that in the comments below, we are always happy to help or converse with our readers.
The latest tips and news from the industry straight to your inbox!
Join 30,000+ subscribers for exclusive access to our monthly newsletter with insider cloud, hosting and WordPress tips!