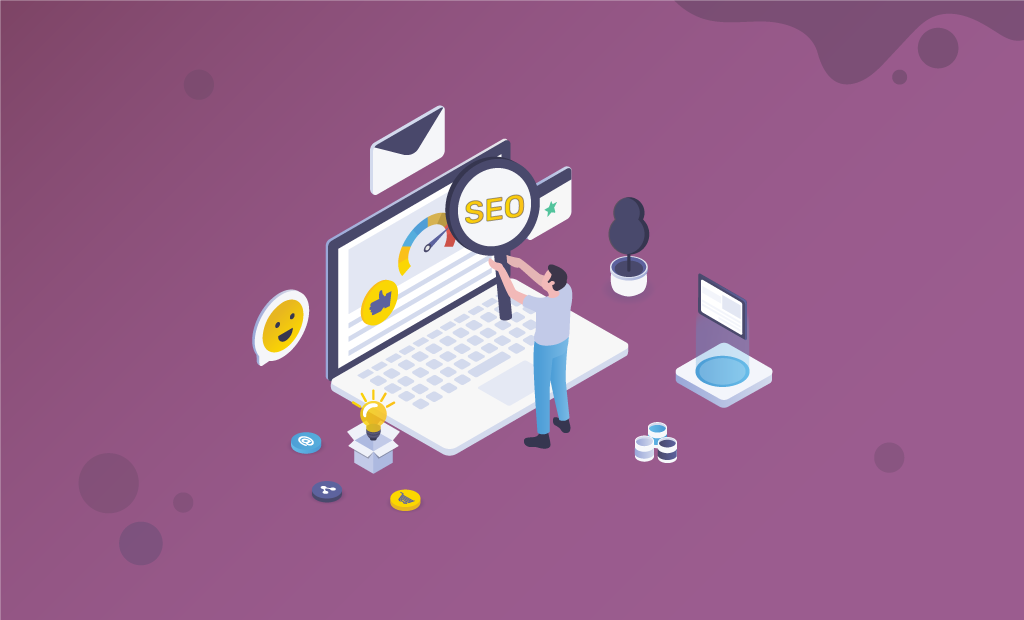 The Impact of Web Hosting on SEO
Search engine optimization (SEO) is a catch-all term for the steps you can take in improving your website's rankings on search engines. Most of your Internet traffic will come from searches performed on search engines like Google. When your website appears above your competitors on search engines for the products and services you supply, you can dominate the market. Good web hosting takes a crucial part in your SEO ranking.
Website owners, therefore, spend enormous amounts of time and money performing SEO on their websites. This can include creating relevant content, optimizing pages, making it easy for search engines to read, and building up the number of inbound links from authoritative websites. Those things make your website appear more likely to answer the question a user is posing in their search. This way Google will place your website higher in search engine results.
Most SEO specialists believe that Google considers over 200 factors when deciding which websites to show for a search query. The web host you use is certainly one of these factors, and it's often overlooked. In this article, we discuss five ways a poor choice of a web hosting company can negatively affect your search engine rankings.
Table of Contents:
Why is Website Hosting Important?
Once you decide to create a website, you have to choose the company that will host it. This choice will primarily help you boost your rankings and reach the widest target audience possible. If you want Google to help you stand out in the severe competition of similar websites, web hosting is something you need to focus on.
Key Factors that Web Hosting Can Have on SEO
Uptime/Downtime
Companies that hold on to their reputation have reliable hosting. Don't put up with anything less. Stability is the key.
Choosing the right type of hosting is essential as this greatly impacts the uptime/downtime implications. Search engine spiders, or ''crawlers'', are likely to visit your site several times throughout any given day and record inaccessibility due to downtime. Repeated reports of this can flag the site with Google and negatively impact page rankings.
If your site is down for even just 1% of the time over a month, that equates to 7 hours. This can have serious implications for a business, especially if you are an eCommerce site that relies on uptime for revenue.
However, it's worth bearing in mind that some downtime will occur when the hosts carry out essential maintenance. You can ask your hosting provider how often this is likely to occur and factor that into your decision-making process. Some hosts may perform maintenance more often than others.
You can always ask for advice to ensure you know where you stand when managing your site's uptime/downtime. Ideally, you want to choose a hosting provider such as FastComet. We can guarantee 99.9% uptime which, spread across a year, only totals 8.8 hours of downtime!
Other aspects which can impact downtime include SPOF (Single Points of Failure) and security within your network. Your hosting provider should offer you security add-ons that can help prevent DDoS, malware attacks, etc.
Speed
Standard website load time is in the region of 2 seconds, and research shows that 40% of people are likely to entirely abandon your site if it takes more than 3 seconds to load, which could have huge implications on your overall traffic.
Google factors this into their algorithms which detect slow page loading, which in turn has a direct effect on your SEO.
It was back in 2010 when Google decided to factor load time into their ranking algorithms. This is because Google saw users moving away from their search engine due to slow loading times, which had a monetary consequence as they made less from their ads.
Site speed has become so fundamental to how people perceive your business online and the trust they put in you. Slow load times and unresponsive sites do not instill confidence in your online customers or visitors.
Hosting companies that offer free or very cheap hosting often do not offer much to improve the speed and performance of their servers. Overloaded servers and limited infrastructure can lead to slower loading of your website. This will harm your website performance in two ways. First, slow sites annoy users, and they often click the "back" button or leave your site directly. Second, Google also doesn't want to "wait" to see what's on a particular page.
Shared hosting users can feel the effects of this due to their shared resources directly impacting their site.
When choosing a hosting provider and plan, you should consider your traffic, storage, and resource requirements. VPS or dedicated servers are the best options for faster speed and performance as you have scalable RAM and bandwidth. Your hosting company should also offer CDN (Content Delivery Network), which will minimize delays in loading web page content. With FastComet, you can use Cloudflare for your CDN. You can manage your CDN settings via the cPanel, but it's more comprehensive if you use the official Cloudflare website.
To check the performance of your web pages, you can use tools such as Pingdom, GT Metrix, and Google's PageSpeed Insights which provides you with reports on the performance of a page on both mobile and desktop devices. It will also provide suggestions on how that page may be improved.
Security
Choosing a secure hosting company is the only way to increase the level of protection. It is common for small business customers to entrust their site to the company that built it. As hosting is not the main activity of these companies, they cannot pay enough attention to it. Upgrades are slowed down, vulnerabilities or scripts that automatically search the network used by malicious users are allowed. It's also common for such sites to run slowly due to the work of a hacker script. This cannot lead to good search engine results. Therefore, do not experiment with a non-professional hosting service, especially if the goal is to save a few bucks.
Reliable hosting service today does not cost a fortune. However, it is important to work with a stable, reputable hosting company with a vulnerabilities history to ensure reliable uptime, performance, and security.
Server Location
Where your site is hosted may also affect speed and load times. For example, when you have a shared, VPS or a dedicated server hosting plan, your website is hosted within your provider's physical Date Center. Therefore, the location may directly impact load speed.
Having a distant server location can look suspect to search engine algorithms, filtering down to SEO. The ideal is to have a data center geographically close to the majority of your site visitors. For example, if someone is looking for a UK-based business or site, those with a UK-based IP address will come higher on the SERP.
This is where a CDN can come into play. It is a geographically distributed network of data centers and proxy servers and works as a layer in the internet ecosystem. Content owners essentially pay CDN operators to deliver their content whilst the CDN would pay the IPS (Internet Service Provider) for hosting its servers in their DC's.
Google search results will depend on a server's IP address, and a native server location will result in more relevant website traffic. Ultimately, choosing a local host will make it easy to target a local audience, and it will eventually improve your web store's local search engine rankings.
With FastComet, you get to choose from 11 datacenter locations (for now). Yes, that's correct—11! This way, everyone can choose a proper server location according to their needs.
Shared Hosting
There has been a reasonable amount of debate about the effects of shared hosting on SEO, especially about having a shared IP address. You can find conflicting information about whether or not a shared IP can really have a substantial negative impact on business marketing.
Whilst some claim that other sites can impact a shared IP on the network, Google employees have refuted this and said that this isn't necessarily a factor and may only be flagged when many sites on the network are spammy or deemed troublesome.
It seems that the lines are still blurred on this topic, so instead of trying to decipher something even industry experts can't seem to agree on, let's look at the elements where shared hosting can have a measurable impact on SEO.
Over time, a high bounce rate can damage your PageRank. When using a shared hosting plan, it is worth bearing in mind that you are sharing resources amongst potentially 100's of different websites. Alongside a shared IP address, you are also sharing bandwidth and RAM, so if one of those sites has a large surge in traffic, then your site could also be negatively affected.
For many small businesses, shared hosting is enough to build their web presence at a minimal cost. However, once you get into the business, have multiple web pages, high traffic volumes, and increase functionality requirements, you will probably need one of the VPS hosting plans that offer more speed and performance, combined with the ability to install and configure the software to suit your needs personally. Choose a hosting company that can be your partner all the way to success. Your site will not be inferior when it comes to SEO, and you will be able to focus your time, attention, and efforts on developing your business.
FastComet offers various cost-efficient hosting solutions when your online business is growing, but you don't want to manage everything on your own.
Other Factors to Consider when Choosing Your Hosting Provider
A good hosting provider will also be able to assist and advise on the following:
Support
Do you need managed or non-managed hosting? What IT resources do you have on-site that would enable you to manage your server and systems? Taking a managed support package with your hosting provider is often recommended, as you will benefit from the expertise, facilities, and SLAs that come with the support package.
With FastComet, you can rely on 24/7 customer and technical support. Your requests will be answered as quickly as possible, and your issues will be resolved carefully because the success of your projects is our main priority. Whenever you need help, either go to the LiveChat or submit a new support ticket.
Secure Socket Layer/Transport Layer Security (SSL/TLS)
Secure Socket Layer certificates are a web protocol that authenticates and encrypts data across the internet. Depending on your industry, traffic, data security, and hosting requirements, you will need to choose either a paid or free SSL certificate to ensure security for your site.
In Google's ever-changing algorithm for SEO rankings, it is known that Google will provide an SEO boost for websites that are using SSL certificates.
If you do not have such, you are compromising the SEO score for your website. Nowadays, this is expected for any sites outside of single-page or simple blog sites.
With FastComet, you can get both free and premium SSL. For thorough information on the matter, see our article How to Get Free SSL Certificate from FastComet for Your Website.
Domain Names
The domain name is one of the known foundations for an SEO-friendly website. In the past, using keyword-oriented domains was the norm. However, when Google realized that marketers were exploiting this ranking factor, Google started to change things up. With the way things are right now, it has become a widely accepted conclusion that brandable domain names offer the safest solution.
It is all about establishing a brand that users can trust. All you need is to be an authority that people would go to for relevant and useful information.
Another standard practice is to opt for domains with a '.com' TLD (top-level domain). If you target a specific country, using a geographic suffix such as .co.uk is a reasonable alternative to .com, as Google will boost your website in local results.
You can retain a domain name for up to 10 years. So, when it's time to renew or change, it's important to retain control over the old domain still. You can use 301 redirects to ensure you are not affecting your traffic when you purchase a new domain.
To check availability, register or transfer a domain, use the FastComet domain portal.
Final Thoughts
Performing good SEO-wise is crucial to the success of your online business. However, do not overlook the effect website hosting has on your search engine rankings. A sluggish website that has frequent downtimes is likely to be sharing the server with spammers. If that's the case, that website will appear lower in search engine results. To do better, just choose the right web host – FastComet. Our high rank on reputable web hosting review sites such as HostAdvice is not an accident.
Also, if you are serious about your online business, allocate as much of your budget for it as it needs. It will pay you back!
The latest tips and news from the industry straight to your inbox!
Join 30,000+ subscribers for exclusive access to our monthly newsletter with insider cloud, hosting and WordPress tips!