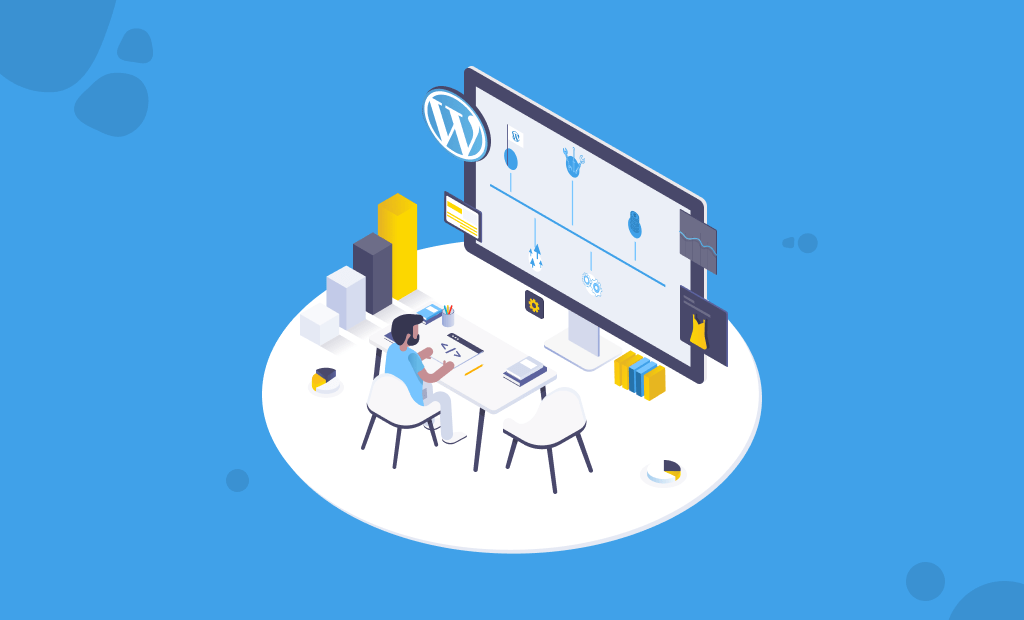 The Extraordinary CMS: WordPress History, Facts, and Stats
WordPress 5.8 was a big one! After this important update, we have decided to create a post with some interesting facts and statistics about the number one CMS on the market. With over 40.0% of websites running on WordPress, we are about to look at its history. We will follow the events from the very beginning — how it transformed from a simple blogging system into its current form and the ecosystem around the CMS.
WordPress is constantly changing the way websites all around the world work. It provides more power and performance than most other CMSs. More and more people are becoming bloggers, webmasters, and even internet marketers (thanks to WooCommerce) every day. All this is thanks to the WYSIWYG (what you see is what you get) ability to transform simple websites into masterpieces.
In honor of the fantastic platform that WordPress is, we have decided to put together this post with some fascinating history and statistics about the CMS. Furthermore, WordPress 5.9 is just around the corner, and we are as excited as ever to see and test all the new changes that come with it. Let's begin!
Table of Contents:
What is WordPress?
We know that by now, most people know what WordPress is in general. However, since this is a thorough review of the CMS, we simply cannot skip its definition.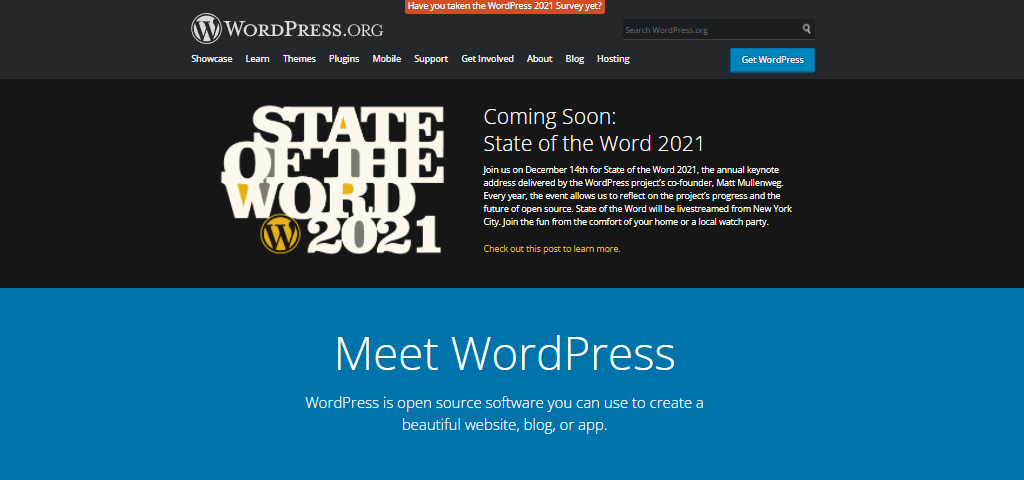 WordPress is a content management system (CMS). However, due to its evolution over the years, it's now one of the Web Content Management Systems (WCM) — a subsection of Content Management, a program that helps maintain, control, change, and reassemble the content webpage. WordPress helps bloggers and web admins edit the content regularly. When using WordPress, you don't need to use traditional HTML software (Frontpage, Notepad++, Dreamweaver).
WordPress itself is open-source software licensed under GPLv2. That means it's free to use and modify. You can find it on WordPress.org, but you should not mistake it for WordPress.com. Be careful with the two domain extensions because Automattic, a company founded by the creator of WordPress, Matt Mullenweg, runs WordPress.com. It's a free, hosted version of the platform that lives on Automattic's servers, offering a couple of paid extras. For example, you can use your own domain name, but you need to spend some cash for that to happen.
The self-hosted version of WordPress is WordPress.org. Self-hosted means that you can run it on your own servers or purchase a hosting package from one of the numerous web hosting companies, such as FastComet (you should really do that). There are minor monthly costs to consider, plus you'll have to pay for your own domain name, which can range from $3 to around $60 yearly based on what domain extension (TLD) you'll choose: .COM's are the cheapest, while exotic and trendy TLDs such as .IO are usually more expensive.
If you wish, you can check our domain portal and see the prices and current discounts on TLDs.
The benefit you will have with a self-hosted blog is the fact that you have access to the code behind your website. Additionally, you get about 56,000 (yes, that's right!) free plugins and 2,500 themes listed on the official WordPress repository. Even further, there are a lot more when it comes to themes and plugins from commercial sources.
These WP add-ons are all GPL licensed, just like the CMS itself, meaning site owners can use them on their sites free of charge.
The WordPress Timeline
Let's start by following the WordPress development — we'll look at how WordPress has developed since the early days of 2002 while also dividing the time into four distinct developmental stages.
WordPress in the Early Days (2002-2005)
WordPress development started way back in the year 2002. It was initiated as an improvement on a competing CMS with waning popularity — b2/cafelog. However, the new interface was quite distinct. This new interface greeted users that chose the new blogging platform in 2003.
Its overall structure was based on the b2/cafelog model but had a few upgrades. For starters, the interface was easier to interact with. Additionally, the user was able to choose from different templates to share their content. Perhaps the most crucial change was the reliance on the General Public License (GPL).
By licensing under the GPL, WordPress founders made sure that the software would remain free to use. Furthermore, the license also enabled users to modify the code as much as they wanted legally. As such, the options for customization and evolution became limitless.
The easy-to-use, flexible platform managed to immediately draw bloggers all over the world. Inevitably, the number of users started growing quickly. In 2004, WordPress devs released version 1.2, which provided even more accessible features, growing the number of users.
By 2005, it was getting pretty clear that WordPress was a platform that had some serious potential to be at the top of the charts. With the goal to capitalize on this, WP developers added the crucial page creation function. That was the change that provided users with the needed additional tools to create their own websites and personalize them as they wished. The founding of Automattic was the same year.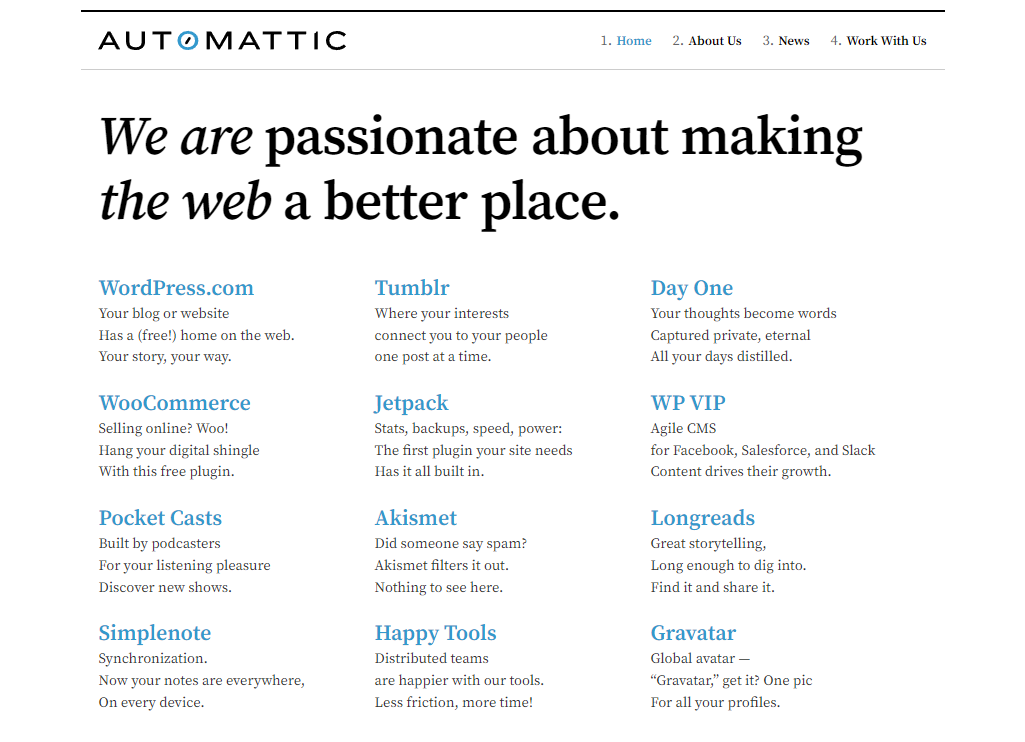 Some other already present features were posting by email, adding multiple authors, and common registration. One thing remained a priority — the simplicity of use without a price tag. Usage continued growing as more and more creators discovered this beastly multi-tool for the web. It did not take too long until WordPress had a loyal fanbase.
Next Step: Expand the WordPress Community (2006-2010)
The decisions over the next four years would reflect the value of the WordPress audience. Dedicated users were critical to the platform's development, as they determined the direction of new features and often contributed time and resources to create them.
In 2006, Automattic was still relatively new. Nevertheless, the company moved forward to trademark WordPress and its logo. This branding remains today.
This legal action wasn't the only development of the period. Developers continued to improve functionality in 2007. Some changes included refining the User Interface (UI), adding the ability to import features, and fixing various security issues.
Unfortunately, 2007 was also the year that WordPress experienced its first security breach. This shows that WordPress has been a target for malicious actors since the early days. It's another reason to be vigilant about your site's defense.
After securing the software, more developments continued into 2008. One notable occurrence that year was the introduction of shortcodes. Shortcodes enable users to bracket text in posts and replace that text with dynamic features. This addition helped simplify the creation of complex posts.
Another essential feature added in 2008 was one-click updates. You might take it for granted now, but keeping your site current wasn't always as easy as receiving an alert and clicking on a button. With this feature, more users were likely to complete updates with critical security patches.
Community-focused functionality continued to grow at the end of this period. 2009 saw improvements that included a built-in image editor, simplified video embedding, enhancements to elements that search engines ranked for, and post thumbnails.
Finally, with 2010 came the introduction of the custom post type. This boosted the flexible potential of WordPress even further and ushered in the age of meeting user needs.
Growing to Meet Users' Needs (2011-2015)
The addition of different post formats and an admin bar came in 2011. Both of these features made the WordPress User Experience (UX) easier to navigate. It also improved the possibilities available to content creators.
The user-forward focus was paying off: In 2011, 50 million blogs ran on WordPress. Consumers seem to have appreciated their main role in the software's development.
The progression didn't stop there. In 2012, a new media manager was launched, making it even easier to add photos or videos to posts.
This made WordPress a more welcoming place for media-heavy blogs and text-based creators who enjoyed the simplicity of the interface.
Security and maintenance were evolving too. Automatic updates were released In 2013. This functionality only applied to small updates, but it still saved people time.
The same year, developers took note of the trend toward mobile devices. As such, a new, more responsive interface was added to increase accessibility across multiple devices.
In 2014, streamlined access was a priority for users. Several drag-and-drop improvements were made to the Classic editor, facilitating a more intuitive creative process. The developers also included a gallery preview option, taking significant guesswork out of the image posting equation.
Another media innovation of this year was the new playlist feature. This worked for both audio and visual components, making it simpler for users to post several related media files in a truncated way.
Then 2015 saw a big change: REST Application Programming Interfaces (API) infrastructure was added to the WordPress core. REST API enables other programs to access WordPress data from outside of the software itself.
This enabled users to integrate other tools with the platform easily. Therefore, the REST API was a significant contribution to the highly-tailored WordPress experience.
Refining the Modern Approach (2016-2021)
You might consider 2016 the beginning of WordPress' modern age. This is due to its relatively recent history and because it marked the start of several influential new features.
For instance, custom CSS was added to the Theme Customizer. This allowed users to make more stylistic changes through the Theme Editor. WordPress.org also announced that it would actively support Secure Hypertext Transfer Protocol (HTTPS), demonstrating the continued dedication to high-security standards.
2017 brought a modest yet impactful change: new default widgets. These widgets helped users add common content such as images and rich text in an intuitive way. If you've made frequent use of widgets on your WordPress dashboard, you might particularly appreciate the change.
After that, 2018 was a watershed year for WordPress history. Developers had been working on a project titled Gutenberg, available as a plugin during the creation stage. Gutenberg laid the foundations for the Block Editor, now the standard editor for WordPress, to thrive.
The Block editor was revolutionary because it made post creation a more flexible experience. It did so by adding "blocks" or units of content that could freely move around. Each block was specialized for its content type. As such, the Block Editor marked a huge step forward for intuitive WordPress design.
With 2019 came adjustments to the Block Editor, security updates, and better debugging tools. 2020 had a large focus on the Block Editor, with new blocks, user improvements, and other changes.
That brings us to today, in 2021. In the past couple of months, alterations have continued to roll out. Security has seen reinforcements, post-editing has been tweaked for ease of use, and behind-the-scenes technology has doubtless continued to develop.
The History of WordPress Plugins
WordPress plugins are third-party software that you can use to enhance your site. There are a huge number of these tools available today. You can search thousands of them with a visit to the WordPress Plugin Directory.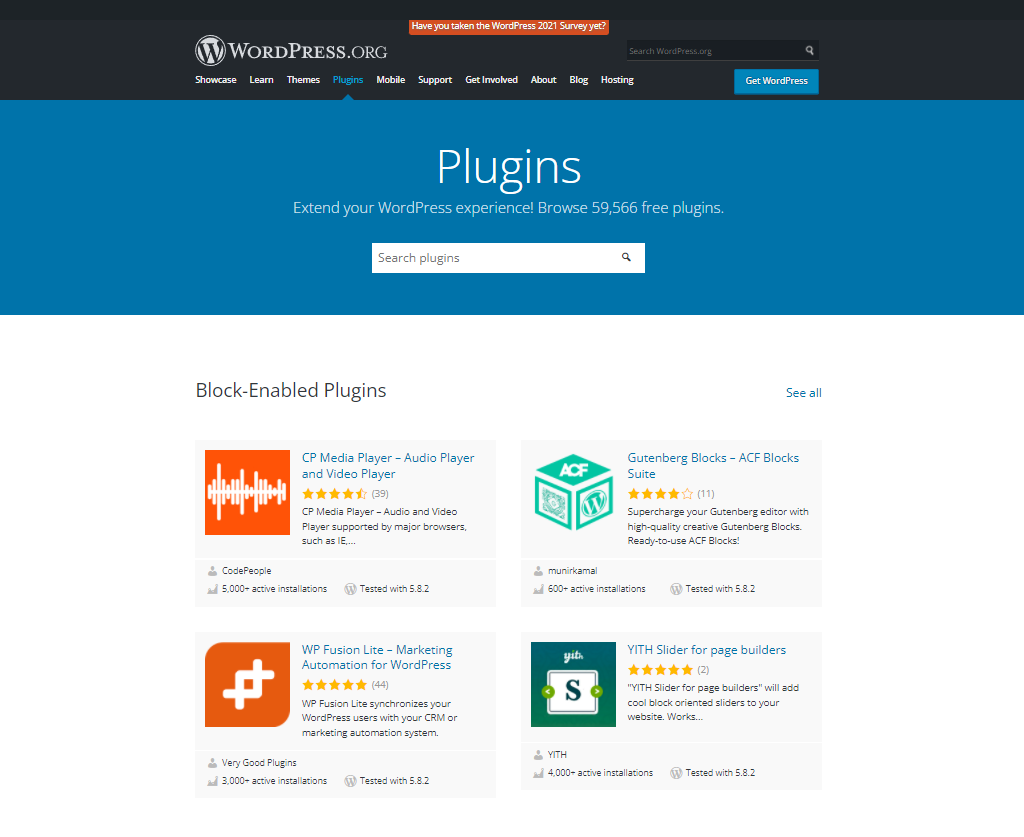 The WordPress plugin repository has an inventory of nearly 60,000 plugins. Some are free, while others offer "freemium" plans (users can download free versions with the option to upgrade to paid alternatives).
Plugins first came to life back in 2004, with WordPress version 1.2. They were always meant to be crowd-sourced—created and distributed by WordPress users themselves. As effective extensions, plugins were instantly popular with fans.
In 2005, Akismet became the first pre-installed plugin with WordPress. And for a good reason.
Akismet is an anti-spam tool that remains widely known and used to this day. With it, users could monitor their pages for harmful links or junk content. The release of the tool was an early and significant move towards a more secure platform for all.
In 2010, we saw the introduction of WordPress APIs. This technology made it easier to use third-party software to curate a WordPress website. As such, it's a huge asset to plugin creators.
In 2016, WordPress streamlined third-party software updates. In 2020, updates were made automatic for plugins, helping to keep sites secure and plugins operational.
Today, the WordPress Plugin Directory remains a repository for third-party software. However, these tools continue to sell on private directories and developers' personal sites. Therefore, users can rest assured that they have various ways to personalize their WordPress site.
The History of WordPress Themes
WordPress plugins weren't the only third-party software to make a splash. WordPress themes have also played a critical role in the development of the platform. Themes control the look and feel of your site, giving you the freedom to brand your site however you see fit.
From the beginning, each version of WordPress included a default theme. The first of these was the Classic Theme, followed by Default (also known as Kubrick). The WordPress Theme Directory was launched in 2008, coming four years after its plugin counterpart, to give users more options.
The introduction of this freely available marketplace helped expand the potential for individuality while also supporting community interactions. As such, it was a big moment in WordPress history.
The next important development for themes came in 2012. Users gained access to the Theme Customizer, opening up new possibilities for users willing to make adjustments. Themes became easier than ever to curate for individual sites. Theme previews also started this year, providing a critical front-end view.
The default WordPress themes continued to evolve as well. These themes are typically the first that many users create and are often designed to make the best use of cutting-edge WordPress technology.
In 2019, the Twenty Twenty theme was released and included a unique feature: It was designed for compatibility with the Block Editor. This decision signaled that the Block Editor was here to stay and encouraged users to optimize their sites for its use.
These days, the Theme Directory remains a robust resource for top-notch themes. However, you can also find plenty of legitimate premium and developer-run sites if you're on the lookout for even more variety.
The History of the WordPress Community
The history of WordPress is largely defined by its dedication to those who use it most. Here are some critical areas where the WordPress community has grown over the years.
Core Contributors
Let's begin with the WordPress founders. In 2002, Matt Mullenweg was an active blogger. His platform of choice was the popular b2/cafelog CMS. Mullenweg, along with his fellow users, used this technology heavily.
Unfortunately, the developers stopped updating the project that same year. Without updates or support, Mullenweg and his colleagues were left without a platform. Perhaps feeling that it didn't make sense for a CMS's success to hinge on one team of developers, he set out to create his own.
Mullenweg partnered with developer Mike Little to get the project off the ground. Together, the duo released the first version of WordPress in 2003. Later on, the founding of Automattic became critical for the business side of WordPress.
Automattic proved to be invaluable for the raising of necessary capital. The company received an influx of funding for WordPress, setting the stage for important developments and new features.
By 2010, Automattic had decided to place a heavier emphasis on keeping WordPress open source. The company launched the WordPress Foundation, an organization dedicated to the accessible, community-oriented values of WordPress software.
This decision made WordPress's reliance on the free exchange of information between users official. This trend continues with the presence of so-called "core contributors."
Core contributors are individuals who develop WordPress consistently. WordPress does not employ them, nor are they compensated for their time. Rather, they volunteer their skills to help make WordPress a better platform for everyone.
Considering their significant work, core contributors remain critical to the software's success. Furthermore, their role as loyal fans collaborating for a better future is largely reflective of the WordPress identity as a whole. If you're interested in being a part of WordPress history, consider getting involved as a core contributor.
WordCamps
The open-source nature of WordPress earned it plenty of fans in the early days. However, as the WordPress platform grew, users started looking for a more official way to share their passion. In 2006, they found their answer: WordCamps.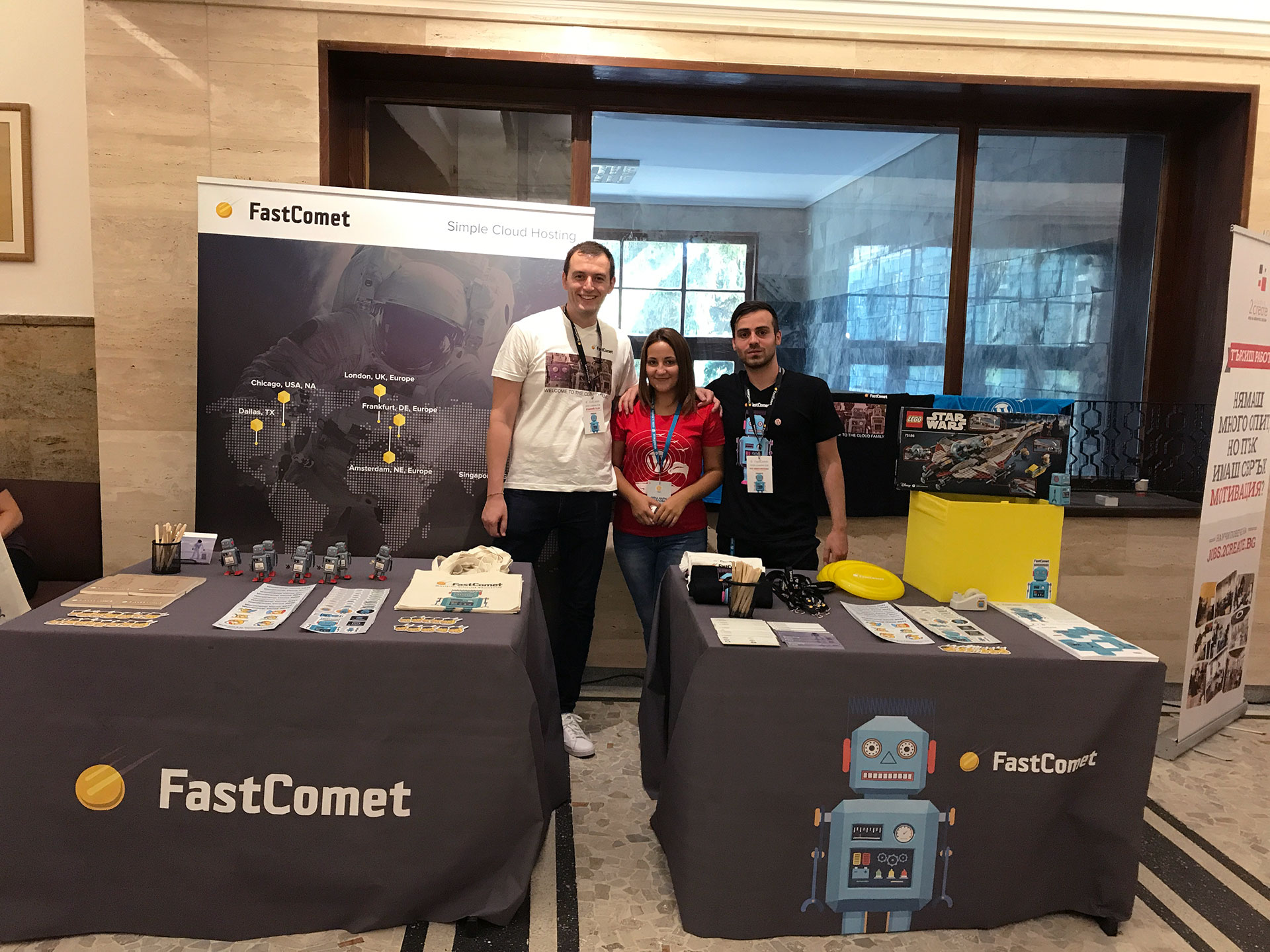 WordCamps began as simple ways for WordPress enthusiasts to meet up and discuss the growing project. The idea was a hit, and today there are large annual events for users all around the world.
The scope of WordCamps is fairly broad. However, discussions tend to focus on WordPress's technological advancements. In this sense, WordCamps focus on the development of the user community as a whole. If you're interested in getting involved with WordCamp, you have a few options.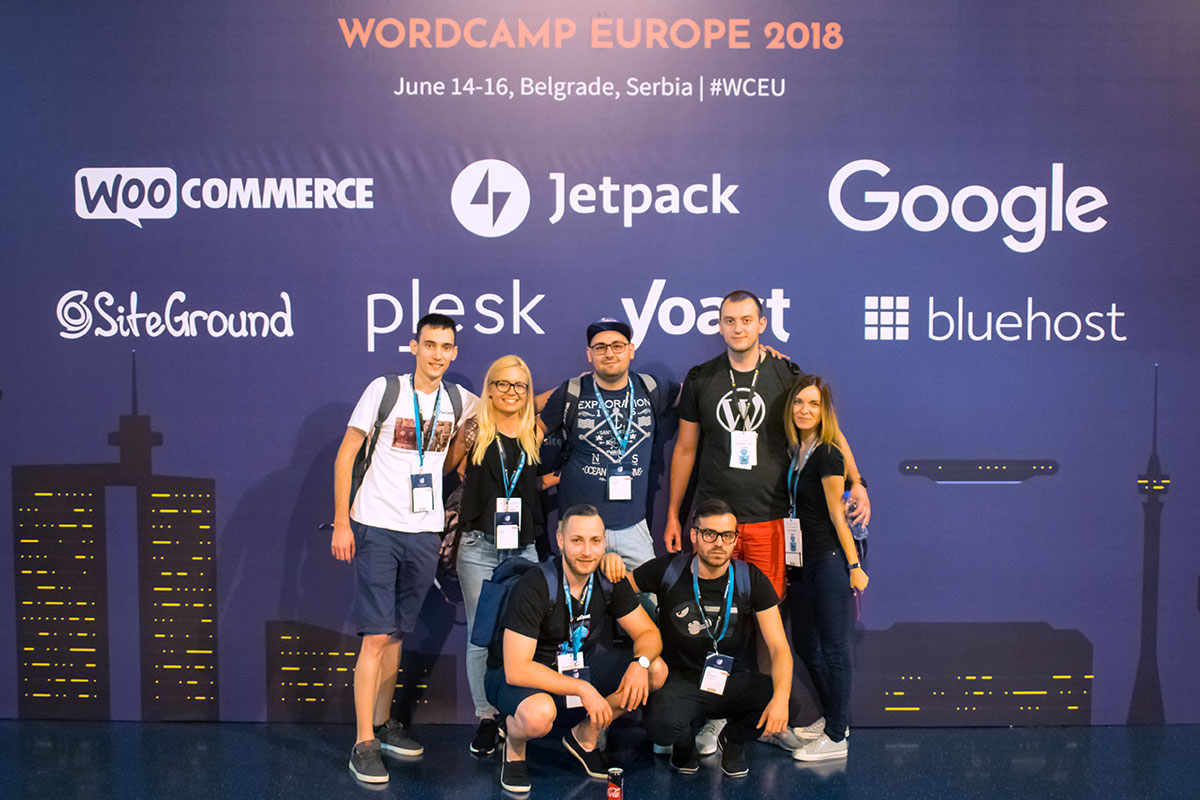 If you have a knack for administration, for example, you might want to apply to act as an organizer. You might also choose to be a speaker and participate in WordCamp events. Alternatively, you could always apply as a volunteer and pitch in wherever you're needed.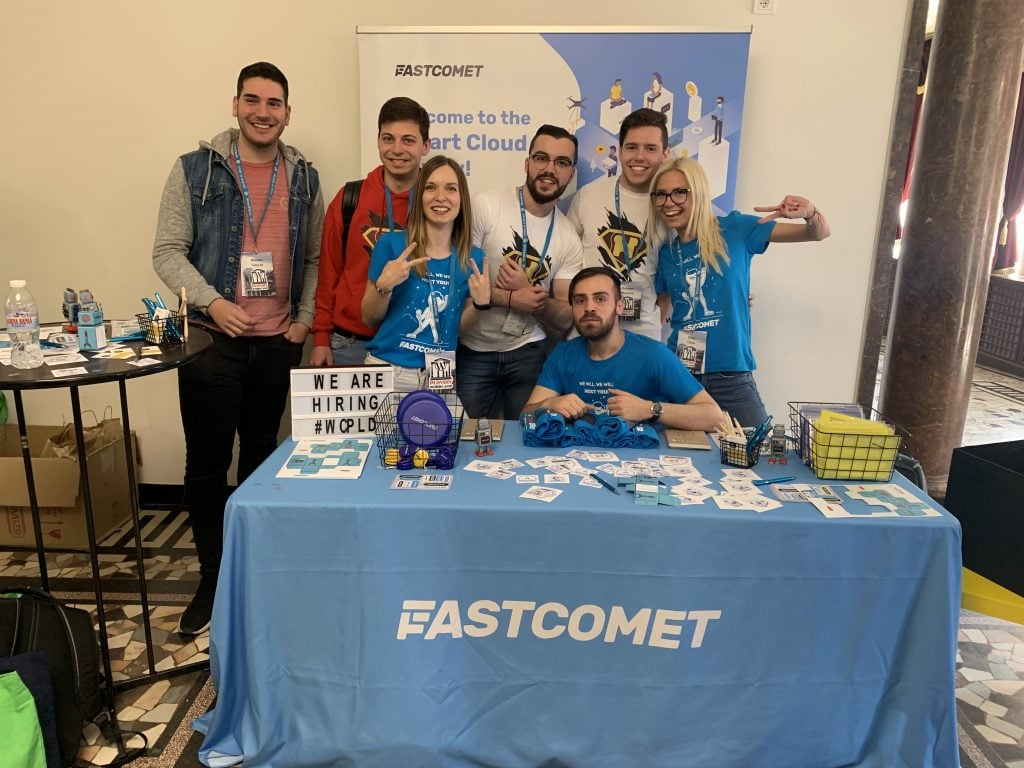 Sadly, due to COVID-19, WordCamps struggle and can't live up to their full potential, because the main idea behind them is for like-minded people (WordPress lovers) to meet face to face and exchange information while having a memorable experience. We were fortunate enough to participate in several WordCamps.
WordPress Meetups
WordCamps are relatively structured, global events. However, there's another option if you're looking for a community a little closer to home: WordPress Meetups. Organized on the Meetup website, these events boast 822,736 members in over 1,551 groups.
These are localized events, as you can see from the map above. People from across the world can get together with other enthusiasts in their communities and discuss the platform. These gatherings tend to be more informal than the WordCamps.
They also happen more frequently since they require fewer resources to organize. A handful of interested users can simply agree on a meeting place ahead of time or even conduct their meetings over video calls.
Despite the smaller scale of Meetups, they remain vital to the WordPress community. They facilitate the sharing of ideas and provide a sense of community. Moreover, the consistent nature of Meetups can help to develop ideas over time.
There are several WordPress Meetups around the world. However, you may not have any Meetups in your area. It's also possible that there are dormant groups in your community. This occurs when a Meetup has not been disbanded but has also not been recently active.
Fortunately, anyone can host. Consider visiting the Meetup page and starting your own group! If your local group is inactive, you might try reaching out to current members to re-establish the meetings.
Wapuu – The WordPress Mascot
We almost forgot—do you know what a Wapuu is?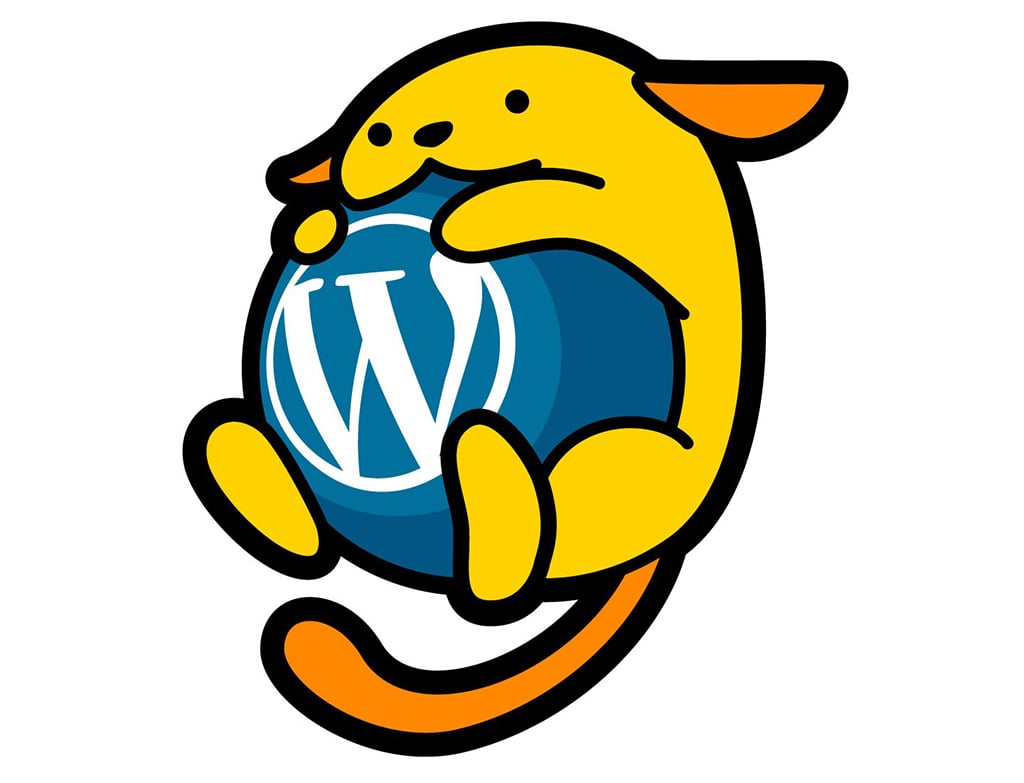 If you have attended a WordCamp or a WordPress Meetup, you most certainly do. In case you are not familiar, however, Wapuu is the WordPress mascot. It's safe to say that the little guy has been fully embraced worldwide showing up in many different forms.

If you see a group of WordPressers, don't be surprised if there are also Wapuu nearby. You can see them in the form of pins, stickers, plush toys, etc.
Meet Plovdiv Wapuu: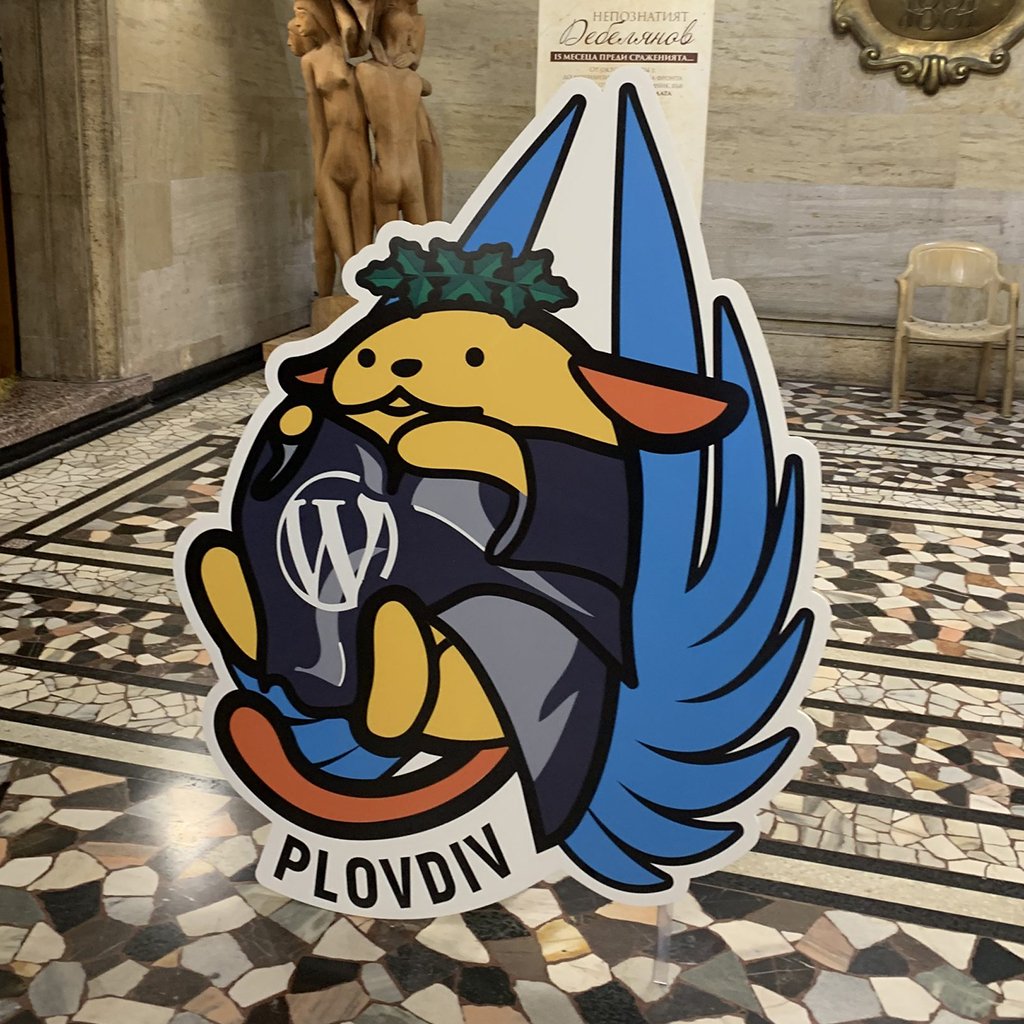 The History of Managed WordPress Hosting
In the early days of WordPress, membership grew quickly. By 2006, there was significant demand for web hosting that could meet the platform's needs. WordPress had become. Over time, hosting companies learned the best way to tailor their services to WordPress users.
Managed WordPress hosting takes many technical tasks off your plate. You can use the extra time to keep your site running exactly the way you want it.
Take Your WordPress Website to the Next Level
Whether you need help navigating the WordPress Admin Dashboard, fixing a WordPress database error, or adding a widget, we can help! Subscribe to our monthly digest, so you never miss an article.
The History of WooCommerce

WooCommerce is currently among the most widely-used plugins available for WordPress. Woo has over five million active installations. However, WooCommerce was not always specifically focused on eCommerce.
In 2008, a few developers founded WooThemes. As expected, they focused largely on providing new themes for WordPress users. Nevertheless, this was soon to change.
2011 saw the use of eCommerce plugins increase. The functionality started to become more and more popular among WordPress users. Because of that, the idea of using the platform to support online stores began to spread. WooThemes released WooCommerce to join in on the trend.
WooCommerce became a preferred choice for WordPress users. By 2015, its frequent use caught Automattic's attention, and the company acquired this popular plugin. By 2017 WooCommerce hit $10 billion in sales — a watershed moment in WordPress history.
Today, the plugin continues to be updated, developed, and improved. However, it's not without its competitors. Options such as Shopify have sprouted up as formidable alternatives, encouraging more frequent innovations.
The Future of WordPress
Predicting the future is no small task. Nevertheless, we can take a few clues from the history of WordPress up until now to make some educated projections.
For one thing, development continues on the Block Editor. As it improves and becomes a more integrated part of WordPress, we'll doubtless see new features.
You might also expect this technology to become more intuitive and widely used. If you're curious about keeping up with these developments, consider installing the Gutenberg plugin to stay informed.
As for WordPress' popularity, its web share has grown over the past few years. There's little reason to think that this pattern will change. This seems especially true with the WordPress community actively working to enhance its features.
If you'd like to be a member of the group steering WordPress towards tomorrow, consider getting involved as a core contributor, developer, or even just starting your own site. You could also keep up with broader internet trends, such as Search Engine Optimization (SEO) developments.
However you choose to use WordPress, one thing seems sure for the platform — its future looks bright.
WordPress Usage Statistics
The following WordPress statistics focus on WordPress's market share and other usage statistics.
WordPress now powers 40.0% of websites, with a 40.0% share in the CMS market.
Besides being the most widely-used CMS, WordPress is also the fastest growing. Of the top 10 million websites online, more than 500 sites built each day are powered by WordPress (versus 60-80/day that are built on managed platforms such as Wix, Shopify, or Squarespace).
Additionally, WordPress powers 14.7% of the world's top websites.
These top websites include The New York Times, Spotify, TechCrunch, The White House website, BBC America, and even the Facebook Newsroom! The fact that WordPress can work well for all of these different entities is a testament to how flexible it is. WordPress can effectively act as the backend for many different types of websites, including personal blogs, news websites, portfolios, and eCommerce websites.
There are some 17 blog posts published on WordPress per second, and if you ever doubt the popularity of WordPress, know that there are 37 million global searches made for the term "WordPress" on a monthly basis. Furthermore, real-time WordPress activity data shows that each month, there are over 409 million people viewing over 20 billion WordPress pages, with over 70 million new posts, and 77 million new comments.
WordPress Version Statistics
The following WordPress statistics focus on how WordPress is changing over time.
At publication, WordPress runs on version 5.2, and more than 20% of users have updated to the current WordPress version. To show some impressive numbers, WordPress 5.5 has been downloaded almost 55 million times: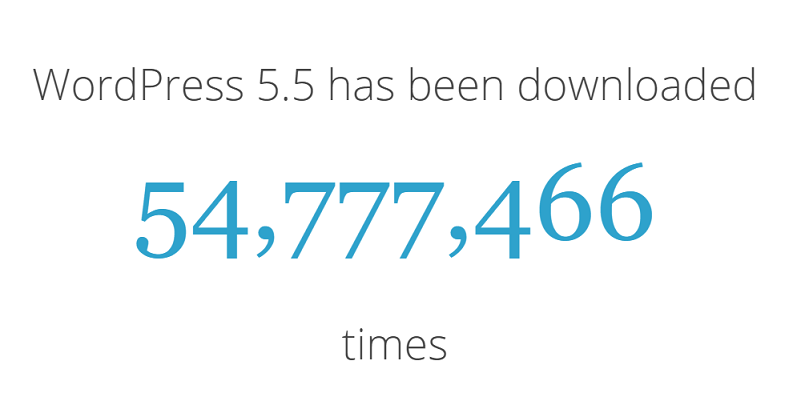 With that said, there are still almost 27% that are running on WordPress 4.9: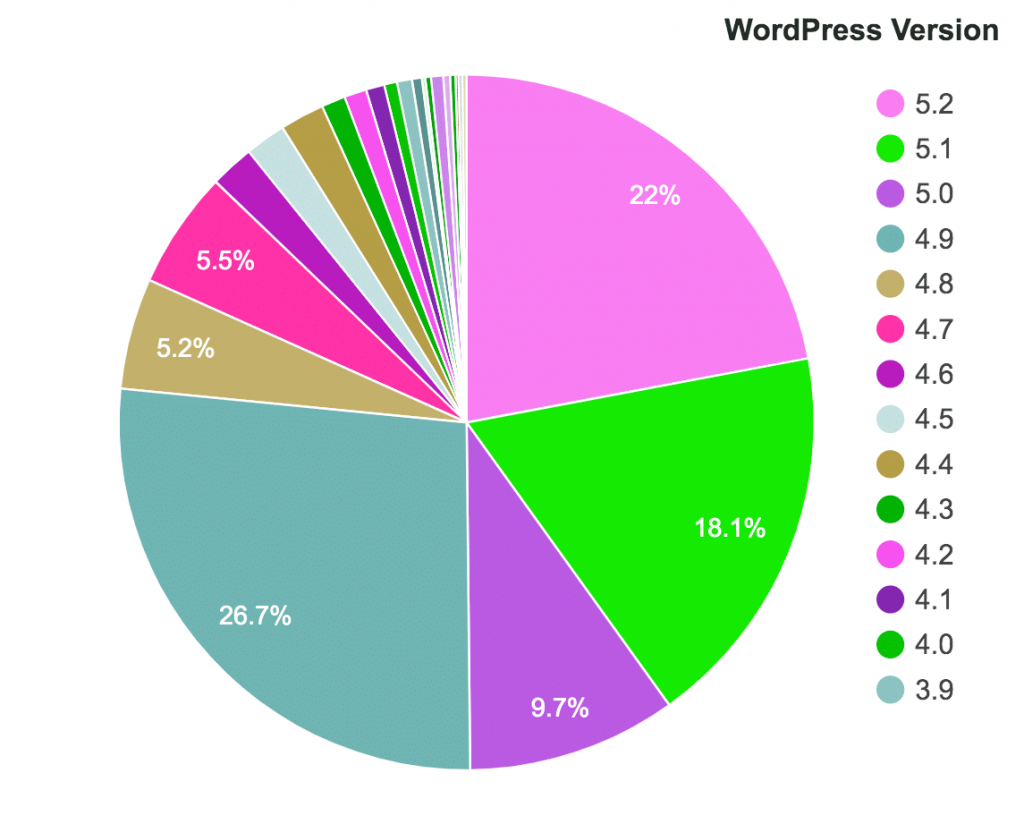 There is a failure to update for many users, which may have something to do with Gutenberg, the block-based editor that was introduced in WordPress 5.0.
Gutenberg brought about the largest change to the WordPress visual editor since the beginning of this Content Management System.
Since Gutenberg was released, there have been:
More than 19 million active installations of Gutenberg.
24 million posts written with Gutenberg, with 157,000+ posts written with Gutenberg daily.
The most popular Gutenberg block is the paragraph block, which is used 60% of the time when people use Gutenberg. WooCommerce Blocks is a plugin developed exclusively for Gutenberg-based sites and used by over 170,000 sites (as of April 2019; Gutenberg was released in Dec 2018).
Gutenberg aside, major upgrades to WordPress are released every 152 days, and each release is named after a jazz musician. This is because, according to the official WordPress roadmap, "the WordPress core developers share a love for jazz music".
WordPress is available in 72 languages and counting, and 71% of WordPress sites have English set as the primary language.
Automattic WordPress Stats
The following WordPress stats are associated with Automattic — often referred to as the company behind WordPress, but that's oversimplifying things a bit. To be fair, WordPress is continuously improved thanks to the work of many open source contributors who don't necessarily receive compensation for the time they spend on this project.
Besides its contributions to the WordPress CMS, Automattic is also involved with a number of projects that impact the WordPress ecosystem, including Jetpack, WooCommerce, Simplenote, Akismet, and Gravatar.
As of May 2014, Automattic was valued at $1.16 billion. It currently employs 873 people working remotely from all over the world. The remote work culture is so strong at this company that people stopped showing up to its San Francisco office and Automattic closed it.
On the topic of remote work, one of Automattic's newest projects is Happy Schedule, the first in a line of tools called "Happy Tools" — built to help remote teams.
WordPress Plugins Statistics
These WordPress statistics focus on plugins. Plugins extend the basic functionality of the WordPress CMS to help users personalize it for their unique needs. There are many free and paid plugin options available on the market, empowering you to make changes to WordPress that fit your budget.
At publication, there are over 55,000 plugins on the WordPress Plugin Directory, with many new options added daily. Considering everything on the WordPress Plugin Directory, these plugins have collectively received over 1 billion downloads to date!
In data collected from April 15, 2016, to April 16, 2019, there have been 18,262 plugins published.
WooCommerce Statistics
Another popular WordPress plugin is WooCommerce, which adds eCommerce functionality to your WordPress website. It powers over 70 million eCommerce shops on WordPress, and 22% of the top 1 million sites using eCommerce technologies.
Like WordPress, WooCommerce is also free to use, but you'll have to pay if you want to use any of the 300+ WooCommerce extensions that provide extra functionality, such as product variation swatches and the ability to sell subscriptions.
A new challenger to the WordPress eCommerce market to go up against WooCommerce and Shopify is BigCommerce, which recently launched a headless commerce solution for WordPress (make sure to read: Intro to Building Websites with Gatsby and WordPress). At publication, the BigCommerce WordPress plugin has 600+ active installations and is growing daily.
WordPress Theme Statistics
Much like plugins, there are both free and paid themes available. Most WordPress themes are powered by what you see is what you get (WYSIWYG) editors, which help users see changes live as they configure them. This functionality was created by Shane Melaugh and Paul McCarthy.
If you're just getting started or have simple needs, you can download many WordPress themes for free on the WordPress Theme Directory, which releases free default themes each year, with a simple title representing the year of release (ie. 'Twenty Twenty'). The earliest default WordPress themes were known simply as "WordPress Classic" and "Default" (or Kubrick).
If you have the budget for premium (paid) themes, some of the most popular websites to browse for options include Envato Market (previously known as ThemeForest).
Speaking of Envato Market, there are dozens of designers on this marketplace who have sold over $1 million worth of themes. In fact, an item is sold on Envato Market every 5 seconds. Furthermore, there are over 11,000 themes on Envato Market, with 70% of searches centered around niche themes.
The top themes sold on Envato Market include:
Avada: A responsive, multi-purpose theme with over 500,000 sales.
X: A super fast theme with over 200,000 downloads.
Enfold: Another multi-purpose theme with 181,000+ downloads.
93% of sales on Envato Market are for responsive themes, and the average cost of a theme (regardless of the marketplace) is $59.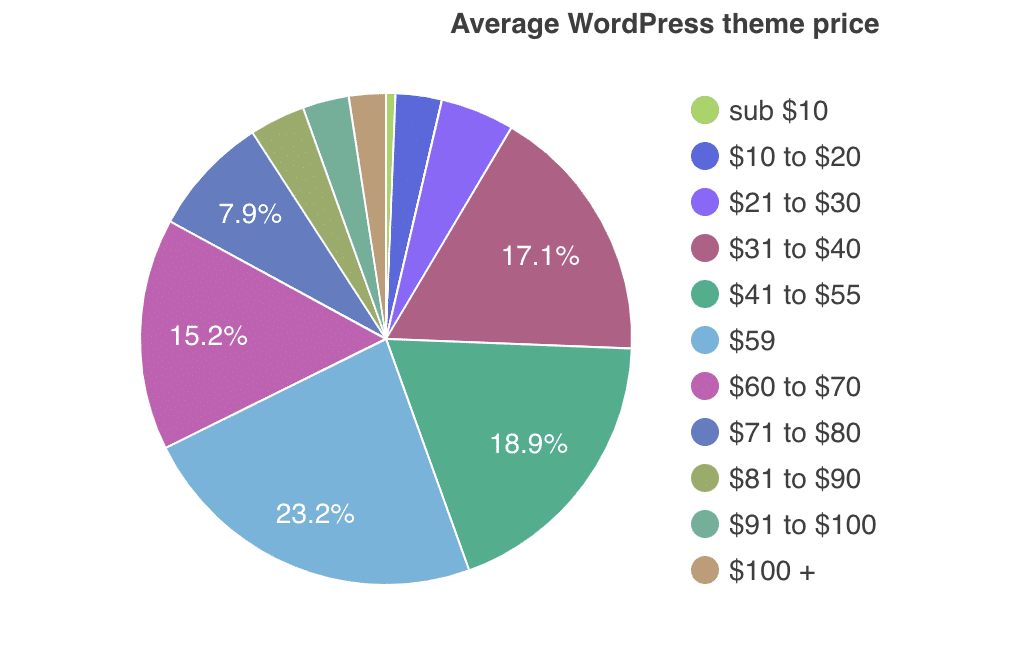 If you get bored easily when it comes to your WordPress theme design or are a website developer who needs access to several different theme options, the average theme subscription membership (for companies such as TeslaThemes or Themes Kingdom) charges an annual cost of $145 for access.
When it comes to all WordPress themes, Divi (6%), Avada (4%), and the Genesis Framework (7%) are the most popular themes of all time.
If you opt to do a completely custom WordPress website design, expect to spend anywhere between $500+ to $52,800+.
WordPress Security Statistics
These WordPress statistics are about the overall security of WordPress.
Generally, WordPress is a secure platform. However, it's not without its share of data breaches. Since it's the largest and most popular CMS, it is also the most prone to hacking.
Sucuri, a security plugin, reports 94% of its cleanup requests in 2019 were from WordPress and compares those requests with 2018.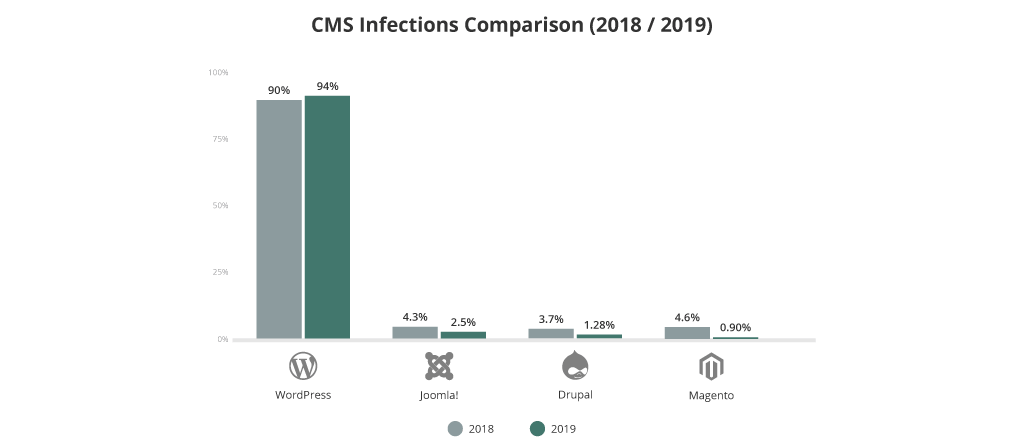 The most common WordPress malware infections are backdoors, drive-by downloads, pharma hacks, malicious redirects, and stolen passwords.
According to various sources:
The biggest data breach to hit WordPress happened back in 2011 when 18 million users were compromised due to an attack.
Another one of the largest data breaches to hit WordPress was the Panama Papers Leak in 2016, which affected 2.6TB of data, 11.5million documents, and 4.8 million emails. The cause? A website that wasn't running the latest version of the Slider Revolution plugin!
The iThemes Security plugin had the most ironic security breach to date.
To prevent data breaches such as those described above in this list of WordPress statistics, it is important for users to keep their WordPress core, plugins, and themes consistently up to date.
WordPress Community Statistics
The WordPress community is diverse, made up of people who represent many different ages, races, backgrounds, and skillsets — brought together by their mutual love of the software. The WordPress community is generally known as helpful and friendly, with many individuals contributing to software updates and getting involved with organizing free events to help people learn more about how to use WordPress.
WordCamps are not-for-profit events organized by volunteers around the globe. WordCamp events can represent cities, regions, or even countries. New locations are added on a regular basis as community members step up to the plate to take on the responsibility of organizing events, according to increased demands in areas that don't yet have an established WordCamp.
Matt Mullenweg organized the first WordCamp in 2006 in San Francisco. As of this article's publication, there have been 990 WordCamps in 73 cities, in 65 countries, and on six continents.
WordCamp events aim to be accessible to as many attendees as possible, with tickets selling for as low as $40 for two days. These fees cover logistical costs, like the use of a certain venue — speakers are not paid. Global and local sponsors help to subsidize the cost of tickets to keep attendance affordable.
If you miss a WordCamp event you hoped to attend, note that you can watch replays of talks on WordPress.tv.
WordCamps were born out of WordPress meetups, which are smaller, more intimate WordPress gatherings. There is an official account for WordPress meetups on Meetup.com, which has 740+ associated meetup groups and over 370,900+ members.
Besides WordCamps, some of the most popular WordPress events include:
WordPress as a Profession
There are several ways to earn money with WordPress, all of which can be quite lucrative. A quarter of WordPress users make a full-time living off the CMS.
Some of those ways to earn money through WordPress include:
You can become a WordPress developer/designer, plugin/theme maker/developer, hosting company, SEO professional (or agency), and starting a WordPress maintenance service.
Half of WordPress theme makers on Envato Market have made at least $1000 per month and 5% earn $10,000+ per month. Less than 4% of all themes on Envato Market have made less than $1000.
WordPress developers charge anywhere between $20-$100 per hour.
Final Words
As odd as it may seem, the internet is still relatively new. Therefore, taking a historical view of it can be difficult. This task only complicates further when you try to focus on something as widespread as WordPress. Fortunately, you can see important trends by looking at key moments of its development.
Started officially in 2003, WordPress is now over 17 years old. A lot has changed since its original inception, but the core functionality behind the platform — to empower users to start blogs of their own — will always be a feature. It has also evolved over time and all kinds of companies are now using it, from Enterprise to Fortune 500 companies.
So, are you excited about the future of WordPress and the upcoming WordPress 5.9? We sure are!
The latest tips and news from the industry straight to your inbox!
Join 30,000+ subscribers for exclusive access to our monthly newsletter with insider cloud, hosting and WordPress tips!