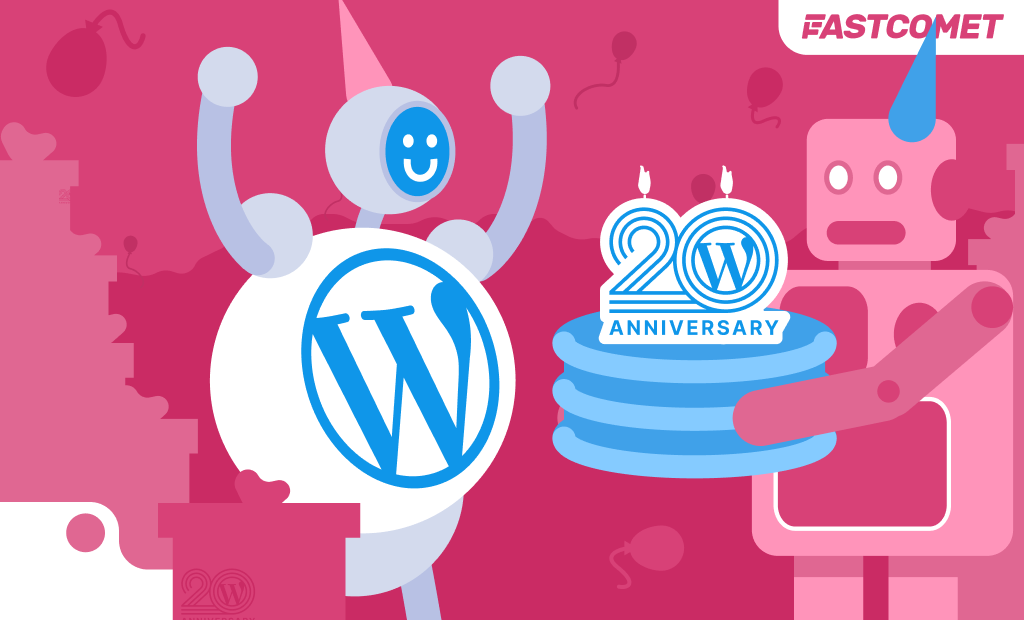 WordPress 20th Anniversary: Join The Celebration!
You have probably heard of WordPress before, even if you are unfamiliar with website development. It is one of those things on the Internet that permeates communities and professions, and almost everyone knows at least what it is. If you don't know, this is what WordPress is: one of the most popular open-source content management systems. Millions of websites have been built using it. While that in itself is impressive, there is something more important that is happening this year. It is WordPress' 20th anniversary!
WordPress has become a feature-rich content management system since its humble beginnings as a simple blogging website. Founded by Matt Mullenweg and Mike Little, WordPress's team has since grown and is now getting close to the 3-0-0 milestone. The team's sheer dedication and passion also helped form one of the most wholesome and committed communities on the Internet. Seldom will you find a more welcoming online group of people to be a part of. This is a tremendous year for the platform, and they want to celebrate it.
Read on as we explore some significant moments of WordPress' history, talk about the celebrations, and the platform's future.
20th Anniversary
WordPress' 20th birthday is on May 27th, 2023. Every birthday is to be celebrated, but milestones like the 20th are extra special. It is not only a testament to the longevity and reliability of the platform. It is also a sign that WordPress will continue to evolve and improve throughout the years. Content Management Systems don't survive on the Internet nowadays without constantly moving forward and adapting to users' needs. The fact that WordPress has lasted this long clearly shows the dedication of the team behind it, which is something worthy of commendation.
With how dynamic and fast Internet culture has become, it can boggle the mind how companies can stay on top of new developments and customer needs. Yet, WordPress have done so for twenty years, and we certainly hope they will continue doing so for at least another twenty. Happy 20th birthday, WordPress!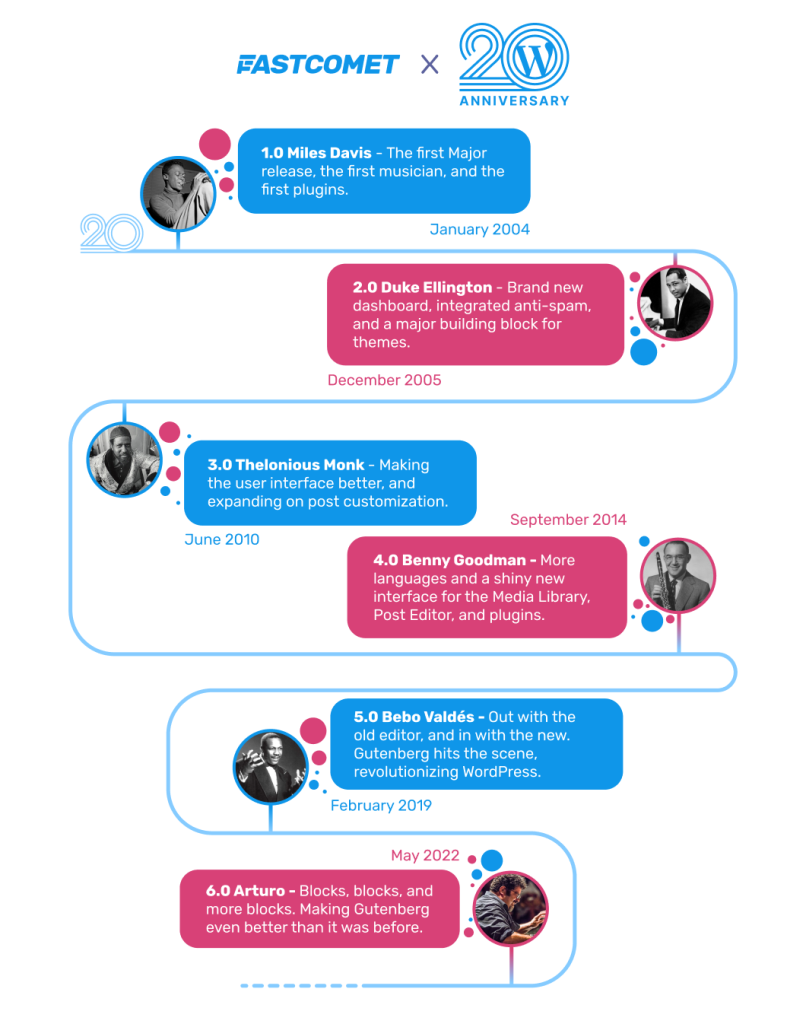 Where it All Began
In 2002, two college students – Matt Mullenweg and Mike Little – decided to create their own blogging platform. What ignited this desire was the discontinuation of another blogging platform at the time: b2/cafelog. They wanted to make their version of the then-popular blogging platform, so they set out to create WordPress. Little did they know what a colossal success it would become.
The first version of WordPress was 0.7, and it was released on May 27th, 2003. That day is hailed as the day WordPress was officially launched, and since then, its birthday has been celebrated on that date. Since then, the platform has seen six significant releases and countless other minor ones and patches. Below is a brief history of these releases to give you a perspective of how far it has come.
Development Over the Years
1.0 Miles Davis – Almost a year later, in January 2004, version 1.0 was released, and it started a trend that lasts until today: each major update is nicknamed after a famous jazz musician. The core developers behind WordPress share a love for jazz, and this is their way of honoring the genre. At this time, another core feature of WordPress came to be: plugins. Users could code their own plugins, which would ultimately add a significant level of flexibility to the platform.
2.0 Duke Ellington – In December 2005, version 2.0 was released, bringing a significant overhaul of the administrative dashboard. It cleaned up its functionality and interface, introduced better tagging and categorizing, and also came with its first pre-installed plugin: Akismet anti-spam. It also introduced the functions.php file to themes. As anyone with WordPress experience will tell you – was immensely useful and necessary.
3.0 Thelonious Monk – June 2010: even more improvements to the user interface and experience to further push WordPress as a content management system. It allowed users to customize post types, headers, footers, backgrounds, and so on. A previously separate Multisite network project (WordPress MU) was also folded into the core WordPress system, effectively adding an additional layer of functionality.
4.0 Benny Goodman – Released in September 2014, this version made a giant stride towards improving the experience of its non-English speaking users. It allowed users to install WordPress with a language of their choice. It also brought along improvements to the Media Library, the Post Editor, and the Plugin installation interface.
5.0 Bebo Valdés – February 2019 was a cornerstone for WordPress, because version 5.0 was released. The editing experience of users would change for the better after this. Version 5.0 introduced a brand new editor called Gutenberg. Unlike the old, text-based editor, Gutenberg is a block editor, which bundles many functionalities into convenient, easy-to-use blocks. There was no native support for embedding videos or adding images to your posts, for instance. Gutenberg has that support in the form of blocks that can be added and moved throughout the page. Editing had just become much more convenient.
6.0 Arturo – In May 2022, 6.0 was released to the public. This version did not come with significant, game-changing functionalities. Instead, the team doubled down on what was already there. They focused on improving the Gutenberg block editor, which is what the majority of the update brought. Improvements were also made to template browsing and creation were also implemented. New core blocks were also added, and the sidebar saw some organizational improvements as well.
Anniversary Celebrations
We mentioned earlier how the WordPress community is one of the most wholesome and committed communities out there. That statement is even more true now, on the platform's 20th birthday. They are organizing numerous in-person events, and WordPress themselves have a couple of surprises of their own.
WordCamps
These are community-organized events all over the world for WordPress' 20th anniversary. Since 2006, prominent members of the WordPress community have been organizing WordCamps, and more information can be found on the events' official website. They are informal meet-ups where like-minded people can get to know each other, discuss ideas and collaborate on projects. It is a great place to be if you want to learn more about WordPress, how to develop plugins or themes for it, make new friends, or connect with people from the community. 
We ourselves have attended several such events, but the one which we remember fondly is WordCamp 2018 in Belgrade. The people there proved they are, indeed, the most welcoming online community. We made many friends in the few days we were there, and also learned so much in the process. There were workshops on so many different topics, ranging from SEO and marketing tactics, to building a business, to financial advice, and so many more.
Commemorative Logos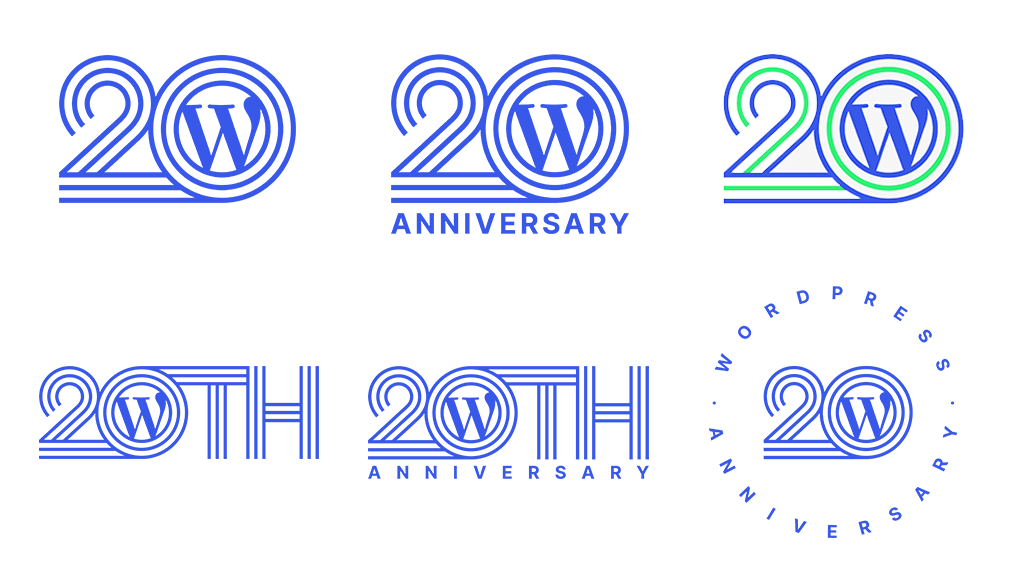 The team is releasing a set of specially designed logos as part of the celebrations. They are free for everyone to download and can be found on their website. If you want to show your support for the platform and excitement for its anniversary, these logos are the perfect place to start.
20th Anniversary Wapuu and Swag
For those who don't know, Wapuu is WordPress' mascot, and it also got a celebratory makeover. Riding a 20th-anniversary balloon and adorned with a party hat, this is an excellent image to add to your website to complete the festive look.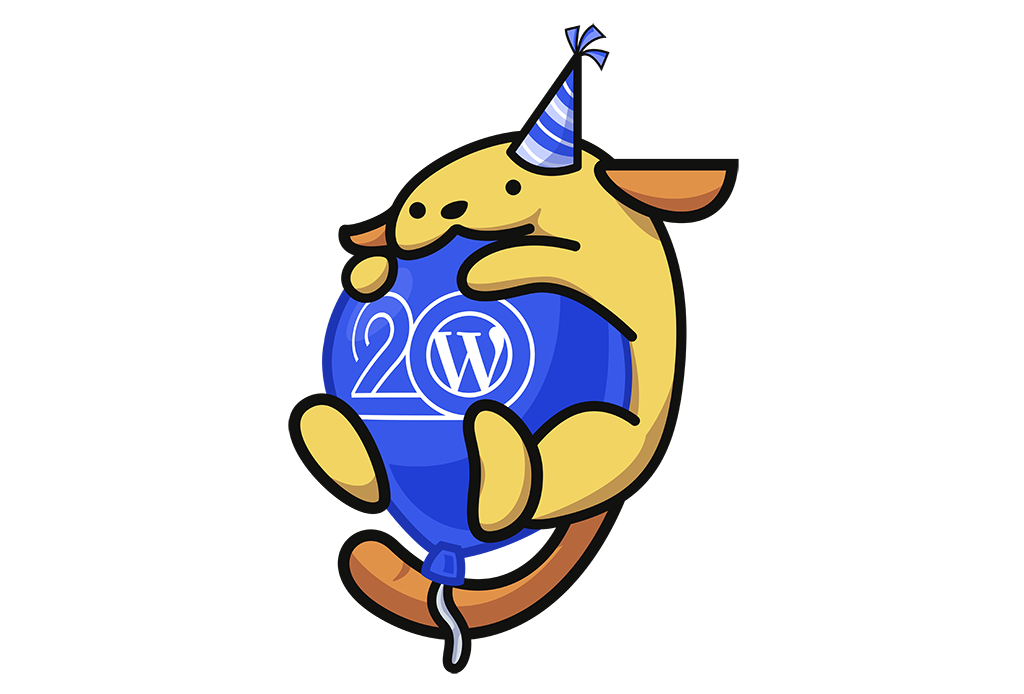 The swag store has also been updated! It features items commemorating the anniversary, so check it if you want to obtain a more tangible piece of history. 
The Future is Bright
Twenty years is a very long time, and we are excited to have been able to witness this journey. WordPress has revolutionized website creation and management, allowing many people without experience or knowledge to build the websites of their dreams. That is not an easy task to achieve, yet WordPress has succeeded, and by the looks of it, they don't plan to stop anytime soon.
It is constantly evolving to provide its users with the best experience possible. The users and their feedback, generosity, and commitment are what drive WordPress to continue being one of the best content management systems on the market.
We can already look forward to what is to come, as there are two significant updates for WordPress planned for this year: 6.3 in August and 6.4 in November. Furthermore, version 7.0 is rumored to be an even more exciting of a release than the rest. We can't wait to learn about it, when more official information is released. Of course, nothing is set in stone, and these dates may change, but we are excited about the updates all the same.
Here it is to the WordPress team and their incredible achievement. We hope you have many more successful years ahead of you.
The latest tips and news from the industry straight to your inbox!
Join 30,000+ subscribers for exclusive access to our monthly newsletter with insider cloud, hosting and WordPress tips!