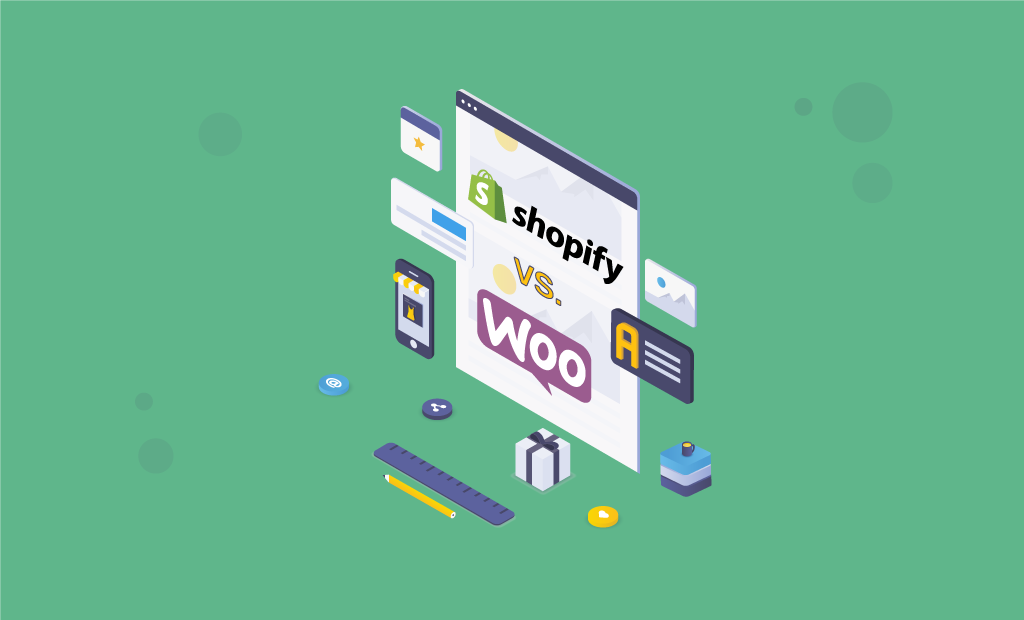 WooCommerce vs. Shopify: A Deep Dive Comparison
To put it simply, Shopify and WooCommerce are two of the most popular and easy-to-use eCommerce platforms available on the market. Both have multiple strengths and can be the perfect solution for you to build an eCommerce store with. The best thing is that you can do that alone, without any help from professional designers and/or developers.
First, which one of the two is actually going to fit your specific needs for creating a fantastic online shop better — Shopify or WooCommerce? Which is more feature-rich? Which is cheaper? Which is better-looking? Which is more flexible? Which is the easiest to work with?
We have many questions to get to, but we will answer them all in this comparison. After reading it, you will know exactly which eCommerce platform to choose based on your individual needs. So, let's compare WooCommerce vs. Shopify so that you can make your final informed decision.
Table of Contents:
WooCommerce vs. Shopify: Different Core Approaches to eCommerce
When we compare website builder platforms such as Wix to WordPress, Squarespace to WordPress, WooCommerce, and Shopify, we should take into account two distinctive core approaches to create and manage online store:
WooCommerce is a self-hosted eCommerce plugin built for WordPress that you install on your own web server. It's open-source, meaning that the code behind it is freely available and may be modified easily. It is extremely flexible but not as beginner-friendly.
Shopify is a hosted eCommerce platform with all the eCommerce and point of sale features you need to start, run, and grow your business. It hosts and manages the software for you, without the need of ever worrying about the technical aspects of managing a website such as a web hosting, security, caching, etc. While Shopify does offer you a lot of flexibility, you're limited to only making the changes that the platform allows you to make.
Scale on a Stable Platform That's Easy to Use
There's little doubt that WooCommerce has a steeper learning curve than Shopify. Shopify is definitely easier to get to grips with for a 'regular' user.
Shopify is a hosted eCommerce platform which means it takes care of a lot of the technical side of operating a store. From your domain name and hosting to any security (SSL) certificates, Shopify has you covered.
Additionally, with Shopify, you don't have to install, manage, or update any software. No need to worry about security or backups, either.
In contrast, with WooCommerce, you need to do a little more legwork, like sourcing your own web hosting and security – but that's really easy to do.
Shopify is accessible to the everyday person, and you don't need to know how to code to get the most out of it. WooCommerce is a far more technical platform that will require a certain level of knowledge to use or a willingness to spend some time learning, which definitely pays off in the end. That makes WooCommerce the better choice when it comes to long-term commitment.
Streamline the Building Time Process
Are you looking to build a powerful store but want to get the ball rolling quickly? Or are you willing to invest a bit of time to have greater control?
Shopify will let you get your store live quicker than WooCommerce. If you're starting from scratch or have limited technical skills, Shopify is the better option. Getting your store live is far quicker and easier. You have your handheld as you set up your store and give it a look and feel by choosing and editing themes. Unlike setting up a store with WordPress, the process is not manual, while Shopify stores everything you need in one place.
WooCommerce is more suited to users that aren't looking to gain masses of sales immediately. Building stores on this platform is more of a creative project than it is on Shopify – you'll have lots of creative control, and you can make the site truly your own, reflecting on your business vision.
WooCommerce's setup wizard covers the basics but doesn't answer more complicated questions. It assumes a higher level of tech know-how from users and leaves you on your own at times. However, if you are willing to spend some time, you can find all the information needed on the Internet.
Shopify is recommended if you're starting out selling online and want to build your online presence quickly. It's a platform that combines powerful eCommerce features with a quick setup process. WooCommerce is for people that look for long-term consistent success with a unique and attractive design.
Evaluate Design and Themes Capability
Both WooCommerce and Shopify's stylish themes give your store a professional look and feel. Looks do matter in the website world. Shopify's theme store has over 70 free and paid themes for you to choose from. If you include variations, though, the real figure is over 100. Shopify's themes are very polished – because it's a dedicated eCommerce platform, they're designed to help you sell.
Premium themes start from $140. While this may seem expensive, it's a one-off payment that you should see as an investment in your store. If it helps you generate more revenue, it will pay for itself. And if you're working on a tight budget, there are plenty of free themes to start with.
WooCommerce's entry theme, Storefront, is fully responsive on mobile devices. It also comes with a clean and fresh layout. How good your design looks on WooCommerce depends on the hours you're willing to put in, as well as your technical skill level.
With designers creating new themes for WooCommerce — the sky is the limit. ThemeForest, for instance, has over 1,000 specific eCommerce themes for you to choose from.
While the breadth of WooCommerce is fantastic, what Shopify offers is more curated. The Shopify creators have taken the time to select the themes that will work best for your store.
Remember, choosing a great theme is only part of the WooCommerce vs. Shopify battle. It's also about how much you can customize that theme. When it comes to that, WooCommerce gives you far more flexibility.
Compare Sales Features
Both platforms provide the features you need to build an effective online store. If you're looking to sell products on the Internet or get a small business online, neither will let you down.
Where WooCommerce and Shopify differ is in the features which come included as standard.
Abandoned Cart Recovery
One feature Shopify includes as a standard that WooCommerce doesn't is abandoned cart recovery. When choosing between WooCommerce and Shopify, this is important, as it allows customers to complete an abandoned order without filling out their details again. It also sends a gentle email reminder inviting them to finish the sale. Having an abandoned cart option is mandatory, keeping sales in your grasp.
Multichannel Selling
Both platforms enable you to sell on Amazon, eBay, Instagram, and Facebook. The only difference is that with WooCommerce, you'll need to pay $79 to install all of them apart from Facebook, which is free to install. With Shopify, however, it won't cost you to integrate your store with those channels.
Shipping Convenience
Offering a seamless shipping experience can do wonders for your brand reputation. Shopify and WooCommerce allow you to offer free shipping and sell internationally. Shopify goes the extra mile here, with its partnerships with USPS, DHL Express, UPS, and Canada Post, saving you the time and effort of sourcing your own courier.
Key Shopify Sales Features
Abandoned cart recovery;
Discount codes;
Unlimited products;
Website and blog;
Over 100 payment options.
Key WooCommerce Sales Features
Built-in blogging;
"Unrestricted customization" – you can edit anything from the homepage layout to the 'Buy' button;
Ability to embed products and checkout onto a wider range of store pages;
One-click refund for customers.
While both platforms meet the selling needs of merchants, Shopify's features are in-built. They're ready to use from the moment you sign up.
WooCommerce's strengths lie in its plugins. However, it comes with some amazing key features to make your store a great success.
Differences in Plugins and Integrations
Installing apps or plugins enables you to add more strings to your eCommerce bow. On both platforms, you can install apps to add extra functionality in all areas of your business, including shipping, SEO, and marketing.
As an open-source platform, WooCommerce relies heavily on plugins. There are over 50,000 to choose from, allowing you to build a bespoke website without any limitations.
Shopify has over 1,200 free and paid apps that are all reliable. However, if you're unsure which app to install, always check the star rating or user reviews.
WooCommerce outperforms Shopify in the app department. WooCommerce is open-source software, which means it relies on plugins for the majority of its features. Unsurprisingly, this is why WooCommerce does so well in this section.
WooCommerce vs. Shopify: Difference in Marketing Tools
For any business to succeed, it needs to grow. Marketing tools can help your business do just that, connecting your brand with new clients and customers. But which platform lets you shout the loudest about your business?
Email Marketing
With Shopify, you can run numerous email campaigns using apps such as Seguno and Constant Contact. WooCommerce similarly relies on plugins for its email campaign features, offering integration with MailChimp, helping you send personalized email campaigns with ease.
Social Media Integrations
Shopify supports multichannel selling, enabling you to integrate your store with Facebook, Amazon, eBay, and Pinterest, as well as advertise on them. This opens up your business to a whole new online audience at no cost to you.
With WooCommerce, you can integrate your store with Amazon, eBay, and Instagram for $79, but you can also advertise on Facebook for free.
Shopify has an impressive range of marketing features, such as multichannel selling, which allows you to expose your business to potentially millions of social media users. In contrast, WooCommerce relies on plugins for its marketing tools, which can also be positive because you will have only the features you need.
Match Payment Methods Offered by both Platforms
Both WooCommerce and Shopify come with extensive lists of payment gateways. Unless you have a very niche situation, you probably won't notice a difference between the two platforms.
WooCommerce Payment Methods
Because of WooCommerce's open nature and large plugin community, you can find a ton of WooCommerce payment gateways.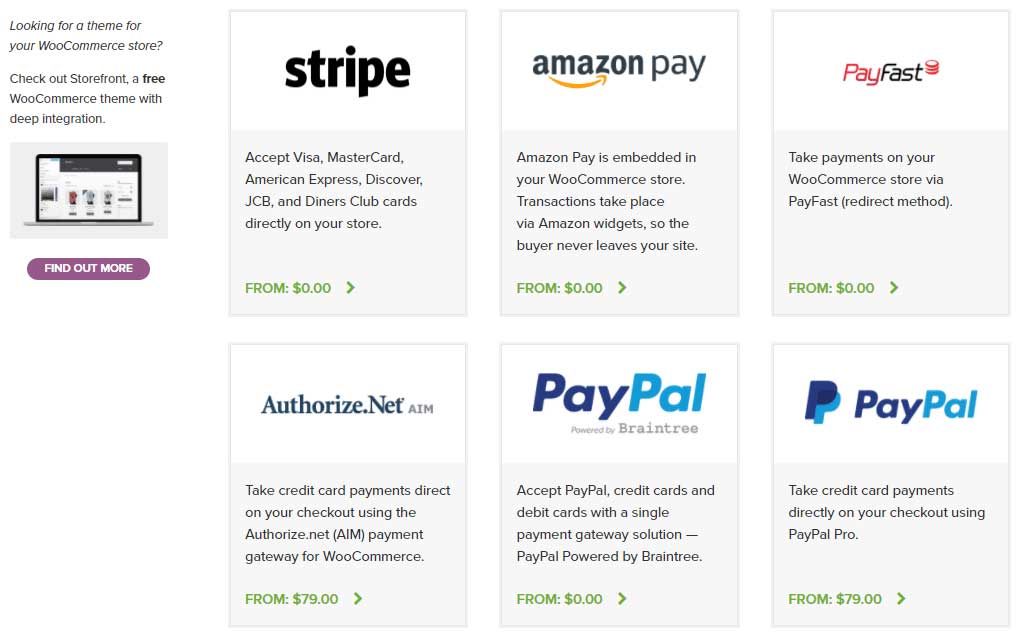 WooCommerce supports all the popular gateways like:
Stripe;
Amazon Pay;
PayPal;
Square;
Authorize.Net;
Postgiro (a Swedish gateway);
Przelewy24 (a Polish gateway).
The last two may not be familiar to you, but that's the point — WooCommerce has both the big names and the regional gateways.
Shopify Payment Methods
Shopify has its own payment gateway that essentially requires zero configuration. But if you'd prefer to use a third-party payment gateway, Shopify also supports all the biggies like:
PayPal
Stripe
Authorize.Net
And not to be outdone, Shopify also boasts its own lengthy list of local payment gateways.
Shopify will charge you extra if you use an external payment gateway, though. As we said, this is definitely worth paying attention to.
It's important to know that Shopify Payments is only available in a few countries, as seen in the following screenshot taken from help.shopify.com: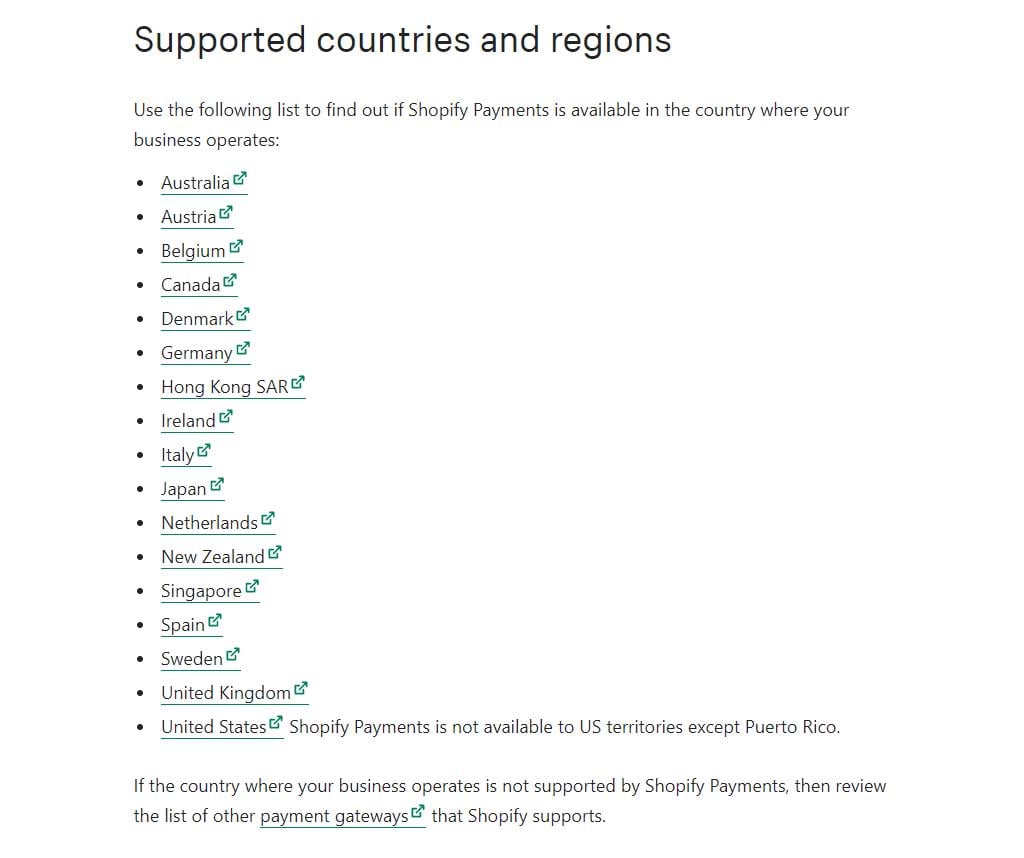 In countries where Shopify Payments is not available, you must use a third-party payment gateway, but you must pay additional transaction fees to Shopify. Those fees can be as high as 2% (on top of your payment gateway charges).
Additionally, many third-party apps ask for permission to view order details, but they don't have a proper GDPR privacy policy, which is a big issue. Be careful when evaluating the GDPR compliance of third-party apps.
Search Engine Optimization (SEO) Features
Search Engine Optimization (SEO) is key to attracting customers to your virtual shelves. It boils down to one thing: making sure your store appears high in Google's search results. When shoppers type in words related to your product, you want them to find you.
When it comes to SEO, WooCommerce vs. Shopify is a tough one to call. Both are robust eCommerce platforms, and they'll help you make sure your products are appearing in front of the right people.
WooCommerce is built using code optimized for SEO, and it's integrated with WordPress and its impressive range of SEO plugins. You can dig deep and add detailed meta descriptions and titles to your pages to tell Google what they're about.
Some of our favorite SEO features include the ability to customize your URLs to help search engine users find your pages more easily and the excellent SEO guides and prompts throughout the building process.
Both Shopify and WooCommerce provide apps and integrations that boost your store. Yoast, WordPress's SEO plugin, is very simple to use and offers excellent support – it's like hiring your own SEO expert! Furthermore, WooCommerce offers a greater choice of SEO plugins than Shopify does.
Shopify, meanwhile, does have a range of SEO plugins in its App Store. We like the free SEO Booster, which scans your store and offers fixes for problems that might be harming performance.
Shopify also makes it easy to add basic SEO information to your store. You can add descriptions and titles for your images, products, and pages.
With WooCommerce, you've access to a wide range of excellent SEO plugins, plus it offers helpful SEO guides and prompts. Shopify doesn't have as many SEO apps to offer, which may be restrictive in the long run.
Weight Out Security Features
High-level security should be a priority for any website. It's essential for online stores, as you're not only processing customers' money – you're also holding their personal information.
With Shopify, security is taken care of for you. Because it's a hosted eCommerce platform, Shopify is in charge of handling any security breaches and makes sure your site is safe from hackers.
WooCommerce, on the other hand, works with WordPress and is therefore self-hosted. The actual plugin doesn't come with built-in security, so any security will need to be handled by yourself or your hosting provider.
SSL Certificate Differences
SSL stands for Secure Sockets Layer. An SSL certificate is responsible for safeguarding your website so personal information can't be tampered with by cybercriminals.
Shopify comes with a built-in SSL. This can be seen by the little padlock icon that appears next to your URL. The main benefits of having an SSL certificate are:
Security when processing customers' payments and personal information
It helps your store's SEO, as Google looks favorably on sites with SSL
Lets customers know your site is safe to browse, making sales more likely
WooCommerce doesn't have its own SSL. As it's part of WordPress – an open-source platform – you're responsible for sourcing your own SSL certificate. Most people will do this through their hosting provider, most of which provide you with a free SSL certificate when you sign up for a hosting plan – such as FastComet.
PCI-DSS Compliance
We know the Payment Card Industry Data Security Standard (PCI-DSS) sounds like a load of jargon. However, all it really means is that your website is set up to accept credit card payments in line with legal regulations.
Shopify is PCI-DSS compliant. You don't have to worry or set up a thing, and you can start processing credit and debit card payments from day one.
WooCommerce is not automatically PCI-DSS compliant.
Shopify wins here — it's a hosted platform, meaning security is taken care of for you. Shopify comes with an SSL certificate and is PCI-DSS compliant. With WooCommerce, however, you need to source SSL and set up PCI-DSS compliance yourself.
Customer Support Quality
Shopify provides 24/7 support over the phone, live chat, and email. Throw in a library of helpful guides, a community forum, and a setup wizard, and Shopify can't do enough for you. In fact, Shopify scored an amazing 4.1/5 in our customer support research.
Through WooCommerce directly, you can submit tickets for general support and read a range of setup guides to help you build the perfect store the first time. WooCommerce's help resources are extensive, especially when combined with the excellent 24/7 FastComet's support.
WooCommerce hosted by FastComet wins this round. FastComet provides brilliant 24/7 support and offers plenty of helpful guides. Shopify does provide decent support, but it can't quite match what WooCommerce and FastComet have to offer.
WooCommerce vs. Shopify: Differences in Costs
There are variable costs when it comes to both platforms.
WooCommerce Costs
It's difficult to pinpoint an exact cost for a WooCommerce store because the many scenarios and edge cases make things complex. However, there are fixed costs, such as:
Web hosting;
Your domain;
What you pay your payment gateway;
Keep in mind that you'll also likely have to pay for:
A premium theme;
Premium plugins for better website management.
When it comes to WordPress plugins, the advantage is that most of them require a one-time payment, while Shopify apps require recurring monthly payments.
As for the hosting part, FastComet offers managed WordPress hosting, which is perfect for your project. The FastComet pricing is more than great, which adds to the pros of using WooCommerce. Additionally, as we mentioned, we offer constant 24/7 chat support and technical support.
Shopify Costs
Shopify's core pricing is transparent quite transparent: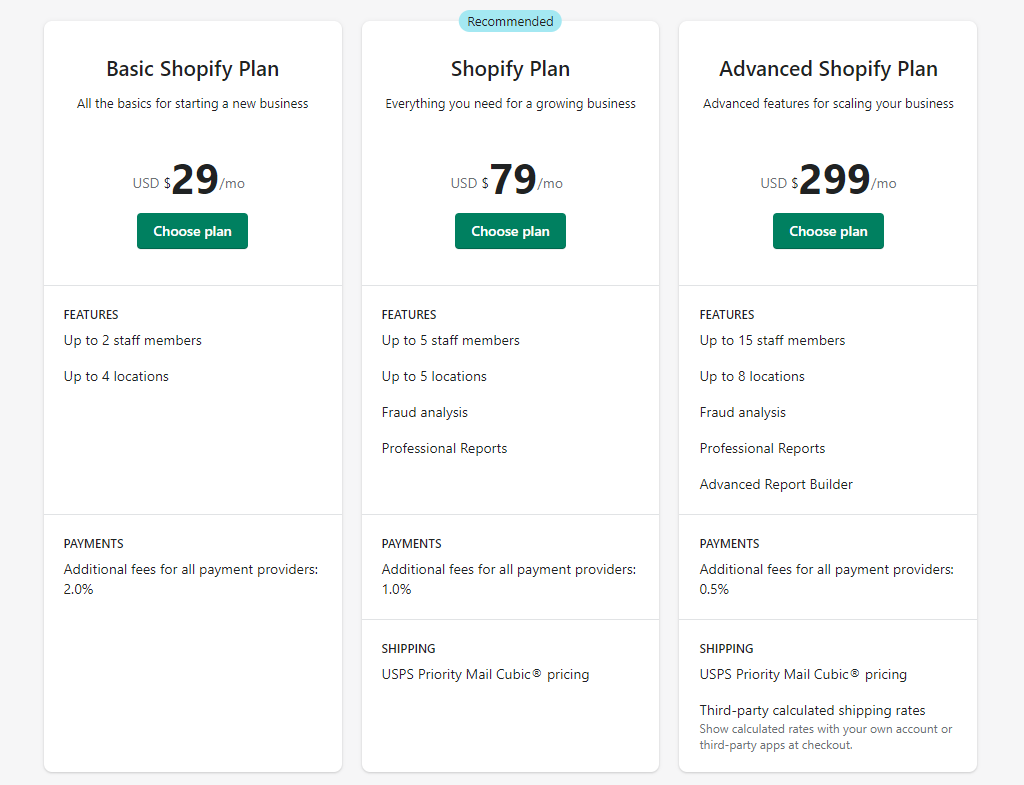 However, some things may increase the cost of your store, such as:
Premium themes (usually a one-off cost);
Apps, many of which require additional monthly payment.
Additionally, as noted in the pricing table, Shopify will charge you more if you use an external payment gateway.
Why you Should Choose WooCommerce over Shopify
Both WooCommerce and Shopify are great eCommerce platforms. They offer a variety of features, benefits, and price points. WooCommerce, however, is a trusted plugin that already powers about 28% of all eCommerce sites. There's a reason that number is so high — it's the best eCommerce solution.
WooCommerce is free and integrates perfectly with WordPress, so you don't need to worry about migrating a site over to WordPress to use WooCommerce. There are more than 400 extensions, hundreds of themes, in addition to the ability to customize your online store exactly how you want to. WooCommerce is truly a no-brainer when choosing the right platform to build, manage, and grow your eCommerce site.
Choose WooCommerce if you want to set up a passion project that requires personalization, a large-scale online store selling in numerous regions. It's the best eCommerce choice, especially if you are technically competent and want greater control over your site's design and hosting.
In the long run, WooCommerce is a much better option. So, if you think in perspective as every successful business owner should, you should stick with FastComet and WooCommerce.
The latest tips and news from the industry straight to your inbox!
Join 30,000+ subscribers for exclusive access to our monthly newsletter with insider cloud, hosting and WordPress tips!