 OpenCart 2 Review – What's New and What to Consider Before Upgrading
OpenCart 2 is finally here! As one of the most popular open source E-Commerce platforms, it is absolutely worthy to take the time and review all the new goodies that come with the new version. First, let's say that this is a major release which introduces a lot of changes both to the user interface, admin dashboard, the front-end default theme which is fully responsive now and the core code.

This is an important note for theme designers, extension developers, and OpenCart 1.5 users. As the core code has been pretty much redone it is almost guaranteed that your OpenCart 1.5 theme and extensions will not be compatible with the new OpenCart 2. Thus, users of previous OpenCart version should not rush to upgrade their production stores if 2.X compatible version of their themes and extensions are not available yet. As the new release of OpenCart generated a lot of fuss many developers and design studios already released an updated version of their products but, as of yet, there is no officially supported script for automatically upgrade from 1.5.x to 2.x so only attempt it if you know what you're doing as this process may lead to some serious troubles for your store. Having said that, let's review all the new stuff in the new OpenCart 2 release.
The New OpenCart 2 Frontend
The first thing you will notice as soon as you finish the installation of the new OpenCart version is that the frontend looks very familiar. In my opinion, the default theme of OpenCart has always been an excellent foundation to start your e-commerce website. Well-designed with friendly navigation and color scheme that can be used for almost any store.
The new OpenCart 2 default theme has preserved all the coolness with some major improvement. BootStrap integration is something that you can immediately notice if you have any experience with CSS frameworks. Again, we have a nice main slider, a featured section and a carousel of brand logos.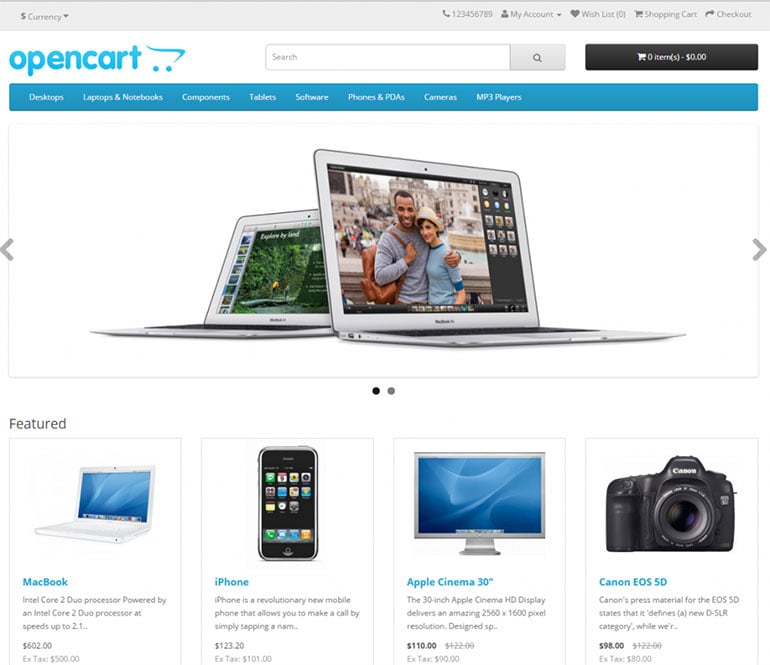 The main navigation is also preserved almost the same. However, it is now fully integrated into the BootStrap's responsive menu so it breaks down into a drop-down tab on mobile devices which is really nice.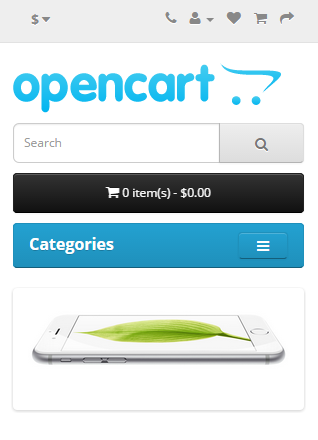 As of the category page and the product catalog, there is a bit of discussion going on. For me, I like the simple and large boxes which give a lot of space for the products thumbnails. However, some members of the OpenCart community find them too large and complain about the lack of an option to reduce their size and change the grid proportions.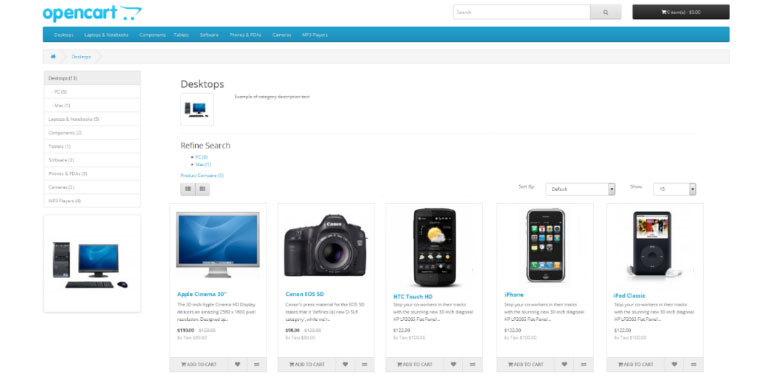 The product page is another matter of discussion. The OpenCart 2 default theme includes a wide image space which can be a great thing if you can upload nice large pictures of your products. However, most probably many of the users will not be able to take full advantage of this due to the fact that not many products are really suitable for such images composition and the result will be just some waste of space.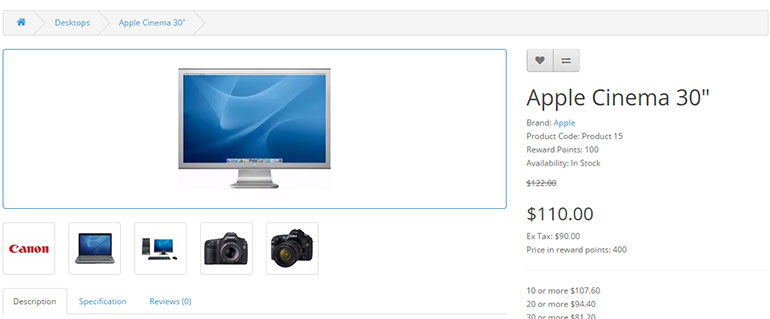 Another two important sections of the OpenCart 2 frontend interface – the user account interface and the cart/checkout process – have not changed a lot since OpenCart 1.5. This, however, can be considered as a plus since OpenCart provided a really nice user experience on both fronts even on the previous release. Furthermore, this might save some hassle for your customers if you decide to upgrade your store later on.
The OpenCart 2 Admin Dashboard
Personally, if there was something that I really didn't like in the previous release of OpenCart it was the admin dashboard interface. Although it had all the features you need to run your store it looked outdated and rusty, not a place where I would like to spend most of my time managing my store.
The new OpenCart 2 Admin Dashboard has been completely redone and the result is awesome. It is not only user-friendly and nice looking but it is real eye candy.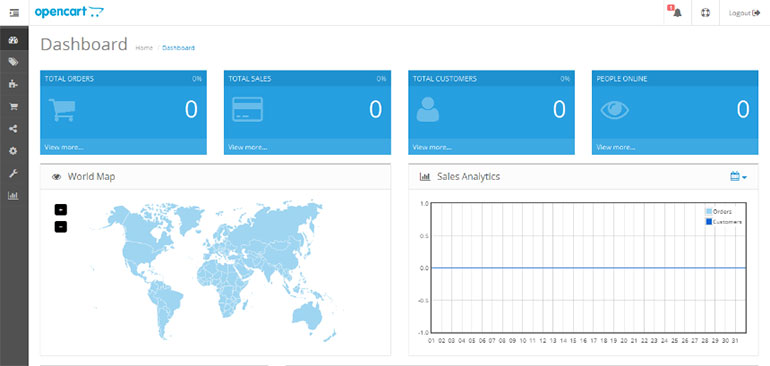 The previous top navigation has been replaced with a nice pop-up menu located on the left much similar to the WordPress admin menu which is a really nice improvement of the user experience. Furthermore, it leaves more space for the important things, so the dashboard space is utilized almost perfectly.
Another cool feature is the Notice icon at the top right corner of the dashboard which informs you of any new events that require your attention.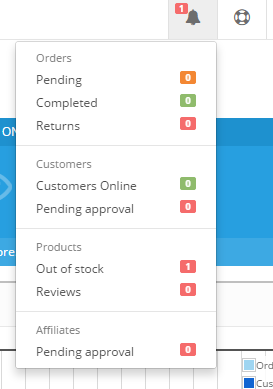 Some of the Cool OpenCart 2 New Features
The list of admin dashboard UI improvements can go on and on so I will leave to you to discover all of them. What is really worth reviewing, however, are some major functionality improvements. The long-anticipated Extension Manager is already here! Site owners will no longer need to edit, upload and replace files via FTP in order to install an OpenCart Extension. Since OpenCart 2 this can be performed via the user-friendly web interface.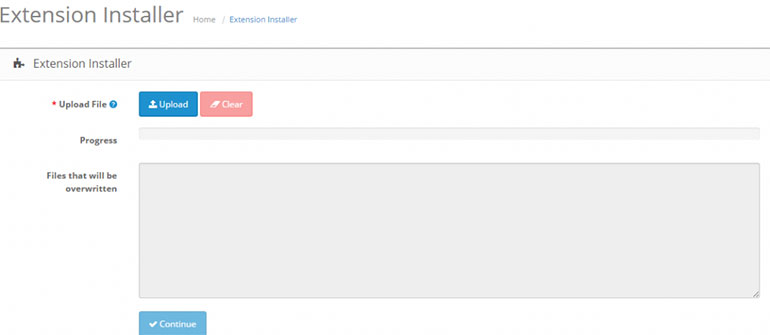 Another great future in the new OpenCart version is the ability to make API calls to PayPal and collect information via the PayPal Express payment method for your orders. You will need of course to get the API credentials from your PayPal account but this is really a handy feature when it comes to PayPal orders.
It is also worth to mention that MaxMind Fraud Protection is fully integrated into the OpenCart 2 and can be easily configured and activated for your store.

Last but not least, I would like to point your attention to the Marketing Tracking links which provide you with the ability to create links with a unique tracking code and monitor your campaigns clicks and conversions in case any orders have been submitted in the same session.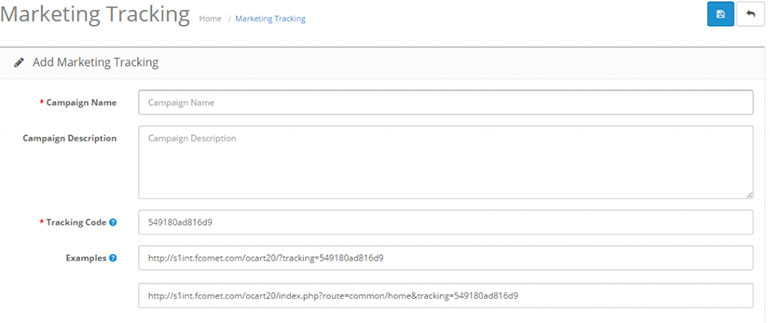 Conclusion
In conclusion, the new OpenCart 2 is a great platform to start your new online store. It has a user-friendly interface, all the features you would expect from a modern e-commerce platform and a nice-looking default theme to match almost any product portfolio.
If we must mention any drawbacks, I would point out the lack of backward compatibility with the previous OpenCart version which may discourage some of the users that already use OpenCart 1.5 to upgrade. Still, this is not an uncommon issue when a new major version is released and most probably will be addressed in the upcoming weeks.
If you are considering to give OpenCart 2 a try, check our OpenCart 2 Hosting package which includes free OpenCart 2 Installation, 24/7 Technical Support and Free GlobalSign SSL Certificate on the E-Commerce plan.
To read more about OpenCart 2 and how to install and configure the new version, you may check our OpenCart 2 Tutorial.
The latest tips and news from the industry straight to your inbox!
Join 30,000+ subscribers for exclusive access to our monthly newsletter with insider cloud, hosting and WordPress tips!