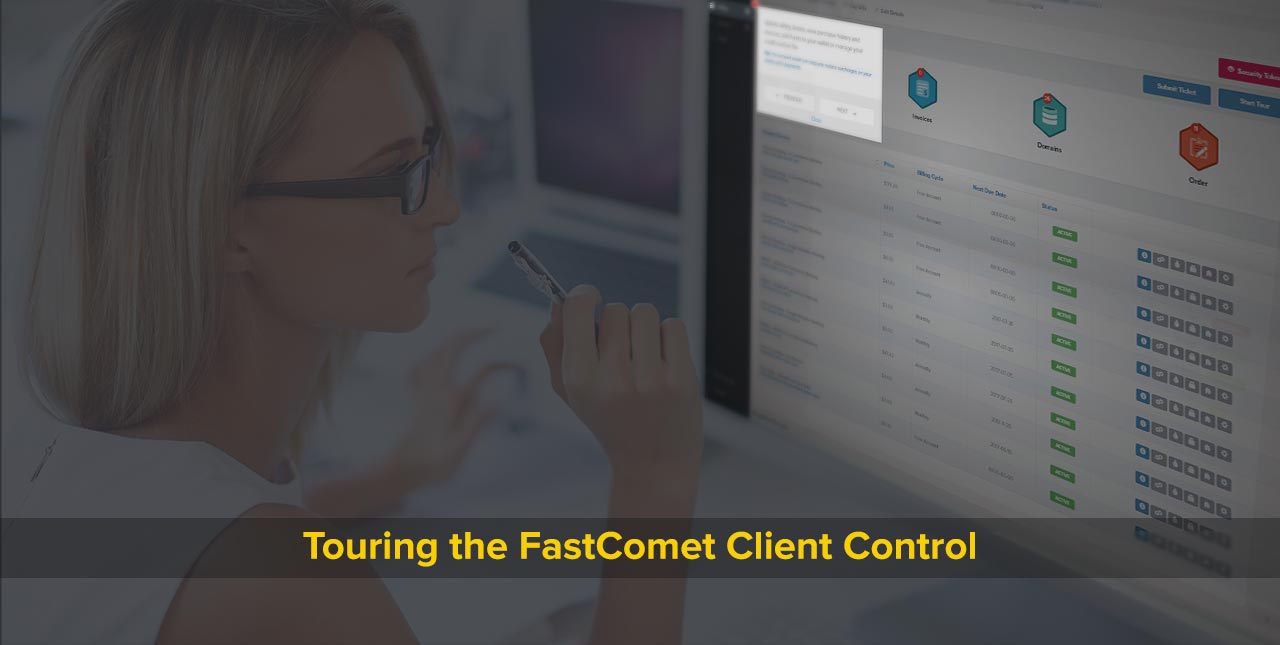 Account Management Just Became Easier & Faster in the FastComet Client Area Dashboard
At FastComet, we are committed to constantly improving our products by leveraging customer feedback in order to keep delivering a premium user experience that fully meets our customers' needs. We are constantly improving our solutions to keep them, and our servers, at the forefront of performance. Furthering this commitment, we have released an updated version of the Customer area to make it easier for our customers to navigate their account and find the tools or information they need and new onboarding experience. And last but not least, we've improved the online account experience with enhanced user management and clearer account settings to improve the user experience and workflow when managing your account. To provide a more unified experience, more account management has been moved inside of the Client Control Area Dashboard (the "central hub" for FastComet accounts where you can access support and more).
For those of you who are current clients, you have probably noticed changes happening to the FastComet Client area over the past couple of months. A big thank you to all of you who have provided feedback, as we take every single request into consideration. We try to push out new features as soon as they are ready and fully tested. For those of you who might not be clients of FastComet yet, this will give you a little look behind the scenes. Check out some of the new features, tools, and improvements of FastComet Client area below. If you like what you see, feel free to sign up for a FastComet account today.
What Can You Expect from the Updated Dashboard?
Your account is the part of our site that matters most to you. It has to be easy to find and manage your products and services. We wanted to make a simple, step-by-step dashboard for users with minimal experience managing their accounts. The most important information regarding your account is right at your fingertips with the new Client Area Dashboard. All your active accounts live here. Here's where you'll find free SSL certificates awaiting activation, as well as your free trial subscriptions. Top up your account balance, review billing invoices, check the progress of your tickets, and so on. The crucial pieces that keep your account running smoothly – your contact info, security token, billing settings, and management tools are also all located here. You never have to worry about expiration dates again. Just check here to see what's coming due for renewal.
This is where all the really fun features are! In here you do all sorts of things:
Account Info shortcut – Upon sign up for a new hosting account with us, you will receive your account information via email. Your hosting account is ready to access within a few minutes, provided that the order application is accurate and complete. You'll want this information handy, we know that. Control your FastComet experience, all in one place. Account Info gives you quick access to essentials for managing your account. If you register a new domain with us during the signup, the domain will be available for use within half an hour, in most circumstances. If you already owned a domain upon signup, the email will contain our domain name servers (DNS settings) used to delegate the hosting to us. You can modify those at any time, however, please note there's a 24-48 hour window where DNS resolvers worldwide release and update their caches. In the meantime, a temporary URL is provided to build the website here until the domain is pointing to the FastComet account. In this quick access tab, you will find all this getting started information. Simply, log into your Client area and take a look around.
Direct cPanel login – Login fast and easy into your cPanel directly from the dashboard so you can access important website options and functions more easily. The cPanel icon is located on the right side of each of your active accounts.
Direct Website Builder login – Thanks to the new, more intuitive functionality, customers can now seamlessly create, manage and edit their Website Builder sites. No need to login to your cPanel and navigate to the SiteBuilder from there. We have streamlined this process.
Activate SSL – Enable a free SSL certificate with Let's Encrypt or add a custom SSL certificate. The certificate renewal process is completely automated, which in turn saves you money and time. You can literally make the switch within a click of a button.
App Installer – We streamlined the process of script installation. It is literally one click to start your new WordPress or Joomla website, right after you login into your Client area.
Manage Account – Although FastComet still uses cPanel, we've added several notable features to our Client Area that give you more control over the settings and setup of your account. We brought most of the actions inline. You can view all the relevant information about the account, while managing databases, FTP accounts, and domain management are quick as well.
Everything you need to manage your web hosting account is quickly accessible from the left-hand side menu. Although these changes might seem small, they all add up to save you a lot of time when doing the day-to-day administration of your websites.
Let the Rocket Lead You
Our first goal is to make your transition to us a smooth one. We've been working behind the scenes to improve your FastComet experience and we have introduced a new onboarding experience – Client Area Demo Tour. As you begin familiarizing yourself with FastComet, we want to get you jump-started with some initial startup information. It is completely optional and it should not take longer than 2 minutes.
FastComet has developed a unique tool – our Comet Start Wizard, to ease your first time ever account onboarding. Upon being selected, it guides the user through the user interface with a series of interactive tooltips with clickable learning materials. Let the Rocket lead you and take a quick tour of the Account Customer Area. The Comet Wizard also allows you to upload a new website or to initiate the free transfer of your existing website with just a few clicks literally seconds after you order your account.
How do you want to build your site? Choose from our in-house site builder (powered by Softaculous), install WordPress, or check out the options from our shortlist. Already know which application you wish to use? If you would prefer to let us manage your initial setup, FastComet Support Team will be in touch soon to do the heavy lifting. You will be able to request its free installation or install it yourself with a couple of clicks through your first steps with our Onboarding Wizard.
What's Happening Next?
Excited? We are too! The team at FastComet is dedicated to providing constant improvements, and over the course of the coming months, we have lots of new and exciting integrations and features we will be releasing. We hope that you enjoy this new experience!
The latest tips and news from the industry straight to your inbox!
Join 30,000+ subscribers for exclusive access to our monthly newsletter with insider cloud, hosting and WordPress tips!