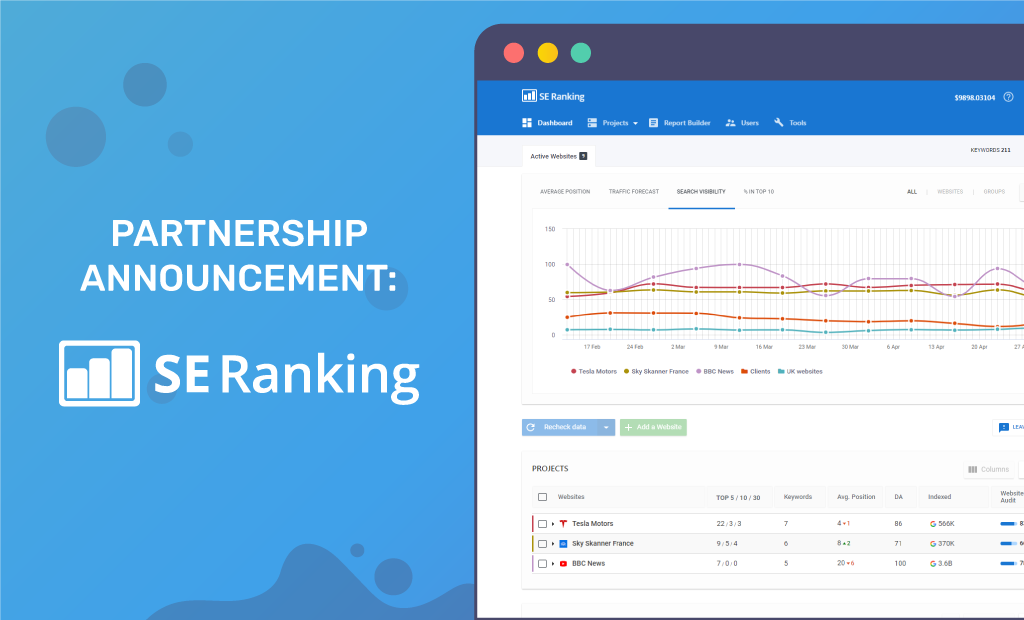 Hack Your Competitors SEO Strategy Using SE Ranking All-in-One SEO Platform
We are excited to announce that we have partnered up with SE Ranking, a web-based SEO and digital marketing software solution that gives you all the tools you need to track keyword rankings on Google. With it, you can also analyze competitors, audit your site for technical SEO needs, get a clear picture of any website's backlink profile, and perform plenty of other SEO-related tasks for your own business or that of a client.
With the launch of this partnership, we have put together an overview of SE Ranking to help you get to know the tool and find out how it can benefit your business. Plus, there's an exclusive offer waiting for you at the very end!
What is SE Ranking?
Founded in 2013, SE Ranking is a powerful all-in-one SEO and digital marketing platform that's packed with over 30 specialized tools designed to help small, large businesses, and agencies promote websites in search.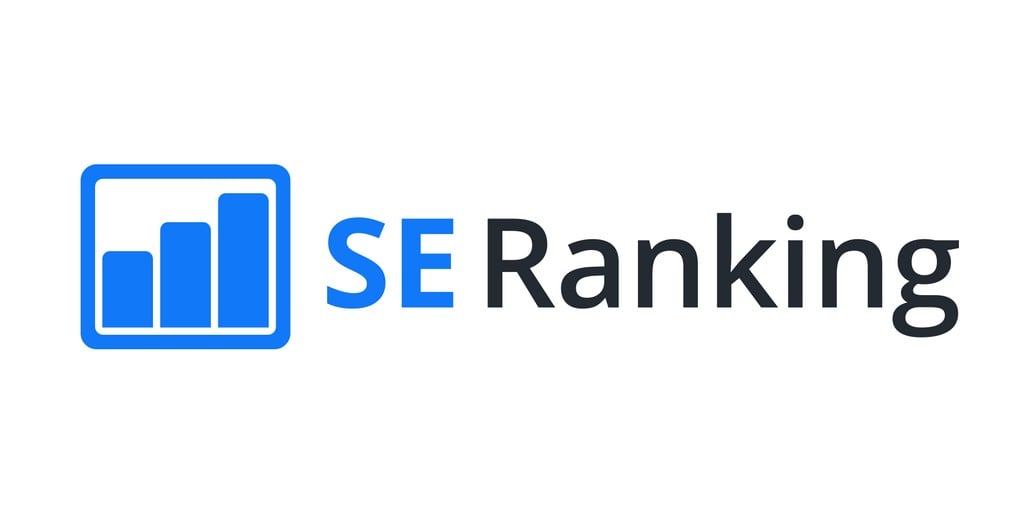 The team over at SE Ranking understands that driving more visitors to websites and boosting sales is a complex but necessary task. That is why they set out on a mission to make SEO simple and accessible to everyone.
With the help of SE Ranking, you can get answers to these and more questions:
How does my site rank on Google?
Who are my competitors, and what strategies do they use in organic and paid search?
What does Google think of my site?
Who do my competitors link out to, and who links out to them?
Apart from all of the standard features you'd expect to find in a similar tool, SE Ranking has unique tools that help you optimize pages for target search terms, keep track of changes that happen on any webpage, and bucket keywords into topical groups. Let's take a closer look at some of the key features SE Ranking has to offer.
Track Keyword Rankings Anywhere in the World
Using the Keyword Rank Tracker tool, you can specify in what country, city, or zip code area you want to track your website's keyword rankings, and get all the necessary data every day, once every three days, or on a weekly basis.

To elaborate – the tool allows you to track both desktop and mobile rankings on such search engines like Google, Bing, Yahoo, Yandex, and YouTube. Plus, you can get data on your Google Maps position, paid rankings on Google Ads, as well as find out whether your pages are displayed for any SERP features.
The best part of this tool is that you can add up to 5 competitors and see how they are ranking for the same keywords you target on your website. That way, you have an opportunity to jump in and adjust your own strategy in time.

Another remarkable feature is SERP competitors that you can use to go back in time and see how the ranking dynamics have changed over time for each keyword you track in your campaign.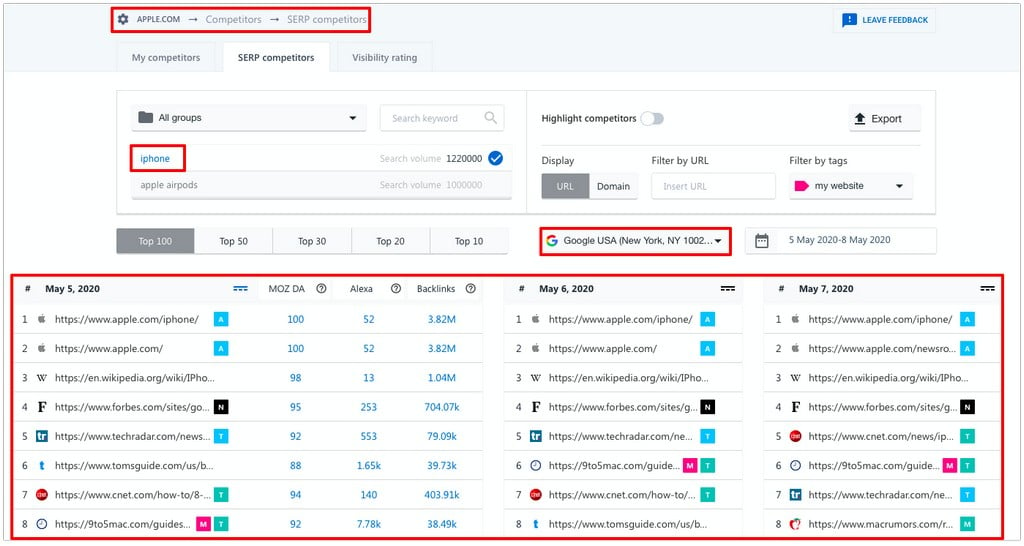 This helps you understand how stable each SERP is and who the leading players are. When it comes to keyword rankings, SE Ranking provides highly-accurate data and loads of features that provide you with actionable insights.
Get Smart Keyword Suggestions
With the help of the Keyword Suggestion tool, you can select a country, enter a search query, and get comprehensive details on it that help you understand your chances of getting positive results by targeting this keyword in search. By the way, this tool is an absolute must for paid search campaigns because it provides niche-specific information.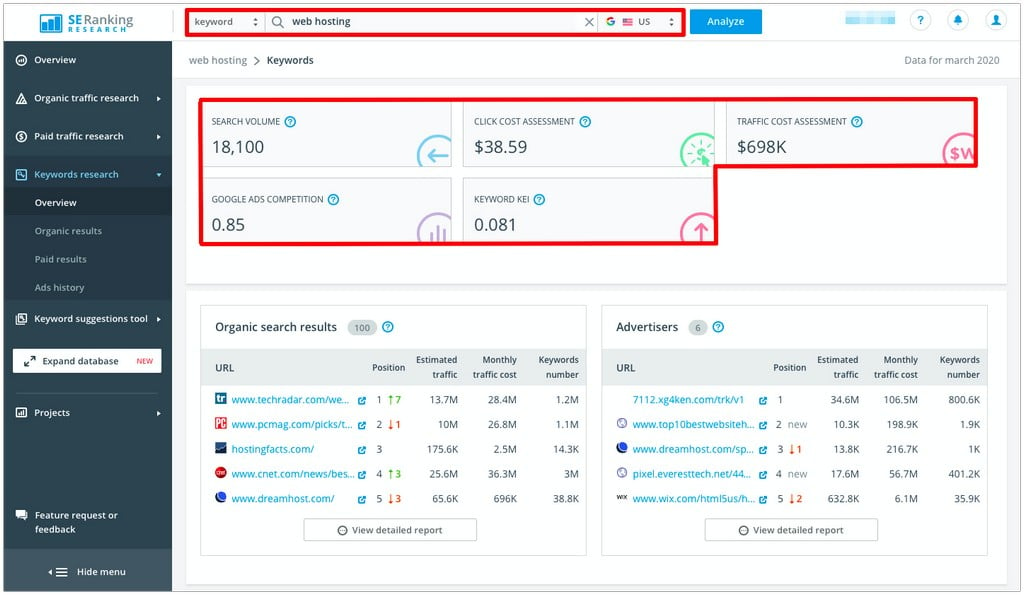 Keyword suggestions are very useful additions to the tool. It generates them for every analyzed search query. Just go through the list of Similar, Related, and Long-tail keywords–the first two lists also provide additional information on every search query–to get ideas on how to expand your semantic core and enhance your content to attract more visitors.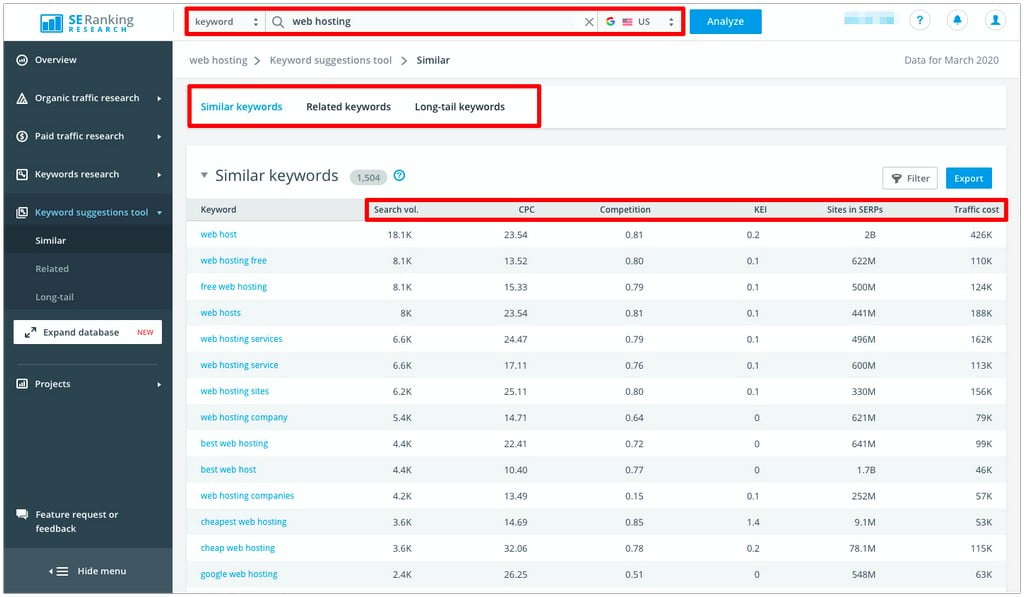 Moreover, you can then bucket the keywords you select into groups using the Keyword Grouper and use the resulting topically-related lists to boost your content further.
Analyze Your Search Competitors
The SEO/PPC Competitor Research tool was developed to help you get all the data you need on your digital rivals. All you have to do is select a country, enter a domain, and get complete information on its organic and paid campaign activity. Among other things, this information includes all the keywords that are being targeted in organic and paid search.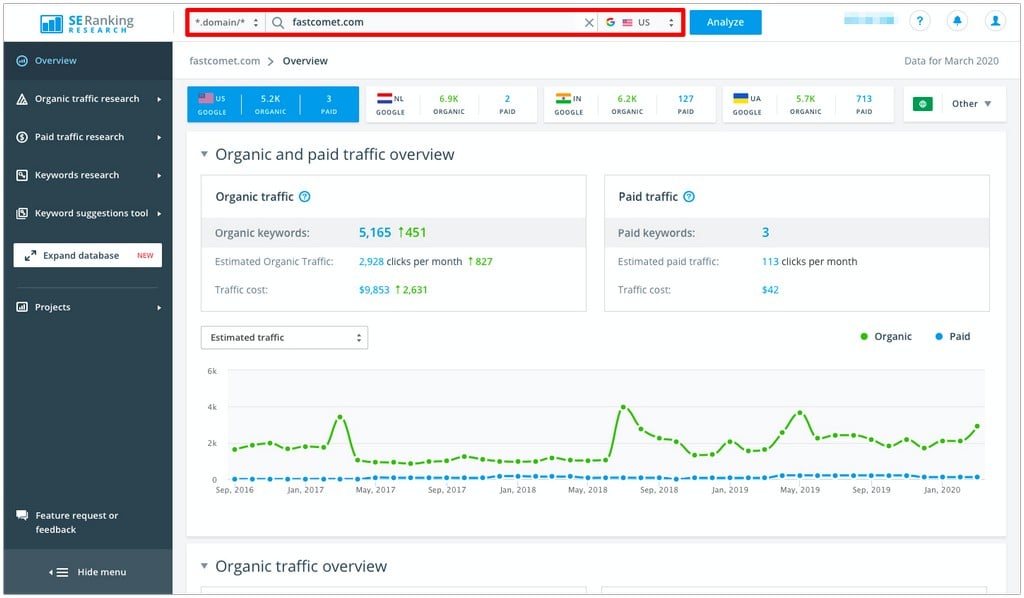 Furthermore, if you don't know who your organic and paid competitors are, you can easily find out using SE Ranking. Then, click on a competing site and analyze all the provided data with the ultimate goal of outranking that competitor.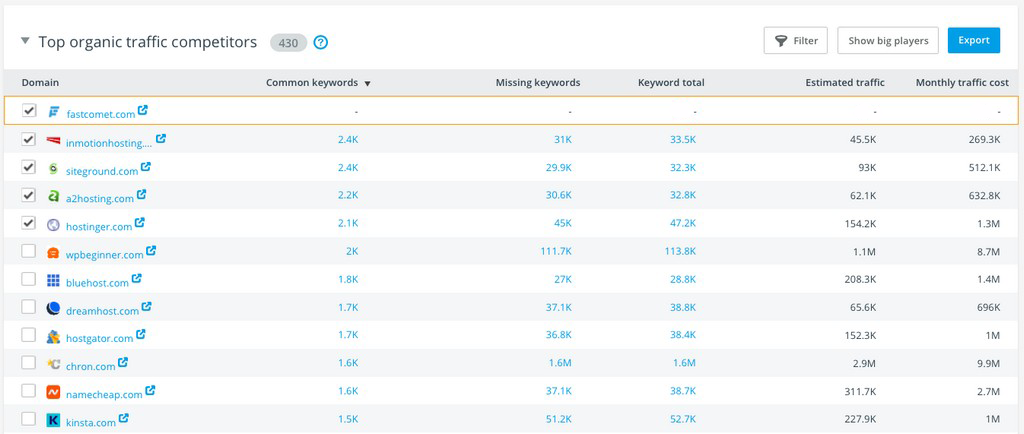 The SEO/PPC Competitor Research tool also helps you discover the strategies your competitors use to get paid traffic. Take a look at the ads they use now and in the past to promote their pages on Google. What keywords are they targeting that you are not, and much more. That will enable you to learn from their mistakes and successes so that you don't have to guess what will work for your audience.
To supplement competitive analysis, you can add a competitor page to the Page Changes Monitoring tool and get notified when any part of the page is changed. This gives you the freedom to focus on your business without having to check in on your rivals' most important pages regularly.
Audit Your Website for Improved SEO
SE Ranking's Website Audit was designed to help you save time and get on Google's good side. Since running a website usually involves going through hundreds of web pages to find potential weak spots that can hold it back from getting to Google's top search results, doing this manually can be a terrible waste of your valuable time. SE Ranking has created a top-notch tool that can do all the heavy lifting for you in terms of your website's technical setup.
Once your website has been fully audited, you'll get a comprehensive report that points out errors and offers ways of fixing them.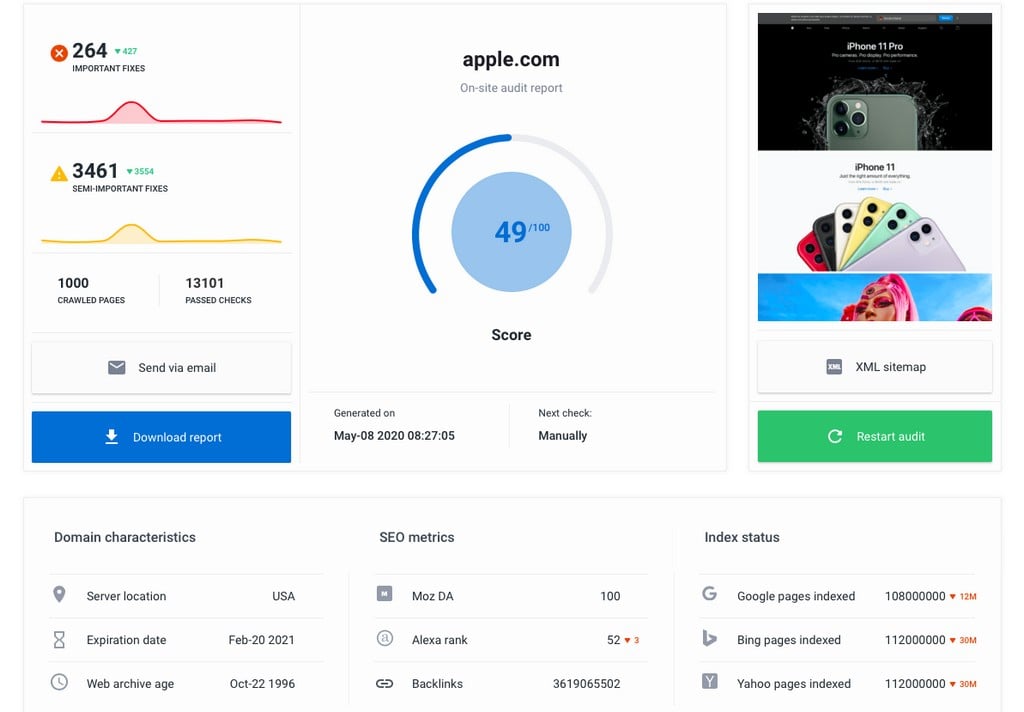 The audit report contains a summary of the website's domain characteristics, as well as a detailed breakdown of such analyzed parameters. The latter include the website's Health, Page, Meta, Content, Link and Image analysis, Optimization tips, Usability, and Technology.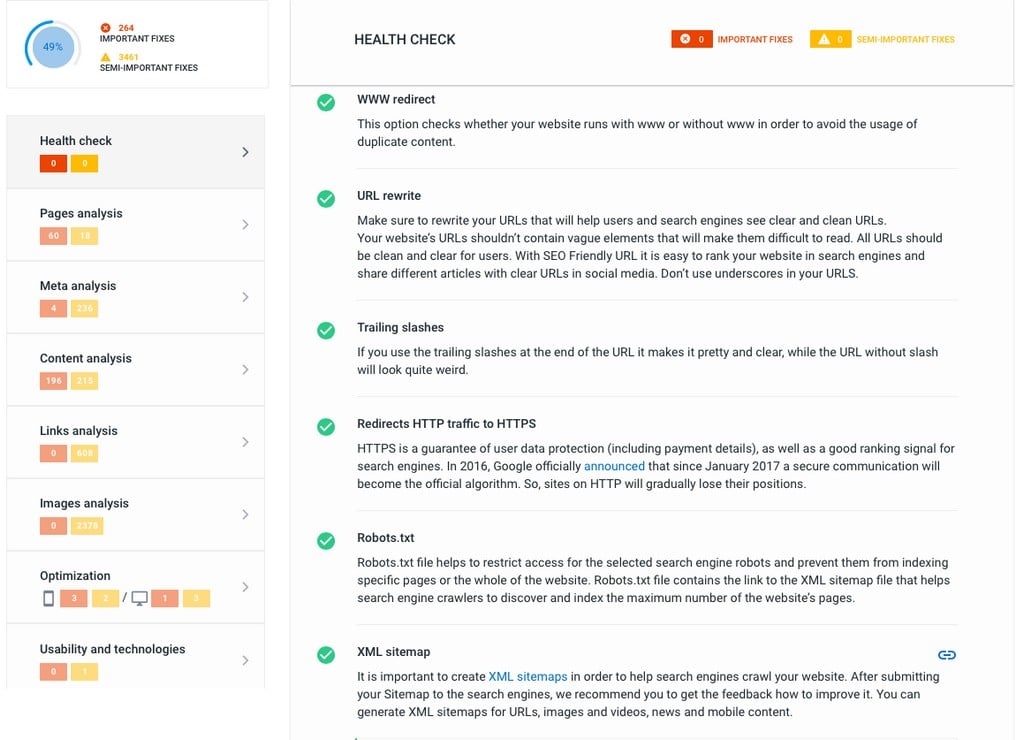 Diligently go through the list, focus on problem areas that the tool points out and fix them as soon as possible. This will help you set the course to higher search rankings. The tool also has suggestions that can make your website more friendly for human visitors.

A very cool bonus feature is the On-Page SEO Checker: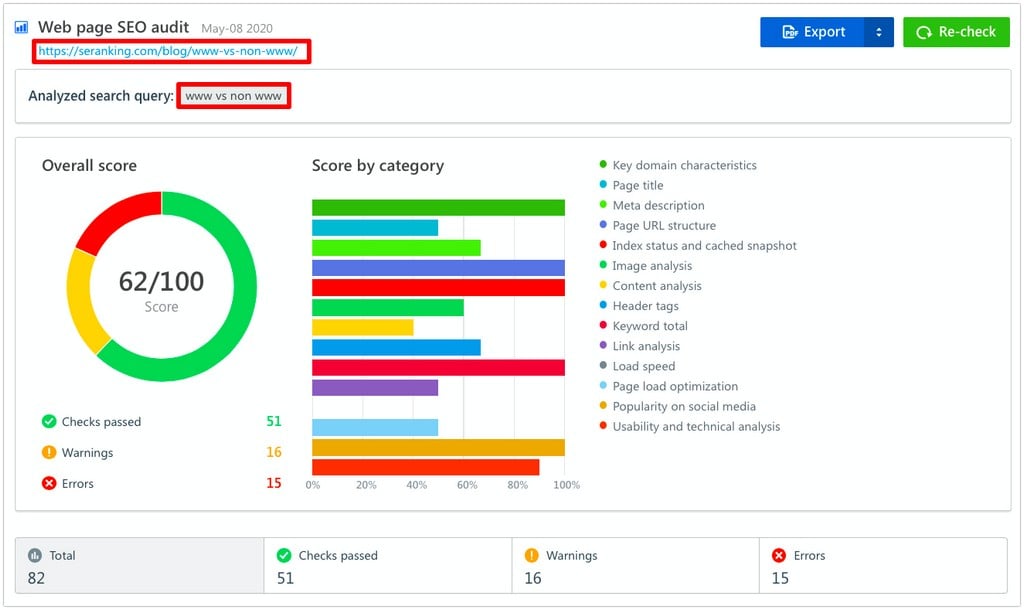 It can perform an audit of a specific web page to provide a breakdown of more in-depth insights and let you know how well the page is optimized for the target keyword.
Find Every Backlink Pointing to Any Website
Backlinks are considered valuable in SEO because they represent a "vote of confidence" from one site to another. If another website is linking back to your site, search engines get a signal that other sites are willing to vouch for that page's content.
SE Ranking's Backlink Checker pulls a list of all backlinks pointing to any domain, whether it is yours or competitors'. Then it provides additional information on each found link that lets you know its status, domain authority, social signals, indexation, and 11 more vital SEO parameters.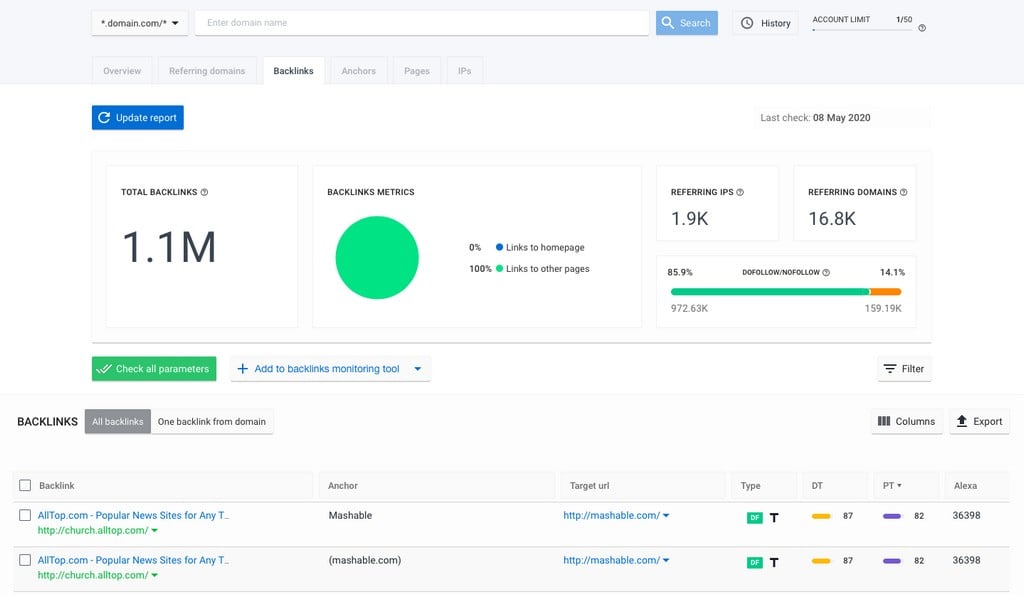 With this data, you can evaluate your own backlink profile and then add your links to the Backlink Monitoring tool to keep track of their status (active or broken). But you can also analyze your competition – something that you simply must do. When you know what kinds of sites are linking back to your competitors, you don't have to do any guesswork. Just reach out to them or similar sites and ask them to link back to your site.
Of course, it's not as simple as that, but you have an excellent way of spying on your competitors from all angles with the help of SE Ranking's tools and features.
SE Ranking Pro Mobile App
And if you feel that you need to do some work on your site while you're on the go, SE Ranking Pro for iOS and Android devices has got you covered.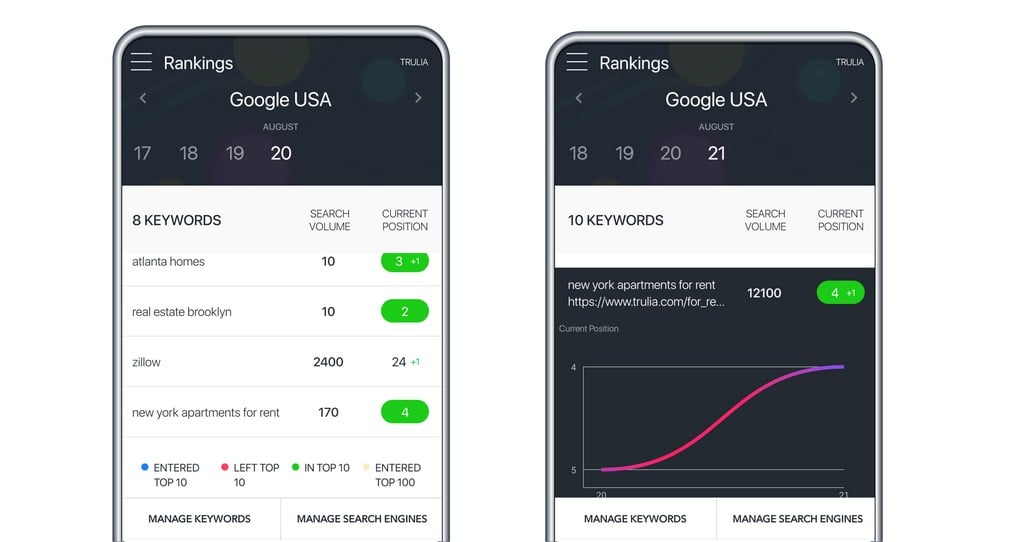 The mobile app offers a lite version of SE Ranking that displays your current rankings and ranking history, on-site audit reports, your SE Ranking marketing plan, list of business directories, and a lite version of the keyword suggestion tool.
Exclusive Discount for FastComet Customers!
As a result of the partnership between FastComet and SE Ranking, all FastComet customers can take advantage of the free access to the PLUS subscription plan for 14 days. That way, you can check out all the features mentioned above.
You can easily locate this offer by accessing SE Ranking via your cPanel.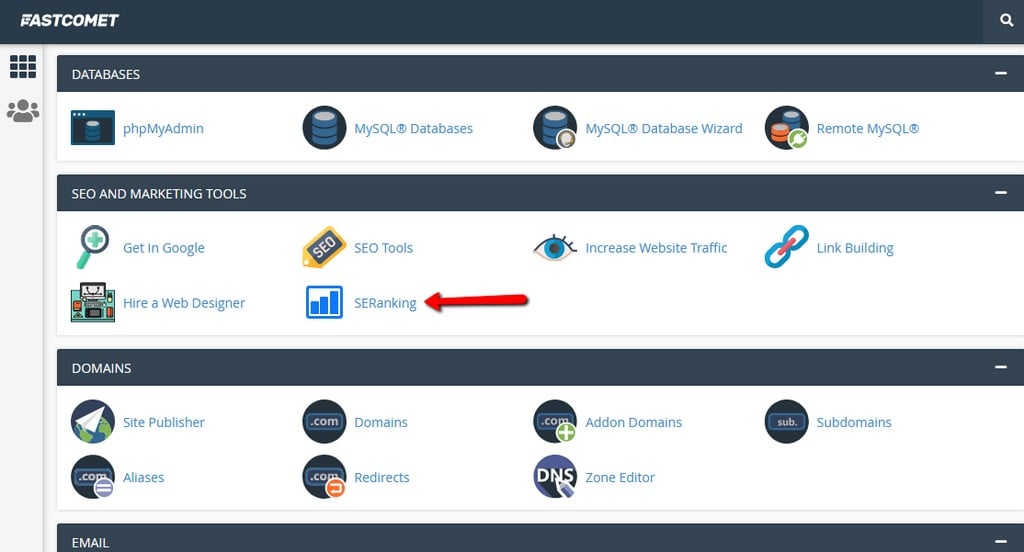 Additionally, you can purchase any SE Ranking subscription with a 30% discount by using the code at the bottom of the page which loads after you click on the SERanking icon.
Disclaimer: This is a guest post by SE Ranking. The opinions and ideas expressed herein are those of the author and do not necessarily represent the opinions of FastComet.
The latest tips and news from the industry straight to your inbox!
Join 30,000+ subscribers for exclusive access to our monthly newsletter with insider cloud, hosting and WordPress tips!