 Site Publisher – now Available with cPanel and WHM version 56
cPanel has introduced a new feature in the latest version (56) of its development cycle which we believe that will be very useful to our customers, especially the ones currently developing websites which are hosted on our shared servers.
Create Your New Site Step by Step
We are talking about Site Publisher – the "go to" tool for creating a website or a placeholder for it. You will be able to use Site Publisher for creating a static "under development" page for your website as well as a "face" for your not yet build a business site. You can also add contact or store information on the page so you can still get customers even before your website is up and running.
Using Site Publisher is very easy and in this blog piece, we will show you how to configure it. Of course, firstly you will need to access your cPanel account and look for Site Publisher by either using the search function or by manually scrolling down to the Domains section.

After that, you will have to complete 3 steps the first of which is selecting a domain. If you only have one domain connected to your hosting account it will be automatically filled and this step will be skipped. However, if you have more than one domain or subdomain you will have to choose the one on which you wish to activate Site Publisher. For orientation purposes under each domain is also shown the directory that corresponds to it and holds all of its files.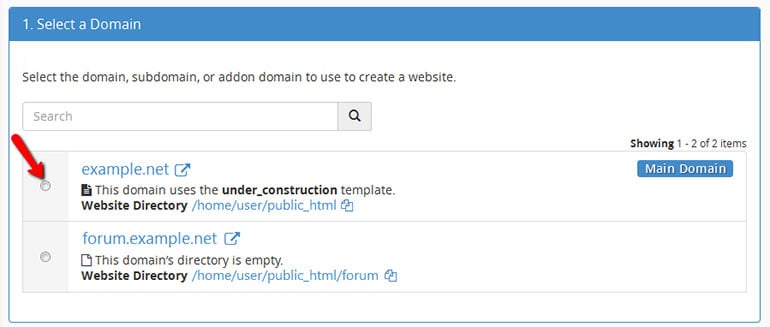 The second step requires you to choose the graphical template for your website. In our case, we will use the "Under Construction" template.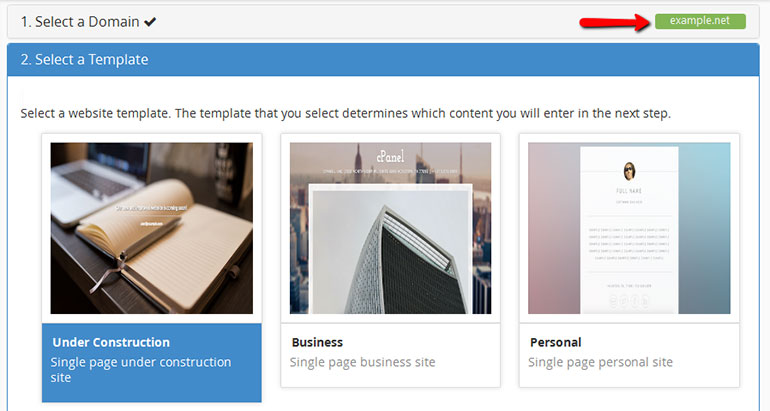 Immediately after selecting the template you will be moved to step 3 during which you must configure a set template. The Selected by us "Under Construction" template does not have to contain a lot of information and that is the reason why you will have to fill only 3 or 4 fields (depending on whether or not you want to enable Google Analytics Tracking for the page).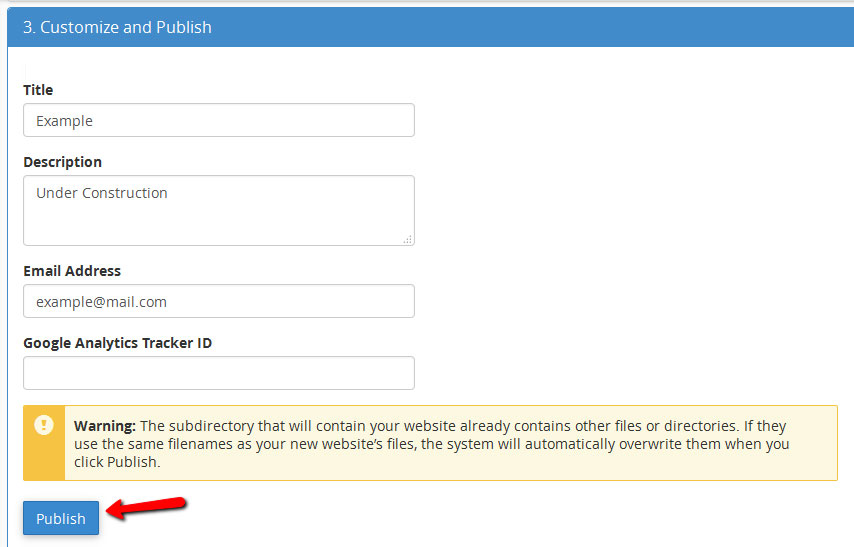 Finishing Up
Once you have finished with filling out the provided fields, click on the Publish button at the bottom of the page. You will now see some extra options including:
Add an email account — create a new email account for your website
Manage my website's files — upload and manage via cPanel's File Manager
Connect to this website with Web Disk — connect your website with Web Disk if you wish to manage your files that way
Publish another Site Publisher website — If you want to create and publish another website or website placeholder, select this option.
After that, your website will be available for visitors.
The latest tips and news from the industry straight to your inbox!
Join 30,000+ subscribers for exclusive access to our monthly newsletter with insider cloud, hosting and WordPress tips!