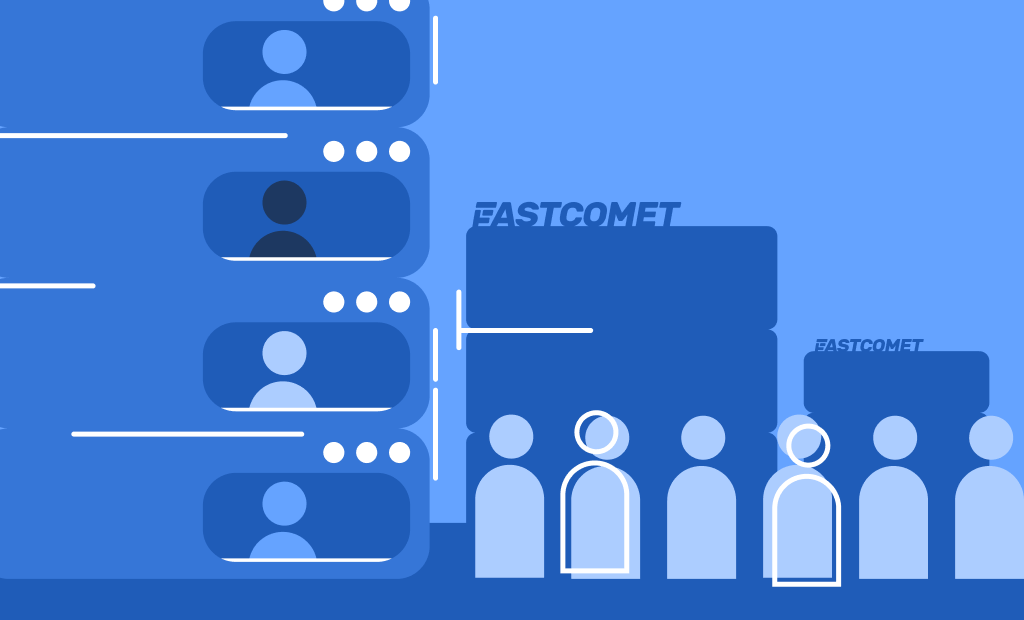 Why Shared Hosting is Good for eCommerce Startup
When you run an online store, it's more crucial than you would realize to select a reputable eCommerce hosting service. Too many businesses fail as a result of slow web page load times, inadequate security, and poorly managed web servers. It's essential to keep your eCommerce website running smoothly, especially when you want to prevent losing sales and clients overall.
Contrary to popular opinion, shared hosting is the right way to go. In this post, we will go over all the reasons why you should choose shared hosting when starting your eCommerce business.
Table of Contents:
What is eCommerce Hosting?
Every website and online store needs a web host in order to go live. Hosting gives your website a server to live on, enabling it to connect to the internet and receive visitors.
In essence, you're getting service from a company that knows how to safeguard and optimize its servers while also buying the right to use someone else's unused server space.
There are many distinct varieties and specialties of hosting. Other hosting kinds offer specific plans with distinct features, while some are named after the technology they're built on.
That's what eCommerce hosting is.
A high-quality eCommerce hosting package includes a number of unique features designed specifically for this kind of business. Free SSL encryption, assistance with setting up payment gateways, additional security, or scaling during peak traffic times are a few examples.
Additionally, there is WooCommerce hosting, which is a subcategory of eCommerce hosting. With server configurations tailored to support the WooCommerce plugin, WooCommerce hosting offers all the advantages of eCommerce hosting and more.
Why You Should Opt for Shared Hosting for Your Online Store
Shared hosting is a great choice for a new online store. There might be limitations on the apps you can use and a lack of server resources, but those problems primarily apply to eCommerce sites that deal with a significant volume of products and thousands of customers. By the time your website needs these resources, your income will be quite high, and you will be able to pay for a VPS or Dedicated Server hosting service.
If you're considering using shared hosting for your eCommerce website, it's essential to understand the benefits and limitations of this type of hosting. Your decision to use low-priced shared hosting could have a huge impact on the growth of your online store.
1. Affordable
With shared hosting, it is inexpensive to launch your website. The monthly cost of shared hosting is merely a few dollars, making it affordable.
The people who contribute to the server's cost split the hosting company's expenses among themselves.
This kind of hosting is a great approach to cutting costs because eCommerce enterprises start with infrastructure expenses.
2. Secure
You may put your faith in the security offered by a reliable hosting provider. The security of your website is unaffected even if a shared hosting server implies that it shares resources with other users.
FastComet provides a free SSL certificate that helps ensure that no user financial or personal information will leak from your eCommerce site.
3. User-friendly/No Technical Skills Required
Shared hosting is pretty straightforward to set up. A control panel is offered by most providers in order to easily manage your website.
Shared hosting is great for users who don't have any technical skills when it comes to managing their sites.
4. Scalable Hosting
An eCommerce store's traffic might be highly unpredictable, as opposed to other types of websites, which expand consistently and predictably over time. Holidays frequently result in a significant increase in traffic, a sudden influx of clients, and exponential development. You should search for scalable resources in a managed eCommerce host that may expand with your company.
At FastComet, all of our plans (from FastCloud to FastCloud Extra) are able to be easily upgraded as needed. In situations where your site may require additional resources, you can quickly scale up to a more powerful plan with zero downtime. For sites that are expecting a huge influx of traffic – we have a high-performance dedicated server solution as well. Let us take care of your infrastructure while you stay focused on what's essential for you.
5. Proactive Support
Your new website will undoubtedly experience problems and errors. Your website can be unavailable for several hours if your host doesn't have a responsive support staff. Support should be approachable, efficient, quick, and able to collaborate with you when a problem arises.
Since server problems can occur at any time, even in the middle of the night, look for help that is available 24/7. If a notification that your site is down wakes you up, you must fix it. You don't want to lose any visitors or, even worse, have to get up at strange hours to fix your website.
6. WooCommerce Integration
WooCommerce is probably what you're utilizing if you're beginning an online store using WordPress. Not all web hosts immediately function effectively with the plugin. Initial problems might not occur, but later on, your website may not work as well due to a lack of advanced features like WooCommerce-specific caching (and more).
The finest eCommerce providers ought to offer WooCommerce hosting, given how well-liked WordPress is.
Can Your Site Overgrow the Shared Hosting Capacity?
Although shared hosting is a safe and effective option for online retailers, some variables may prompt an established eCommerce company to switch to a different hosting plan. This is entirely normal.
The management of your server's overall configuration and backend control are restricted with shared hosting. You can always switch to a VPS or DS hosting service if you're interested in more options for administering your server, unique features, and extra functionality.
Security is still another key component to consider. You may be confident that FastComet Shared hosting offers impenetrable protection to protect your data. There is no such thing as too much protection, though; therefore, some online shops choose a VPS or another hosting option that enables them to apply even higher security measures.
And lastly, there is room for storage. As we previously discussed, shared hosting places a many users on the same server, which inevitably limits space. You'll probably need a lot more capacity to keep images, graphics, photos, and videos as your eCommerce site grows. While you can increase your shared hosting plan to gain more resources, there comes a point where switching to a dedicated solution makes the most sense. This decision normally needs to be made in advance, when you would typically have no trouble spending more because of your significantly increased income.
Summary
With the aid of shared hosting, you can build your online store. Shared hosting is a fantastic and affordable choice because you will not only share space but also costs with others.
Even if it can be challenging to predict online traffic, shared hosting might not be the best choice for large businesses looking for scalability. Shared hosting is not recommended for a successful, expanding business.
Despite the fact that shared hosting has both advantages and disadvantages, small enterprises and people on a budget should strongly consider using it.
The latest tips and news from the industry straight to your inbox!
Join 30,000+ subscribers for exclusive access to our monthly newsletter with insider cloud, hosting and WordPress tips!