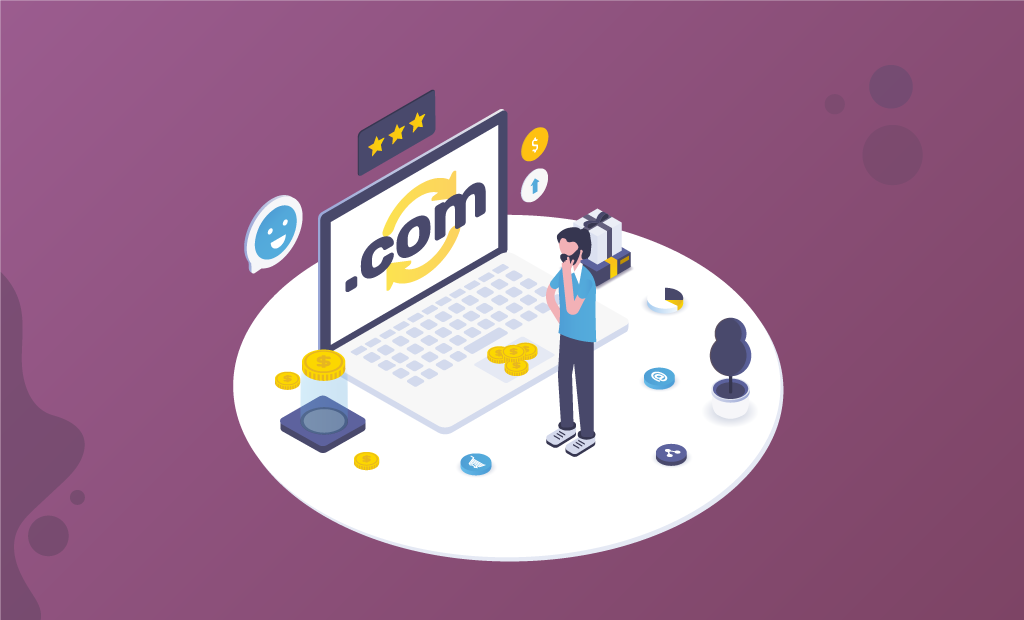 Renew Your .COM Domains in Advance to Save Money
We have said it before; you don't need to have a project ready and to wait to reserve your domain. Nevertheless, if you're the type of person who likes to buy domains for fun, or perhaps to get inspired for future projects, that hobby of yours is about to get a bit pricier. The stability of .COM domain prices could be endangered because there is a new deal in the works to see the world's most popular domain costing users more to get online.
First a bit of a Primer
If you're not sure what ICANN is, you're not alone. Many website owners never have any need to be aware that the organization even exists. Nevertheless, it's an extremely powerful group. ICANN is a not-for-profit body, headquartered in LA, that coordinates the Domain Name System (DNS) to ensure the existence of unique web addresses. The ICANN outsources the actual buying-and-selling of those domains to third parties, while at the same time having oversight by both the Department of Commerce and the Department of Justice.
Verisign owns the exclusive right to sell .COM domains. In 2012, .COM domain prices were locked at $7.85 thanks to a deal made by the US Department of Commerce. The 6-year contract prevented organizations in charge of top-level domains from increasing the price over the course of the deal.
Why Are .COM Domains Prices Going Up?
On Friday, January 3, 2020, ICANN announced a proposed amendment on its registry agreement with Verisign, Inc. that would result in significant changes to the contract to operate the top-level domain.COM and ultimately as a price increase for .COM registry services. If the proposal is successful, we will witness the cost of a .COM address rise by two US dollars by the end of 2026, and potentially more after that.
Currently, Verisign annually charges $7.85 per .COM domain name. The cost to operate the registry, while taking into account the expensive infrastructure necessary to provide reliable and secure operations and high overhead, has been estimated to be $1.00 to $3.50 per domain name per year.
According to the proposed amendment, Verisign will be allowed to increase the wholesale price to registrars for .COM domains by 7% each year in 2020, 2021, 2022, and 2023. After that follows a 2-year "freeze," and then Verisign can increase prices by 7% annually again, during the period 2026-2029, which would be followed by another two years "freeze." This cycle is going to continue, and thus within ten years, .COM domains may cost approximately 30% more than their current price of $7.85. This is, however, only in case ICANN agrees to allow those price increases.
Why is This Major News?
Verisign is the sole-source supplier of .COM domain names at the wholesale level, giving them an effective monopoly. As of writing this post, there are 359.8 million domain names in total, of which 144 million are .COM — that's a little over 40% of all domain names. There are 161.8 million country-specific TLDs (ccTLDs), with generic TLDs (gTLDs) being 198 million. That means .COM makes up almost 73% of all gTLD domain names, making it by far the most popular domain extension in the world.
What Can Be Done About This?
As with all instances of price hiking, people are not happy, and not just everyday users are getting upset. Domain registrars aren't happy with the change as they will be forced to pass on these higher fees to their customers. A number of organizations, representing website builders, domain providers, web hosting providers, and other Internet companies have spoken out against the price increase in statements, without sparing words about the questionable decision.
ICANN's public comment period on the amended .COM contract closed on Friday, February 14, 2020, with slightly less than 9,000 comments, which appear to be overwhelmingly against price-raising powers. Almost 2,000 of the comments have the same subject line, "Proposed Amendment 3 to the .COM Registry Agreement", suggesting they were generated by the Internet Commerce Association's semi-automated outrage tool.
Fundamentally, it's likely that the deal will pass, and that the end result is that your .COM purchases are going to get a little more expensive, much like everything else these days.
How to Preserve Your Current Domain Pricing
Of course, we're not here to criticize ICANN. The nonprofit organization has a policy of global inclusiveness and prioritizes fairness when utilizing its control over the Internet.
According to our domain wholesaler known as a registrar, in case the proposed amendment passes, the price increase for the number of domains that they provide will make it impossible for them to absorb the difference on their own.
But if you renew for another six years right now (which matches the proposed contract length), you will only be paying the current price per year, not the higher rate you'll be spending in later years. That could result in huge savings, especially in case you have multiple domains. All domains can be renewed for up to ten years in advance—at today's prices.
You might not be sure if you want to renew a domain name for ten years. Yet, most owners of active websites plan to keep running them for a long time. Renew them today with FastComet to save money and avoid risking to lose the domains in the future.
The latest tips and news from the industry straight to your inbox!
Join 30,000+ subscribers for exclusive access to our monthly newsletter with insider cloud, hosting and WordPress tips!