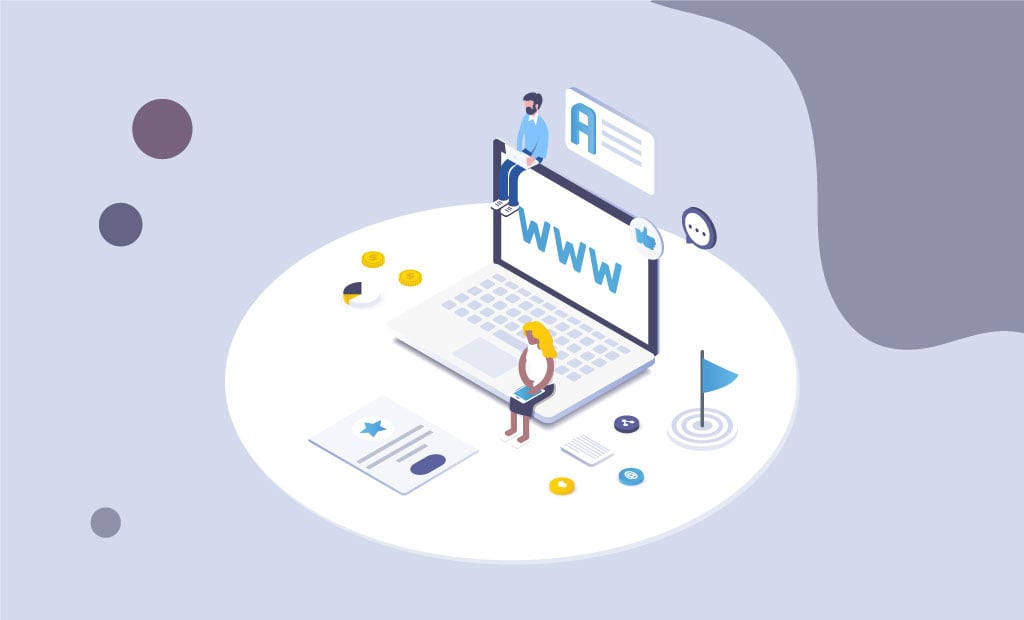 How Important is a Domain Name for the Business?
Domain names are more important than you might think. Once you start planning your business you will find out that a big part of the whole picture would be its online representation. It's one of many things on a long list but has an essential role. Nowadays, everyone runs to the internet for help, especially when they need to find something, whether it's specific information or a certain product. If you want to get the most out of your project, you will need a website, which cannot be created without first choosing a domain name that properly fits your business plans.
We are here to guide you through the procedure of picking up your perfect domain name. What we offer are some essential tips on the matter. So, let's dive in!
How Do You Obtain a Domain Name?
There are two ways to obtain a domain name:
Register the domain name yourself;
Get a hosting provider to register it for you.
If you prefer the first way, choosing a Registrar should be the initial thing you do. Since there are hundreds of them, this could be tricky for you. Make sure that your choice is educated before taking action. The second option is better since hosting providers already have approved registrars to work with, thus having the essential information for the process already available. Additionally, some of those providers provide a free domain name registration that goes along with each purchase of a hosting package. You would get this as a value-added extra to all other services that come with the package, while at the same time saving some resources in the form of cash by not having to pay for your domain name registration.
We advise that if you are absolutely sure about the domain name you wish to register – just do it right away! Even if you don't yet have all the content you need for a website, once you register your perfect domain, you will be more motivated to continue on with the project that's on your mind.
What Does the Domain Name Represent?
Domain names are much more than a simple technical shortcut. They serve as a memorable representation of the content that we can find on a certain website. A short, original and catchy domain name can make a big difference in its future success. So, let's get started!
When you go through the exploration for domain names, you should take your time. Make sure that your choice of a domain is perfect for what you want it to represent. Keep in mind that new domains are registered by the second. The competition is fierce, and this is exactly why you have to be creative if you want your business to be a success. The catchier your domain name – the better chances for it to become popular quickly. Stick to something short that could be easily spelled and memorized by your potential customers.
Show Initiative
When you have your own domain name you show the world that you are part of the new generation and that you are aware of the requirements for building a business. It may look like something simple and small, but it just might put you ahead of the competition.
Add Credibility to Your Business
Having a personal domain name with the right extensions makes every company look more professional. Generic addresses simply don't inspire confidence in clients, therefore making a poor choice would directly reflect on the business that is being promoted. Logically, the customers might think that you are not willing to invest in your business, thus come to the conclusion that your products or services are also low quality. This is a risk that needs to be avoided.
Your Domain Name Sets User Expectations
Users on the internet will have certain expectations once they stumble upon your domain name, thus you need to make sure that those expectations are met in the most beneficial way for you and your business. The right domain name will make your brand more popular. If it matches the company name, it strongly reinforces your brand, making it much easier for clients to remember. Additionally, it will be a natural way to attract more visitors because people will share it with their friends.
We are more than happy to share some knowledge and help you in making the right decision when choosing the perfect domain name that would fit your online presence just the way you desire. Here are our top 3 tips on the matter.
Make it Easy for Visitors
Finding an easy to type and memorize domain name can be critical to your success online. Keep in mind that seeking for the best domain name may require a lot of time and brainstorming, but bare through. You can be sure that the time you've spent would be worth at the end of the day.Please note that the presence of slang words or words that have multiple spellings is not recommended. By avoiding them, you are basically making sure that it would be less possible for potential visitors to input the wrong domain name when they actually want to type in yours. Naturally, this would result in losing traffic to your competition.
Choose Branded Areas when Available.
There are plenty of areas that are available for use when you are about to develop a brand. Those include customer service, advertising, promotional merchandise, logo, reputation, etc. All of them can work together in order to help in building one unique and attractive professional profile. Branding is of vital importance to your business because it has an overall impact on your company. It can change the way people recognize your brand and also drive new business, in addition to increasing brand awareness. The most significant reason for making your brand important is that it's how your company would be recognized and how it would become known to all customers.
The logo can easily be considered to be the most crucial element of branding. You can think of it as the face of your company, thus you should make sure it represents your business perfectly. Take the time you need and research everything you need to know on the matter.
Educate yourself and you will be able to accomplish your goal of outstanding branding. This will make it much easier for you to create an appealing advertising strategy that would play well into your ultimate goals.
Include Essential Keywords in your Domain Name
If it's possible, your domain name should include your business name or keywords related to your brand. When people see or hear about your URL, they need to be able to figure out what your business is about, even if previously they were not aware. Keywords are widely considered to be incredibly important for your online business as they drive web traffic which is targeted, while also being free. It's not the worst idea to include a keyword in your domain name. With that said, it's definitely not going to be the end of the world if your domain name does not include a keyword. You should let your own personal preference be the deciding factor in how your domain name URL turns out. Being catchy and memorable is just as good as using keywords!
Keep in mind that you are able to use some keyword extensions such as .shop, .news, .blog, etc. Using the right keywords can skyrocket your business to success.
While we are on the subject of the extension, let's develop it a little bit further.
Choose the Right TLD (Extension)
TLD is the technical term for domain name extension. It's the abbreviated version for Top Level Domain – the part that comes at the end of a web address. The most common extensions are .com, .org, .net, but there are hundreds more of them.
The average business owner might not give a lot of thought when it comes to choosing a TLD. It's relatively easy to overlook your domain suffix, especially if you automatically assume that .com is the right one. This is why you should keep in mind that the extension of your domain can bring a heavy impact on your overall search engine ranking.
You should consider widening the range of your domain name for more flexibility. You can do this by registering your chosen name with more than one TLD. For example, if you have a primary domain with a .com extension and it's not currently available, in order to keep yourself from losing customers, redirecting them to another version of your domain name will make sure you dodge the bullet.
Consider Trending TLDs
Choosing those additional extensions should not necessarily be a hard task. We recommend you to have an open mind and take a look over all those new TLDs – they are fresh and trending. We've developed a custom Domain Portal with our customers in mind. It would allow you to make the most educated and easy decision when you're on the hunt for a domain name.
It's a good idea to pick the right extension for your domain from the get-go since it would stick for the foreseeable future. We know that the options are countless, but the perception of a potential customer is what you should consider when it comes to choosing a TLD.
With that in mind, most internet users are used to seeing .com or genuine country-code extensions. They are less familiar with the new gTLDs (generic Top-Level Domains), such as .blog or .cat. A familiar gTLD is more likely to be seen as trustworthy by the customer base, which is of vital importance for new online businesses in particular.
Final Words
Make sure to give it a lot of thought before you register the perfect domain name for your business project. You can think of it as a tattoo – it's meant to be for a long period of time. It's reversible, of course, but the procedure would be painful and would cost you additional resources.
In case you already know what your desired domain should be named, don't waste time and register it right away, before someone quicker snatches it away from you. Keep in mind that you don't need to have a project ready and waiting in order to reserve your domain. You can even use it as a business card page before building your website.
How about you? Have you chosen the name for your domain already, or have you decided to take some time for more brainstorming?
The latest tips and news from the industry straight to your inbox!
Join 30,000+ subscribers for exclusive access to our monthly newsletter with insider cloud, hosting and WordPress tips!