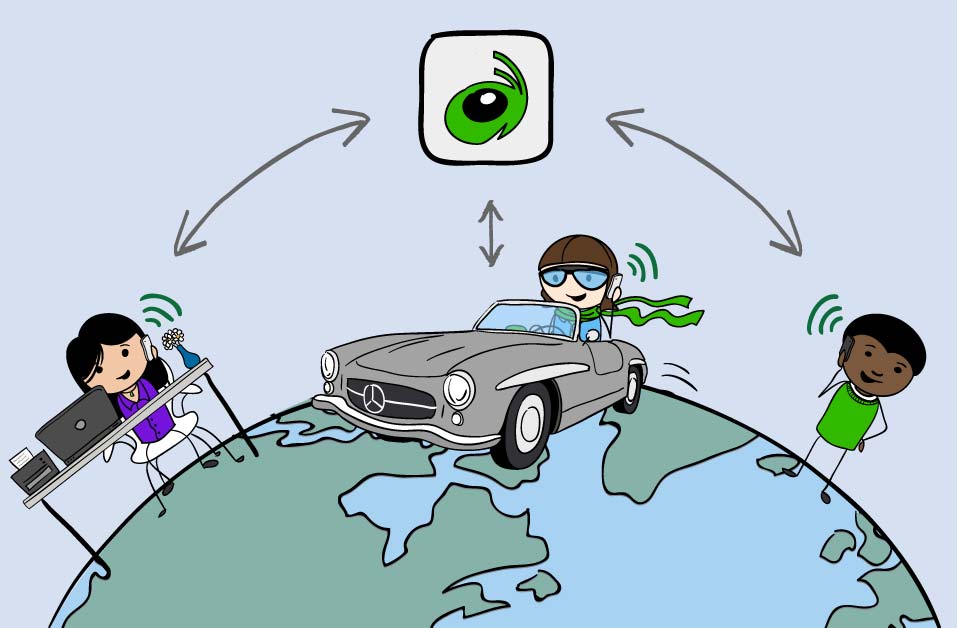 Partnership Announcement: Grasshopper, Your Virtual Phone System Provider
Today we are happy to announce our partnership with Grasshopper, the entrepreneurs' virtual phone system provider. To celebrate this, we have prepared a short QA to introduce you to Grasshopper and their cool features and services … and we have a special gift for you, so keep reading! 🙂
What is Grasshopper?
Founded in the distant 2003, Grasshopper has been making it easier for startups and small businesses to grow their companies since. Most small business owners put efforts into getting things off the ground, watching every dollar they spend. Surviving means not wasting time or resources. That's why small business owners everywhere are turning to Grasshopper, a virtual phone system that allows business owners to do business on their existing cells or landlines.

With Grasshopper you can make your business looks like one of those big corporations with their own local and toll-free number, private phone systems with greeting messages and personal extensions for different departments and staff members. Yes, with Grasshopper even a small business owner or a startup can have their own local and toll-free number with all the cool features such as:
Professional greetings for your callers
Multiple extensions for employees and departments
Call forwarding to any landline or cell on a customizable schedule
Voicemails emailed to you (and even transcribed to text)
Call announce and iPhone/Android apps that allow you to identify inbound business calls and make calls from your business number
A host of others such as vacation scheduling, inbound fax line, informational extensions, and more.
How Will My Business Benefit from Grasshopper Services?
With Grasshopper, you can be productive from anywhere with a cell signal. There's no need to wait in your office for that important phone call or fax. Based on your preferences, calls are routed to your mobile phone, voicemails are delivered to your email inbox as a sound file or text, and faxes are forwarded to your e-mail as PDF attachments.
This flexibility allows you to go on sales calls or meet with vendors, while still being connected to your business. With an app for both iPhone and Android devices, you can make calls that come from your business number – which helps keep your personal and business lives separate.
How Will my Customers Benefit from Grasshopper Service?
To support great customer service, Grasshopper provides unlimited call handling. Callers will not hear a busy signal regardless of how many people call. All callers are placed on hold and transferred when an employee becomes available to help them.
Business success relies on employee productivity and customer service. Virtual phone systems, like Grasshopper, serve both of these purposes with first-class connectivity. Employees can work anytime, anywhere because they can always be accessible.
Grasshopper's virtual phone system augments the way you run your business and could truly transform how you communicate with business partners and customers. With so many benefits, making the switch to a virtual phone system could be just what you need to put your new business on the path to success.
$75 Upfront Discount to FastComet Customers Only!
As a result of the partnership between FastComet and Grasshopper, we are able to provide all FastComet customers with $75 upfront discount for Grasshopper services. This typically works out to between 1-4 months of Grasshopper service for free to get your business started. To redeem your upfront discount credit simply submit a ticket or contact our sales department and you will be provided with a special link to sign up with Grasshopper.
If you don't have a hosting account with FastComet yet, sign up now and get your $75 upfront discount!
The latest tips and news from the industry straight to your inbox!
Join 30,000+ subscribers for exclusive access to our monthly newsletter with insider cloud, hosting and WordPress tips!