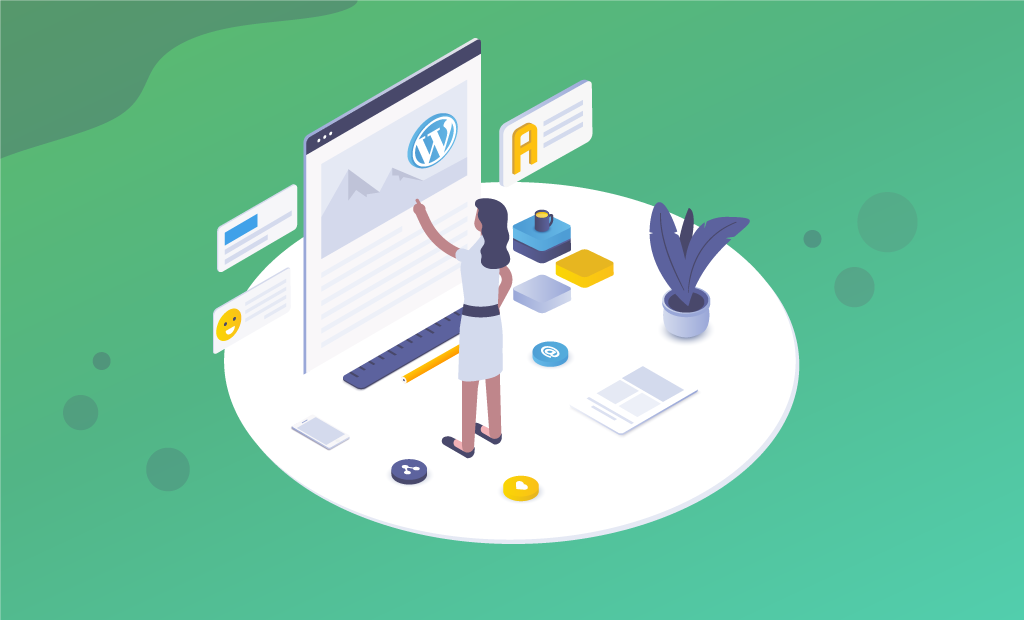 How to Format WordPress Blog Posts
WordPress is globally the most used CMS for content creation. With the new block editor, Gutenberg, which came with WordPress 5.0, you have multiple ways to format your WordPress post with ease. Nowadays, there are lots of people that think being a blogger is an easy job. It might be so, but being good and successful at writing blog posts is entirely different. There are many important 'rules' that have to be followed, especially if your goal is to reach as many readers as possible.
Through the years, we've gained extensive knowledge about writing and formatting posts and articles. We have experimented in different ways and took notes to improve our prosperity. As we all know—Practice makes Perfect.
With the release of WordPress 5.3 came lots of improvements that can help you when formatting. Feel free to check out our post for more information.
Whether you are a publisher, a freelancer, or a blogger—this post is for all content writers. We will share everything we know and help you improve both your formatting and the SEO of your WordPress blog.
We will Cover
Why Formatting and Structuring Matters?
The average time a person spends on any website when searching for something specific is 15 seconds (if they don't find their target at first glance). In order to make sure that you get your visitor's attention so quickly, you need to create and format content that is engaging even at first glance.
The key to getting your visitors to read your content and keep them engaged is to write one sentence at a time and make the most of it. You have to keep them compelled and curious about the next piece of helpful information they will get to absorb. This is why improving the skimmability of your WordPress blog post is essential. There are various methods to improve the level of engagement of your blog, which we will cover further along in the post.
Readability might not be a ranking factor, but it's effective when it comes to the provided user experience (UX). Nowadays, everyone is in a rush, especially since lots of people are using their mobile devices to search the web. Having helpful, interesting, and well-written content on your WordPress blog will not only make you look professional but also decrease the bounce rate* of your website. A lower bounce rate leads to better SEO ranking, and thus readability actually leads to a better ranking, ultimately getting you CTA (Call-to-Action) conversion.
Bounce rate is an Internet marketing term used in the analysis for the web traffic of a site. It represents the percentage of visitors that enter the site and quickly leave (bounce) without continuing to view other pages within the same website. The bounce rate is calculated by counting the number of single-page visits and dividing that number by the total visits. It is then represented as a percentage of total visits.
WordPress Blog Post Formatting and Search Engine Optimization (SEO)
Most of your visitors are on your website because of search engines like Google. You cannot guess what motives your visitors have when it comes to searching on specific topics, but you can always research. Good keyword research is essential for the SEO of your WordPress blog post. Using the correct keywords can raise your website traffic exponentially.
Search engines say that they mimic human behavior when looking and scanning through content. So, we recommend that when you are searching the web, you take notes about your own behavior. Think about what you do when you need information on a specific topic—you narrow your search progressively. The most optimal searching words should become your focus keywords.
This is what your mindset should be when you are optimizing for keywords. You need to think in the way your potential clients do, while also writing a clear and straightforward article that people would enjoy reading.
Every time you sit down to plan out your publishing calendar for the upcoming weeks, spend some additional time doing keyword research. See what topics your audience searches the most, in addition to the language they use while looking for information on those topics.
Voice Search and SEO
Voice search is the option for users to search through speaking into their devices instead of typing their keywords. This option is continuously increasing in popularity on a global level. For some people, voice search could seem like a concept that is not quite necessary, but many already prefer it and implement it regularly.
Programs like Google Assistant, Microsoft Cortana, Apple Siri, and Amazon Alexa utilize voice search capabilities.
Due to the prolific use of voice search, Google is emphasizing voice search optimization. However, it's important to know that voice search SEO and traditional website SEO are two different things. There are some tips to help improve your voice search SEO:
Ensure your website loads quickly by having:

Optimized images;
Compressed files;
Utilized website caching;
Reduced server response time.

Write the way you speak;
Include featured blocks of content.
Accessibility and SEO
Accessibility was one of the hot topics at WordCamp Europe 2018. In general, you shouldn't just optimize your website to look good and to have quality content, but also to be accessible to as many types of users as possible.
WordPress site accessibility is all about constantly designing, developing, and adding content in a way that doesn't prevent any person from interactions with the website and its content. All internet users must be equally able to understand and interact with your blog.
Although web accessibility is not one of the primary ranking factors, involving elements of accessibility connects with many core SEO techniques. Google encourages site owners by implementing accessibility techniques included in the metadata, content structure, semantics, visual design, and development. All of these factors provide better results for organic searches.
Featured Snippets and Their Impact
When it comes to SEO, there is something better than a first-place—place number zero. We are talking about the featured snippet in Google, which puts your website on the first page and above every other result. Featured snippets are the search results selected to be on top of Google's organic results, positioned in a box right after the ads.

A featured snippet aims to answer the specific question right away. That's actually the other name of the featured snippet – an Answer Box. Being featured leads to getting extra brand exposure in search results.
Types of Featured Snippets
There are three primary featured snippet types:
Paragraph – the answer is provided in the form of text. The snippet can be a box with text inside or with text and an image;
List – the answer is given in the form of a list (bullets or numbers);
Table – the answer is in the form of a table.
There are multiple things to follow if you want to raise your chances for your WordPress site to become a featured snippet for a specific keyword. We will shed more light on those factors further along in the post.
WordPress Formatting Fundamentals
Formatting is a craft, and there are many reasons why it takes an essential role in the success of your WordPress blog posts. Like any other crafts, formatting takes time and experience to master. The first step is to get good at the fundamentals and continue building, which would put you ahead of the average blogger.
Let's start with the most simple and logical thing—the formatting of your text should be meaningful to both humans and computers. This helps you simultaneously with the audience and with SEO.
Here are some of the essential things to keep an eye on when formatting your WordPress blog posts:
Have proper heading (title) management;
Use short paragraphs (no longer than four lines);
Include headings and subheadings every 300 words (also recommended by Yoast);
Use lists, bullet points, and tables;
Implement Bold and Italic;
Include some quotes/called-out text;
Use internal links (link to some of your other blog posts);
Add relevant, high-quality images.
When building your blog and trying to format WordPress blog posts, don't forget to ensure everything looks great on mobile as well. Google is penalizing non-mobile-friendly sites. Even if you do get found, people will leave if it looks ugly or doesn't function well on their phones and tablets.
Let's Start with the Post Title
For your post title (H1 Heading), try to use CTA (Call-to-Action) to improve your CTR (Click-through rate). CTA is a line of text or an image that prompts your visitors, readers, and customers to take a specific desired action (e.g., 'Let's go into the details'). A Call-to-Action takes your readers and redirects them to a land of specific opportunities for both you (by improving your CTR) and them (by offering what they were looking for).
Header tags are used to make things easier for search engine crawlers and help them gauge the relevance of your content. In the headings hierarchy, H1 is the most important when it comes to SEO. Search engines look for the keywords you include in your title to determine what your post is about.
There are some things that would be beneficial to follow when formatting your post title:
The title should consist of just one sentence;
It should not end with any marks;
You should use no more than 50-60 characters in your post title;
Capitalize words in the title, with the exception of:

Articles (a, an, the);
Coordinating Conjunctions (and, but, for);
Short words (fewer than four letters);
Prepositions (at, by, from, etc.).
Use this tool for easy and quick capitalizing of your titles.
WordPress Blog Post Text Alignment Principles
The alignment of your text will provide your readers with the hard edge they need to follow whenever they scan or read a piece of content. This is the edge that forms the invisible line, connecting items on the page. The stronger the alignment – the cleaner and more comprehensive your layout would be.
There are three basic alignments – left, center, and right. Right alignment is more difficult to read. When used, it's usually for short texts with specific styling purposes. Centered alignment is reserved mainly for more formal and elegant texts (announcements, invitations, etc.).
Justified alignment is a bit tricky. Many people think it looks neat and tidy. If you are one of them, forget what you think and consider the fact that a lot of users have trouble when reading or scanning fully-justified text. So, don't use justified alignment for your WordPress blog posts.
For large blocks of text, and for your blog posts as well, you should use left alignment. It's considered the easiest alignment to read (used in newspapers, magazines, and books). Left text alignment is also one of the top accessibility factors.
Using Headings and Subheadings in your WordPress Blog Post
Headings are short phrases used to describe the content of the succeeding section. You can think of headings as the titles of their specific sections.
Typically, short documents do not require the use of headings, but a blog post rarely falls down to the short text category. Headings are important for both usability and accessibility. They help readers to determine the outline of your WordPress post and navigate to specific pieces of content.
Reasons to Use Headings and Subheadings when Formatting your WordPress Blog Post
Headings are classified into levels—from level 1 to level 6. The highest level is level 1 (H1), and it's typically reserved for the title of your blog post. Level 2 (H2) is your next set of subheadings, with level 3 (H3) being subheadings of the H2, and so on. The lower the number of a subheading is, the more detailed a section becomes.
The use of heading correlates with SEO success, but the actual impact of headers on search results has changed with years passing. Headers are still impactful for SEO, but now it's not that related to keywords as it once was.
SEO is actually more about optimization for the user than for the search engines. The focus is more on experience, rather than just on 'impressing' Google and friends.
How Headings Impact Search Engines
Keyword placement in H1-H6 headers does not have an impact on search engine rankings, according to Google. Currently, the order of the headings (H1-H6) is only for navigational purposes—to specify the relative importance of your content.
How Headings Impact User Experience
Headers are in place to make your content much easier to understand and digest. They are essential to great user experience, in addition to a decent SEO ranking.
As we already explained, the H1 heading (the title) should draw the user's attention and provide a general idea about the content of your post. It's the most important heading, and thus it's the largest text on the page.
Using an H1 header is like giving a book a title. Without it, readers would not know what they are about to read. A well-written title gives a navigational cue that clarifies the page's contents, removes ambiguity, as well as prevents visitors from immediately bouncing from your site.
Keywords in headings might not be crucial for SEO, but they are essential for the relevance and usability of your page or post. Headers that have keywords included in them are much more effective when it comes to gathering an audience.
How Headings Help with Semantic Search
Modern SEO is concentrated on user intent. User intent is what readers hope to gain from reading your content. A properly crafted heading should speak to the user, rather than necessarily containing relevant keywords.
After the release of the Google Hummingbird algorithm, crawlers are able to understand the semantic meaning within web text. This is why keywords are no longer the only way to assess the value of a page or post. Instead, the combination of all on-page elements (headers, keywords, images, etc.) is considered as a whole package.
When you are a content creator, this frees you to write more naturally, focusing on your topic depth and the quality of your content rather than keyword density or placement.
Headings and SEO
Headings are signposts for your readers, rather than a stash full of keywords. Search engines are now focused on delivering the content with the most value, and thus on-page factors such as relevance and usability get prioritized the most. Of course, keywords are still essential, but currently, they are not the primary goal for an SEO strategy.
Guidelines for Headings
When managing your headings, always:
Make sure that your headings outline makes sense, according to your content;
Avoid repeating words, phrases, or names at the start of following headings;
Try to include keywords (it might not be essential, but it's still good when you can do it);
Divide your content properly into logical sections;
Capitalize important words (as with the post title).
How Headings Work in WordPress
To properly use your heading elements—you need to order them by size and importance. Here's an example template:
<H1>Main Topic</H1>;
<H2>Subtopic A<H2>;
<H2>Subtopic B<H2>;
<H3>Subtopic to B</H3>;
<H4>Subtopic to the Subtopic above</H4>;
<H3>Another subtopic to B</H3>;
<H2>Subtopic C<H2>.
The larger your header size, the more significance it carries. The more subtopics you have, the more detailed your content becomes.
Properly formatted headings help search engines crawl your post effectively.
Check Your Blog's Headings
Another thing that Gutenberg will help you with is managing your headings. There is a heading block, and when you click inside it, you can see in the menu what type of heading is currently selected. Use this when you are finished writing and you have started the editing process.

Create a Table of Contents
You might ask: Why do I need a table of contents for my WordPress blog post? The answer to that question is simple—for better user experience. A table of contents (ToC) is suitable (and recommended) when you have a blog post with four or more headings. The best place for a ToC is right after your introductory paragraph and before your first heading.
The table of contents helps your readers when they are searching for a specific piece of information in your posts. Instead of having to read the whole post, when a post has a ToC, people can jump right into their target. It saves them time and effort, which leads to user satisfaction. Additionally, this aspect provides the general idea of the post, summed up in the form of clickable links.
Format the Main Body of your WordPress Blog Post
When formatting the main body of your WordPress post, you should consider:
Using paragraphs for definitions or answers;
Including lists for items or multi-step processes;
Implementing tables for data comparisons.
Focus on Paragraphs in WordPress
Paragraphs are your primary text structure. When you are writing your WordPress blog post, make sure that you are focusing on the quality of your paragraphs, not just on the post content.
From an SEO point of view, the paragraph is one of the most popular elements to be included as a featured snippet. Such featured snippets generally show for keywords containing search terms like questions (how, who, why. when, what).
The Importance of the Introductory Paragraph
The introductory paragraph is quite important. It informs all readers about the topic and should include the reasons why it's an interesting piece of content, while also adding enough intrigue to get them to continue to read.
Writing an engaging introductory paragraph is not easy, but it's essential if you want to bring your bounce percentage to the minimum. Think of this paragraph as the chance to make an exceptional first impression. Great introductory paragraphs can start with:
A brilliant opening line;
A question;
An anecdote;
A playful joke;
An interesting fact;
An emotional appeal.
Write Clear Paragraphs
Keep your paragraphs short and your information to the point. While additional info can sometimes be interesting, don't add it just for the sake of adding it. Break longer paragraphs into short ones, keeping them within the optimal length of 40-50 words.
While writing, think about your content from a reader's point of view — about everything that you would be interested in reading, while at the same time erasing the stuff that is not important.
Whenever you have a heading that is in the form of a question, try to start your paragraph with a short answer to that question, and then continue on with a more detailed version of that answer. Once you turn on your reader's curiosity, it's best to retain their interest as soon as possible, before they decide your content is boring and skip reading it entirely.
From an accessibility point of view, you should start every paragraph with the most important sentence. This is to help your readers skim through the text with ease. Additionally, you should escape starting paragraphs with the same word.
Finish Strong with the Last Paragraph
This is not an actual formatting tip, but if you finish strong with a well-written last paragraph, you will be raising the chances for more readers to come by again, or subscribe for your content. Keep that in mind, when you are building your WordPress blog posts.
Focus on Sentences
When writing a WordPress blog post, make sure that:
Sentences are not too long. They shouldn't be longer than 250 characters (or 20 words);
You avoid starting consecutive sentences with the same word;
When you're aiming for the featured snippet (which is always), use short sentences that are giving as much information as possible.
Snap Your Lists with Bullets
Using bullet or numbered lists is best when it comes to any kinds of lists or steps. This way, your readers are able to pinpoint potentially important content visually. Gutenberg has a block for lists, which is very easy and convenient to use: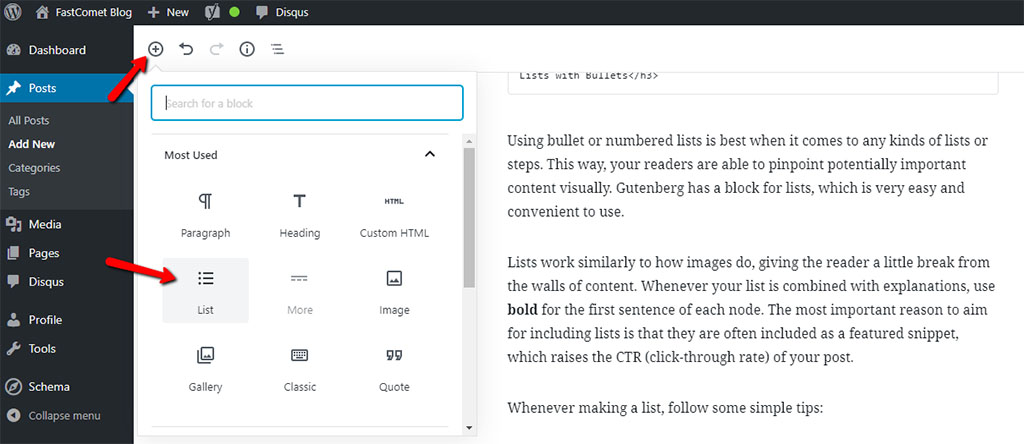 Lists work similarly to how images do, giving the reader a little break from the walls of content. Whenever your list is combined with explanations, use bold for the first sentence of each node. The most important reason to aim for including lists is that they are often included as a featured snippet, which raises the CTR (click-through rate) of your post.
Whenever making a list, follow some simple tips:
Make a bullet point summary with 40-60 words;
End your last bullet with a ".", and all the other bullets with a ";";
Make sure that there is consistency—choose between bullets or numbers for all lists;
Aim for a brief introduction of the specific information;
Try making your lists longer than 8 points (which is the limit for snippets), Google will add a clickable "read more." Keep that in mind, because whenever someone clicks on the "read more," they will go on your website, which means free traffic for you.
Use Tables in your Blog Posts
Google can read tables perfectly and acknowledges that you are using them to compare some kind of information. Using tables properly helps users scan content faster and understand it better. Additionally, using tables and charts shows that you are willing to run the additional miles.
To add a table in Gutenberg, all you need to do is use the Table block: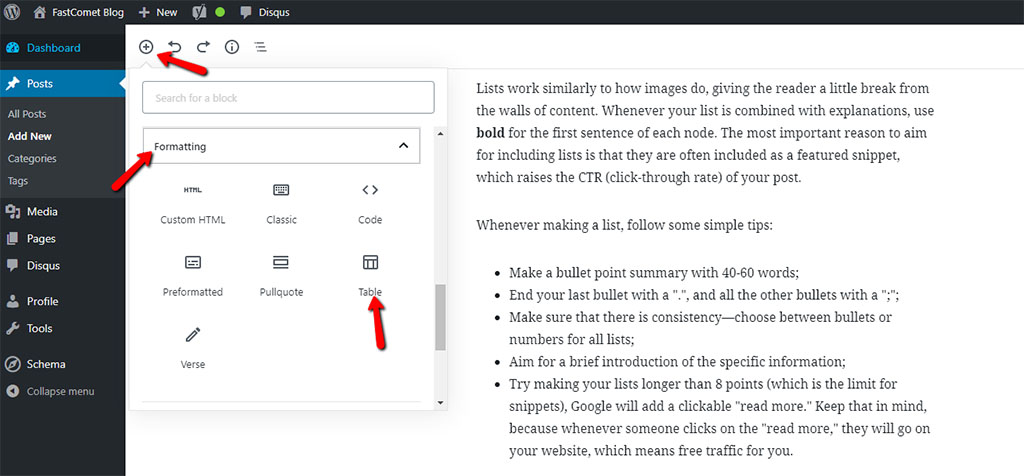 As with lists, Google also has a limitation for tables in their snippets. The maximum is 3 columns and 9 rows, but once again, if your table has more rows, Google will add the click-through link.
Be Bold, Be Italic
Bold and italics are perfect for drawing the eye and creating emphasis whenever needed. While it's helpful using them, do not overuse them.
During the writing process, we often complete an entire article, and then we go back and bold the significant bits. Sometimes those bits come to us while writing, but most of the time, they would arrive while editing the post. The editorial process is what really makes a post shine.
Use italics to call out something you want to say that doesn't directly flow from your last paragraph but is essential to your overall point. Also, the most common use of italics is probably for quoting others.
Think of your readers and the way they consume content. Typically visitors "scan" your content, thus you should use bold and italic tags to style your content and make it easier to read and consume. This improves the user experience and the level of engagement of your content.
Highlight, Emphasize and Inspire with Block Quotes
The quote block in Gutenberg is easy to use, providing a wonderful way to highlight a piece of content. Use it to emphasize a famous quote, concept, or important information that is relevant to your topic.
Setting the quote block apart from the rest of the content helps to draw the attention directly to it.
To add a quote block in Gutenberg, just use the block editor's basic functions: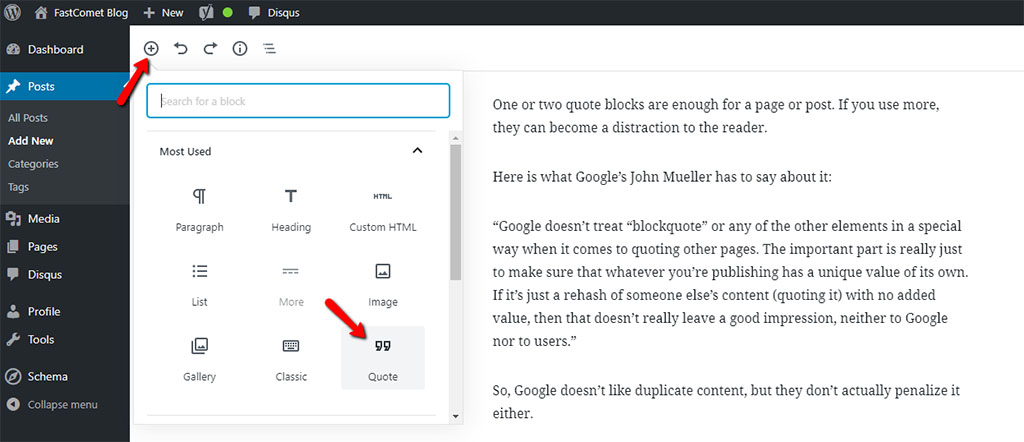 One or two quote blocks are enough for a page or post. If you use more, they can become a distraction to the reader.
Here is what Google's John Mueller has to say about it:
Google doesn't treat "blockquote" or any of the other elements in a special way when it comes to quoting other pages. The important part is really just to make sure that whatever you're publishing has a unique value of its own. If it's just a rehash of someone else's content (quoting it) with no added value, then that doesn't really leave a good impression, neither to Google nor to users.
So, Google doesn't like duplicate content, but they don't actually penalize it either.
Add High-quality Images and Video
For your WordPress posts, you should always try to include at least one piece of visual content. Most people love to learn visually (images, video, charts, etc.), and thus images and video would help you rank for featured snippets.
You already know that you need to use high-quality images, and not the cheesy stock photography. We have to add that you also should not use clipart images from Google. Such images are usually bad when it comes to quality. Additionally, they are most likely to be copyrighted.
We recommend that you stick to charts, graphs, screenshots, and high-resolution photos. Since Google chooses a random piece of visual content when including them in a featured snippet, you should make sure all of your images are eye-catching, branded, and well-annotated.
Be sure to add alt texts that include SEO key phrases (if possible) to all images that you use for the post or page. Most importantly, describe what the image is about. The purpose of an alt (alternative) text is to be a substitution for an image that is not displayed. In general, alt texts are to ensure that essential info is not lost. The more relevant your alt text is, the more Google and other search engines would deem the image as important.
Make the Most of the WordPress Formatting
To make the most of your blog post:
Use objective language;
Write one-topic, concise paragraphs;
Make your text scannable with formatting, subheads, and bullets;
Work to increase the accessibility and user experience of your content.
Combine those four basic elements, and improve the usability of your post. People will be able to read faster, remember most of the content they are reading, in addition to enjoying it.
Getting the featured snippet reward is worth spending a little more time working on your WordPress posts, don't you think? Following this guide will definitely level up your game and increase your chances for the precious top position.
If you have any favorite WordPress formatting tips to share or want to discuss the ones we covered, feel free to take action in the comment section. Tell us about you and why you like using WordPress for your blog. Happy blogging!
The latest tips and news from the industry straight to your inbox!
Join 30,000+ subscribers for exclusive access to our monthly newsletter with insider cloud, hosting and WordPress tips!