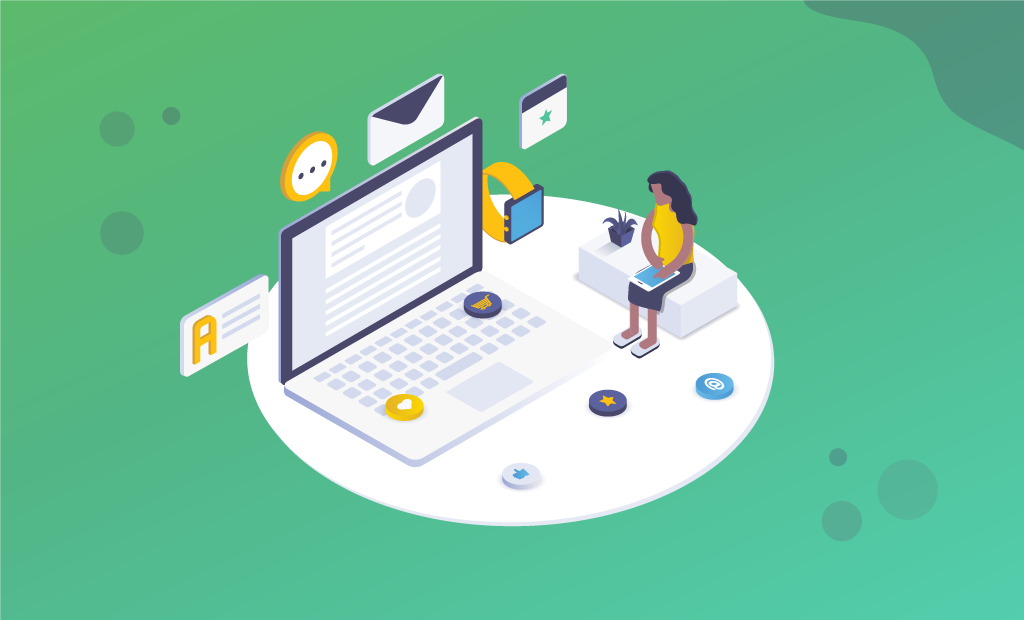 The Evolution of CMS – Digital Experience Platform (DXP) Explained
The Internet Society often comes up with new (trending) acronyms. However, they are usually quickly forgotten after the next thing has been "invented." Buzzwords fade with time, which is kind of their purpose. However, that is not the case when it comes to 'DXP,' short for Digital Experience Platform. It stuck around for more than anyone expected, and by the looks of it- it's here to stay.
An online business that has to deal with customers daily must offer an exceptional online experience, which would be accomplishable only when the platform can meet all of your business needs. However, with so many options on the market, the choice becomes progressively harder.
In this article, we will discuss the evolution of the Content Management System (CMS) and how Digital Experience Platforms (DXP) are now transforming customer experiences.
Table of Contents
What is a Content Management System (CMS)?
Content management systems (CMSs) are applications used by businesses to create their digital content and manage it. With a CMS, you can create, edit, and delete visual content, which includes images and video. A CMS can easily be considered as one of the essential tools for the prosperity of your digital identity and engagement.
Content management systems typically make it easy for a group of users to work on the same project. This is thanks to the central interface that a CMS offers. Various industries implement this type of software for their digital representation, using it for a wide range of apps.
CMSs are not designed to develop websites, but some of them come with that functionality.
Here are some of the key features a CMS should have:
Proper customization with no need for coding knowledge;
Easy (and efficient) content management;
Decent security features;
Seamless file sharing and workflow management;
Quick and easy publishing.
However, standalone CMSs also have drawbacks:
The more your website features need to be, the less likely a CMS is your solution;
Even with tools, the full customization is not possible for every scenario;
The use of a CMS typically requires some training if you want to use it efficiently;
A CMS can easily break when it's misconfigured;
If not updated regularly, content management systems become an easy target for hackers and spammers;
Some examples of prominent CMSs are Jahia, Sitecore, and Mura.
What Is a Web Content Management System (WCM)?
Web Content Management Systems (WCMs) are CMSs built to handle and publish online content. The terms CMS and WCM are often confused, and it's common (and not a mistake) to see 'CMS' used to refer to both.
WCMs are more user-friendly tools. They offer simple interfaces where users that are not tech-savvy can edit and add content to their websites with ease. We recommend WordPress—an easy to use, yet incredibly customizable WCM. WordPress is beginner-friendly, but also offers powerful features for developers who want to dive in and build their custom tools.
What's more, if you have some coding knowledge, it would not be hard for you to adjust a WCM to fit your specific needs. With WordPress, for example, you can give your site a unique look by adding custom CSS via the theme customizer.
The benefits of a web content management system include:
Easy scalability potential;
Extensions and integration with other platforms;
'What You See Is What You Get' ('WYSIWYG') editing;
Multichannel (multisite) support;
E-commerce support and options;
Built-in (or easily obtainable) Search Engine Optimization (SEO) solutions;
Seamless Social media integration;
Simple and easy to set up;
An excellent way to build and manage your wite.
Since nothing is perfect, WCMs also have some limitations. WCMs become harder to manage if you have multiple digital products across the web. That can result in scenarios to confuse/irritate your customers.
Some examples of the most popular good WCMs are WordPress, Joomla, and Drupal.
What is a Digital Experience Platform?
Digital Experience Platforms (DXPs) have grown out of the CMS and WCM limitations. This is especially when it comes to crafting and/or managing in-depth customer experiences. Since the DXP has come into life thanks to the classic CMS, there are some overlaps, mainly in terms of content creation and asset management.
A Digital Experience Platform has the needed equipment for handling content and asset management on a large scale. With a DXP, you can sync, manage, and push content across verticals like web, kiosks, customer portals, billboards, IoT devices, etc. Additionally, a robust DXP can help brands launch eCommerce projects, establish intranets, and manage multiple microsites with multi-tenancy. A traditional CMS, however, would have difficulties to do all of the above without some serious investments and development time.
Many users employ a CMS for their digital marketing. It all depends on the needs—some use free, open-source CMS for their blog, while others need a solution with an enterprise-level to manage content across many projects.
If you are a marketer who needs the next step after using CMS, that would be to go into the world of Digital Experience Platforms (DXP). A DXP is an integrated set of technologies that can power personalized, cross-channel digital experiences. Nowadays, with the growing needs and demands of marketers, platforms need to step up their game a bit and start offering the abilities to intricate much more strategic and data-driven solutions. Those solutions are not only to be personalized to customers but also to the marketers that are working with them daily.
The benefits of using a DXP include:
Integration with multiple platforms;
Exceptional performance;
Automated migration;
Omnichannel publishing;
Staging websites;
The ability to copy your sites;
Analytics of your site's performance;
DXP limitations are:
A steeper learning curve than WCM and CMS;
Can be pricey;
Some prominent DXP examples are Acquia, WP Engine, and Adobe Experience Manager (AEM).
When it comes to digital experience platforms, one-size-fits-all is not an accurate description. The functions above can be a part of just one tool or multiple, with them being customized based on the growth and needs of your business overall. Nevertheless, before moving on, we should list some additional and notable requirements for the DXPs of today. Consider them as well.
Horizontal Portals
A horizontal portal is used as a platform for several companies in the same economic sector or to the same type of manufacturers or distributors.
Business to business (B2B) industrial, manufacturing, and professional service brands understand more and more with each day the risks they take. Such brands know that they have to provide a clean, updated, and relationship-building digital experience for both customers and partners. A DXP can be an excellent way for the best experience to be implemented for both customers and marketers.
E-commerce
In eCommerce, you need to be able to offer complex pricing and a marketplace for your customers. This is becoming the standard if you want your online presence to be noticed and if you wish your business to flourish accordingly. Having the tools that allow you to make flexible decisions for your business and extra marketing efforts fits is in the DXP realm.
Flexible APIs
By definition, an API allows two software programs to communicate with each other. One program can call another program's API to get access to its data or functionality.
By now, people understand the applicability and all the benefits of good service-based architecture, as well as opening up data to adjacent systems. Managing APIs and all the related data and resources can be a daunting task for some platforms. However, this is also something that fits in the world of DXP.
Open vs. Closed DXPs
There are two main approaches to DXP:
Open DXP (e.g., Acquia) – a foundational platform that serves as a connective tissue via targeting multiple products from various vendors together, making them work as a whole;
Closed DXP (e.g., Adobe Experience Manager) – an all-in-one package that has the major DXP components, both developed and maintained by the same provider (has limited integrations with other applications).
Let's say you need to re-platform your CMS or WCM because its current state does not give you the required solution for your business. Now, let's also say that you have the needed durable solution that works for analytics and data management, serving as the required powerful reporting engine for both the monitoring and the effectiveness of your efforts for digital engagement.
If that is the case, you will most likely be tempted to start looking for a new CMS just because other parts of the experience stack are effective, and you are not fond of the idea to change those parts. You would indeed be right to avoid the closed DXP solution because it would make you abandon the currently well-working parts of the platform that you are using today.
However, if you decide to take the tactical route and pick a WCM and not a DXP, you will miss out on the strategic win that is possible when looking at the larger picture. An open DXP will let you keep the project strategic, while at the same time maintaining the part of your experience toolset that works for your organization.
The Evolution of WordPress
The most current WordPress version (as of writing this post) is WordPress 5.4. It came with a lot of improvements and new features (especially for the Block Editor). It's safe to say that with each new version, WordPress comes closer and closer to what a DXP can offer.
We can't ignore Noel Tock's speech at WordCamp 2018, who starts with the statement "We've hit peak WordPress" and then continues:
"A CMS isn't necessarily the center of the web anymore. You don't really have to have all the functionality inside of that. You may use it for a bit of content marketing, or a part of your website, you may also use it just for a couple of landing pages – the use of WordPress today is very diverse. We need to think differently about how a product as mature as WordPress will continue to grow alongside this rapidly evolving web…"
WordPress is a global phenomenon that has come a long way since its first release in 2003. The WordPress community has grown exponentially, and that growth doesn't seem to be slowing down.
WordPress is currently the most dominant web content management platform on the market, standing way above the competition.
Here are some WordPress statistics for 2020 (Editors Choice):
WordPress is powering 35% of the Internet in 2020, increasing with 2% from early 2019, and 4% higher than in 2018;
If you count only the sites that are built using a CMS, then roughly 60% of them are on WordPress;
More than 400 million users visit WordPress sites every month;
Nearly 28% of all eCommerce goes through WooCommerce;
The average appearance of new WooCommerce shops daily is 281;
661 new WordPress sites appear every day;
WordPress.org offers more than 50k plugins and over 3,5k GPL-licenced themes;
In 2018, the non-English WordPress downloads were more than the English ones.
Those statistics are just a small part of the whole picture, serving as an example of how much influence WordPress has on the CMS/WCM market.
It's the Experience that Matters
Some might think that a DXP is just a re-branded CMS, WCM, portal, or commerce product, but DXP vendors take a different approach to the traditional features of such products. DXPs have a goal to meet new customer expectations and take advantage of all next-level technologies.
Your customers' experience has to feel effortless, but you also need to have the option to tailor and scale the customer experience across channels quickly. That's precisely where the DXP outranges a CMS and a WCM.
Personalization with a traditional CMS and WCM is doable. However, the work required to not only create, push, and manage content, but also to include segmenting and tagging would be incredibly time-consuming. Overall, a WCM allows you to create content that is based upon user groups, but it's going to be extra challenging to narrow in on one-to-one customer relations. You can get that by using a DXP.
With each day, the world becomes progressively more connected. From IoT devices to desktops and smartphones, VR devices, etc., your content and marketing both need to reach your customers wherever they are at, and on whatever device they are using.
So what do you think? Are Digital Experience Platforms the inevitable future when it comes to content managing, or do Web Content Management Systems have many more years in front of them? Share your thoughts in the comment section.
The latest tips and news from the industry straight to your inbox!
Join 30,000+ subscribers for exclusive access to our monthly newsletter with insider cloud, hosting and WordPress tips!