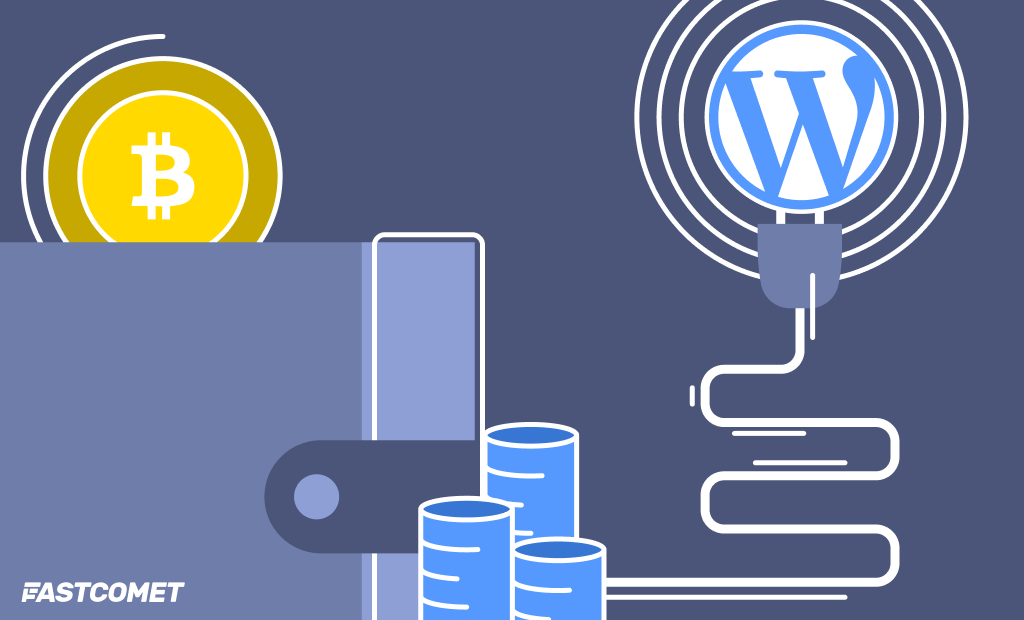 Best Bitcoin & Cryptocurrency Plugins for WordPress
In case you haven't been living under a rock for the last couple of years, you should be aware that cryptocurrency has changed the vertical of currencies with maximum impact, and it is now our payment reality. Cryptocurrency is no longer a hit and miss for the experts, providing a new edge to currency exchange. With many people getting on board with the idea of this currency exchange, the web development world of WordPress has managed to reel in. If you are a crypto enthusiast, lover, or developer, now is the time to join this promising, lucrative field.
Keep in mind that creating a website is much easier than you may think. With the tools at your hand—plugins, scripts, themes, and templates—your business idea becomes a reality in no time. You can have the ultimate cryptocurrency website set to hit the online world with hardly any work. Take these Bitcoin and cryptocurrency plugins to your advantage and make outstanding WordPress websites.
Table of Contents:
Current Scenario of Cryptocurrency
In a nutshell, crypto is a digital currency that you can use for paying for goods and services. Although it is not globally regulated, more and more brands, companies and countries accept it as legal tender. Additionally, many companies have issued their own currencies (often called tokens) that can be traded specifically for the services or goods the company provides.
Blockhain is a decentralized technology spread across many computers that manage and record transactions. This is what makes cryptocurrencies specific. The security and accessibility of the technology are among the most attractive features.
If you think Blockchain technology will change the face of buying and selling and give you control over your wealth, then you're seeing straight. The current market capitalization of Bitcoin is above $756B, with more than 19,000 Bitcoins. That says more than enough.
Data from Blockchain.com says there are more than 82M wallets, and 728M+ transactions have taken place to date. It may be sooner than we think when we roll into a centralized digital market and use blockchain technology to carry out our transactions without any intermediate body. So if you have a monetized WordPress account or a WooCommerce website, associating with Cryptocurrencies will give you a step ahead.
GoUrl Bitcoin Payment Gateway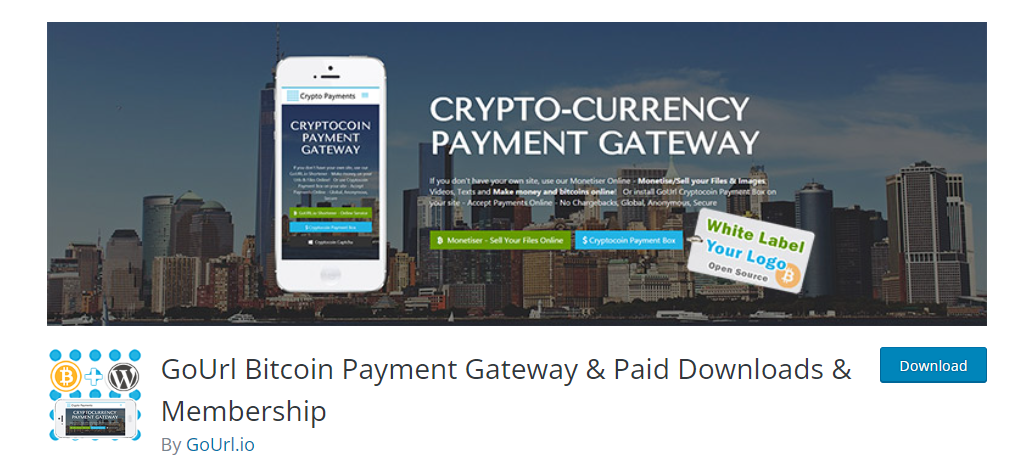 GoUrl Bitcoin Payment Gateway is an open source Bitcoin/Altcoin payment gateway. No charges are associated with it. You can set your own prices for products in 100 languages for customers across the world. The payout is done by an automated method and you will receive funds straight to your Bitcoin/Altcoin wallet.
Apart from Bitcoin/Altcoin, the gateways accept a wide range of cryptocurrencies for your WordPress Store. Plus, users never leave your website. It also provides options for Membership customizations like Pay-Per-Product & Pay-Per-Membership – for email registered users and Pay-Per-Download & Pay-Per-View/Page – for unregistered users.
Digital PayBox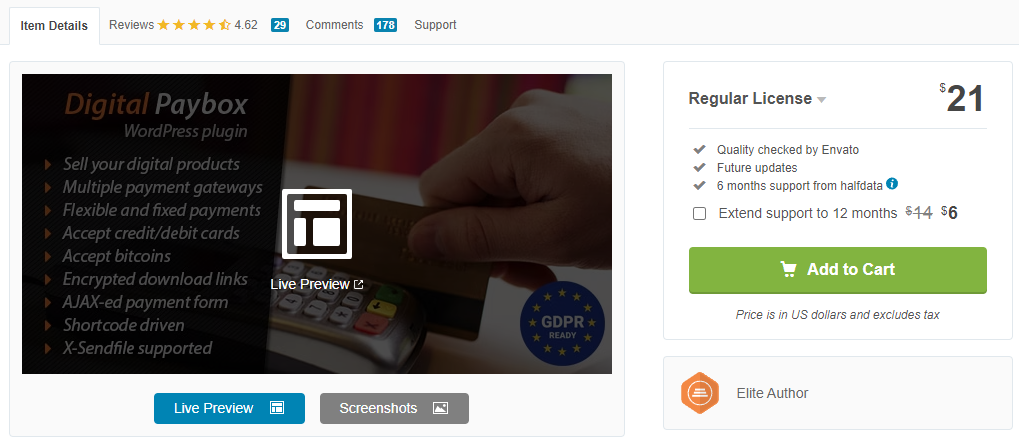 Digital PayBox remains on sale at CodeCanyon. The plugin allows customers to pay for the items which are downloadable. Customers choose their payment method from the PayBox Created, and Bitcoin is one of them. It supports all major credit/debit cards. The customer can choose to pay the amount they want to pay, but you also get an option to set a minimum limit or set a fixed rate for the downloadable product.
Coin Market Cap & Prices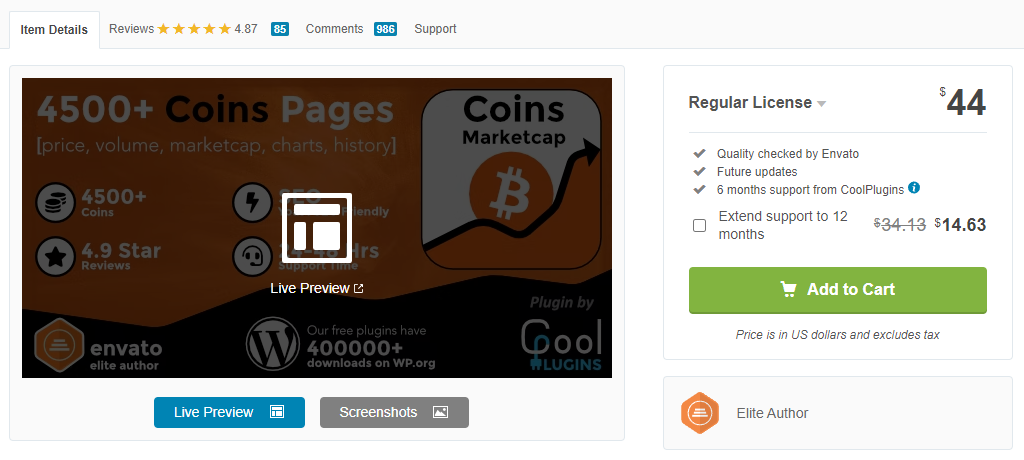 This one is short and clear—using Coin Market Cap & Crypto Prices, you can:
Show and sort 1000+ crypto coins on your WordPress Site;
Customize the column of details.
Stripe Payment Gateway Plugin for WooCommerce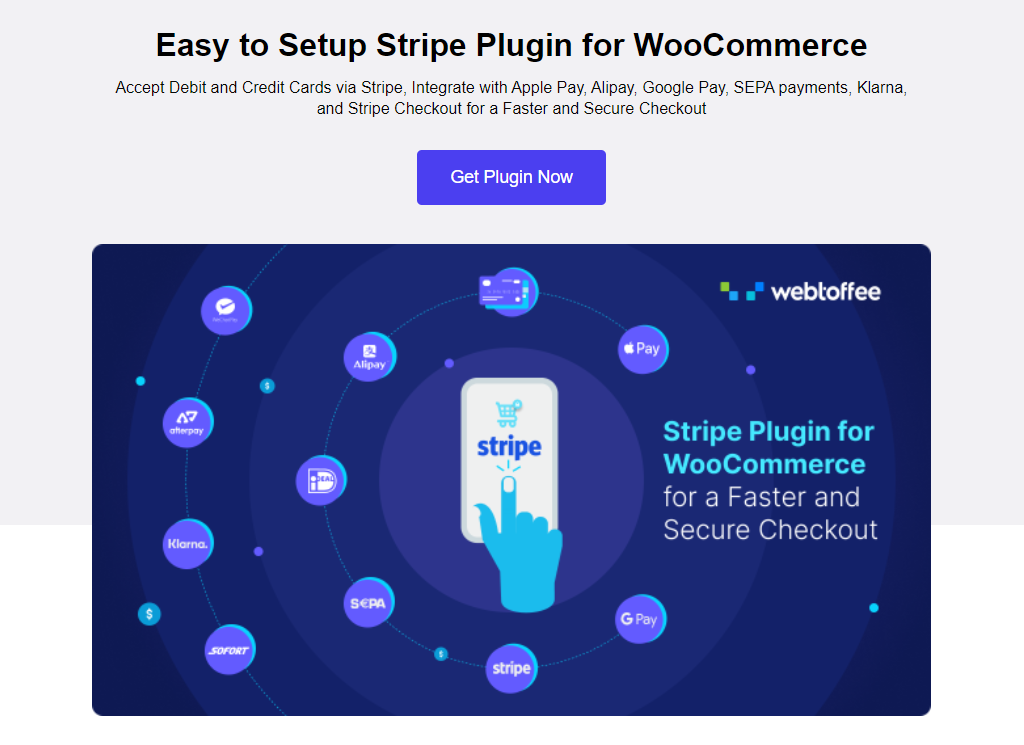 Stripe Plugin for WordPress is a traditional payment gateway that supports cards, wallets, and cryptocurrency as the payment method for your WordPress site. It has to be the most versatile gateway with customers having a credit card, debit cards, Apple pay, Alipay, and Bitcoin. That's why to have this plugin as your payment gateway is a win-win situation.
Here are the additional features of this plugin by XAdapter:
Supports WooCommerce Subscriptions;
Supports Currency converter and WPML;
Premium Support with 30 days Money Back Guarantee.
TripleA Bitcoin Payment Gateway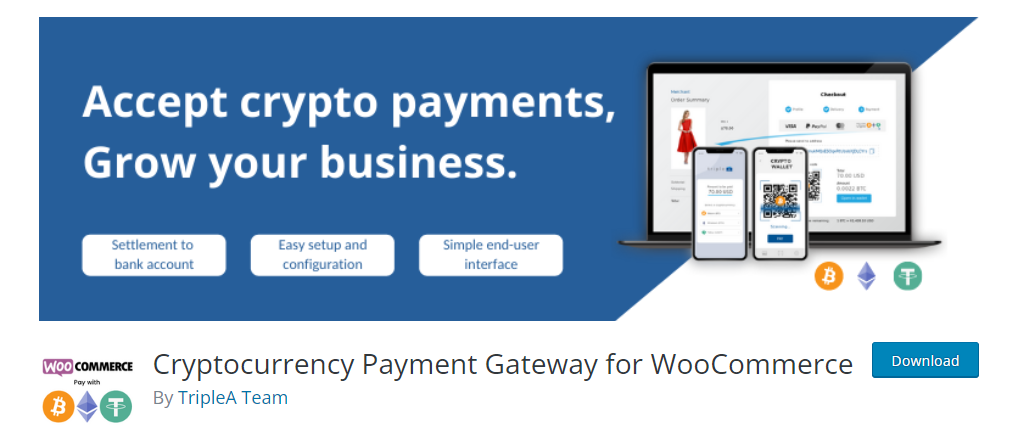 The TripleA payment gateway for WooCommerce is new and fresh on the market. It facilitates bitcoin payments for all WordPress online merchants. The setup only takes a few minutes and is very flexible. No bitcoin or technical knowledge is required. Once you set up the plugin, everything runs by itself—no need to worry about anything. Plus, end-users enjoy a smooth payment experience. They don't even leave your website during payment transactions.
TripleA's most important features include:
Integrated to WooCommerce;
Free bitcoin-to-bitcoin transactions with a noncustodial system;
Only 0.8% flat fee upon withdrawal in local currencies, no further installation or subscription fees;
Email notification for every transaction;
Real-time exchange rates for bitcoin-to-currency conversions;
Bitcoin donation plugin available.
TripleA is the perfect solution for business owners already possessing a bitcoin wallet. No intermediary and no fee. If you wish to receive cash, TripleA operates on a daily transfer basis in most of the main worldwide currencies, suiting the needs of all sizes of businesses.
For those who don't have a WordPress online store, TripleA also offers a very easy-to-use and clear API for developers to use.
NOWPayments WooCommerce Plugin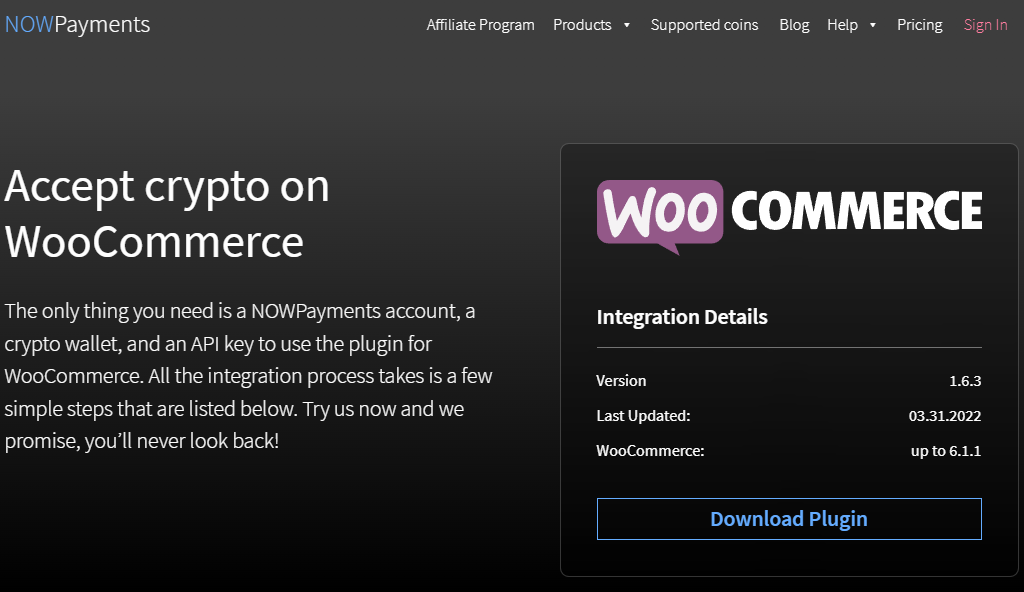 NOWPayments has a reliable WooCommerce crypto payment plugin for merchants and businesses, letting them accept over 100+ currencies. You need only to register a free account, specify your wallet address, get an API key, and install the plugin on your website following the instructions. The fee policy is transparent: it includes a 0.5% transaction fee plus a 0.5% exchange fee if an exchange is needed.
Benefits:
Fast, safe, and private transactions;
No bank interference— the funds go straight to your wallet;
Auto coin conversion;
Easy installation.
CryptoWoo

CryptoWoo is a cryptocurrency accepting plugin for WooCommerce that allows merchants to accept a variety of such digital currency. The plugin provides seamless integration with the website and server. Customers don't require to leave your website during the transactions. The plugin also provides real-time exchange rates and offers HD wallets.
Mollie Payments for WooCommerce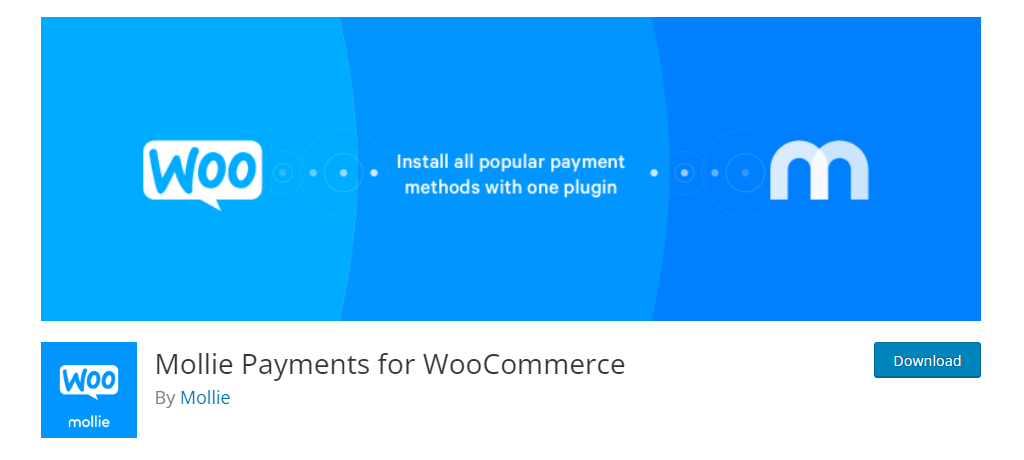 Mollie Payments is an open source payment plugin. It's quite popular in the European Nations. But has its customers all around the world. The plugin allows the store owner to accept payments from international credit/debit cards, Country-specific credit/debit cards, and Bitcoin. The plugin has 30,000+ active installations. Claimed to be safe by the developers, the plugin seems to deliver secure transactions to all these stores.
Mollie Payments' main features:
Recurring payment available with WooCommerce Subscriptions;
Only per-transaction fee;
Choose from flexible payout plans;
WPML Support;
Customer Support.
Easy Digital Downloads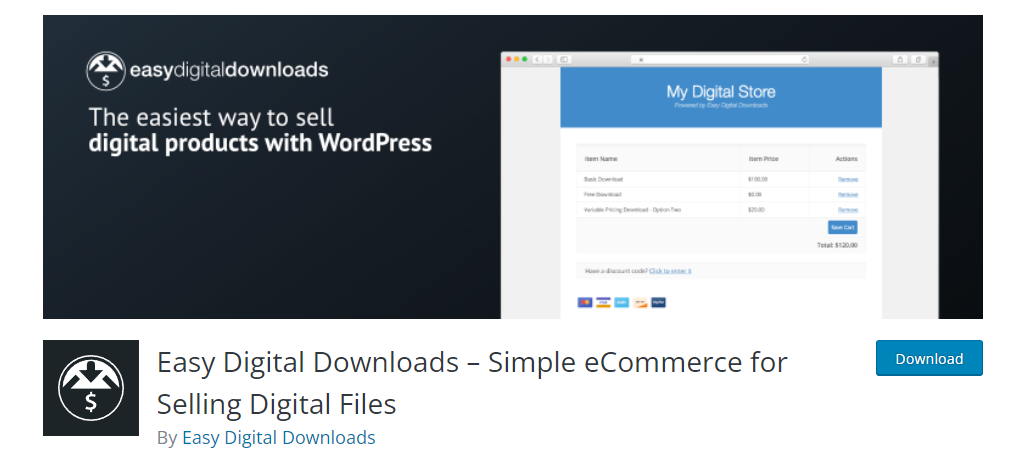 Easy Digital Downloads is an open source payment gateway. It's one of the most used free plugins to accept Bitcoin, Payza, and other cryptocurrencies. Customers can download products from your store and pay using their card or Bitcoin. Only downloadable products are supported as of now.
Final Thoughts
There are many other cryptocurrency plugins we did not mention in the post. The main idea is to give you the best ones in 2022. There is no denying the fact that cryptocurrencies have a future in eCommerce. Blockchain technology has the solution to many problems like middlemen, delayed transactions, and the capability to replace traditional banking systems. That's why getting ready or having a little knowledge and an in-hand experience with the future way of the transaction can be beneficial.
So you can add one or a few of these cryptocurrency plugins for WordPress/WooCommerce to your store and start getting paid in cryptocurrencies. We hope you'll have a great experience with cryptocurrencies and make the maximum out of it. As always, feel free to add your comments below. Happy Selling!
The latest tips and news from the industry straight to your inbox!
Join 30,000+ subscribers for exclusive access to our monthly newsletter with insider cloud, hosting and WordPress tips!