How to manage basic options in WP Rocket
Updated on Mar 13, 2019
This tutorial will review the configuration of the basic options of WP Rocket on your WordPress website. As a cache plugin, it is vital to configure the plugin properly, in order to get a best performance of your website.
To set the basic options for your WP Rocket plugin, you need to access the administrative dashboard of your website. Click on the WP Rocket button at the top menu and then select Settings.

Select the Basic Options tab and edit the following options:
Lazyload - The lazy loading is a design pattern, which defers the the initialization of an object on your website, until it is actually needed. This is an excellent way of speeding up your website as the components on each page will not be loaded at once, but wait until they are needed.
Files Optimization - This offers a minification and concatenation of JS, CSS, HTML or Google Fonts of your website. A good option that will definitely speed up loading of your website.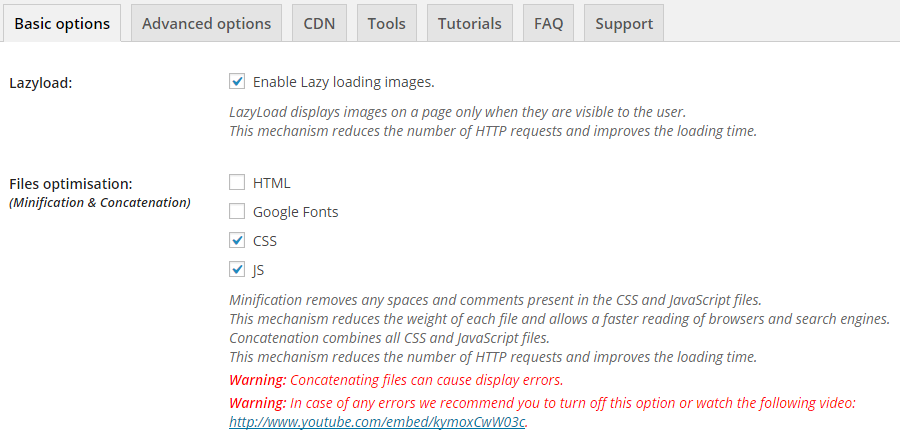 Mobile Cache - This option will allow you to enable caching for mobile devices. Be careful, as if you are using one of the mentioned plugins, this may cause troubles for your website when people are accessing them through mobile devices.
Logged in User Cache - Enable cache for logged in users.
SSL Cache - Enable caching for secured https protocol
Clear Cache Lifespan - This option will set the cache clearance. By default, this is set to 24 hours, but you may need to specify a shorter interval if you are making changes regularly.

Don't forget to save the changes before exiting the settings menu.