How to review SMF Admin Center and Support Credits
Updated on Jan 23, 2018
In this tutorial we will see how to review the Support and Credits information and what additional information for our forum we can find under the Administration Center section. In order to access the administration section just login as the admin of your forum and the first page after the successful authentication is the Administration Center section. If you would like to check the Support and Credits page navigate to Administration Center>Support and Credits.
To complete this tutorial you will have to review these sections:
Step 1

Administration Center

One of the first boxes that we are able to check right after login as administrator of the Simple Machines Forum 2.0.x version is the Support Information box. From this box we are able to check the Version Information and Forum Administrators. If we click on the (more detailed) link we will be redirect to page where we can check in details the version of every file for the application. The other link we can click is the Administrator, this will redirect us to a page where we are able to check our profile as regular user.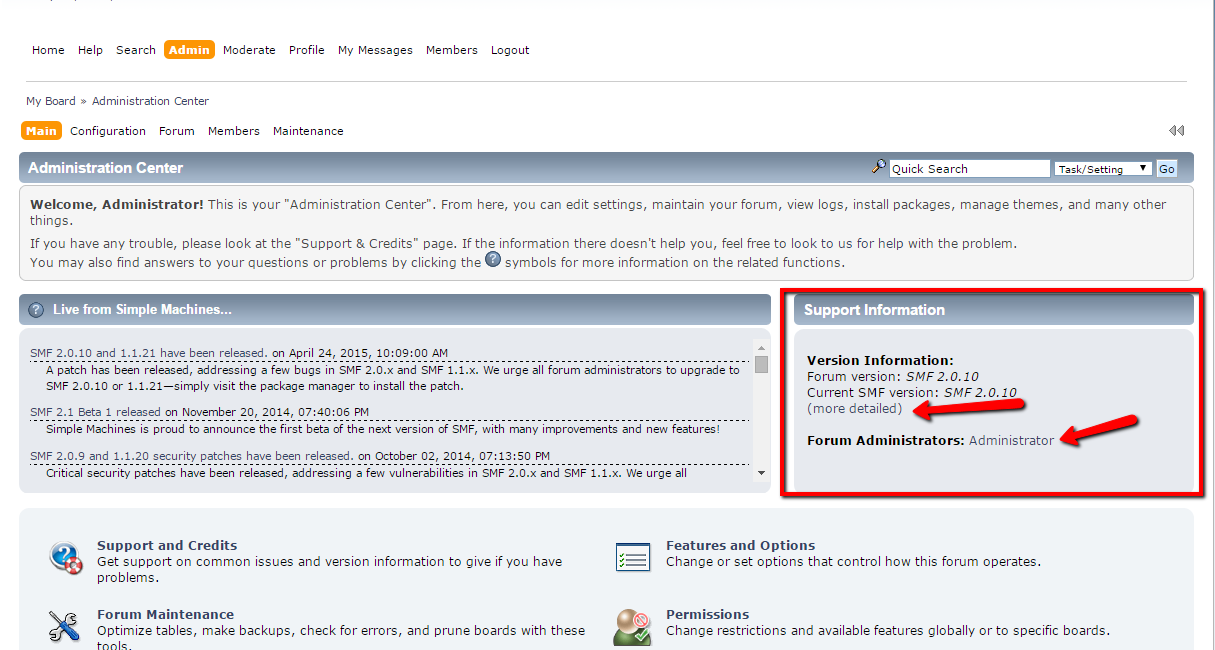 Step 2

Support and Credits

On this page we are able to see several sections:
Support Information Here we are able to check again the SMF application version and server information such as MySQL, PHP and Alternative PHP cache version
Support Resources This includes links to the SMF wiki and a range of support boards to assist you with finding any information you may need to help you with any aspect of your forum
Common support & Issues This section contains information for your current version of the application
Credits This section serves as a thanking notice to all of the volunteers who have assist for the development of the application. Each of the members and their role is stated in this section