The cPanel/WHM is considered one of the best control panels in its field, mainly because of the simplicity and vast functionalities cPanel offers. However, it's not impossible to stumble upon some issues, which is the case with software in general. In this post, we will explain one such issue, which is not being able to access the cPanel server.
Table of Contents:
Scenario 1: Blocked on the Side of Your Internet Service Provider (ISP)
By default, cPanel uses non-standard ports 2082 and 2083. Those ports can be blocked by your Internet Service Provider (ISP), on your local router, or the local network, you're currently connected to (office building, internet cafe, etc.). Usually, in such public networks, only the standard cPanel ports for well-known services (web ports 80 or 443) are permitted when it comes to outgoing connections. In case you cannot connect to cPanel using these ports, you will have to use an alternative URL.
cPanel has a proxy server - an alternative address that can be reached via ports 80 or 443 through HTTPS. This way, you have an internal proxy connection of the server to the 2082/2083 ports of cPanel. The alternative address permits you connection via 80/443, as the server will route its connection using the non-standard ports.
The URLs you should try using are:
cpanel.yourdomain.com - if your domain is pointed to the server;
cpanel.hostname.com.
Where HOSTNAME is the entire name of your server. For example: if your server hostname is depro9.fcomet.com, the URL you need to use would be cpanel.depro9.fcomet.com.
With FastComet, you can check your server hostname at any time. All you have to do is:

See your server hostname within your set of nameservers: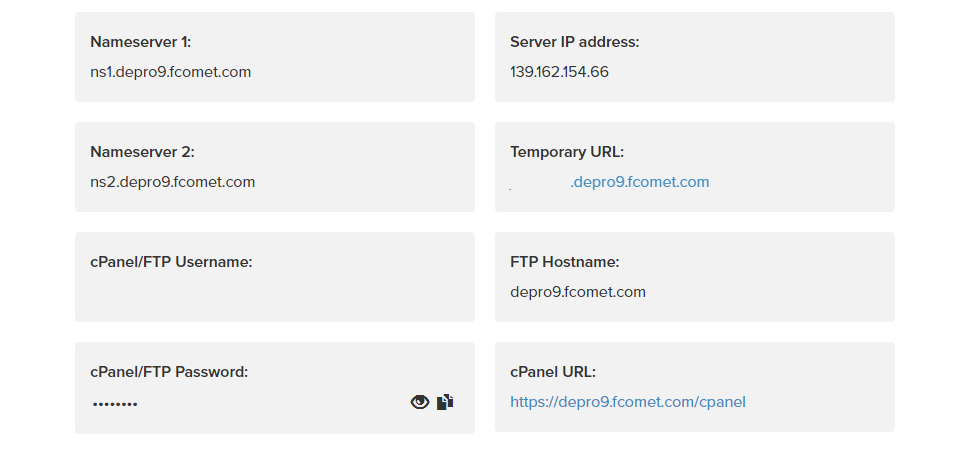 Scenario 2: Blocked by Our Firewall for Security Reasons
After you have tried all of the URLs above, if you still receive the Server connection timed-out error, it's likely that your IP address has been blocked by our complex firewall system. This can happen for several reasons, all of which are for the security of all shared hosting users.
Note:
Keep in mind that if you can't access your cPanel due to being blocked by our firewall, it's most likely that your website won't be accessible as well.
The Solution
At FastComet, we have a feature that checks what IP address you are using while trying to access your client area. This feature is made to automatically unblock IP addresses if certain block rules are matched.
However, if you continue to experience issues when trying to access your cPanel account, feel free to open a new support ticket, and our experts will help you. Make sure that you choose the cPanel Help ticket category: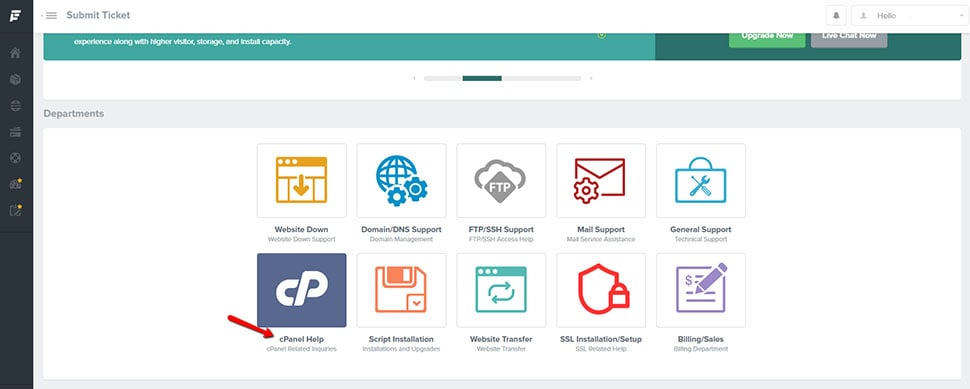 Our support team will investigate the issue and probably have to unblock your IP, which you can quickly check here and provide inside your ticket.