A Country Code Top-Level Domain (ccTLD) is an Internet top-level domain (TLD), specifically designated for a particular country, sovereign state, or autonomous territory for use to service their community. The implementation of ccTLDs was started by the Internet Assigned Numbers Authority (IANA).
Note:
A .CA Domain Name may be Registered for 1 to 10 years. A .CA Domain Name does not have a Money Back Grace Period.
In this post, we will go over the specific ccTLD - .CA (CANADA). It's subject to Canadian Presence Requirements. We will cover:
Who Can Register .CA Domain Names?
Only individuals or entities that meet the Canadian Presence Requirements are eligible to apply to CIRA for registering their .CA domain names. That's done on a first-come, first-served basis.
Canadian ccTLDs use the bundle approach, meaning that a Registrant of a .CA domain name has exclusive rights to all variants of that specific domain name. For example, if you have registered yourdomainnamehere.ca, you also have the right to register yoürdomåinnåmehere.ca.
Individuals and entities that meet the registration requirements include:
Canadian citizens;
Permanent residents of Canada;
Legal representatives of Canadian citizens or permanent residents.
Non-individual registrants include:
Canadian trademarks;
Canadian Corporations;
Partnerships formed strictly in Canada.
Note:
In case you've registered a .CA domain name with the University of British Columbia (UBC) registry before November 8, 2000, you satisfy the Canadian Presence Requirements. However, that rule does not apply if the UBC registrant for the specified domain name no longer exists or if the domain name has been transferred to another registrant.
How to Register a .CA Domain Outside of Canada
Canadian citizens living outside of Canada can register a .CA domain providing their current address, wherever that may be. Registrants with addresses outside of Canada must provide an up-to-date email address in case the .CA registry needs to get in touch with them.
The Benefits of Registering a .CA Domain
.CA is safe, secure, trusted, and uniquely Canadian. Choosing a .CA domain registration for website and email hosting delivers big benefits:
.CA is the only domain name extension that identifies you as Canadian, which is an invaluable asset. It's the Canadian flag on your backpack for your online presence. Canadian identification matter is trusted by Canadians, and international audiences recognize it as a trustworthy place to do business.
Canadians prefer to visit and shop at .CA websites. Surveys show it, and the money spent by Canadians on the Internet proves it. More than 60% of Canadians say they would rather shop at a .CA website. Canadians trust Canadians, and shopping within Canada means shipping is quicker and cheaper.
Worldwide, Canada is respected, with a strong legal and regulatory framework. A .CA web site is recognized internationally as a uniquely Canadian symbol for businesses and institutions.
.CA domain names are safe, secure, and maintained by an independent national registry.
Because .CA is exclusively Canadian, you can get the short, unique name you need to stand out among the crowd and accurately reflect your business.
If you already have a .com, .org, .net or other domain name extension, getting .CA version allows you to protect your online presence and increase your chances of showing up in search results.
When using FastComet as your hosting provider, you can choose your Datacenter Location to be Toronto, Canada. This will further increase your .CA website optimization by making it as fast as possible for people in the same area.
Governing Body - CIRA
The Canadian Internet Registration Authority (CIRA) is a member-based not-for-profit (NFP) organization. It's best known for managing the .CA internet domain on behalf of all Canadians. CIRA develops and implements policies that support Canada's internet community and represent the .CA registry on a global level. The organization builds programs, products, and services with the goal to "build a better online Canada", while also providing a safe, secure, and trusted online experience to all Canadians.
CIRA periodically audits domain names to make sure that they conform to eligibility requirements. If CIRA cannot confirm your eligibility status or you become ineligible to own a .CA domain name, CIRA might request information from your registrar to prove your eligibility. You must send us the requested information within the specified time frame to avoid the deactivation of your .CA domain names.
Attention:
Do not send the information directly to CIRA!
What is Registrant Information Validation (RIV)?
RIV is a process that CIRA has in place to keep the .CA domain Canadian. The organization regularly reviews domain registrations in order to ensure .CA Registrants can prove their connection with Canada in one of the Canadian Presence Requirement (CPR) categories outlined in the Canadian Presence Requirements policy. The selection for validation is at CIRA's discretion.
Canadian Presence Requirements
The requirements when registering a .CA domain name are for the registrant to be one of the following;
A Canadian Citizen. A Canadian citizen at the age of majority under the laws of the province or territory in Canada in which he/she resides/resided. Needed documentation:

Proof of Compliance: Canadian birth certificate or a valid Canadian passport.

A Permanent Resident. A permanent resident as defined in the Immigration and Refugee Protection Act. Has to be an ordinarily resident in Canada and at the age of majority under the laws of the province or territory in Canada in which he/she resides/resided. Needed documentation:

Proof of Compliance: Canadian Permanent Resident Card.

A Canadian Trademark. A trademark under the laws of Canada or any province or territory of Canada. Needed documentation:

Copy of Canadian Trademark Registration.

A Corporation. A corporation under the laws of Canada or any province or territory of Canada. The Registrant name must be the full legal name of the corporation and has to be followed by the jurisdiction of incorporation (Canada, Ontario, etc.) unless that's obvious from the corporation's name.

Proof of Compliance: Documentation to support a Canadian corporate profile status as supplied for Federal corporations by Industry Canada for others by ESC Corporate services or provincial business registries.

A Partnership. A partnership where more than 66.6% of the partners meet one of several possible Presence Requirements. The Partnership needs to be registered as one under the laws of any province or territory of Canada. Needed documentation:

Proof of Compliance: The required proofs For the Presence Requirement category of the individual members of the partnership.
For Charities - the NFP (if it is a not-for-profit organization) needs to be included in the organization name. Another requirement is the submission of the registration number.
How to Register .CA Domain Names with FastComet
Registering your .CA domain name with FastComet is not difficult. All you need to do is follow these steps:
Log in to your FastComet Client Area;
In your Client Area, go to Domains → Register new Domain;
Type your desired .CA domain name and check for its availability:

Once you pick an available domain, click on the button Add to Cart: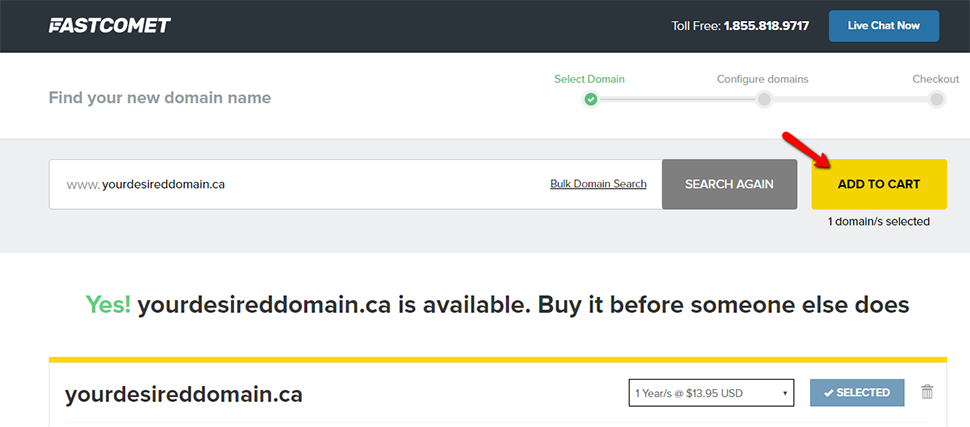 On the next screen, you will see a note about the specifications when you are ordering a .CA domain:
After you are ready with picking up addons, go ahead and click on Update Cart: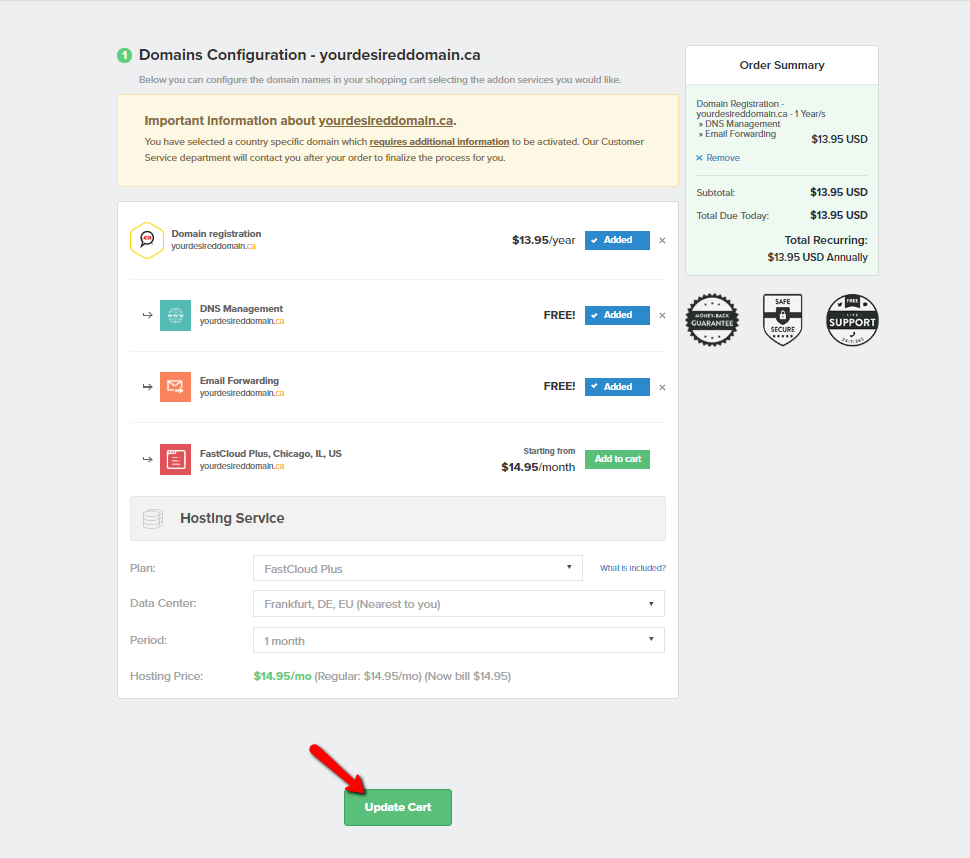 On the next screen, you will see a message stating that your chosen domain name is not GDPR compliant. Check the box to agree with the message:

Input all your information correctly in the fields below (if it's not already there);
Choose your Payment Method;
Click on the button Complete Order: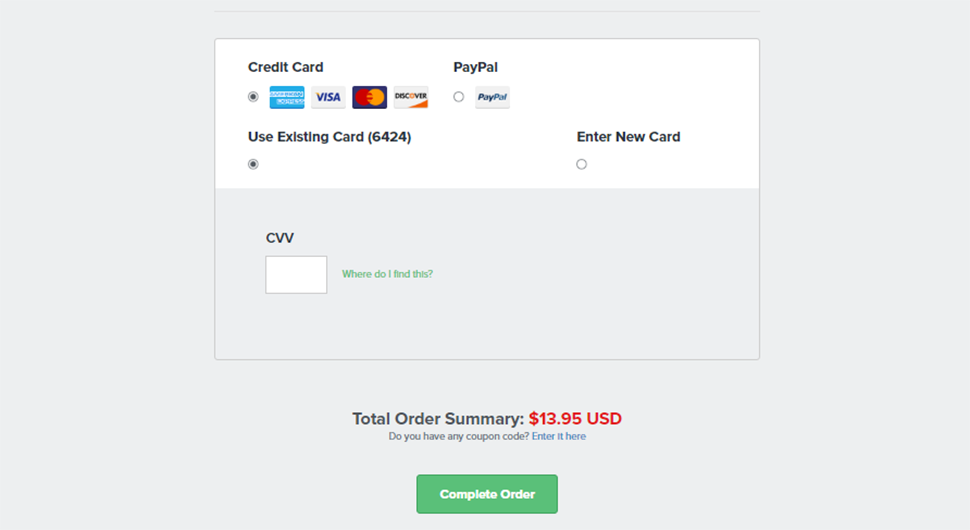 Wait until one of our Customer Service representatives contacts you;
A .CA Domain Name may be Registered for 1 to 10 years.
.CA Domain Names does not have a Money Back Grace Period.
Conclusion
All you need to do when registering your .CA domain name is to follow the steps in this guide and provide the correct information. The FastComet team will contact you as swiftly as possible once you have placed your order and will help you with finalizing your domain registration.