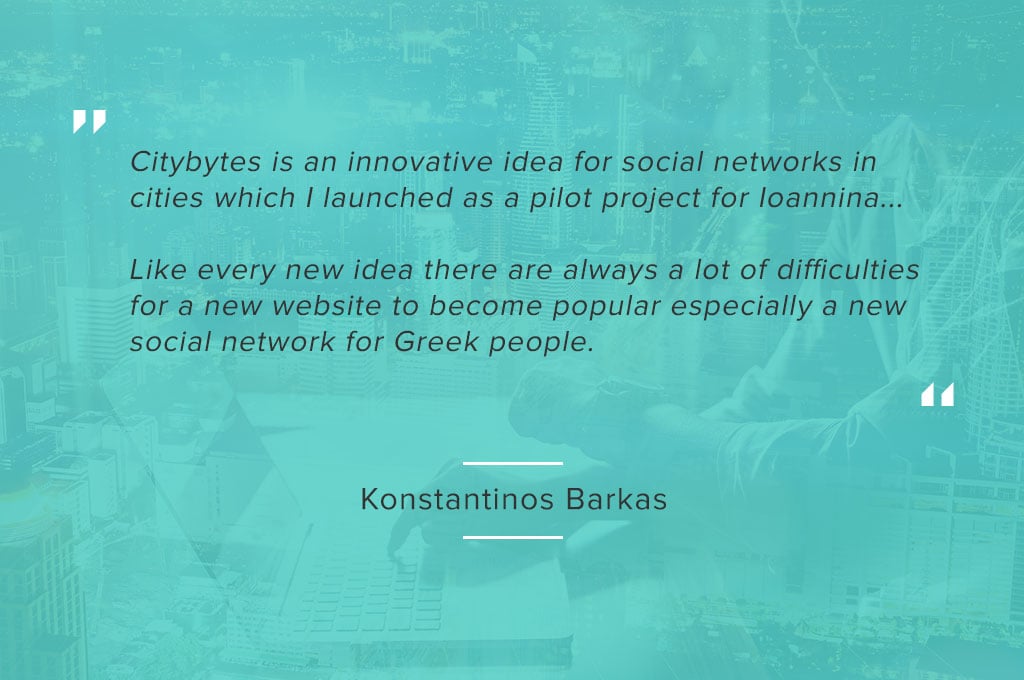 Spotlight: Konstantinos Barkas and his City Social Network
This week we introduce you to our client Konstantinos Barkas and his Social Network idea that is spreading across Greece. He kindly agreed to share with us insights and some of the development experience from his project including but not limited to the features, thought process and obstacles he had to overcome in order to realize his vision.
The Interview with Konstantinos Barkas
FastComet: Introduce yourself and tell us more about your line of work?
Konstantinos Barkas: My name is Konstantinos Barkas, I am 33 years old and currently living in the small but beautiful city Of Ioannina, Greece. I have studied Computer Engineering at the Epirus Institute of Technology in Greece and I have 10 years of experience in the IT Sector as a web developer, software engineer, computer technician and IT instructor.
FastComet: For our non-Greek viewers, can you explain the idea behind citybytes.gr?
One of the unique features in this social network is the flirt feature which allows members can flirt with each other.
Konstantinos Barkas: Citybytes is an innovative idea for social networks in cities which I launched as a pilot project for Ioannina. Members can make new friends within their city, join groups or join the forum and start new and interesting topics. Members have the ability to send their private or public messages to other members but that is not all. One of the unique features in this social network is the flirt feature which allows members can flirt with each other. Other cool features of the social network are the "classified" and "pets" that every member can see or create. Furthermore, the application itself seeks feeds about everything in the city and presents these feeds to the members (news from your city or villages nearby, upcoming events, news from local universities etc)
FastComet: Are you currently working on something new and can you share with us any future plans you have?
Konstantinos Barkas: Currently, I am working on the e-shop feature and mobile version of my application. My future plans include mainly the expansion of my application to all major Greek cities and if possible – to cities in other Countries. I also plan to include more useful features like live traffic for the cities' roads and live bus information.
FastComet: Are you maintaining your website alone or do you work in a team?
Konstantinos Barkas: Currently, I am maintaining my website alone, but my future plans are to build a good team of local developers.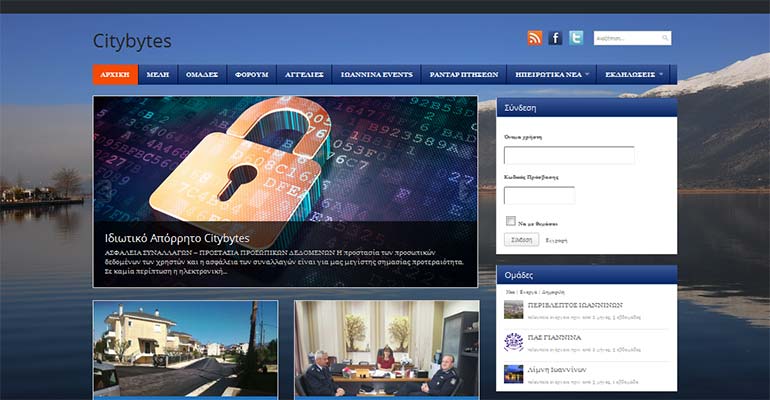 FastComet: Is it easy to create a popular website representing the Greek community?
Konstantinos Barkas: Like every new idea there are always a lot of difficulties for a new website to become popular especially a new social network for Greek people. Greek people are using mostly Facebook and it is very difficult for something new to become popular and acceptable. Surely a lot more time and effort is needed for this task.
FastComet: Did you ever had any moments of doubt regarding your project and how you got past them?
Konstantinos Barkas: I always had the idea in my mind that I must stop the project because it is very difficult and use the time to make other ideas a reality. If there are moments when I feel disappointed with my project I always remind myself the reason for which I started to work in the first place: "to offer something good to the society that will make our world better". This gives me the strength needed to continue working on the project.
FastComet: How did you find about FastComet?
Konstantinos Barkas: I search a lot of hosting companies and I was left disappointed before I found FastComet. After days and days of searching the web, I saw in a google search results a new company called FastComet. I spoke with a Sales Representative via your live chat option and after a short talk, all of my questions were answered.
FastComet: Would you recommend our hosting services to a friend or a person in need of a quality hosting?
Konstantinos Barkas: I am so impressed with FastComet that I would recommend the company to all of my friends, family, and colleagues.
FastComet: The top feature we provide that you would miss if we didn't?
Konstantinos Barkas: I have tried another hosting company here in Greece. I used it for a lot of websites that I developed in the past and I hated it when people could not assist me and resolve my problems and/or take one or two or even more days to answer a simple question. Thank God FastComet has the best customer service I have ever experienced.
FastComet: Have anything else to share with our audience?
Konstantinos Barkas: Finally, I would like tο to give a big thank to FastComet for their valuable help! Thank you very much one more time.
Share Your Story with FastComet
A big thank you to Konstantinos for sharing his story. If you would like to tell the story behind your project and how FastComet made it possible, please let us know. Your success is what matters most to us.
The latest tips and news from the industry straight to your inbox!
Join 30,000+ subscribers for exclusive access to our monthly newsletter with insider cloud, hosting and WordPress tips!