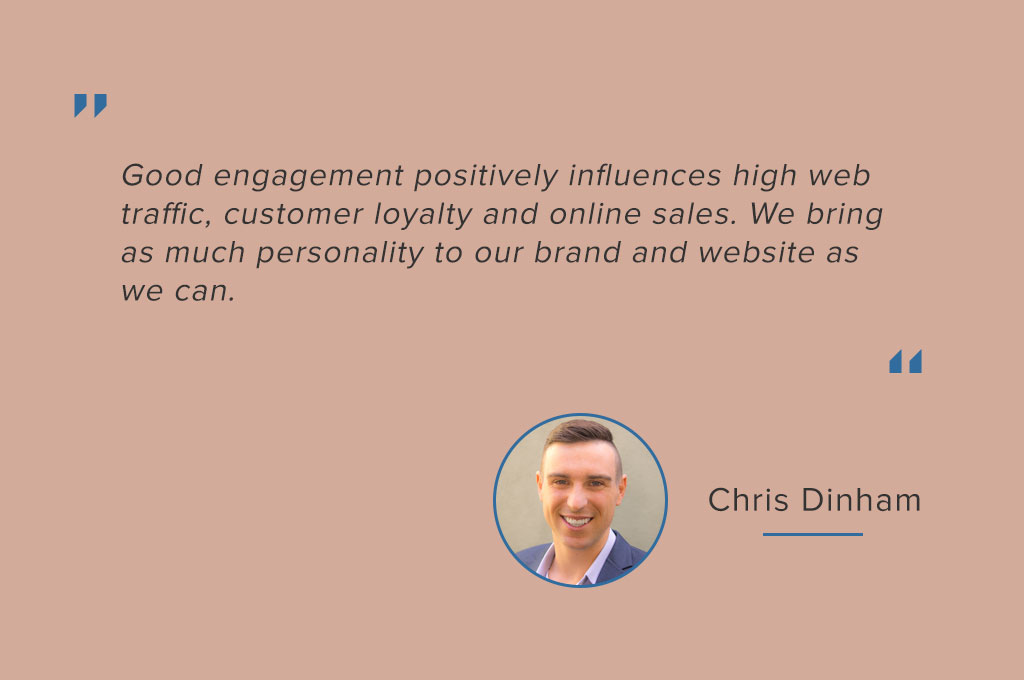 Spotlight: Chris Dinham and Rebecca Hall's Community Project
Today, we are glad to introduce you to Chris Dinham – the web designer behind kidzabuzz.com.au. Without any further ado, let us see how he got to where he is now and how he managed, with the help of his client – Rebecca Hall to improve children and families' lives around the world.
The Interview with Chris Dinham and Rebecca Hall
FastComet: Introduce yourself and tell us more about your line of work?
Chris: I run a web design agency in Perth, Western Australia called Summit Web. We specialize in WordPress website and SEO marketing for small to medium businesses.
Offshore oil and gas drill rig worker turned web designer and online marketer. It was a pretty drastic career change but when I was injured at work, I found myself sitting on the couch for 6 months. To stay sane I started learning WordPress and online marketing. Soon I was building websites for my friends and things snowballed from there. Kidzabuzz is a website I built for one of my clients.
FastComet: How did the idea for kidzabuzz.com.au come to be?
Chris: The concept for KidzaBuzz was born in a Bassendean home in 2007 over a conversation and a cup of tea shared by two young mothers, one is the current Director of KidzaBuzz, Rebecca Hall. Rebecca was feeling at a loss when looking for fun and affordable things to do with her children. Activities that were local and promoted an active and healthy life that the whole family could enjoy.
Rebecca knew where to find tourist attractions but not the places that other parents talked about, which almost seemed like insider secrets! So she thought it would be a great idea to create a resource for parents in an easy to use a format that brought together lots of different activities and most importantly, would be affordable and offer value to families. The idea of a voucher book took shape, the A5 size book was practical, vouchers would offer value and the cover price would always be affordable.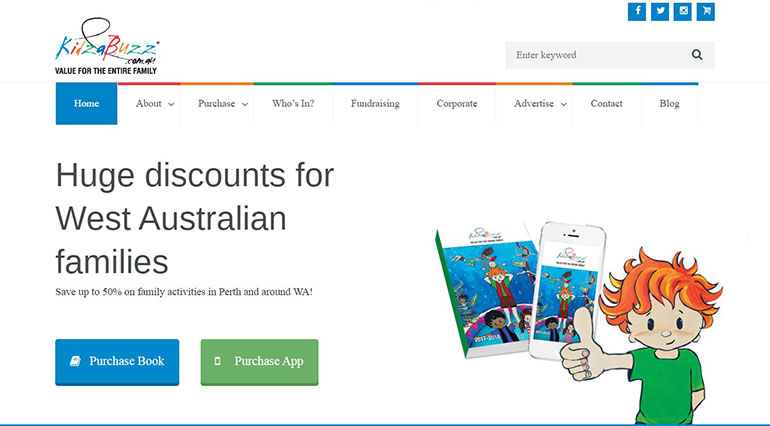 FastComet: Can you tell us more about the charities you support?
Rebecca: From its inception, KidzaBuzz has always aligned itself and given back to family-focused charities and has been committed to returning money back to the community in the form of charitable donations.
Over the years, KidzaBuzz has been associated with WA's iconic Telethon, McDonald's Community Cinemas (formerly Movies by Burswood) and Radio Lollipop, donating over $55,000 in total to those charities as well as donating books to worthy causes including Ronald McDonald House, Autism Association of WA, various Women's Shelters and other ad-hoc family causes in need.
Along with the cash and in-kind support, KidzaBuzz enables many sporting clubs, school P&F's and community-based organizations with fundraising options that are simple, effective and provide sizable fundraising returns.
FastComet: What methods for engaging your customers do you apply to your website?
Rebecca: Kidzabuzz like to build a connection with their customers and understand what they want and how they can give them more value. The website is a platform for customers to read their blog posts, go to for advice on family activities throughout Perth, view the product (flip through the book and see what discounts are offered), enter competitions/giveaways and subscribe to the newsletter.
All KidzaBuzz competitions and giveaways are accessed through the website and we find that this method drives the most amount of traffic. Exclusive offers to great family events around Perth are used as an incentive for customers to subscribe to the newsletters as well as a benefit for those who are already subscribed. Our website includes links to social media pages which currently has a higher level of engagement and drives a lot of traffic to our website.
FastComet: Can you share more information about your blog and its purpose?
The Blog helps to build a connection with the customer because it shows them that Kidzabuzz are real people working behind the product.
Rebecca: The Blog helps to build a connection with the customer because it shows them that Kidzabuzz are real people working behind the product. The blog posts are generally about family activities around Perth that our KidzaBuzz bloggers have experienced with their own young family. We strive to provide inspirational and informative content that reflects the realities of parenthood with all its ups and downs.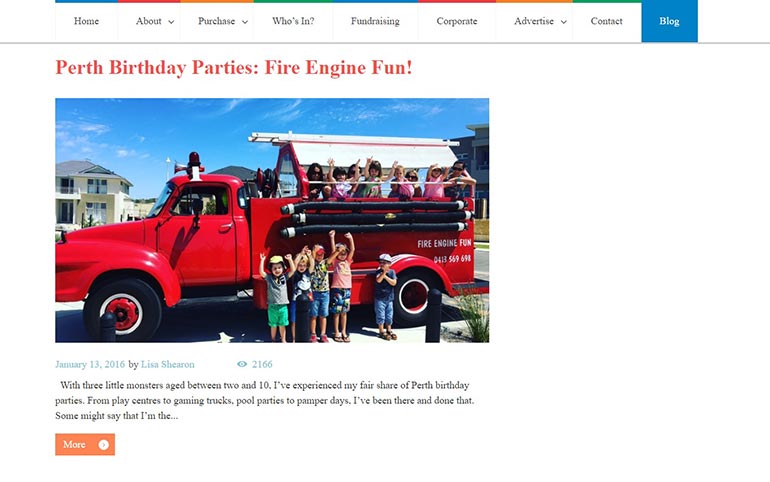 FastComet: Tell us about the platform used to create Kidzabuzz?
Chris: All-Summit Web's websites are built on WordPress. We just find there is a good mix of custom developer features and ease of access for the client to update the website themselves. I find that WordPress is very easy for clients and there is always plenty of tutorials on the internet to help them out.
FastComet: You mentioned social media and we see Kidzabuzz has a lot of followers there. How is that affecting the website's growth?
Rebecca: Our social media definitely has a positive impact on our website growth. The more engagement we have on social media, the more traffic we have on our website, particularly when we include backlinks to our website from our social media posts or feature a certain blog post, news announcement or competition from our webpage.
FastComet: Are you happy with the stability and response time of the service we offer?
Chris: Summit Web have used many different hosting companies in the past. None, in my opinion, have lived up to FastComet. Speed and stability are amazing.
FastComet: What is the thing that drew you into choosing FastComet as your hosting provider?
Chris: The customer support here is the main reason I changed over. Lightning fast service and it is always done right the first time! Plain and Simple I think this is where FastComet shines. With other hosting companies I was waiting for up to a week for support tickets to get answered. This is simply not acceptable when dealing with clients who rely heavily on their website to bring business in. Solving a problem fast makes me and Summit Web look awesome.
FastComet: Have anything else interesting to share with our audience?
Rebecca: Good engagement positively influences high web traffic, customer loyalty, and online sales. At KidzaBuzz, we find that we receive the highest amount of traffic following an EDM to our subscriber list and through competitions and giveaways promoted over our social media channels. We bring as much personality to our brand and website as we can. We include a story of the KidzaBuzz Brand and how it came about on the 'About us' page and also include a family photo so that customers can get to know me and feel comfortable about the brand. Bios of the team members and bloggers are included on the site and we like to acknowledge our supporters and leading clients. Testimonials are also fantastic as they reflect the voices and opinions of other users.
Share Your Story with FastComet
A big thank you to Chris and Rebecca for sharing their story. If you would like to tell the story behind your project and how FastComet made it possible, please let us know. Your success is what matters most to us.
The latest tips and news from the industry straight to your inbox!
Join 30,000+ subscribers for exclusive access to our monthly newsletter with insider cloud, hosting and WordPress tips!