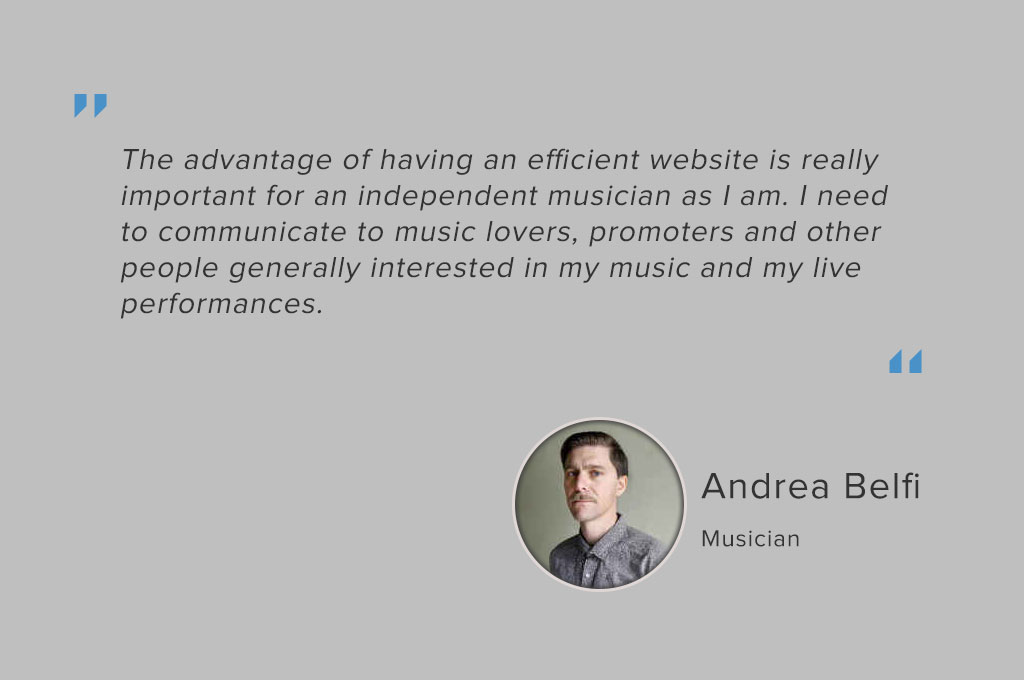 Andrea Belfi Under the FastComet Spotlight
Our ways of communication are what distinguishes us from the rest of the living creatures. Still, as Victor Hugo once said:
Music expresses that which cannot be put into words and that which cannot remain silent.
As an art form, composing music is not for everyone. It requires a talent that most of us do not have and when we recognize the talented few and their work, we can only listen and enjoy the moment.
Without further ado, it is my great pleasure to introduce one of our clients – Andrea Belfi. He is one of those talented few I am referring to and we are glad to help with our expertise in the web hosting field for his project.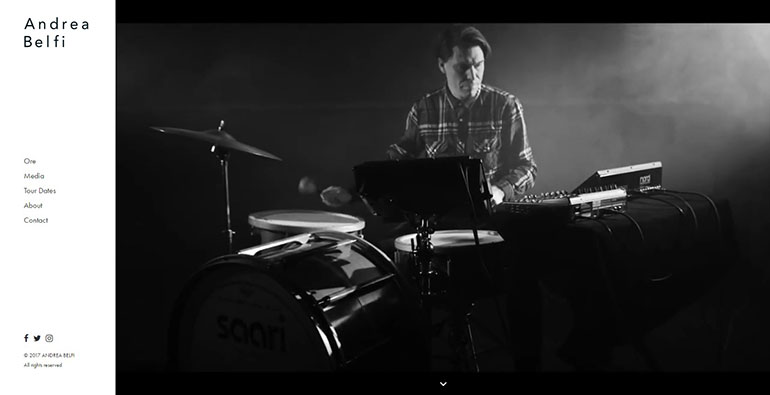 The Interview with Andrea Belfi
FastComet: Please introduce yourself to our readers and tell us a bit more about your line of work?
Andrea Belfi: I'm a musician. I play drums and electronic instruments. I mainly work with live performances in the field of experimental and improvised music. I occasionally work with theater productions and music for films. I started playing drums when I was 14 years old, 22 years ago. I've been touring extensively in Europe and the U.S. from 2001 in various clubs, squats and music festivals.
FastComet: How can our readers find more about Andrea Belfi? What is your current location?
Andrea Belfi: At AndreaBelfi.com you can find my website.
I currently live in Berlin. I moved almost four years ago. That city keeps surprising me how it is becoming more and more international. That's the only affordable place in Europe where you can collaborate and create music and new exciting projects with people from all over the world. Despite the awful and long winter, Berlin was and is and an incredible source of creativity.
FastComet: Tell us more about your first major project and how that affected your career?
Andrea Belfi: I recently did a big United States tour with Il Sogno del Marinaio, a rock trio with Stefano Pilia (who plays with Rokia Traorè) on guitar and the legendary American bass player Mike Watt, whose career started in the early 80's playing with the punk-rock band the Minuteman, and continued playing bass with Iggy Pop and the Stooges. We played 53 shows in 53 days, covering almost all U.S.A. states on a big clockwise loop, from San Diego (California) to Phoenix (Arizona) through Seattle, Denver, Chicago, Portland (Maine), New York City, New Orleans, and Austin just to mention a few. This experience not only gives me the opportunity to play my music in front of a new audience, but it also affected my work in terms of increasing my skills as a musician and as a team member.
FastComet: How did you come up with the idea of a website to promote your work? Tell us more about the advantages/disadvantages of showing your work online?
Andrea Belfi: I had my first website back in 2001 when I needed to promote my record label Chocolateguns. That website became my personal web platform, where I started showing my music. The advantage of having an efficient website is really important for an independent musician as I am. I have no manager nor booking agency, which means I need to promote myself directly. On my personal website, I tried to display as many information as I could about my current and past works and to give a complete description of all the projects I'm involved with and news. I need to communicate with music lovers, promoters and other people generally interested in my music and my live performances. The only disadvantage is that I have to keep updating it regularly, and this requires constant attention to it.
FastComet: We know that you are using WordPress for the development of your website. How easy it is to use the application and how long it took to get your website to its current state?
Andrea Belfi: I find WordPress an incredibly useful tool. It saved me a lot of money and time. It is easy to use. Nonetheless building it took lots of time and efforts. FastComet helped me a lot in migrating my old website to the new platform, and the whole procedure took only one or two days. From there on I wanted to give my website a new aspect, and this took almost a month of irregular work, from choosing the right template to customize it. I would say that, with my limited competence with WordPress and its plugins, it would have taken one and a half weeks of full-time work.
FastComet: What is the audience that you are targeting with AndreaBelfi.com? How do you advertise your website and your work to the public?
Andrea Belfi: The audience I'm looking for is the one directly interested in my music and my live performances. People visit my website because they've seen me playing live or they've already known about my records and collaborations. I don't specifically advertise my website in any particular way, but I diffuse my website address when I post on Facebook or Twitter. When people look for my name on a search engine they will find andreabelfi.com as one of the first results.
Editor's note: For those of you interested in more information about the plugin, you can review our post on how to use the Clef two-factor authentication for your project.
FastComet: Are you familiar with the Clef two-factor authentication plugin and our partnership with them? Are you using any security plugins to protect your website?
Andrea Belfi: Not yet, but I'd like to know more about it.
FastComet: Do you have experience with other applications? Have you attempted to use any other script, other than WordPress, for the development of your website?
Andrea Belfi: I sometimes use HTML codes, as I learned them through the use of different HTML editor. Sometimes WordPress makes funny unexpected errors which only writing on HTML can solve.
FastComet: How did you hear about FastComet and the services we offer? What was the reason you decided to choose us as your hosting provider for your website?
Andrea Belfi: My wife works as a marketing manager. She discovered FastComet and tested the quality of the service. She suggested me to check it out and I did it. Another reason I moved from my previous hosting is that I wasn't happy about their services.
FastComet: So far, what are your thoughts about the features of your hosting account and our Technical Support team? Tell us a story, when we were able to assist you with your project.
Andrea Belfi: The technical service was simply great and fast. Even too fast!
Andrea Belfi: The technical service was simply great and fast. Even too fast! I started working on my new website on my vacation time, during Christmas time, and I was assisted on a weekend evening during that period. I thought it was crazy when the customer service answered on the chat me instantly while I was having some difficulties trying to buy the web hosting.
FastComet: Are you happy with the uptime and service performance? How does it differ from your experience with your previous hosting provider?
Andrea Belfi: Yes I'm happy with the new service. I can't really compare the performance with the old provider, but it seems it's working very well.
Share Your Story With FastComet
A big thank you to Andrea Belfi for this exciting story. If you would like to share the story behind your project and how FastComet made it more successful, please let us know. Your success is what matters most to us.
The latest tips and news from the industry straight to your inbox!
Join 30,000+ subscribers for exclusive access to our monthly newsletter with insider cloud, hosting and WordPress tips!