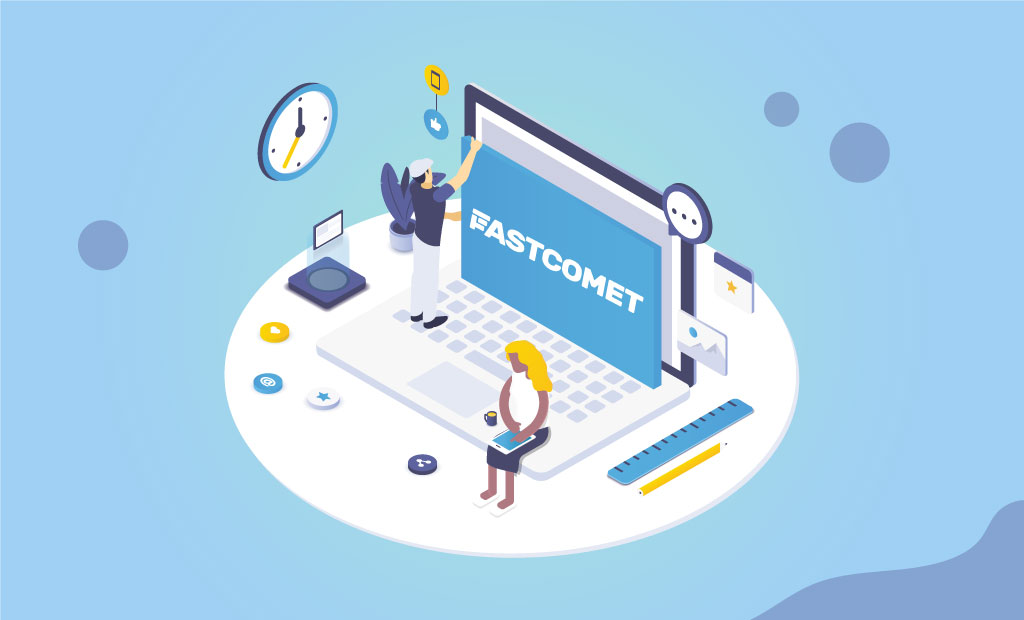 Coming soon: FastComet New Website Look
Over the past couple of months, we've been working on brand new corporate identity including a new wordmark, color scheme, imagery, and complete website redesign. After 6 years, we are bidding goodbye to our well-known comet logo and we're going to release our updated identity as a part of the ongoing evolution of the FastComet brand. You will begin seeing the new FastComet look all around the web and everywhere we are out in public on Monday, June 3rd, 2019. Hooray!
How We Got Here
FastComet has had two (notable) website redesigns since 2013, with the last one being introduced in 2015. Throughout all of these renditions, the comet icon, or mark, has been the visual anchor. Some might even say that it's the most iconic piece of FastComet's identity, and it would be tough to disagree with that. Our name began as a playful metaphor: web hosting service as fast as a comet. These days we do so much more than that, and our name stands for more than its component parts.
So why the decision to redesign for the third time? There can be a short and easy answer here – we wanted a look and feel developed to complement the current status and growth of our company; not to be just something different.
The deeper answer would be that we have indeed grown quite a lot since our last redesign, and we made sure that reflects through a refined identity. As our customers' needs have evolved, our business and products have evolved right along with them. We've built our new brand identity, product offering, and the overall customer experience to scale and change in step.
At FastComet, we consider our brand an on-going project which is never truly finished. People and companies should never stop evolving, and the same goes for brands. With that, said, branding is not easy. It isn't something you just do over the weekend. It's not just a new logo, some color changes, and downloading new fonts. It isn't even a tagline. Branding is actually a promise. A promise that is made by a company to its audience. Our job is to meet all your expectations, and even exceed them when possible.
We are coming from the high performance IT world. A world where agility, performance, and enhanced engineering are not just a bunch of buzzwords but actual vital elements of modern solid infrastructures. The hosting industry is in desperate need of those. We built FastComet for this sole reason. FastComet started out as a cloud hosting company, but we've expanded beyond an expertly crafted PaaS (Platform as a Service) to a technology company that provides solutions for agile business transformation – your Digital Experience catalyst for developing and hosting fast, scalable, and secure infrastructure for businesses. Today, we help thousands of customers around the world grow their own way.
What's Changing and What Isn't
Once we brainstormed, revisited and agreed on several aspects of how we can better navigate and influence our brand personality, we started working on UI/UX of the new FastComet.com. It's a better, more understandable way of describing what our platform does today. We were an early adopter in cloud hosting managed services but we've evolved. We have been building the functionality around our platform in order to allow it to do a lot more - additional dev tools, analytics, and even enhanced performance and better integrations. That is the reason to start describing it as a digital experience platform – something that is also a distinct coverage area recognized by industry analysts.
New Logo
Our in-house brand and design team worked tirelessly to create a fresh new, more cohesive visual identity. And we are starting, today, with our new logo.
Creating a brand new logo presented multiple challenges. We wanted to briefly convey the foundational elements of the company while also maintaining simplicity, performance, and clarity. We had to make it known that FastComet stands for fast service, precision, and definite direction.
Today, we'll not bore you with the thoughts around the design and the meaning of all angles and curves of the new logo— our main goal for this post is to let you know and in some way be a part of the change, so that you wouldn't be too surprised when the new FastComet.com goes live.
New Website
A huge FastComet.com website redesign is coming – but it's far more than a new website. The complex nature of a rebrand often involves a bit of a balancing act. With careful enough attention to details and the permission to start from scratch, we set out to re-envision everything that represents FastComet.com. The new website will offer a modernized experience with streamlined content.
Over the next few weeks, you'll see all the other visuals around FastComet aligning around the new direction: on the FastComet website, in advertising, and in the affiliate marketplace. It's still us. We're still FastComet. But more consistent, approachable and, we hope, more instantly recognizable.
Our Not-Too-Distant Future Plans
There's a lot more to come. Bookmark our website and keep on the FastComet Facebook and Twitter feeds for the next installment of this blog post series. We plan to give you a more in-depth peek into the story behind our new logo as well as our business philosophy, so stay tuned.
The latest tips and news from the industry straight to your inbox!
Join 30,000+ subscribers for exclusive access to our monthly newsletter with insider cloud, hosting and WordPress tips!