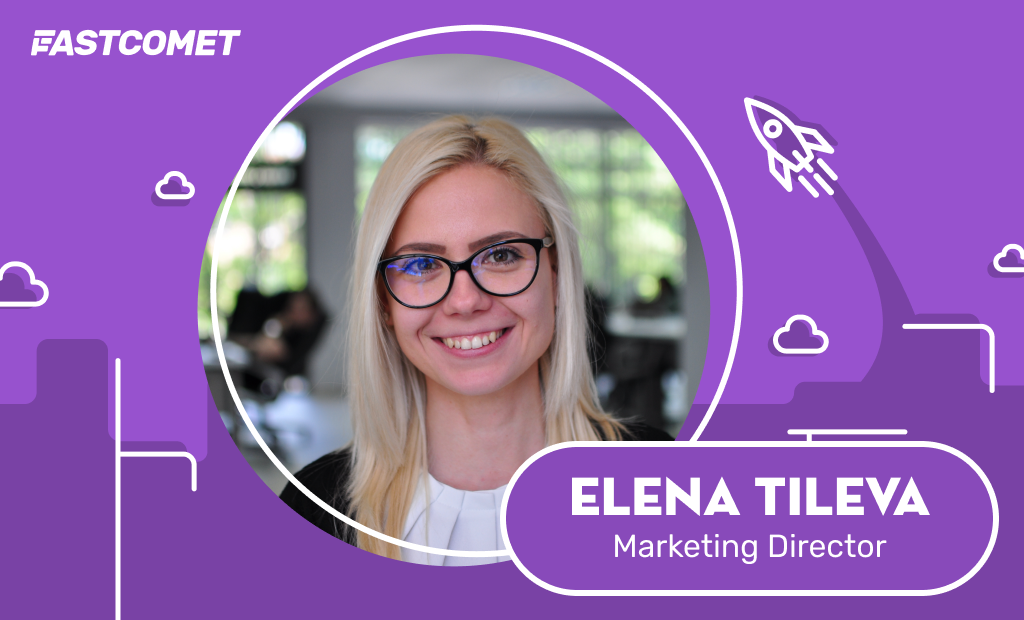 Employee Spotlight: Elena—Mother of Marketing
Yes, we can all feel it in the air. It's nearly that time of the year when we all are giving thanks and being thankful—that's what our special day is dedicated to each year. My grandma always tells me at the dinner table that writing a blog post is like roasting a Thanksgiving Day turkey. Maybe, she has never said that to me – yet, but it might be a good time to show her how to start her blog, and this might become a reality.
But enough with that, if you haven't noticed, we have been working hard for the past few years, offering some of the best hosting solutions in the industry and creating a brand we believe in and are very proud of what we have achieved so far. One of the key individuals involved in making this a reality is our head of marketing, Elena. So, instead of focusing on the usual festive side of things, with Thanksgiving just around the corner, we've decided to take this opportunity and say – Thank you! Not only to you, our users but also to one of our family members and the head of marketing.
Today marks Elena's final day here at FastComet. That's why we decided to use it as an opportunity to ask her to fill out our Employee Spotlight questionnaire. Here are her answers to the questions, with the angle of reflection on the past half a decade she spent with FastComet:
What's your role, and how long have you been with FastComet?
For the last five and a half years, I have been leading the Marketing efforts for FastComet. Honestly, when I look back, I feel like I have been here for a decade or two. A lot of time has passed, and a lot has changed since I entered the FastComet office for the first time. When I started in 2017, it was just me, and I had to take the reins of all aspects and facets of the marketing strategy for the company. Ultimately, this involved wearing many hats during these days. I loved helping FastComet improve and contribute to the company's growth in any way possible.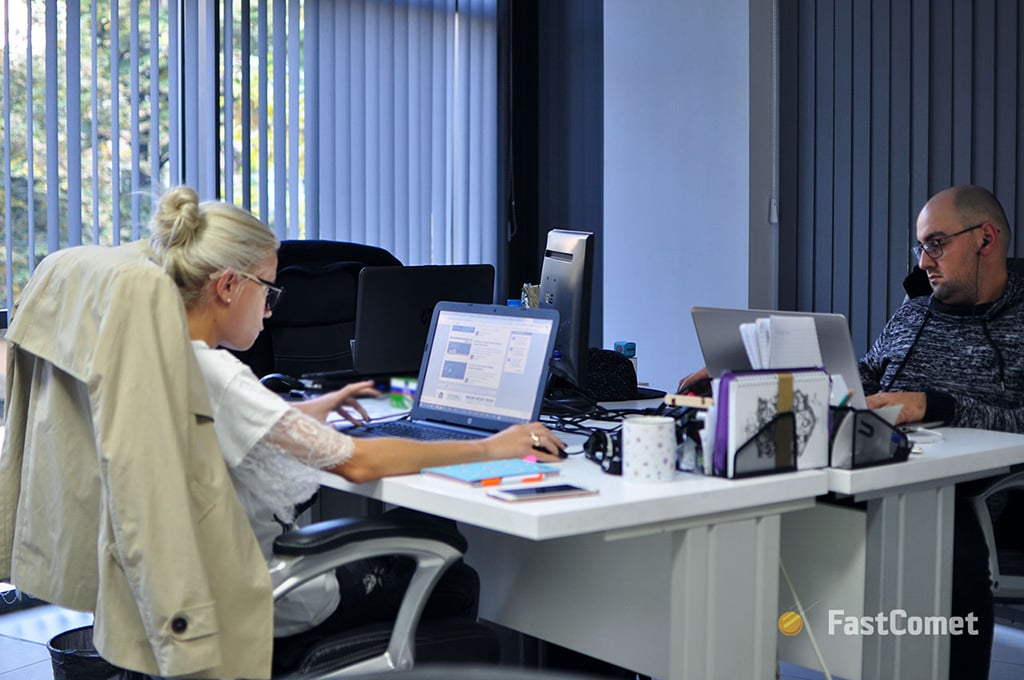 Now, I ensure all marketing efforts we execute are tailored to our Marketing strategy – optimized campaigns with higher engagement, a boosted digital presence, and added brand loyalty. This includes crafting content for the new pages of our website, social media planning, outreach to clients and partners, newsletters, sales support, and all other things you can imagine we do to reach our clients and prospects. I lead a team of marketing specialists to increase the market presence, demand generation, and revenue growth for FastComet in the cloud hosting industry.
What's your favorite thing about your role?
There's so much to love about being a modern marketer. This profession is getting more creative and technical simultaneously, which perfectly matches my personality. You can start with an excellent idea, broadcast it with up-to-the-minute data, and share it with the world without leaving your home office or desk. You get paid to write, create, and build relationships as a marketing professional. If you're doing the job right, you can simultaneously have fun and genuinely help people.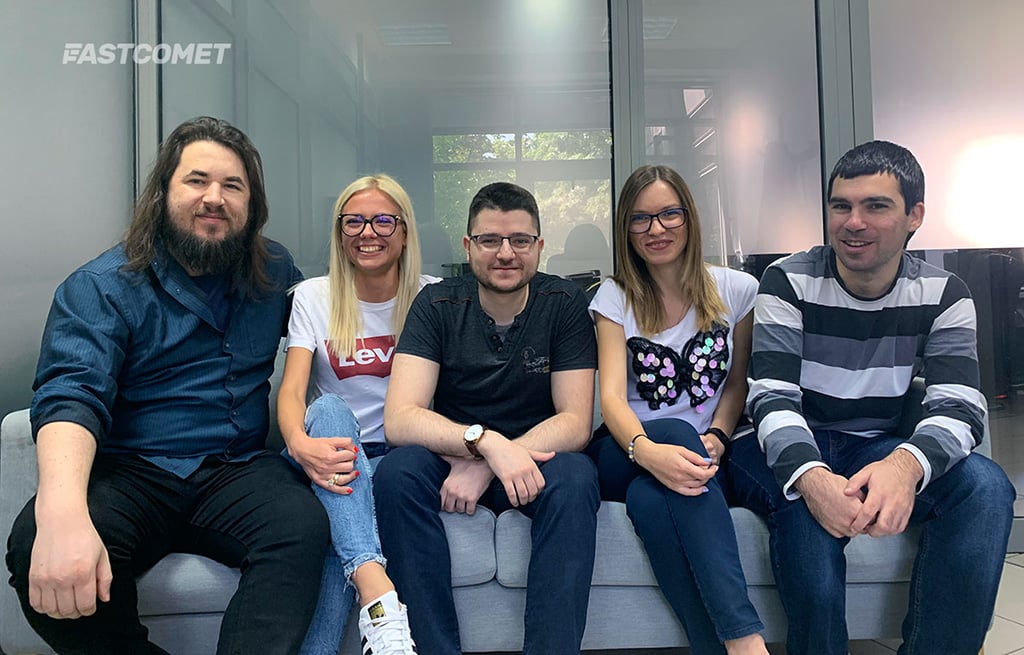 Тhis picture was taken before pushing the website redesign of FastComet.com in September 2022, and it was on the wallpaper of my work computer 'till my last working day in FastComet.
That's not to say cloud hosting is a stress-free industry or that every day is full of hearts and flowers. In my current position, I experience all kinds of meaning and emotion in what I do. I love that no two days ever feel the same; during those, I make dozens of transitions and pivots. Even though it's easy to say, "It's only marketing," I know most of us believe there's something more to our work. There's something more than the usual list of tips-and-tricks tasks. Seeing the value in my work motivates me to perfect my craft, which keeps me going.
What do you enjoy doing when you aren't working?
Leisure time? I do not have any, to be honest. I have two kids, one of whom is just two years old and the other in middle school. So after working hours, I have to balance my time between homework, school projects, and playgrounds. I try to spend as much time with my children as I can. On my days off, we usually go for long walks or visit the seaside, which we all love.
I usually spend quality time reading books while drinking wine when the kids are asleep. I am a massive fan of contemporary Scandinavian writers. These days, contemporary Scandinavian literature is having a moment internationally. Many books are now being translated into different languages, making it possible for many more people than ever before to read them. The Swedish authors Fredrik Backman and Jonas Jonasson are at the top of my list.
I also try to take some "me time" when possible. I love attending concerts, recitals, stage productions, and music or dance performances. According to studies, attending such performances decreases the release of cortisol and other stress hormones. As a result, I feel super positively loaded, bursting with energy, and have a higher feeling of well-being.
How would you describe our company culture?
As Peter Drucker said, "culture eats strategy for breakfast." Company culture is more than just words put on your "About us" page. It's about that specific feeling you get when you walk through the office door. It's about the way the team works together and the relationships you build. And it's about loyalty. There are a lot of people working here that have been since the company's early days and who have stuck around through tough times. We aspire to build a lasting organization.
Our company culture combines fun and business, and, at the same time, it is a culture where every team member can grow and develop. People here are passionate about their work and the company's goals.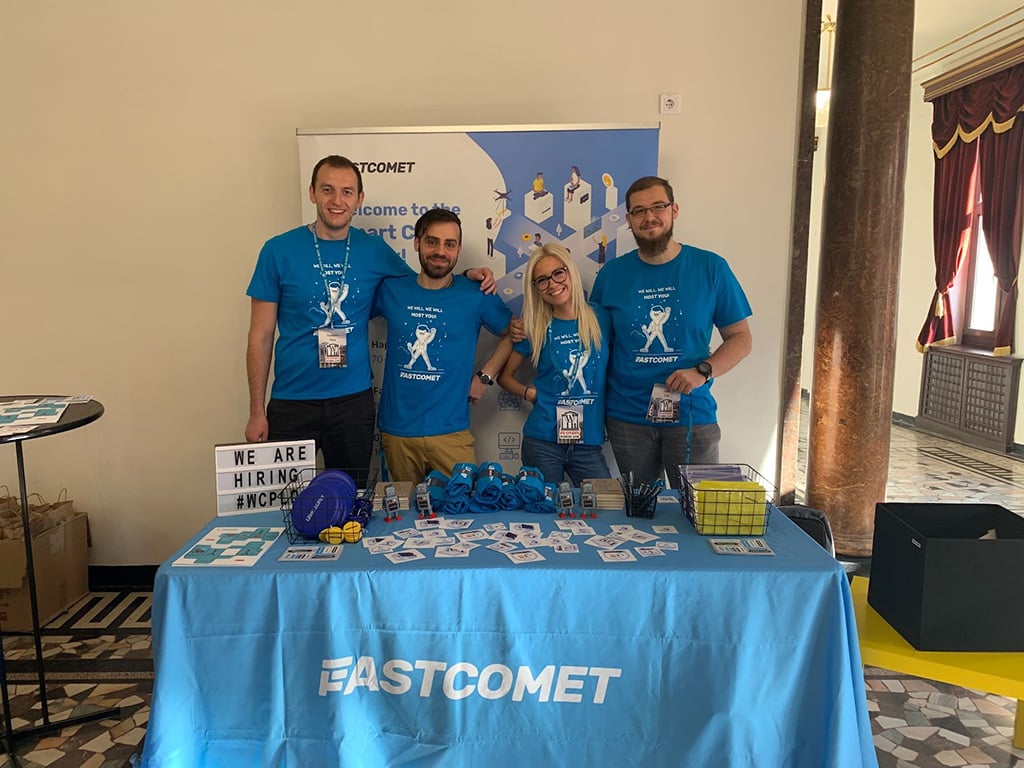 I would also say supportive. I love working with my teammates to complete extensive assignments that help the company achieve essential business goals. I also appreciate working independently on diverse tasks knowing I have a strong team that supports each member.
What would you change about your job?
I would not change anything. I am pushing for something new because I feel I've outgrown my current role in the company. Change is difficult, but switching positions is necessary for personal and professional growth. It is crucial to get out of my comfort zone, fulfill my potential in pursuit of self-growth, and avoid the moment to coast.
What's on your bucket list?
I love creating to-do lists for whatever you name it – everyday tasks, performance, professional duties, etc. This question reminds me of those things which I always wanted to do.
On top of the priorities for my bucket list is to buy a seascape home. So I am working hard to make it a reality. When we usually plan vacations for my family, holidaying always means beach time, and all other options don't make sense.
There are at least a thousand reasons why I love the sea all year round. I feel relaxed and at peace when I'm there. The sea has enchanted us, capturing our imagination and fascinating us with mysteries of the unexplored. I enjoy spending time at the shoreline, especially during summertime. During the rest of the time, I hopelessly miss the smell of the warm sea breeze, the waves, algae, and sargassum in the morning. I recently discovered that a word describes such people – a thalassophile, a person who loves and is magnetically attracted to the ocean and the sea. Yes, that's me.
What will you miss about working here?
It's all about the people! It always is and always will be. Some of the people I have worked with here have become true friends of mine, and I enjoy spending time with them. You know they say – work hard, play hard. I will miss our crazy Secret Santas, Christmas parties, and internal company jokes between team members. Of course, many have promised that they will continue to bump me with funny memes via Instant Message.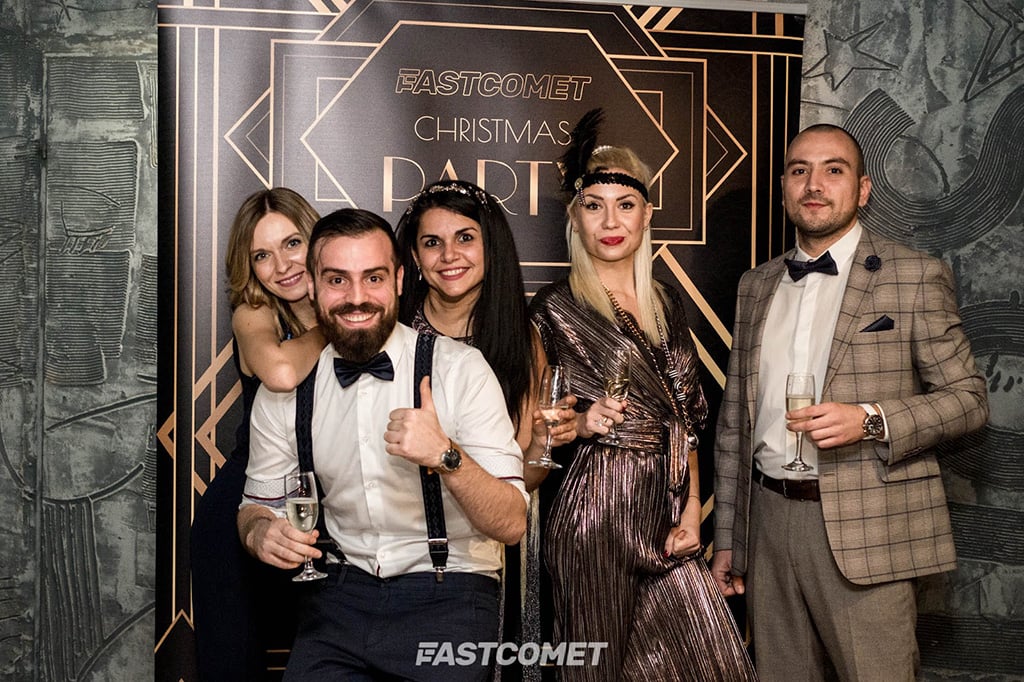 Our Marketing team frequently communicates via Slack, so we get a lot of opportunities to bounce ideas off each other. Many great ideas are born during these brainstorming sessions.
As a proud "mother" of FastComet's Marketing, I am leaving my baby in the hands of a great team. I will miss the variety of perspectives and ideas I'm exposed to daily, but I am sure they will take good care of it.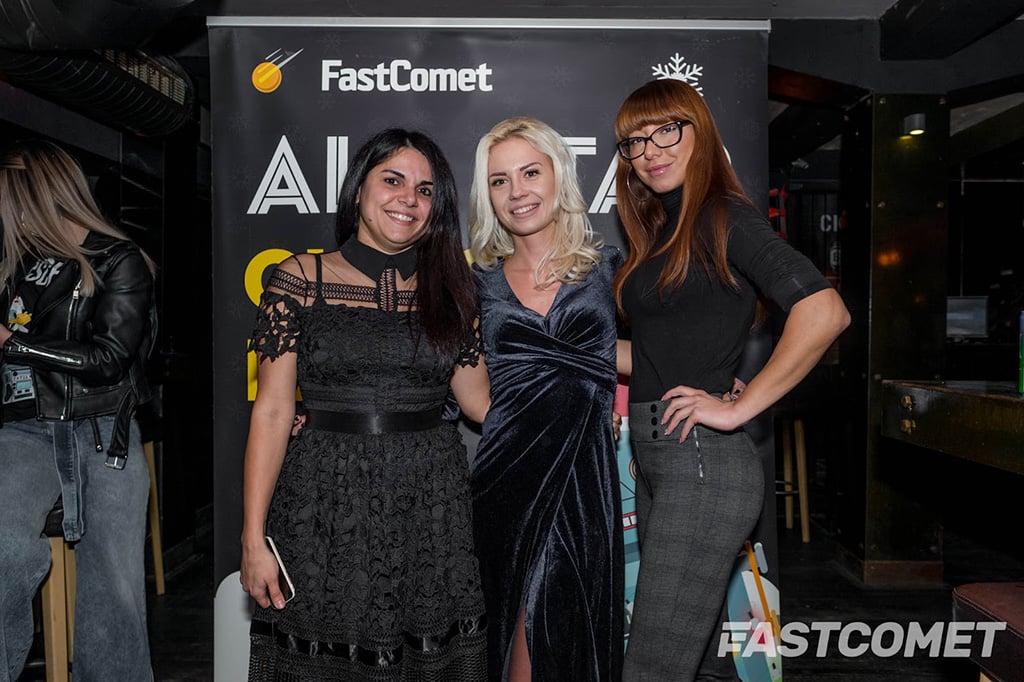 To new Beginnings!
We were extremely fortunate to find Ellie as part of the initial FastComet Marketing & editorial team. I am incredibly proud of what we've accomplished with the blog over these five years. We couldn't have done it without the hard work and effort of the current and former editorial staff and the many people who have contributed content to the blog. Elena hoped that the blog would be a valuable venue for members of the profession, offering resources and perspectives that the FastComet users can find helpful, as well as a way to connect the members and give them a forum to voice things that they find essential. We think she's done a great job of offering those things, and I hope our readership agrees with me.
Congratulations, Elena! You made a significant impact on our company and this blog.
We know you will bring tremendous positive impact wherever your travels lead you – we wish you great success on your new voyage!
The latest tips and news from the industry straight to your inbox!
Join 30,000+ subscribers for exclusive access to our monthly newsletter with insider cloud, hosting and WordPress tips!