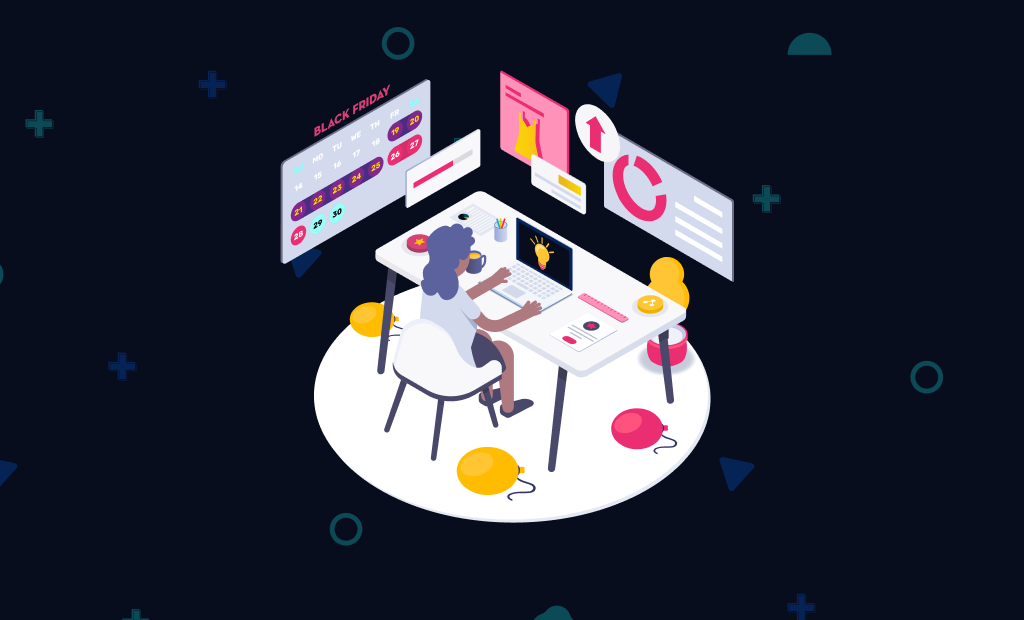 Top Marketing Tips for Black Friday & Cyber Monday 2021
Successful marketing campaigns take time to plan, promote, and execute. Black Friday and Cyber Monday sales might not be on your customers' minds just yet, but it's time to start thinking about your approach to your biggest sale of the year. While eCommerce sales have been on the rise for years, online stores are likely to find more success than ever compared to crowded physical stores this BFCM season. By starting to plan for Black Friday well in advance, you can choose competitive deals, make sure your website is ready, and connect with your target audience to make sure that your online store earns a spot on their Black Friday shopping lists.
Table of Contents:
Importance of Black Friday and Cyber Monday
Black Friday and Cyber Monday sales make up a significant portion of annual revenue for many companies, but these promotions are even more important for eCommerce owners. Running a business without a brick-and-mortar location requires continuously seeking ways to keep your customers' interest and trust in shopping online to avoid losing them to companies that do have physical locations. Offering competitive Black Friday and Cyber Monday sales that rival the deals found in crowded physical stores, free shipping, and other promotions can be strategic ways to boost your target audience's interest in your business on the biggest shopping days of the year.
The impact of Black Friday and Cyber Monday on eCommerce owners is likely to be more significant than ever this year as a result of the current global shutdown. Although we hope the economy will be in better shape by Thanksgiving, the reality is that online shops are already having an easier time bouncing back from the challenges of this spring than physical stores. The initial impact of a universal decrease in spending affected both online and physical businesses, but the convenience and safety of shopping from home have given eCommerce an advantage that is likely to stick around during this year's holiday shopping season. Most people still need to buy gifts and other items, but not everyone is ready to head back to their favorite stores yet. While hundreds of brick-and-mortar businesses across the country are permanently closing, online sales are thriving.
Plan Ahead to Ensure Black Friday and Cyber Monday Success
Although most of your customers probably aren't thinking about Black Friday deals yet, there's no time like the present to start planning your BFCM promotions. Many companies wait too long to start thinking about one of the most important sales of the year, and procrastination can cause your business to lose ground against competitors.
You shouldn't wait until the week of Thanksgiving to decide what promotions you're going to run or leave your social media pages silent all summer and expect your audience to eagerly await shopping on your website instead of your competitor's.
By consistently engaging with your target audience through email marketing, Instagram posts, and other platforms throughout the year, you can keep your brand top of mind when your customers are deciding which Black Friday and Cyber Monday sales to take advantage of.
Getting Ready for Black Friday and Cyber Monday
Planning a successful eCommerce Black Friday and Cyber Monday promotion involves getting your website ready and preparing your marketing efforts. By creating a list of what needs to be done sooner rather than later, you can make sure that every aspect of your business is ready for what has the potential to be your biggest BFCM season yet.
If you've been meaning to spruce up an outdated website for months, now is a great time to make sure your online store looks and functions its best. While you probably don't need to create a brand-new logo or revamp your entire site, adjusting fonts and color schemes to match modern trends, improving your SRO results, and making sure your links, coupon codes, and checkout process work properly can give your shop a competitive advantage. Not catching small mistakes, such as forgetting to activate a coupon code that you advertised on Instagram, can frustrate customers and cost you sales.
We can also help you analyze and understand your website's conversion rate optimization (CRO). Increasing your site traffic is good, but increasing the percentage of visitors that actually make a purchase is better. Most of your potential customers will browse more sites than they will purchase from on Black Friday and Cyber Monday, and we can help you strategize ways to make your website convert visitors into customers.
Creating effective ads that capture your target audience's interest doesn't happen overnight. Now is the time to start thinking about email marketing, social media posts, Google Ads, and other types of advertisements you plan to use to promote your Black Friday and Cyber Monday sales. By taking the time to design aesthetically-pleasing ads that contain important details and align with your campaign's goals, you can make sure that each piece of BFCM advertising you create conveys a positive impression of your brand.
Ready, Set, GO!
With any luck, Black Friday will be one of the biggest events your online business has seen. So, you need to make sure it's ready for anything. Marketing some killer Black Friday deals is great, but if your website can't handle the heat, all of your efforts will be worthless.
What you need to do is:
Prepare for traffic. Your offers are competing with millions of others. Make sure you have a scaleable server to cope with a spike in visits, multiple payment options available, and mobile device functionality for customers on the go.
Perfect your copy. Get your product descriptions SEO optimized for the discounting frenzy. You want to be able to stand out in the sales, but also give customers a reason to trust your website and spend with you.
Take inventory. You don't want to dedicate your Black Friday marketing to products you don't have or items that you're short on. Check availability of everything before the big day, and make sure you can afford to slash prices.
Create a content calendar. Now it's time to pull together all of your marketing ideas into one neat structure. Set out your Black Friday marketing plans in a content calendar to ensure you're taking full advantage of this mammoth event.
Make a list, check it twice. Okay, it's not Christmas yet, but you can make sure that Christmas comes early by ticking off everything on our ultimate Black Friday business checklist.
Hand-picked Black Friday Marketing Ideas
Ready to get involved? You should be – no matter what your business is selling, your customers will love a discount. Here are our top tips for marketing your Black Friday deals in no time.
Use Email Marketing
Customers know that Black Friday is coming, and they'll be expecting emails from their favorite retailers. Start by getting in front of them with a dedicated discounting newsletter. One of the easiest Black Friday marketing ideas is to launch an email campaign in the run-up to the sales. It's a valuable channel to use – your customers have given you their contact details, and you can reach them on any device.
Be effective with your email marketing:
Send out personalized Black Friday emails. Engage with customers on a deeper level with a few personal tactics. You could greet them by name, or list some Black Friday deals which are perfect for them based on their previous purchases.
Segment your mailing list. Although you have a target market, not all of your customers are the same. You can segment shoppers with email marketing to ensure that your sales appeal to different user demographics and profiles.
Send out VIP Discounts
Take your email marketing tactics a step further and identify your most loyal customers. Why not reward them with a unique discount code? While you want as many people as possible to take advantage of your Black Friday deals, it pays to treat a select group of shoppers as VIPs.
Whether you already have a loyalty program or you're using VIP discounts just for Black Friday marketing, rewards are great for incentivizing customers to spend more. You could even offer unlimited use of the VIP discount. If you're planning to run offers over the whole Cyber Weekend, encourage shoppers to use their code multiple times.
Don't Forget Social Media
Social media marketing is often the cheapest and quickest way to reach thousands of potential customers, whatever it is you are marketing. When it comes to Black Friday marketing, social media should become your best friend. You could even start using it right now.
But hold on – first, put together a posting schedule. Make sure that you prep a few weeks of content to get customers excited about the big day:
Set up a countdown. In the week preceding Black Friday, engage your followers with a daily tracker leading up to the main event. Make sure that they add you to their long list of stores to visit during the sales.
Share exclusive discounts. Sure, you've got your VIP customers covered. But what about everyone else? Add discount codes to your social media post captions to incentivize followers – and potential new customers – to shop your site.
Increase Your Ad Spend
As a small business, you might already have a budget for advertising on sites like Facebook. You probably also know exactly how to communicate your brand to customers. Up your ad spend in the run-up to your Black Friday sales. After all, you'll most likely be getting a higher return on investment for your efforts.
This is a great short-term solution for capitalizing on the frenzied start of the holiday season. You only need to increase spending for a few days for your ads to be effective. Giving them just enough time to optimize for conversions, you can increase your store's visibility on social media and feel confident that you'll earn back that spend.
Put a Gift Guide Together
Don't forget that Black Friday is the gateway into the holiday season. Monetize that to the max by creating a gift guide for your customers. Gift guides will help contextualize your products and incentivize people to buy. It's a perfect problem solver, whether shoppers are lazy, confused, or just tight for time. Make sure that you're thinking about your customers' needs while pulling together a Black Friday guide.
Then, start marketing it on all of your channels, including:
Social media, of course. Schedule a few themed posts for mini gift guides, showing your followers what kind of Black Friday deals they can get hold of. That way, they can save the posts and come back to them while they're shopping.
Your actual website. Be consistent and create a product tag on your eCommerce site that leads customers to a gift guide. Categorize products so that shoppers can find gifts for everyone on their lists without leaving your store.
Offer up a Sneak Peek
Back in the day, brick and mortar stores would dress their windows in preparation for the Black Friday queues. After all, the term 'window shopping' has very literal origins. So, think like a brick-and-mortar store with your marketing efforts, and show customers what deals they can expect to find during your Black Friday promotion. One great way to give shoppers a sneak peek is with social media posts. You could upload short clips or slideshows on Instagram in the week before you start discounting.
Collaborate with Another Business
There's a great community buzz around small businesses, and it's not all about the competition. Sometimes, another business can really help you out. If you're looking for creative Black Friday campaigns, one of the coolest ideas is to collaborate with another eCommerce retailer that complements your brand. Of course, there's got to be something in it for both of you.
Make sure that the deals you're promoting will add value. Here's how you could collaborate:
Find your perfect pairing. For example, if you sell chocolate, you could work with a local wine store. Mutually agree to offer discount codes at checkout for the other business, or bundle your products to gain exposure to each other's customers.
Work with a service provider to enhance your user experience credentials. Find a local pedal bike courier to deliver purchases with a personal touch, or offer an installation service for items bought during the sales.
Donate to a Charitable Cause
Black Friday is often criticized for being too consumerist. After all, it is a global shopping event generating billions of dollars for retailers. Make your customers feel extra good about their purchases and promise to donate a portion of your sales revenue to a charitable organization. Of course, you have to stay true to your words. Falsifying charitable donations is about as immoral as it gets and will only push shoppers away – the opposite of what you want.
But if you can afford to give some money from your Black Friday sales to a good cause, it's worth doing. Make sure you're marketing your charitable efforts throughout the event.
Provide Incentives to Spend More
Shoppers usually want something in return for spending money with your business, more so than the product that they've purchased. If you want your store to fight for attention amidst all the Black Friday marketing efforts, consider what else you can offer to incentivize your customers. This is a great option if you're looking for alternative ideas to discounting goods. After all, not every small business can afford to be so generous.
You could try:
Offering free shipping with every Black Friday purchase. There's something about free shipping that just draws customers in, so take advantage of it if you can. You could even add in a spend threshold to really boost average order value (AOV).
Presenting customers with a discount on future purchases. As a way of thanking them for buying from your store, you could email Black Friday shoppers a code to use with their next transaction within a certain period.
Launch a Referral Program
When it comes to ideas for growing your customer base, this is arguably one of the most effortless ways. In fact, referrals are the greatest source of eCommerce conversions. A referral program will incentivize your existing customers to tell their friends about your business. Their friend makes a purchase—they get a discount code.
It's a fun way to diversify your Black Friday deals, plus you can leverage the increased attention your site will be getting during the shopping event. You could encourage customers to use their referral discount during the Cyber Weekend only. Or, you can maybe even incentivize them to invite multiple friends with multiple discounts.
Create a Sense of Urgency
One of the most important marketing messages to convey for Black Friday is that the deals you're offering are strictly limited. Customers know they're shopping against the clock, so buy into that sense of urgency with your Black Friday marketing efforts. There's a couple of easy tactics that you can implement during Black Friday to ensure shoppers are ready to spend right away:
Add a countdown timer to your website. On the big day, insert a banner to the top of your landing page showing shoppers how many hours they have left to shop the sales. Make sure everyone knows that when the deals are gone, they're gone for good.
Schedule reminder emails to customers on your mailing list. Take it easy, though – nobody likes the feeling of being harassed by an online business. Consider a lunchtime mail-out to remind shoppers to check out your discounts by the end of the day.
Offer Exclusive Products and Services
Participating in Black Friday doesn't mean you should just add discounts to the products or services you already sell. If you're after some more creative ideas on how to excite and engage your customers, think about what you could offer exclusively for the shopping event.
For example, if you sell digital downloads, maybe you can give all Black Friday purchasers a free user tutorial. Say you sell homewares – could you stock a Cyber Weekend exclusive? Just be aware of local trading laws. Often, you can't immediately launch a product at a discounted price, so don't fall foul of your country's rules.
Release Daily Discounts
This is one of the boldest Black Friday marketing ideas we have. It takes preparation and effort, but daily discounts can be a huge success. Also known as flash sales, the practice of releasing daily deals in the run-up to Black Friday is a great way to encourage impulse purchases and capitalize on extra sales.
You can run each event for a few hours, switching the product or service every day. If you know your site is ready for the influx of demand, remember to:
Create a robust marketing strategy that hits every channel, daily. Announce your flash sales ahead of time, then remember to keep customers engaged as they're happening. Utilize social media, mailing lists, and your website.
Make sure you can fulfill every order and do it in record time. Not only do you have to be confident that your website won't crash, but you also need to check you have enough stock and that you can deliver every item to every customer.
Set Up Scratch Card Deals
Retail is all about surprising and delighting customers. And what better way to do that than with an interactive mystery offer? This roulette-style way of adding extra discounts to individual purchases is a super innovative technique for getting shoppers to stick around a little longer.
You can use tools like BeeLiked to install interactive games to your website, for example, peel-off and scratch card features. It's a fun way of marketing your business during Black Friday when everyone will be fighting for attention. It should also incentivize people to explore your site a little more thoroughly.
Implement Product Bundling
A lot of our purchasing decisions are psychological and influenced by value perception. That's why bundling is such a lucrative tactic for eCommerce retailers. In a nutshell, the business bundles a handful of its products or services into a package and sells that package to customers with either a discount or as a problem-solving solution. Black Friday is the perfect time to implement bundling: the holiday season is approaching, and customers need gift ideas.
Here's what you could do:
Use your mailing list to market product bundles. Remember what we said about email personalization? Put it to good use: segment your customers and start marketing bundles that you think they'd like to buy, based on past purchases.
Create a bundle page on your website. Get ready for Black Friday demand by building a separate page for customers to shop bundles. It'll make life easier for them and you'll be selling more products in each transaction.
Take Advantage of Cross-selling
This is a sales tactic that you could use all year round. That said, cross-selling is an incredible tool to put into action during Black Friday and the Cyber Weekend. Cross-selling is about encouraging customers to buy something that will go with the product they're already about to purchase. It's like selling fries with a burger or gloves with a hat. Typically, the add-on product is cheaper but also useful, so that customers think 'why not?' and throw it in their basket.
Make use of your store's increased popularity during Black Friday and prepare some items to cross-sell with every purchase. Your AOV will go up, and so will customer satisfaction.
Send Out 'Cart Abandoned' Emails
Black Friday marketing doesn't need to end as soon as the big day begins. Some of your efforts will need to continue until your sales have ended. Say your store is suffering from cart abandonment issues. The customer has filled their cart, but they leave your site before making a purchase – disaster? Not so, if you're prepared with a charming email.
Help shoppers re-engage and complete their transaction:
Remind them that the item they want is limited. Be gentle, as they have already abandoned your website. Use simple language or visuals to show that the discount is only live for Black Friday or that quantities are limited.
Sweeten the deal with an extra incentive to spend. If you can afford to do so, bring out all your Black Friday marketing tools and send over an additional discount code. Don't forget to add a time limit to this generous offer.
Install a Chat Function
If you have a team ready to help you out with your Black Friday marketing efforts, this function is a great little add-on service. Think of a live chat feature on your website as the eCommerce answer to store assistants. Your customers will have questions, and the chat function is there to help them. Customers often like to make considered purchases, which isn't exactly possible on Black Friday, particularly if there's a countdown clock piling on the pressure.
By using an app to help answer any immediate queries and direct customers to other products, you'll certainly boost user experience. Just make sure you can handle the demand.
Extend Into Cyber Monday
If you're only thinking of launching sales for Black Friday, consider extending your generosity. Small businesses can make a fortune on Cyber Monday, too. Remember the stats at the top of the page? Last year, Cyber Monday earned online retailers around $9 billion dollars in the US alone. These days, Black Friday and Cyber Monday go hand in hand, so it's well worth monetizing both events if your store can handle the demand.
You could:
Create different events for the different days. Maintain engagement and give customers a reason to revisit your website once Black Friday has ended. You could offer a blanket discount on one day and free shipping on the other.
Spread your promotions over the whole Cyber Weekend. Recap on all the above Black Friday marketing tips and go all out with a four-day discounting extravaganza. Use flash sales to boost excitement while managing your workload.
Set Yourself up for Next Year
There's plenty you can do right now to get ready for this year's Black Friday event. One step that'll really set you apart from the competition, though, is to prepare for next year as well. All you need to do is create a seasonal Black Friday landing page for your website. Shoppers start searching for deals in advance, so it's great to have a space ready for your offers. Plus, you'll want to ace your SEO game in order to show up first in Black Friday searches. Implementing a landing page way ahead of time will get you into a prime position for next year.
The latest tips and news from the industry straight to your inbox!
Join 30,000+ subscribers for exclusive access to our monthly newsletter with insider cloud, hosting and WordPress tips!