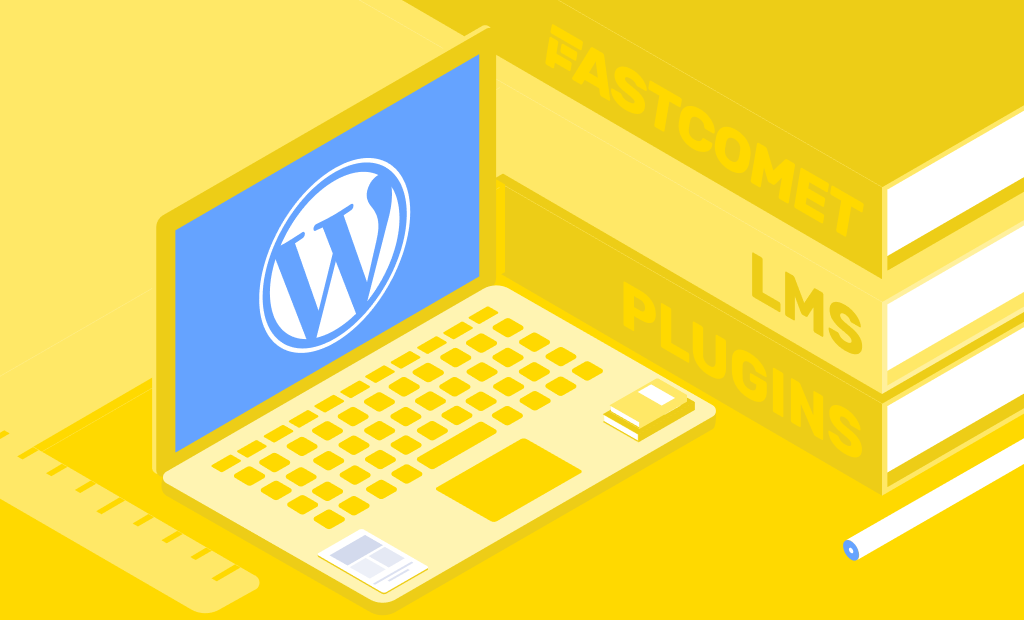 Best WordPress LMS Plugins for Online Courses (Pros and Cons)
The global epidemic has radically altered the way students around the world learn, resulting in unique online education. Online learning is now used at all levels of education and in everyday life. Many people want to learn new skills in a more participatory and practical way. There has been a considerable increase in the usage of language apps, virtual tutoring, video conferencing tools, online learning software, learning how to play a musical instrument, bitcoin classes, and mastering web development.
Learning management systems (LMS) are predicted to reach over $12 billion in market value by 2024, despite the fact that there was already substantial growth and adoption in education technology prior to COVID-19.
As a result, if you're thinking about starting a learning website, now is a wonderful moment to do so. Best of all, there are numerous free and premium WordPress plugins available to make the process go more smoothly.
By installing the free WordPress content management system, and then one of these online course delivery plugins, you can have your own learning platform for a fraction of the price of an enterprise system like LinkedIn Learning, Udemy, or Blackboard, albeit on a much smaller scale.
Or, you can deliver some simpler online courses to your audience, either for free or by charging a one-off or recurring subscription fee.
This article will outline the 8 best WordPress LMS plugins available right now. It will outline the plugin, what it can do, its pros and cons, the cost, and whether it's a good bet or not.
Table of Contents:
What is a Learning Management System
A learning management system (LMS) is a piece of software that serves as a virtual classroom for learners and a central location for administrative tasks. Learning management systems go beyond simply registering users on your website and restricting content. Instead, an LMS provides in-depth online courses, means of communicating with students via forums, comments, and private chats, several monetization options (e.g., one-off courses, memberships, or subscriptions), and a way for you to manage things like payments, enrollment, and more from one dashboard.
A well-developed LMS has the potential to generate a lot of money as you sell your online courses to students. They also come with features that allow you to automate courses, communicate with learners, manage enrollment and payment, and track user activity.
A learning management system plugin helps you add learning-focused features to WordPress to create, deliver, and manage online courses for people. It also comes with features to help you document, track, and report back to students as they progress through your courses.
Learning management systems are very flexible. They offer you the ability to create content, make changes and update information, and manage all your admin tasks from one convenient location. Plus, they make eLearning a cinch for students. All they have to do to access your online courses is log into their account, which is set up on your website.
You can use an LMS plugin for structured learning with elements such as quizzes, assignments, grades, etc. Or, you can use it in a simpler way to deliver text or multimedia lessons to your website's subscribers, which is what a lot of entrepreneurs are doing in 2022.
If you are new to online learning, then it might seem like a membership plugin such as Paid Memberships Pro or MemberPress could handle the functionality required, such as registering users and restricting access to content on your site.
However, LMS plugins have learning-specific features at their disposal that make them ideal for delivering learning and teaching online. In fact, they go above and beyond what a WordPress membership plugin might.
For example, WordPress LMS plugins include features like:
Quizzes;
Conditional course progression;
Student gradebooks;
Lessons;
Module and course structures.
Perhaps best of all, learning management system plugins bring the element of gamification to online learning. In other words, your students will be able to experience game-like features such as point scoring, competition with other students, rules of play, and so much more – all while learning.
So while there is some overlap between the two, they do offer distinctly different functionality.
In some situations, you might even want to pair them together. With some plugins, you can use a membership plugin to handle the membership/payment parts and then an LMS plugin to handle the course content/learning parts. Other LMS plugins include their own built-in membership features, which eliminates the need to use a separate membership plugin.
What Features to Look for in an LMS Plugin
Before we dive into the best eLearning and LMS options for WordPress, here's what you should look for in your solution:
Course Building: you want to be able to create interactive, dynamic, and exciting content for your students. This includes PDFs, videos, and more. Make sure you have access to a solid page builder as well, especially if this is the first time you're creating an online course.
Content Dripping: this feature is great for slowly and progressively releasing course materials to students as they move through your course.
Course Progress Information: your students want to know where they're at in your online courses at all times. So, make sure they can easily access this information.
Student Management: you'll want to know how many students are enrolling in your courses. In addition, you'll want to be able to manage things like memberships, payments, and account access.
Quizzes and Tests: this may seem obvious, but not all LMS plugins will give you the option to quiz and/or test your students. Evaluating how well they've learned and retained your content is a great way to congratulate top students. It's also a good way to determine whether your content is effective or not.
Forum Integration: being able to integrate with forum plugins like bbPress or BuddyPress is helpful for boosting student engagement and interaction. You can even chat with students through these forums.
Payment Gateway Support: finding a payment gateway that integrates with your LMS plugin is important if you want to make money and not lose a lot of profit to excessive fees.
Incentives: being able to reward those doing well, especially in a public way, is a great incentive for your other students to do well too. Things like badges and certificates are better than simple email confirmations because people feel more accomplished with official recognition, especially when they can print it out.
Homework Options: make sure the LMS option you choose gives you a way to assign and grade homework submissions with ease. This will improve the learning experience without adding a lot of stress to you.
Now that you know what to look for in an LMS plugin, let's take a look at the best options in the market today.
What Are the Best WordPress LMS Plugins?
Now that you know what to look for in a WordPress LMS plugin, let's go through our list of our favorite LMS plugins that you can use to set up virtual classrooms.
LearnDash – best value LMS plugin and most heavy-duty education features (like SCORM support).
Tutor LMS – best security and coding practices.
Lifter LMS – best LMS plugin if you need the most features.
WP Courseware – best LMS plugin for quizzes.
Teachable – best SaaS LMS tool to integrate with WordPress.
Master Study LMS – best free LMS plugin.
Sensei LMS – simple LMS plugin from Automattic for WooCommerce users.
Good LMS – low cost premium plugin, best for beginners.
1. LearnDash
The developers of LearnDash have a background in the learning industry. This means that this plugin has been developed based on the experiences and the knowledge that has been gained from working in that sector. This has contributed to the popularity of LearnDash amongst learning and teaching professionals and explains why you are likely to see it in use at many universities.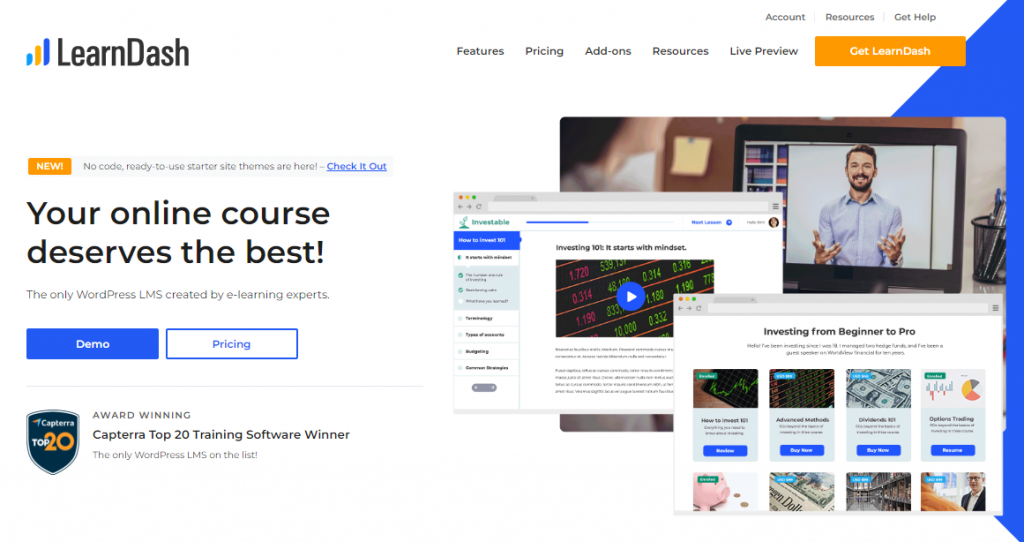 If you're looking for a high-quality and robust eLearning or Learning Management System plugin for WordPress for use in higher education then this is a pedigree option that has been built with industry standards in mind.
That said, even if you're looking for a solution that enables you to deliver less formal educational or training courses online, LearnDash should still be on your list of options.
The features of the plugin allow you to create an unlimited number of lessons, courses, and lesson topics within your WordPress site. You can also create powerful quizzes and award downloadable certificates once a quiz is passed. In addition, you can add a timer to your lessons to prevent students from skipping ahead, let students track their progress, and even take advantage of free and premium add-ons to add extra features to your courses.
Lessons can be made available on a drip-feed basis so you can set it and forget it, allowing new students to get access to the course content in relation to the date they signed up.
If you're planning to use WordPress to offer private and premium courses, LearnDash is a great choice as it has multiple monetization options. For example, you can allow one-time purchases, memberships, and course bundles. The plugin can also now accept recurring payments in the form of a subscription to maximize revenue and give you the freedom to set a custom billing cycle.
For those who are coming from an educational eLearning background, you might be interested to know that LearnDash supports the legacy versions of SCORM in the sense that they can be launched, but not recorded using this plugin. For launching and recording the newest version of SCORM, Tin Can API is required and supported.
LearnDash starts at $159/year for use on one WordPress website. This comes with features like unlimited course creation, users, and 1 year of support and updates. If you need LearnDash on more than one website, there are progressive plans for $189/year and $329/year for use on 10 and 25 websites respectively.
Pros: Developed from an industry background, supports unlimited courses and portable learning resources via Tin Can API, accepts recurring payments and drip-fed content, integrates with Paid Memberships Pro for handling membership functionality
Cons: Might be too feature-packed for those seeking a basic quiz and course delivery solution, no unlimited website license available
2. Tutor LMS
Tutor LMS is one of the most popular WordPress LMS plugins on the market. They have developed an army of 50,000+ eLearning aficionados in a very short time. The frontend course builder, drag-and-drop course creation, certificate builder, and continual development support from the parent company, Themeum, are just a few of the distinctive features.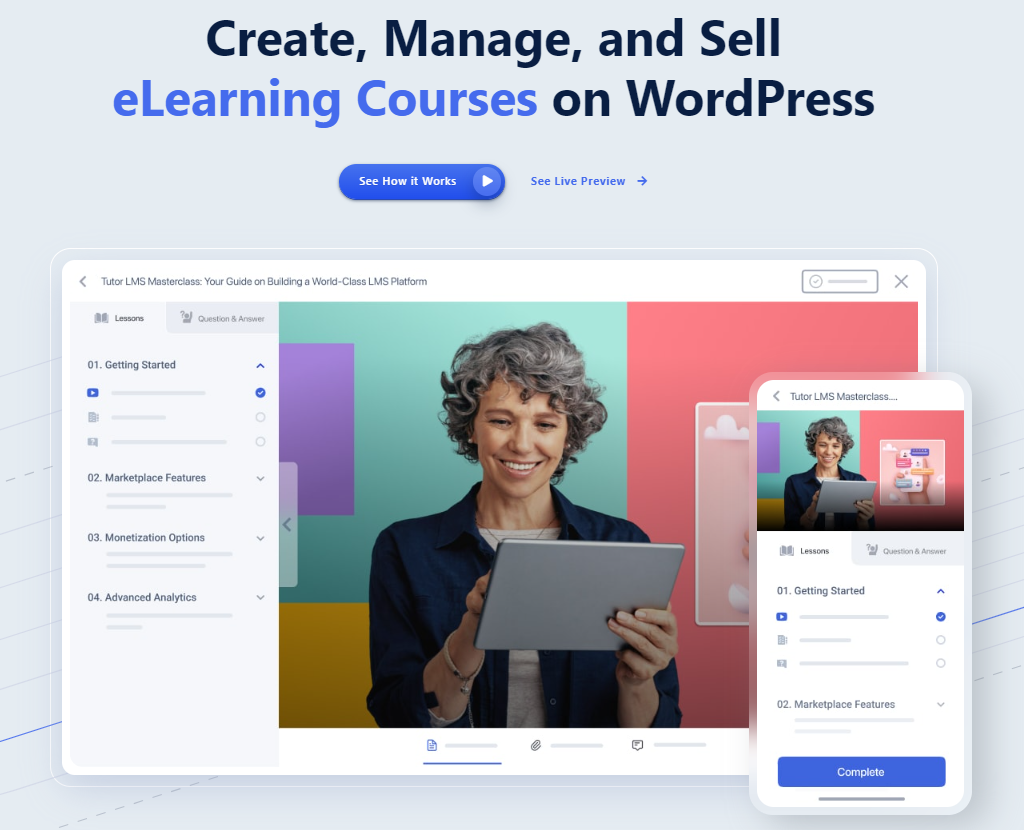 The core plugin is free, however the premium plan for a single-site license starts at $149. It unlocks a slew of premium addons, including Certificates, Course Previews, Multi-Instructor, Frontend Course Builder, Content Drip, and more. You can also utilize Google Classroom for effective communication, Zoom for live video classes, and Elementor for a completely customizable course-building experience.
Tutor LMS also has a safe platform with best coding and security principles. It offers a growing number of connectors with ecommerce plugins, page builder plugins, and other well-known plugins like as GamiPress, BuddyPress, and others.
Key Features in Tutor LMS Plugin
The frontend course builder is included in the Pro edition. This allows a beginner WordPress user to bypass the backend course builder and create courses directly from the website's front end.
Students, instructors, and administrators each have their own frontend dashboard. Depending on the role type, each dashboard displays different settings.
You can produce certificates for your students using Tutor LMS's drag-and-drop certificate builder.
Supports text-only content, audio courses, videos, and Live Classes with Zoom integration for all sorts of course material media.
For innovative and intelligent quizzes, the Quiz Builder has 10+ question kinds.
To improve communication, each course has a Q&A and Student Forum.
Enable or disable fully configurable triggered emails that are sent to your students and instructors in response to occurrences on your Tutor LMS site. You may also use the built-in email template editor to make changes to the emails.
You can use the Tutor LMS Notification add-on to deliver site-wide notifications for events that occur on your LMS site.
Supports ecommerce plugins like WooCommerce, EDD, Restrict Content Pro, and Paid Membership Pro, and covers all monetization schemes.
With support for page builders like Oxygen and Elementor, you may create a fully configurable site.
Both the admin and instructor dashboards will aid in the tracking and monitoring of earnings, as well as providing an overview of their LMS analytics, course data, earnings, statements, and more.
The premium version includes important add-ons such as Certificates, Assignments, and Gradebook.
3. Lifter LMS
LifterLMS is a powerful LMS plugin for WordPress that comes packed with a ton of helpful features. It's simple to set up, even on existing WordPress websites and gives you an easy way to create engaging online courses. It comes with a built-in drag and drop course builder and has the capacity to help you build course complete with audio, video, image, and text-based courses.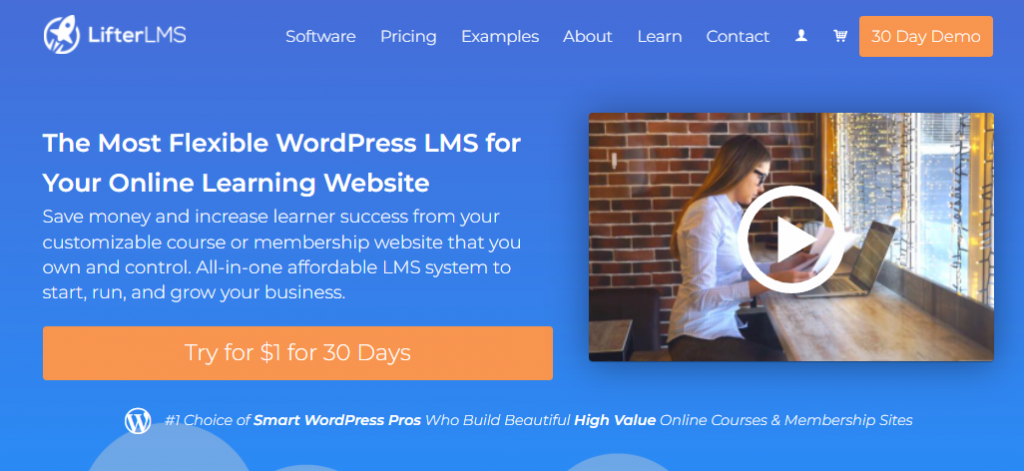 With LifterLMS you can create homework assignments for students to complete, set timers on quizzes while testing their knowledge, and offer downloadable materials for offline learning. You can even assign multiple instructors to each course so students can interact with many experts via forums, lesson comments, timelines, and even private coaching areas.
Perhaps most notable is the fact that LifterLMS integrates seamlessly with WooCommerce, Mailchimp, and AffiliateWP. This means you can easily set up an online shop to complement your online courses, work within your favorite email service provider, and even set up an affiliate program to make more money online.
You can monetize your LMS platform in many ways with LifterLMS. For instance, you can sell site-wide memberships that provide access to all courses, create bundles to boost revenue, and even implement a members-only pricing model so people can make individual course purchases.
The core LifterLMS plugin is available for free at WordPress.org. With just the core plugin alone, you can already create pretty flexible courses. However, you'll need premium add-ons to accept payments and add more advanced learning features, like advanced quizzes and assignments.
For basic courses, you might be able to purchase a single $99 payment integration add-on and call it a day. Otherwise, you'll probably want to go with the $299 Universe Bundle.
Pros: Built-in drag-and-drop course builder, homework assignment capacity, integration with popular services like Mailchimp, offline downloadable materials
Cons: To access payment features you must purchase premium add-ons and the add-ons can get expensive if you need a lot of them
4. WP Courseware
This eLearning plugin for WordPress is brought to you by Fly Plugins and is presented alongside a small selection of premium plugins available for WordPress that cover a range of topics.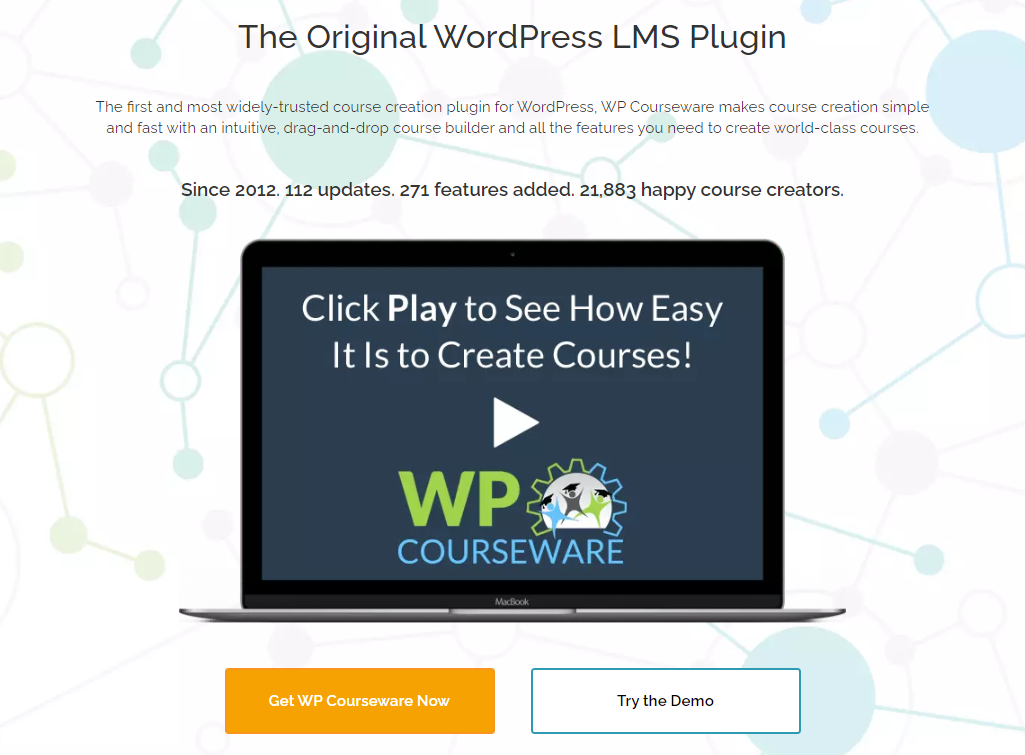 The plugin is well known for its quiz functionality that can be used to allow students to progress through your courses as they pass. Keep in mind, it's possible to make progression independent from quiz completion, should you require this. You can also create advanced quiz types, set timers, and even set retake limits on all quizzes.
WP Courseware also supports modules so your courses can be broken down into smaller parts that build on each other. The interface for organizing modules, courses, and their respective orders is all drag and drop, which makes structuring your learning resources very easy.
Other features of WP Courseware include the ability to publish unlimited courses, modules and lessons, and multimedia lessons. And don't forget the built-in grade books, downloadable certificates, and built-in shopping carts that are compatible with both PayPal and Stripe.
The user management side of things is well taken care of thanks to bulk student enrollment, and student and instructor notifications. In fact, you can send personalized emails to students based on their activity within your courses. On top of that, you can create custom feedback messages that are sent based on a student's score.
The big advantage WP Courseware has over some of the other eLearning plugins out there is that it integrates with a wide range of other plugins, especially WordPress membership plugins. This means whatever your preferred method for managing membership access and working with restricting content, there is a good chance WP Courseware will integrate with it.
WP Courseware is available for use on 2 WordPress websites for $129/year. It comes with 1 year of support and updates.
Pros: Integrates with most of the best membership plugins, ability to create unlimited courses, modules, and lessons, advanced quiz functionality with lots of built-in versatility
Cons: No support for Tin Can API, no unlimited site license available.
5. Teachable
Unlike the other options on this list, Teachable isn't a native WordPress LMS plugin. Instead, it's a standalone SaaS course-building tool that you can combine with WordPress.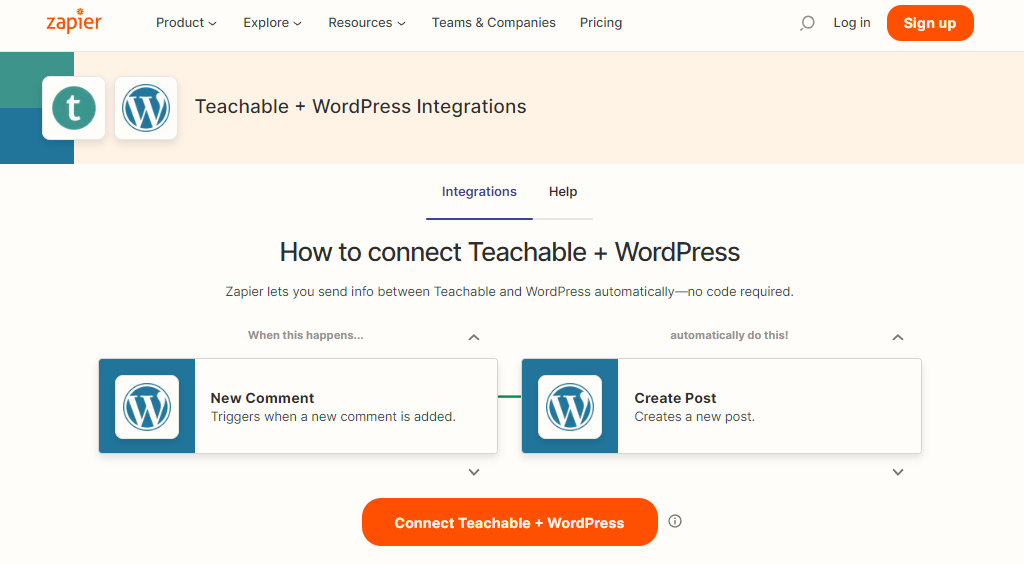 Essentially, you could use WordPress to build all your front-facing content and then have Teachable power the private course content for your learners. You can also link the two together using tools like Zapier.
Or, if you don't need the flexibility of WordPress on the front-end, you could just skip WordPress entirely and go with Teachable for everything – that's a valid alternative, as well.
Teachable is specifically designed to help you launch paid online courses, so all of its tools are aimed towards helping you make more money. It also supports both courses and coaching, which gives you another way to monetize your knowledge with one-on-one coaching.
To that end, there are unique features like:
One-on-one call hosting and booking;
Milestones;
Student success stories;
Flexible pricing options;
Built-in affiliate program support;
Built-in analytics and conversion rates;
Visual sales page designer.
Overall, its a good option if you want to create profit-focused courses and you want the simplest, most hands-off way to do so.
Because it's a SaaS tool, you'll need to pay an ongoing monthly or annual fee to use Teachable, which makes it a good bit more expensive than most native WordPress LMS plugins. There are three different plans ranging from $29 to $249 per month depending on your needs.
Pros: Very good tools to monetize your courses, supports one-on-one coaching, built-in analytics, flexible payment options.
Cons: Not a native WordPress plugin, a bit expensive because of monthly billing.
6. MasterStudy LMS
MasterStudy LMS is a freemium WordPress LMS plugin from StylemixThemes, the same team behind a variety of popular niche WordPress themes (including some education-focused themes that pair well with MasterStudy LMS).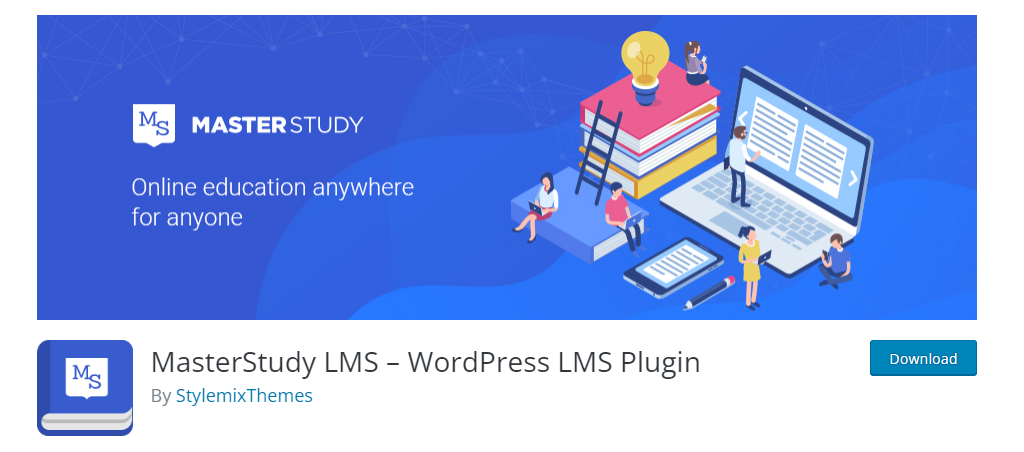 You can use it to offer your own standalone courses. Or, you can also create your own Udemy-like marketplace and feature courses from third-party instructors who can register on your site to create their own courses.
The free version of MasterStudy LMS comes with everything you need to create basic courses on WordPress including:
Unlimited courses and lessons.
Quiz builder and quiz features like countdown timers, retakes, randomization, and more.
Shortcodes for popular pages, like a course list, instructor list, etc.
Video lesson support.
One-time or recurring payments.
The premium version adds advanced features to offer paid courses and/or enhance your course marketplace including:
Front-end course building (great for your instructors).
Advanced payment integrations (Stripe, PayPal, and WooCommerce).
Lesson live streaming.
Gradebooks.
Course bundles.
Content dripping.
Zoom integration.
Instructor commissions and payouts.
The paid version is quite affordable, starting at just $54.99 for a one-year license or $149 for a lifetime license.
7. Sensei LMS
Sensei is an eLearning solution from Automattic that's designed to pair well with WooCommerce. You can use it by itself for free courses, but you'll need WooCommerce if you want to charge for access to your lessons.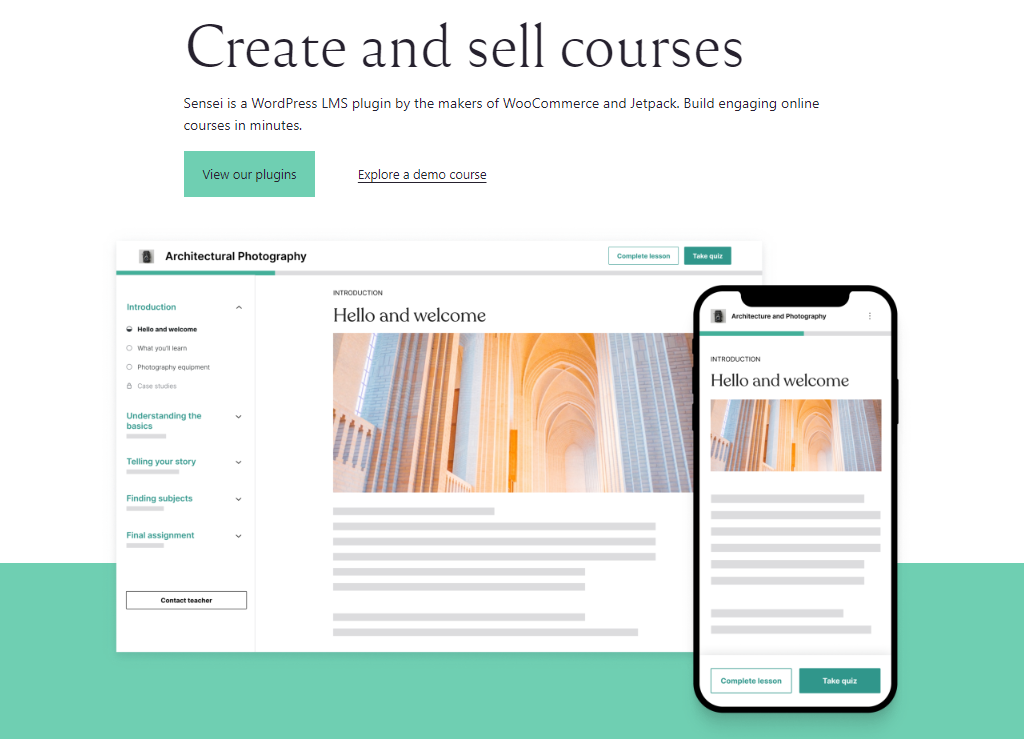 Since WooCommerce and Sensei come from the same stable, they can easily be used together to offer an online course or training and also manage the payment process for registering new participants. In fact, course creation isn't much different than creating a post or page in WordPress, making it super simple to use even for beginners.
This integration between the two plugins makes it easy for you to offer a range of courses and have them available via an online storefront.
Potential students can then shop for the course they want and make the purchase directly on your site using the shopping cart and checkout functionality of WooCommerce.
You can charge students on a subscription or one-off basis, making monetization a little more flexible than some LMS options for WordPress.
However, you'll need the $129 WooCommerce Paid Courses add-on to sell courses, as well as the $199 WooCommerce Subscriptions plugin if you want to have automatic recurring payments.
As for the eLearning capabilities of Sensei, it features all you would expect, such as courses, lessons, and quizzes. The quizzes display randomly based on a bank of questions and answers you set prior to launching them. Plus, you can set quiz grading to automatic or manual based on how much time you want to put in as an educator.
Course progression can be tied to success in the quizzes or not, it's up to you. If you don't want to sell access to your courses, you can simply enable user self-registration with the Sensei learning management plugin for WordPress. This functionality uses the existing WordPress user registration process so it's not another system you need to learn.
There is also course analytics on offer so you can track the progress of your students and see how users are interacting with your learning material. Sensei will work with your preferred WordPress theme, meaning you don't ever have to worry about hiring a professional developer to help you make your online courses look and function right.
Sensei used to be a premium WordPress LMS plugin. However, the team at WooCommerce recently released the core version for free at WordPress.org. However, if you want to sell your online courses, you'll have to invest in the WooCommerce Paid Courses plugin, which runs $129/year for 1 year of updates and support.
Pros: Seamlessly integrates with WooCommerce for selling access to courses, sustainable support model, uses native WordPress UI, extensions available for adding extra functionality
Cons: No support for SCORM, more expensive than other options if you need to offer paid courses, especially if you need recurring payments.
8. Good LMS
Good LMS is the only functional WordPress LMS plugin on the CodeCanyon marketplace, and it costs $31. It's odd that this is the case, yet there are dozens of plugins available for other WordPress categories. Despite the fact that the $31 charge only covers support and updates for a year, the one-time payment keeps you in control of the plugin's functionalities.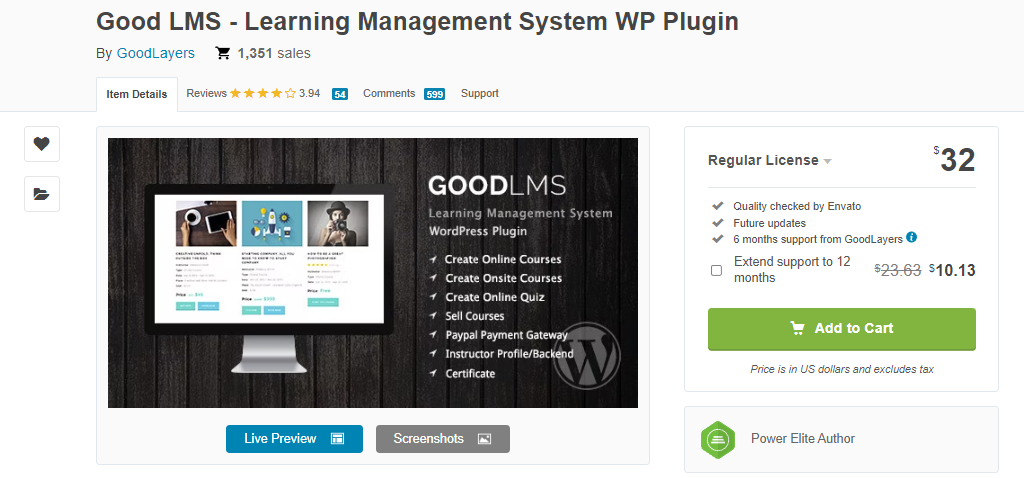 Good LMS provides capabilities for developing courses, selling them, and integrating quizzes and certificates, as do most good WordPress LMS plugins. Several samples (student backend, instructor backend, transaction backend) are available on the CodeCanyon page to give you a flavor of what to expect.
The design process is similar to that of a standard WordPress blog article, with quizzes, courses, and certificates created directly from the WordPress dashboard. Setting a commission rate for an instructor helps you to manage the people that work on your team, and the course process meter provides a wonderful glimpse into student successes. Good LMS appears to be a good solution for individuals who want to create a course marketplace because course ratings are also available.
Key Features in Good LMS Plugin
A good learning management system (LMS) allows you to create a simple course marketplace (similar to Udemy) with course ratings and instructor commission settings.
The WordPress LMS plugin is much less expensive than comparable premium suites.
Change the quiz settings so that all students can take the quizzes several times.
The student backend, where users can also obtain progress data, reveals course badges and certificates.
A simple promo code generator makes it easy to create and publish codes in order to attract additional pupils.
Because a good LMS mainly relies on the WordPress interface, typical WordPress users won't have to learn new design approaches.
WordPress LMS and Performance
Performance, which includes load speeds and uptime, is one of the most crucial aspects of a successful WordPress LMS site. Multiple users will attempt to access your courses or videos at any given moment, indicating that concurrent users are more than on conventional sites.
The single most significant factor affecting the performance of your LMS site is your hosting provider. When determining which hosting to use, you will encounter three different server types: shared, dedicated, and cloud.
Your server resources will be shared with other apps on a shared server. A dedicated server, on the other hand, means that your resources are not shared. Cloud servers are virtual servers that provide dedicated resources to your application.
Shared servers might save you money but they're not suitable for growth. Yes, they can scale, but with a limit. Your concurrent users will increase as your LMS site grows. A shared environment is not secure enoughand incapable of handling large queries.
Managed Cloud VPS Plans, on the other hand, are cost-effective strong servers that also come with full technical assistance. They're scalable, which means you can scale up your server resources as needed by upgrading to a more powerful plan. VPS servers in the cloud are built for speed, which means they have high uptime. They also give optimal performance for your LMS store because they are distributed over a virtual network.
Quick load times will improve the user experience of your online courses. FastComet Hosting helps you save time, and money, and improve the performance of your website. Check out our plans or speak with a sales representative to find the ideal plan for you.
Conclusion
We hope our guide helped you find the right learning management solution for your site. You may also want to see our comparison of the best WordPress membership plugins and top WordPress landing page plugins.
Have you built an online course using any of the above WordPress LMS plugins? If so, what made it such a great solution for you? We'd love to hear all about it in the comments below!
The latest tips and news from the industry straight to your inbox!
Join 30,000+ subscribers for exclusive access to our monthly newsletter with insider cloud, hosting and WordPress tips!