Configuring ownCloud
Updated on May 5, 2016
In ownCloud you will be able to configure some extra features that can make your user experience more enjoyable.
To start off, open the ownCloud desktop client and click on the General section. There are 3 general settings:
Launch on System Startup - With this you can decide whether or not the ownCloud Desktop Client will launch at system startup.
Show Desktop Notifications - If enabled, you will receive notifications about your sync activity.
Use Monochrome Icons - Enabling this will make the icons for ownClpoud less obstructive.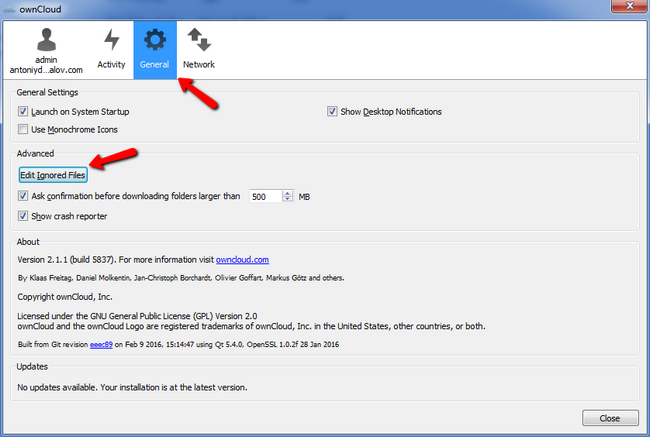 If you have local files which you do not want to sync with the server you can exclude them by using the Ignored Files Editor.
The editor is populated by default with a list of the most common ignore patterns. Aside from that you can also create custom patterns suitable to your needs. However, due note that custom patterns are not automatically checked for syntactical errors, and if the synchronization does not work as intended after such changes the issue is most likely in your syntax.
Additionally you can decide the minimum size of a folder that will require your user input before being downloaded. You can also see a detailed crash report if something goes wrong if you check the last available box.