Having your domain name hosted where you have your website will make it easier to manage it as you will not have to log in to a different user area. You can also use the domain name as a Private DNS or set it up with Google Apps. We will also send you an email when your domain is close to expiration to avoid any downtime due to missed domain renewal.
Special Offer
Once the domain name transfer is completed you can take advantage of our special offer. We will renew your domain for one year free of charge.
The domain name transfer takes between 2 and 10 business days and before you start the domain transfer from GoDaddy to FastComet you have to make sure that the following apply:
The domain name to be transferred should be in ok or active status (check domain status codes)
You should have access to the domain's administrative email address.
Your domain name should have access to the domain's EPP/Authorization code.
The domain name must be at least 60-day old.
The domain name must not have an active ID protection service.
Lock Period
If the domain name is still under the 60 day lock period you can still point the domain name to the account DNS and use it that way until the lock period is over.
To unlock your domain, log into your GoDaddy account and make sure you have List View enabled, as shown below.



Next to Domains, click Manage.

Here you have to select the domains you wish to unlock and click on the Lock icon.

Then you have to select the OFF radio button and then click on SAVE
Once you have the domain name unlocked you can get the domain EPP/Authorization code.
Log in to your GoDaddy account
Next to Domains, click Manage
Select the domain for which you need an Auth Code
Click Email my code in the Authorization Code field, it is located at the bottom of the page
Confirm the information displayed is correct and click Send
If Whois Privacy Protection service for the domain is enabled, you will also need to disable it.
Login to your GoDaddy account
Next to Domains, click Manage
Click Manage under the Privacy column next to the relevant domain name

Click the Remove Privacy link, then select Yes, Remove Privacy.
You can also speed up the transfer after it has been requested by using the steps below:
Log in to your Account Manager
Next to Domains, click Manage
From the Domains menu, select Transfers
Click on Pending Transfers Out and select the domain name(s) you are transferring out of GoDaddy
Select Accept and click OK. The request will be processed within 15 minutes
DNS Settings
It is also important that you are using the correct DNS settings for the domain, as DNS, Whois, contact details can't be changed.
Now you can proceed with the transfer of your domain name by login to your Client Area and click on the Domain Transfer link under the Domains section in your Client Area.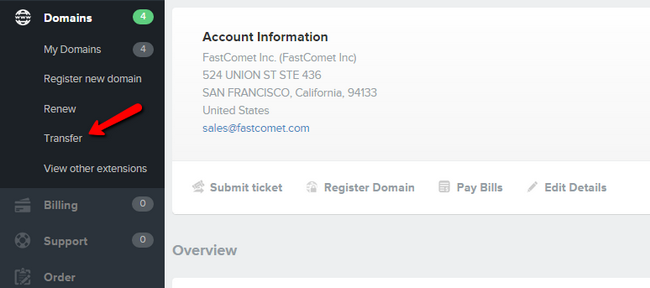 Input your domain and select your domain extension to check if the domain transfer is available for your domain. If you do not find your extension in the list, contact our technical support for additional information via your client area get support section.

If your domain is available for transfer, click on the Add to Cart button to proceed.

Next, you will be asked to input the name servers for your domain. Be advised that these name servers will be set after your domain transfer is complete. During the transfer, your domain will not be modified by our registrar.
Complete the checkout process to submit your order. If all requirements for the successful domain transfer are met you should receive your domain transfer confirmation email shortly.
Note
GoDaddy may send you emails that ask you to cancel the transfer and to leave the domain name with them. Most of the cases you can simply ignore them.