WordPress widgets can be very useful. They let you add content to your WordPress site outside of the post or page body. That encourages all users to get information, follow links, and take action. In this post, we will explain everything you need to know about WordPress widgets.
This post includes:
Widgets are small blocks of functionality that can be placed in your WordPress sidebars (also known as widget-ready-areas). This is a simple way for beginners to add galleries, quotes, popular posts, Facebook-like boxes, and other dynamic items to their WordPress site.
Widgets can be found on the Appearance → Widgets page in your WordPress admin area.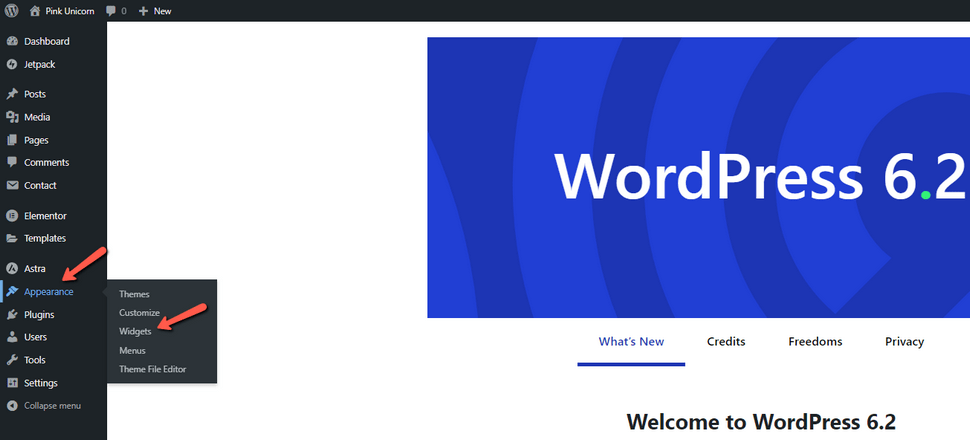 The widgets that you can add are listed under the list of available widgets.
You can find the designated areas on your WordPress site where you can place these widgets on the right hand side. These designated areas are defined by your WordPress theme. Sidebars or widget-ready areas are what they're called.
If you don't see the widget you're looking for, it's very likely that it can be added with a plugin (more on this later).
WordPress themes include all of the essential elements required for a fully functional website, but different users may require additional features to meet the site's unique needs. To that end, WordPress provides a plethora of free plugins and widgets that can be added or removed as the goals and structure of a site change.
Almost every WordPress theme includes some widget options for your blog or other parts of your site, though the options vary from theme to theme, and some themes, such as those designed for a single-page site, do not include them at all. In general, you can expect to have access to a gallery of pre-configured widgets that you can customize via your theme's WP Administration dashboard or theme customizer.
These small blocks of content can be placed in a variety of places on the site, such as a sidebar, header, or footer, and appear on every page and post. Widget presets can be customized individually and moved from one available location to another using drag and drop, and unused or inactive widgets can be saved for later use if necessary.
To enable a widget, go to the site's dashboard and click Appearance Widgets. This displays the widgets panel, which includes options such as a menu, calendar, tag cloud, and text. Simply click and drag a widget to its desired location, then click and drag again to reorder widgets in that space. Your theme may also include an Add Widget button and a Reorder option. Simply drag an existing widget back to the Inactive Widgets space to use later or not at all.
Active widgets can be customized by clicking the down arrow next to their name, which opens a menu of widget-specific options. Users can change the parameters of a widget, add a title, or insert new content. When you save your changes, WordPress updates the page to include the new widget and its updated content. Widgets can be edited, deleted, or added at any time during the life of a site.
The preinstalled widget selection includes a reasonably diverse set of widgets for common tasks. However, other types of widget content can be added from the plugin directory that comes with every WordPress installation or from a variety of external sources to create a custom widget.
The Text widget is an open widget that can be used to add text like a blog author bio or site information, but it can also contain content like video and images, as well as external links, buttons, and shortcodes for features like image galleries and slideshows.
To add content to a Text widget, activate the widget by moving it to the desired location. Click the down arrow to edit the widget. In the text box that appears, type or paste in any text-based content, or insert links or shortcodes for other kinds of content. Click Save, and the resulting content is displayed on the site's pages and posts. The Text widget can be used as often as needed to add different kinds of content in any widget location.
Although almost all WordPress themes include widgets, they are not all implemented in the same way. For example, a theme may be designed so that a specific widget area is not available, or it may include additional widget areas that other themes do not. Because WordPress makes switching themes simple, whether from its theme directory or from third-party developers, a website owner may test out several themes in search of the best one to represent a brand or a service.
In this case, changing WordPress themes can have an impact on the number of widgets available for display as well as how those widgets are configured. While the standard WordPress widgets may still be available, they may need to be rearranged to accommodate the structure of the new theme. Because inactive widgets can still be used in the widgets panel, they can be moved to the new theme's sidebar or other areas.
WordPress widgets enhance a WordPress website's functionality. WordPress allows you to add an Instagram widget to highlight your social media, design a widget for displaying your most recent blog posts through a slider, or create a custom widget specific to your site's needs. Widgets are yet another versatile, free tool for personalizing your WordPress site, with drag-and-drop management and a plethora of options.
Final Thoughts
WordPress widgets are a great way to give your visitors more functionality on your WordPress site. Widgets can be easily managed from the WordPress Admin Dashboard in both the latest and previous versions of WordPress.