Private DNS nameservers are fully white-label DNS servers. If you need to create nameservers for your domain name, you can define your own hostnames using a domain you have registered through us. Private nameservers (or Private DNS) are nameservers that don't reflect your hosting provider, but rather your own domain name.
This post contents:
What Are the Private DNS Server Addresses?
When you purchase a hosting account from any provider, you upload your files to their server and then you direct your domain name to it. They give you their name servers and you should set your domain name to point to. The default nameservers for your account have the following structure:
ns1.servername.tld
ns2.servername.tld
Private nameservers (or Private DNS) are nameservers that are associated with a particular domain name, as opposed to being associated with the default ones of FastComet. Using a Private DNS you can have name servers that look like this:
ns1.yourdomainname.tld
ns2.yourdomainname.tld
Benefits of Having Private DNS Servers
Having private nameservers could be useful if you intend to maintain anonymity between your online business and us, as your hosting provider, or to utilize hosting by reselling our Cloud VPS or Dedicated CPU server plans.
In case you simply want to brand your business, the feature will give you a more professional look if someone attempts to review your domain and where it points to. Also, when using Private DNS, if a domain name is migrated to another server, there is no need to change any nameservers and the domain names will automatically point to the new location.
Get Free Private DNS Servers with FastComet
The Private/Personal DNS extra feature is available for free for FastCloud Plus and FastCloud Extra FastComet customers. There are some simple requirements to get your free private nameservers with FastComet:
Your domain name has to be registered via FastComet;
You need to be either on our FastCloud Plus or FastCloud Extra Plan;
Some TLDs may have nameservers registration peculiarities;
Please contact our support and we will help you with the registration of your custom DNS servers. Simply submit a ticket to our technical support team. To do so, use the section Domain/DNS Support: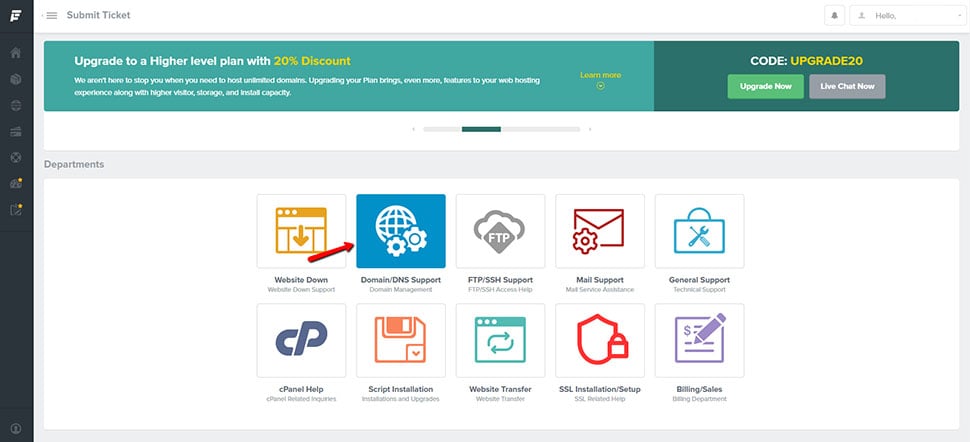 What to Expect After the Setup
Like most name server changes, it will take up to 24 to 48 hours (sometimes quicker) for this change to propagate and function. This delay applies to all domains with any registrar, not just FastComet.
Conclusion
А Private DNS does look very professional. Having nameservers named after your website gives the impression that you are a big deal, one of those people that have their own servers, or even data centers.