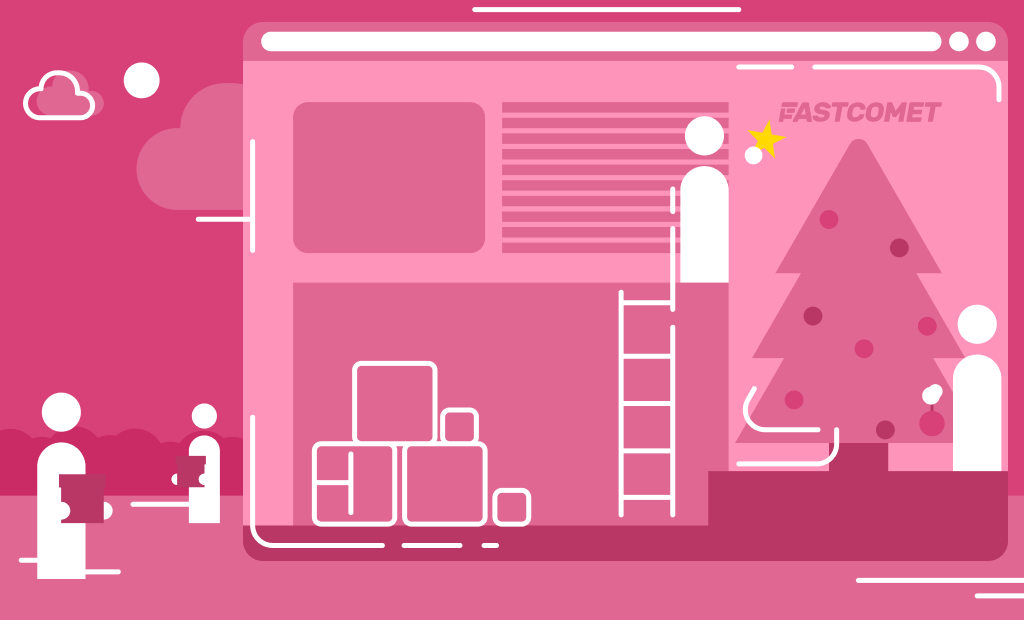 Prepare your Website for the Holiday Shopping Season
It may still feel like it's summer in your region, but the facts are undeniable — you need to get your website ready for the most significant sales of the year: Black Friday and Cyber Monday. Not to mention, there is also the Christmas and Thanksgiving shopping season. It's never early to plan for the most wonderful time of the year. So, if you have an online shop, go ahead and start thinking about the holiday shopping season already!
Ranking in Google is not something you do overnight, and that is why it's never too early to start. Remember, the end of the year is approaching rapidly. Don't forget Black Friday (25 November) and Cyber Monday (27 November) are kicking off this year's holiday shopping season. You can set up a lot of content for all occasions.
eCommerce sales reached $10.84 billion last year, making it the biggest Cyber Monday shopping day on record.
You can do a lot to prepare your eCommerce store for the holiday shopping blitz, and the sooner you start, the better. Read on to get tips on website speed optimization and find out how to prepare your website for holiday traffic.
Table of Contents:
Holiday Shopping is Still Different in 2022
As with everything in 2022, the holiday shopping season will be different. The past two years, we've seen COVID-19 spread across the planet, and — while it looks better in many places — it might still take some time for things to return to 'normal.' As such, it's hard to predict what will happen exactly, making it hard to plan for.
Microsoft shared some insights on what they expect customers to focus on during Black Friday 2022:
Shoppers will start early this year.
Alternative payments and delivery methods will be in demand.
Sustainability will be a trend.
Advertising competition will be high.
The volume of shoppers purchasing online this year will be high. There are plenty of opportunities for businesses to gain new customers and audiences during this vital time. By ensuring that you're highlighting the right messages at the right time in the right places, you'll be ahead of the pack when shoppers are ready to buy.
Online is Where It's At
While shops are open in most places, most of your audience will be content with shopping online. Last year, online shopping reached new heights — and that trend isn't slowing down any time soon. So, prepare for a holiday shopping season that'll be an online event for many.
This year, there's a big chance that most retailers will continue to offer the best deals online. There's a perfect reason for this; shops want to prevent vast gatherings of people hunting for that one exclusive deal. Of course, in-store or curbside pick-up will prove popular.
So, if you don't need people to come to your store on a specific day, why not extend the online deals for a few days? Don't be surprised when the holiday shopping season starts well before Black Friday and continues for weeks. This makes sense because if you want to get those people to your stores, spreading these over a more extended period would be good.
If anything, remember that shoppers will do most of their shopping online or prepare for that. In any case, it isn't getting any easier!
Start Preparing in Time
Bear in mind that it takes a while for content to rank. So, take that into account. A safe amount of time that's often suggested is 45 days. Of course, you can always start preparing earlier, but to keep up with the competition, try to get your content in gear at least 45 days ahead. Dive into the data you amassed during previous Black Friday events and see if you can come up with improvements to make. Once you're on track, your schedule could look like this:
45 Days in advance – Post your promotion to your website calendar and post a save-the-date post on social media and in your email newsletter).
7 Days in advance – Post upcoming events/promotions on social media and via email. Encourage other (small) businesses to share it with their followers.
1 Day in advance – Post a reminder event post on social media.
Keeping these steps and time frames in mind is a good rule of thumb, but you can do much more in setting up new pages and renewing old ones. Let's look at a few practical tips.
Importance of Website Speed
Page speed refers to how fast the content of your website loads up and how quickly users can see and interact with the content.
Page speed optimization is essential for a good user experience and crucial for e-commerce sales. When the website traffic is increased, a poorly optimized website will slow down, and just a handful of customers will have the patience to stick with you when there are so many other eCommerce websites to explore.
The correlation between website performance and conversion rate (the rate at which users complete a desired action) is measurable. The quicker a page loads, the more likely it is for a visitor to perform an action, e.g., click on a product.
Ideally, you want your website to load in a blink of an eye, which means you have half a second. Anything longer than 2 seconds will end up in lost sales.
40% of consumers will wait only three seconds before abandoning a site.
Website speed is something you can test and fix yourself. The first step for your website's performance optimization is a speed test.
Assess your Website Speed
When optimizing your website for the holidays, a website speed test is one of the most important things you can do.
To check how your store's website performs and where you need improvements, use optimization tools such as Google's Page Speed Tool or WebPageTest.
These scores are important because Google considers page speed when ranking them. Here are a few examples of general things you can do to improve your stats:
Avoid massive website changes.
Remove or compress heavy photo and video files on your website.
Uninstall the plugins you're not using.
Distribute the traffic load to multiple servers by using Content Delivery Network (CDN) or a load balancer.
Enable browser caching.
Another big part of page load optimization is checking your website for updates to ensure an optimal user experience on all devices.
Set up Holiday Season Gift Pages
First, we must consider what category or particular landing pages make sense for the upcoming holidays. You can always set up pages like 'Best gifts for fathers/girls/teens,' 'Newest deals for your 6/10/12-year-old', and 'Best mom/friend/grandparents discounts.' You can even think along the lines of 'Top 10 gifts for outdoor/skiing/parasailing enthusiasts' and 'Top 3 deals for stay-at-home moms/dads/etcetera.'
Make sure these gift landing– or category pages, the page title, and the meta description fit the upcoming holiday season. You can reuse these gift pages for Valentine's Day and your summer sale. Find (old) content that fits the holidays, rewrite titles and meta descriptions to match the upcoming season, and chances are you won't have to do that much work to update them. Be sure to write proper product descriptions and improve the product images. Learn how to write great product descriptions using our product-specific analysis in WooCommerce SEO.
To increase the chances of your gift pages ranking, boost their internal linking structure. You can also link the previous all-year holiday season pages, such as specific Christmas landing pages ('Top 7/10/25 gifts for under the Christmas Tree'), to boost these when the time has come. That could be around the 45-day mark, but we wouldn't mind stretching that to 60 days. There has to be enough time for Google and other search engines to follow your links and find your specific holiday season landing pages in time.
Promote on Social Media and in Your Newsletter
Social media like Twitter and Pinterest — though this is technically a visual search engine — can play a massive role in the success of your (online) holiday sale. Take Pinterest, for instance. Raise your hand if you or your spouse has a Pinterest wish list. Many people have that. If you get the right products on people's wish lists, that can positively impact your sales.
While you're at it, don't forget to share your holiday season gifts pages on Facebook and Instagram as well. In the previous section, we've mentioned the top 10 lists. We all know these still work pretty well on social media.
Similarly, we'd recommend setting up holiday gift guides and sharing these. Create an excellent overview of all kinds of gifts for many people. ELLE has a page like that, and so do more companies.
Last but not least, don't forget your email marketing! For many companies, newsletters provide a steady stream of income. Be sure to plan a good campaign for your newsletters.
Introduce New Products
The holiday season is an excellent time to pitch new products. Start writing content about these products now if you know of potential best-sellers for the upcoming holiday season. Think about how tech sites write about concept iPhones, features that Apple might add, and things like that. The more you write about new products upfront, the more likely the sales pages for these products will rank when it matters. It would be best to link all pages you made in advance to that one main page you'll set up when the product is released and available to buy. Treat that page like cornerstone content.
Stock up on Inventory and Launch the Updates
Look at your sales trends from the year before (or if you just launched your store, analyze recent sales) to predict which products will be prevalent during the holiday season. Stock up on your inventory or contact a third-party service to source your products. This will give you a clear picture of your product stock levels.
With print-on-demand drop shippers like Printful, you don't have to worry about inventory or shipping—we got that covered! As a Printful customer, you get regular updates about items going out of stock or being discontinued and suggestions for product alternatives.
If you're planning on introducing an update to your website, such as a website layout change, do it now (preferably before late October), or postpone it until after the holidays. Any significant changes to your store during the period of increased traffic can cause unexpected technical problems.
Give a Warm Welcome to Mobile Shoppers
Optimizing your website for mobile users is a big part of preparing your website for a large number of visitors.
Mobile commerce (or mCommerce) is growing, and mobile sales are projected to reach $3.56 trillion in the US by the end of 2022.
In 2020, mobile holiday sales reached $3.6 billion, making up 40% of online spending on Black Friday, and 37% of digital sales on Cyber Monday were made on mobile devices.
This means only one thing for online store owners—adjusting to customer shopping habits to sell more.
Start by ensuring your website is mobile-friendly (you can test it with Google's Mobile-Friendly Test). Mobile users need to see more compact information presented in an easy-to-read format. After that, you can improve your mobile customer experience by doing the following:
Use responsive website design
Optimize page load time
Adjust font and button sizes
Enable mobile payments
Adjust mobile pop-up sizes
By designing your website's mobile version first, you ensure your user experience is smooth on any device. Minding functionality, the desktop website is where you can add a little more content and decorations.
Keep your Website's Layout the Same
It's good to keep things fresh, but changing your website's layout right before the holidays isn't the best idea—people like consistency, especially in finding products and placing orders. Any drastic change in these processes may cause customer frustration or unexpected technical glitches.
Instead of redesigning your website, focus on presenting your holiday deals in a familiar yet exciting way to your customers. Here are a few ideas you can use in your marketing:
Create a holiday-specific landing page with all your best deals in one place.
Put together gift-specific categories, like "gift ideas for dad."
Add holiday banners to product pages.
Use promo bars or pop-ups to showcase special deals.
Give yourself time to test the fresh additions to your website. They shouldn't just be pretty but functional, too.
Do the promotional images lead your customers to the products they want?
Consider a different strategy if your website decorations are random and don't add any real value (e.g., highlights a product that's on sale or leads a customer to a new product offer).
Optimize Images
Ecommerce store visitors expect to see lots of images when shopping online. Shoppers have become voracious visual readers; if they see slow-loading pages, they're packing up.
In turn, search engines will notice slow-loading visuals and rank down the entire website, favoring those that offer a better experience. Optimizing page images is one of the best practices for speeding up your website.
Examine Your Website's Image Sizes
Any image over 500KB is going to affect page speed. If your image files are too big, it's best to compress them. Online tools such as JPEG Optimizer or TinyPNG will either remove some of the image pixels or squeeze them together to optimize the file size.
If you're working on your eCommerce website, we recommend keeping your image file size below 70KB.
Help Search Engines Understand What Your Images Are About
You must consider two things: your image file names and alt texts.
The file name is used to identify a computer file (for example, "readme.txt"). You can see an image file name when you download it. Creating keyword-rich file names is crucial for image optimization because search engines will use them to understand the image content.
Alt text helps search engines to understand image content. Vision-impaired technology also uses Alt text to read out loud what's happening in the image.
Another factor that affects your website's speed just as much as image optimization is your software additions that add specific features to your website.
Review Your Plugins
Plugins are ordinary and necessary components for every website, and they're fantastic helpers for expanding your site with additional features. They can increase an eCommerce website's conversion rate, reduce abandoned carts, and create a better customer experience.
However, the more plugins you install, the more they'll weigh down your website. One complex action plugin can lose you half a second (or more) of loading time and even cause security issues. Check what plugins you currently have and remove the ones that generate many database queries, scripts, and styles. Delete plugins that slow you down and no longer serve you. Those you leave should be up to date for optimal performance, and they should serve as essential additions that help your website run smoothly.
Optimize Your Checkout Process
Your holiday marketing campaigns are up and running, your products are ready, and you have customers visiting your store. But can they buy your products without a hitch?
28% of online customers say their main reason for leaving is the confusing checkout process.
The checkout process in your store should be simple and intuitive. The best way to check it is to go through it yourself. Look out for anything that slows your customer down.
If you have a single-page checkout, ensure the form isn't cluttered and every field you ask your customers to fill is necessary rather than "good to know." The advice also applies to a multi-page checkout process.
Note: Add a progress indicator at the top of the page to let the shopper know how far along they are. This can help lower the number of abandoned carts.
Be Ready to Answer Customers' Questions
With more visitors to your website, you can expect more customer inquiries. To get ahead, place the most important content where it's easily noticeable, so your customers don't have to contact you for support.
Make your content understandable and helpful:
Write informative product descriptions;
Describe what your company offers;
Add calls to action;
Put together clear store policies;
Create an FAQ section.
And in case your visitors can't find the answers on your website, make it easy for them to reach out to you:
Create a Contact Us page;
Use live chat or enable chatbot;
Include social media handles in the footer in case the customer prefers communicating via direct messages.
Pro tip: Instead of handling customer questions sporadically, block out a specific time in your calendar and take questions all at once. This will boost your productivity and reduce stress.
Add Structured Data to Your Product Pages
When adding or changing your product pages to fit the season, don't forget to optimize them. Check, for instance, whether you've added structured data to your product pages. Because rich results for products in the search results, showing ratings and prices, can give you an edge over your competitor. Our WooCommerce SEO plugin or Local SEO plugin can help you do this.
Reuse Content
There's no shame in serving old wine in a new bottle. If you have a Black Friday guide for 2021, feel free to reuse that in 2022. Update the year, and update details like popular brands and popular products for that year. If the slug of your URL is /black-friday-guide-2021/, change that to /black-friday-guide-2022/ and redirect the old URL to the new one. No need to create a new page. It would be a waste of excellent inbound links not to reuse that old URL. Of course, this is even easier if you don't include the year in the URL, so /black-friday-guide/ is also an excellent slug.
In the months before the holiday season, you could even repost popular posts from last year on social media. Valentine's Day might become Secret Santa. Cyber Monday might match daddy's favorites for Christmas. Add 'this Christmas' to a meta description or title.
Create a Measurement Plan
All set? Don't forget to set a measurement plan so you can analyze your success. Write down all your goals and think about how to track and measure the results of all your actions. This is key if you want to know what to focus on next year. For detailed instructions on analyzing your Black Friday, Cyber Monday, or Christmas shopping, read our post with five tips to measure your holiday sales success.
Create a Backup Plan
It's better to be safe than sorry. Think of all the problems that might occur during the holidays and devise multiple plans to tackle any issues that could come your way.
What will you do if your server crashes? How will you handle a data hack?
Make sure you have your entire team on board, especially during the Black Friday and Cyber Monday weekend. You must be ready to act fast before any issue can cause serious trouble.
Conclusion
To conclude, now is the time to buckle down, write holiday gift pages and content on new products, and plan your social media promotion and analytics. It's never too early when your online business depends on that holiday season.
Feel free to use the comment section and share your experiences from previous years. You can also add some helpful tips we may have missed.
The latest tips and news from the industry straight to your inbox!
Join 30,000+ subscribers for exclusive access to our monthly newsletter with insider cloud, hosting and WordPress tips!