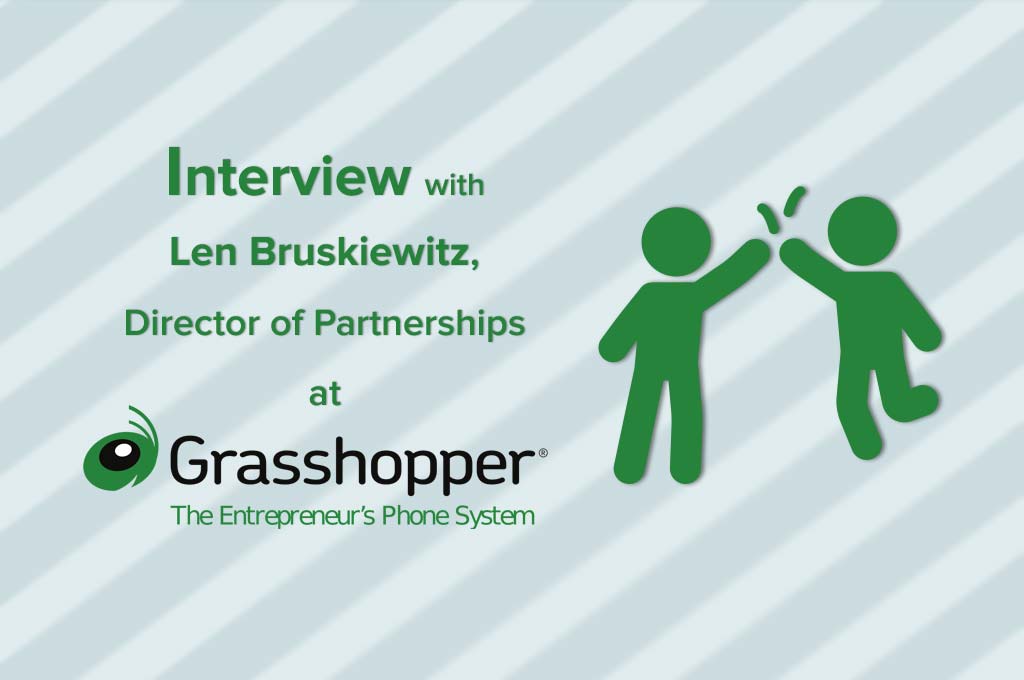 Interview: Len Bruskiewitz, Director of Partnerships at Grasshopper
Last week we announced our partnership with the great guys from Grasshopper. During our preliminary talks, we had the pleasure of speaking with Len Bruskiewitz, Director of Partnerships at Grasshopper and asked him a few questions about their company. Here is a short part of our conversation.
The Interview
FastComet: Thank you for giving us the opportunity to talk with you today. Please introduce yourself to our readers.
Len: My name is Len Bruskiewitz and I am the Director of Partnerships at Grasshopper, which means I cultivate relationships with companies that recommend our services to their customers. Prior to joining the company last year, I led business development/partner efforts at Constant Contact and Intuit. As you may guess from my background, I am passionate about helping small businesses/entrepreneurs to be more successful.
FastComet: How would you explain Grasshopper services to a non-tech-savvy person?
We help them sound big by giving them a toll-free or local phone number, letting them record a company greeting and set up extensions.
Len: Grasshopper helps companies sound more professional and be accessible from anywhere using only their mobile phones. We help them sound big by giving them a toll-free or local phone number, letting them record a company greeting and set up extensions. Each extension can then forward to any phone in the world. Grasshopper also helps a small business person keep their work and personal life separate by announcing calls to the business number when they come in and showing their Grasshopper number as the Caller ID on outbound calls.
FastComet: Grasshopper has been in business since 2003, can you tell us a little bit more about your early days as a true startup?
Len: The company was started by two entrepreneurs (David Hauser & Siamak Taghaddos) while they were students at Babson College. The idea for a virtual phone service came out of their need to run existing businesses while they were in school. They wanted the features of a big company phone system (greetings, extensions, call forwarding) but on a startup budget. After winning Babson's business plan competition, they launched the company and acquired customers via web advertising and word of mouth referrals. Since the company took no outside funding, the business had to be profitable from the start and it has continued to be that way over 10 years later.
FastComet: It is really great to see companies like Grasshopper focusing on entrepreneurs. What type of companies can benefit from your service? Do you work with freelancers and self-employed entrepreneurs as well?
Len: We design the service to be easy-to-use and a great fit for companies from 1-25 employees. It attracts single person companies who work from home offices, "virtual" companies who have employees throughout the country/world as well as more traditional office-based firms. Grasshopper is a fit for small businesses and entrepreneurs in just about any industry – we see tech start-ups, consultants, service-based businesses, professional offices and many more who benefit from our service.
FastComet: Which are the most distinguished features that set you apart from other companies in your niche?
Len: Although not technically features, the ease of set up and customization are big reasons our customers value our service. Many of them get their account set up and ready to take calls in 15 minutes or less. Customers also appreciate our voicemail and fax to email capabilities. When someone leaves a voicemail for our customers, Grasshopper converts it to an audio file and emails it. Grasshopper can even transcribe the voicemail to text and include it along with the audio file.
FastComet: Tell us a little bit more about your iPhone mobile app, I am sure it is a big thing among entrepreneurs who are always on the move.
Len: You are correct, this is a great app for anyone who wants to look and sound professional, no matter where they are. One of the main features of the app (which is also available for Android) is the ability to make calls showing your Grasshopper Caller ID rather than your personal mobile number. Customers can look like they are making business calls even if they are at home, in their car or on the beach. If a customer has more than one Grasshopper phone number, they can even choose which number to show as the outbound Caller ID. Additionally, customers can listen to voicemails and view faxes via the app.
FastComet: As a technical person I couldn't help myself asking about your customer service and technical support. What level of support do you offer?
Len: Grasshopper offers free phone and email support on a 7 X 24 basis with US-based representatives. We also have an extensive searchable knowledgebase for customers looking for self-service options. What customers like about our support is that our representatives are knowledgeable, helpful and willing to stay on a case until it is completely resolved.
FastComet: Well, thank you very much for your time today. We wish you all the best.
Get Your Grasshopper Discount with FastComet
As a result of our partnership with Grasshopper, all FastComet customers can take advantage of $75 upfront discount upon signing up with Grasshopper and have their very own toll free number. We hope this strategic partnership will give our customers' business a competitive advantage and a new way to be closer to their customers. Just contact our customer service representatives and request your $75 discount to get your local or toll-free number and phone system with Grasshopper.
The latest tips and news from the industry straight to your inbox!
Join 30,000+ subscribers for exclusive access to our monthly newsletter with insider cloud, hosting and WordPress tips!