How to Password Protect a Directory to Prevent Public Access
Updated on Aug 6, 2021
You can password protect a folder in the following steps:
Access your cPanel account
Choose Password Protect Directories icon from the Security section
On this page you will see a list of your current folders, choose the folder that you would like to be shared and password protected.
Check the Password protect this directory checkbox
Set a name for the password protected directory
Now you should create a user that will be granted with access to the protected directory. This can be performed from the settings on the same page.
Set username from the Username field
Set password from the New Password field, please note that you can use the Password Generator button for generating a random Very Strong password
Confirm the already set password in "Confirm Password" field
From Strength (Why?) field you can check the strength of your password
Finally, press the Add Or Modify The Authorized User button to finish the creating of a user
Now we need to access File Manager again from cPanel but this time from Files section.
Select the directory you would like to share and click with right mouse button and select change permissions you should set them like to 744 as you can see from the screenshot: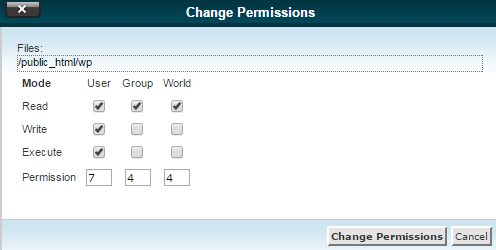 After these steps are completed you can share the URL of the protected folder along with the username and password for access. We can assure you that the steps listed above are exactly what you need and you will be able to place the required restrictions to the FTP user you have just created.
We hope you find this article useful. Discover more about FastCloud - the top-rated Hosting Solutions for personal and small business websites in four consecutive years by the HostAdvice Community!