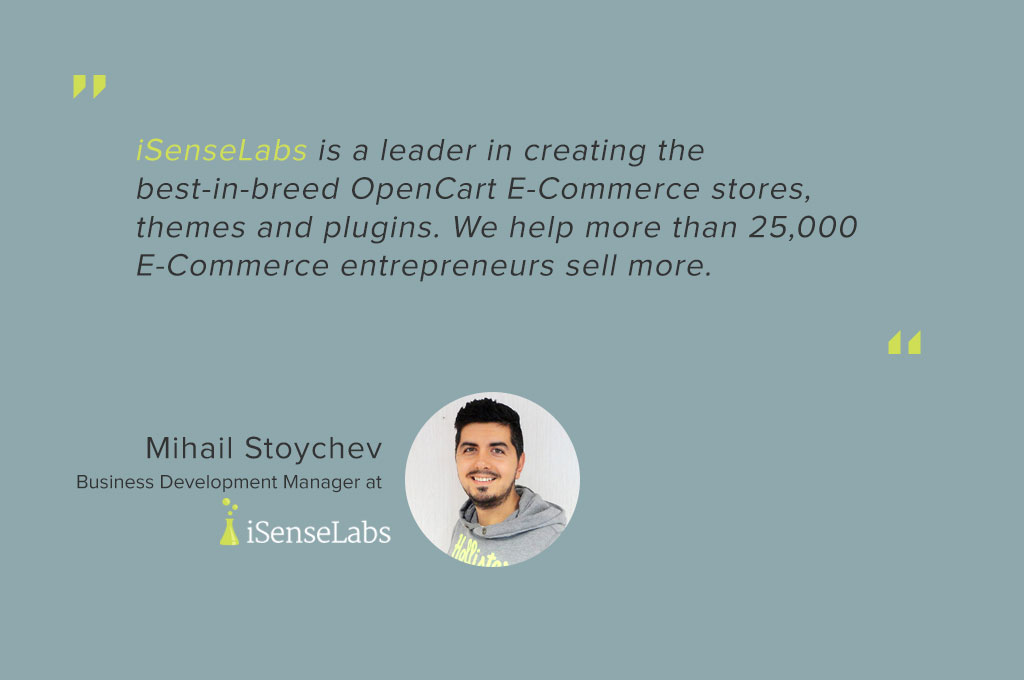 Interview: Mihail Stoychev, Business Development Manager at iSenseLabs
Recently, we announced our partnership with the amazing team from iSenseLabs. We had the pleasure to speak with Mihail Stoychev, Business Development Manager at iSenseLabs and ask him a few questions about the company, work processes, and his team.
Interview with Mihail Stoychev
FastComet: Thank you for giving us the opportunity to talk to you today. Please introduce yourself to our readers.
We help more than 25,000 E-Commerce entrepreneurs sell more.
Mihail Stoychev: Hi, my name is Mihail Stoychev and I am a co-founder of iSenseLabs. iSenseLabs is a leader in creating the best-in-breed OpenCart E-Commerce stores, themes and plugins. We help more than 25,000 E-Commerce entrepreneurs sell more. No matter if you are a seasoned E-Commerce veteran, just getting started or looking to give your store an edge, we can offer solutions that increase revenue, customer base, sign-ups, customer experience, usability you name it.
FastComet: Could you tell us more about iSenseLabs' early days and growth?
Mihail Stoychev: We started by implementing our first extension for OpenCart back in 2012. Four years later, we have implemented 100+ extensions. With 25,000+ customers, we are the biggest OpenCart premium software vendor. During this time we have financed our activities with organic growth.
FastComet: How is your team so efficient and fast when working on so many different products?
Mihail Stoychev: We keep things simple and straight-to-the-point. We use Scrum and Agile methods. Knowledge sharing is recognized and awarded in our team.
FastComet: How are your products different from all of the other extensions on the market?
Mihail Stoychev: We develop software products for OpenCart, which is an open-source E-Commerce platform. Back when I was doing my studies in Harvard, I was taking a Product Innovation class. We had a business case discussing the competitive advantage of one of the biggest IT companies – Infosys. Long story short, the lesson there was that competitors can copy your outlook, products and everything else, however, they can't copy the level of service you are providing. Despite being proud of all the marketing efforts we put in order to differentiate our products, the code quality, I believe that our secret sauce is the customer service.
FastComet: What are the advantages of the platform for which you develop?
Mihail Stoychev: OpenCart is probably the #1 free open-source E-Commerce platform. At this stage, OpenCart is offered 100% free of charge. The code behind it is open-source which means anyone can take a look at it before downloading. I believe more and more companies in the future, will go to open-source projects. They have low yearly maintenance costs, are very easy to start and also offer a great arsenal of extras (modules and themes). OpenCart is also very affordable and almost anything offered for sale is a fraction of what you pay for other E-Commerce platforms. In terms of our products, we always prefer to keep things simple. Clean and intuitive interface, rock solid coding, rapid improvement & new version release cycle, and most of all – great support.

FastComet: What are your key strengths and why are you better than the competition?
Mihail Stoychev: I believe we are better than the others because we are very open about everything. We always ask customers how we can improve and be better. We also have coding seminars that help us keep our coding standards high. Last, but certainly not least, we have a great team and a huge portion of our success is thanks to them.
FastComet: What is your preferred hosting choice and why?
Mihail Stoychev: Whenever we have a customer who is unhappy with their hosting or is still in the searching phase, we always recommend FastComet. They have a worldwide network of servers which guarantees a fast load time from any part of the world. Not only this but they can help you with the transfer of your site, provide unlimited round the clock Priority Support, free themes and how to guides. What's more, we feel like their price for quality is unbeatable. To sum up, FastComet delivers. Period.
FastComet: Tell us a bit more about the community surrounding your products and what actions have you taken to expand it and make it better.
People feel part of something bigger and are willing to donate their time and efforts for a better tomorrow.
Mihail Stoychev: The best thing about open-source is the community around it. If you do a quick search for one of the fast growing E-Commerce platforms Shopify, and let's say OpenCart or WordPress you would see that while Shopify has a great number of stores, their communities are relatively smaller. It is like everyone is focusing only on running their own business and there is no actual conversation happening among the members. This is where open-source stands strong. People feel part of something bigger and are willing to donate their time and efforts for a better tomorrow. Very allegorically said, but I really believe in this.
As far as what is our fingerprint on the OpenCart community:
Created a U.S. community across social media where members are able to share their success stories, issues and ask for advice
We promoted and created a Bulgarian community in the OpenCart forum
Promoted OpenCart as a platform by writing numerous free how-to-tutorials
Created 20+ Free OpenCart modules that save time and solve problems for everyday users
Created 3 Free eBooks featuring tutorials
Contributed to the OpenCart GitHub project
Wrote a substantial portion of the OpenCart Documentation
Final Words
One relatively new thing that we are working on now is a series of video tutorials targeted at just-starting users, which will show just how easy it is to start your free E-Commerce store using OpenCart.
Thank you very much for this interview and the time invested in answering our questions. We wish you all the best and are glad that we are now partnered with iSenseLabs.
The latest tips and news from the industry straight to your inbox!
Join 30,000+ subscribers for exclusive access to our monthly newsletter with insider cloud, hosting and WordPress tips!