While you can create brand new static pages with FastComet Website Builder, choosing a theme first and then editing the pre-existing pages of the theme can prove to be much better in visualizing your website's layout from the get-go. This will also make it easier for you to get into editing pages with the Builder if you are new to website builders in general.
To start building, you will first need to log in to your cPanel account and navigate to Software → FastComet Website Builder.

Or directly choose a theme from the theme slider located a few rows below. Note that this slider will only have the hottest themes showing. For a list of all 350+ themes check the Themes section from the admin panel inside the Website Builder.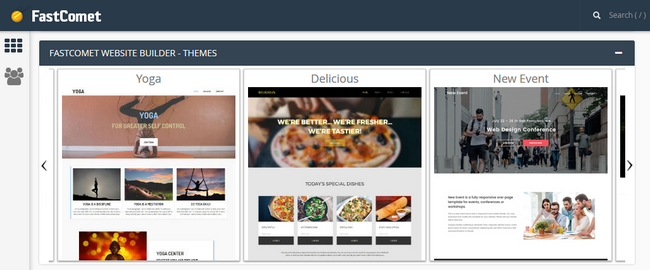 Once you have chosen a theme you will be able to either preview a demo to familiarize yourself with the entirety of the theme and user experience or directly activate it for your website.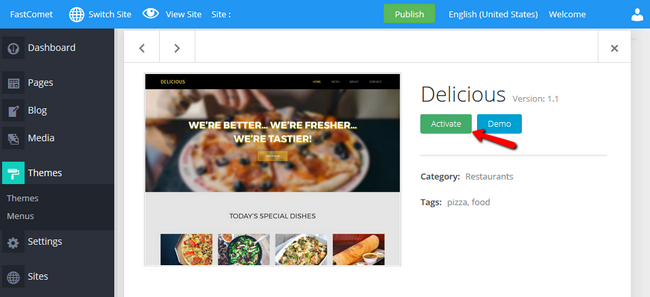 Once the loading has completed, you will be moved to the editable Home page (or in our case menu page) of your new website, presented with all of the widgets and even provided with additional tips and steps on what you can do with the interface.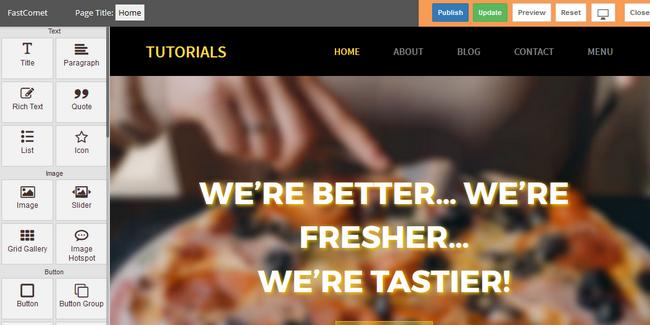 As you see, you still don't even have an URL for your website, but this can easily be added by changing the settings from your website's dashboard inside the Website Builder.
Default website
Note that if this is your first time opening our Website Builder, you will get the theme activated on the now default website. This is something like a placeholder that cannot be removed as it is the base that connects your cPanel and the Website Builder. However, you will still be able to edit the content, titles, and settings, just not remove the placeholder from your Builder's dashboard.
Due to its big variety of themes, you will most likely be able to find a theme for your website that already covers most or all elements of your vision for what the website should look like. In the next tutorials, we will learn more about editing pages, using widgets and publishing the changes.