Adding menus to your site will help your users navigate through the content more easily and is a must especially considering the visitors using mobile devices. While in some applications you need additional plugins or have to go through several hoops in order to add menus, in our Website Builder the same can be done in a matter of minutes.
To start it off, please log in to your cPanel account and locate the FastComet Website Builder icon. If you are not sure how to get in cPanel, please visit our "How to access cPanel" tutorial.

In most cases, you will want your main navigation menu in the header of your website. However, removing the header entirely and adding the menu at the top of the home page is also an option. For more information on how to edit pages and remove elements from them visit our Pages tutorial.
Once you have decided where you want your menu to be you can choose a few different ways in making it. If you want a more simplistic looking menu, you can create one using the Icons element. Simply Drag and Drop the Icon widget to the location on which you want the menu to be located as many times as needed.

As we are refurbishing our "Delicious" menu in this example, the last icon we add is going to resemble a contact page for our contact form. The color is also the same as our Title sitting in the left corner and goes nicely with the overall color scheme of the theme. We will set the alignment to the left so we only need to fix the right side by dragging the ending element line.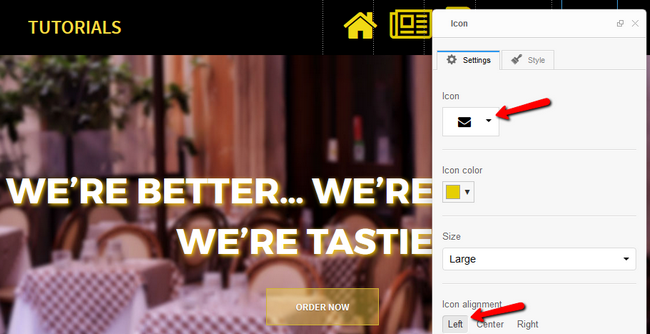 Scroll down in the widget settings to add the actual page to the icon by clicking on the Link option.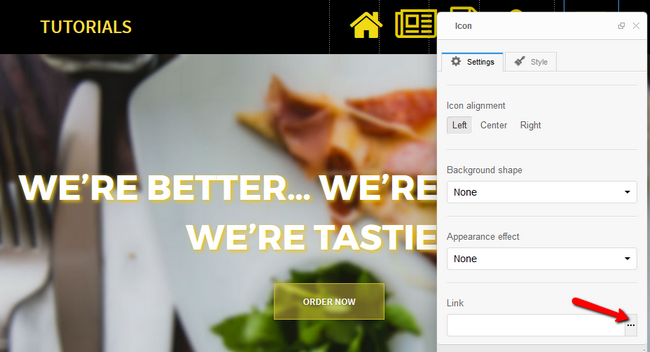 Instead of changing the URL field at the top, you can select directly the page from your pages list as long as you have it created inside the Website Builder. We will select the Contact page and click on the Add Link button.
Here is the end result of our menu building using the icon widget. You can see that each page is represented by an appropriate pictogram making it easy to convey the role of the page.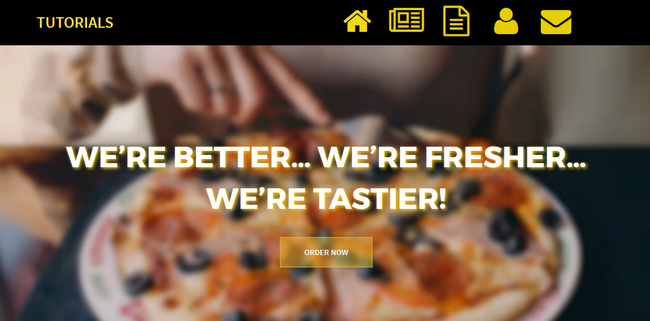 You can easily go back to the traditional menu by selecting the Primary menu widget which will re-populate the area of the menu with the one pre-defined for your theme. By the same example of using the icon widget, you can try to build a menu using buttons or other elements provided by the Builder.