For the sake of best graphical representation for different aspects of the Web Hosting Service, we are providing an in-house built tool called Observer and available into the Client Area. With it we strive to provide our users with the most current Data regarding their hosting plans' resource utilization. It has a built-in notification system which will protect your business by issuing on time warnings regarding resourse usage which can be detremental for your account's performance. The Observer Monitoring System be reached by clicking on the "Gauge" icon available in the left vertical Menu.
Once there the customer will be presented with a Card View of all the web hosting packages he/she have with us. In the lower right corner of every package, with blue text, there is the Script Executions amount percentage.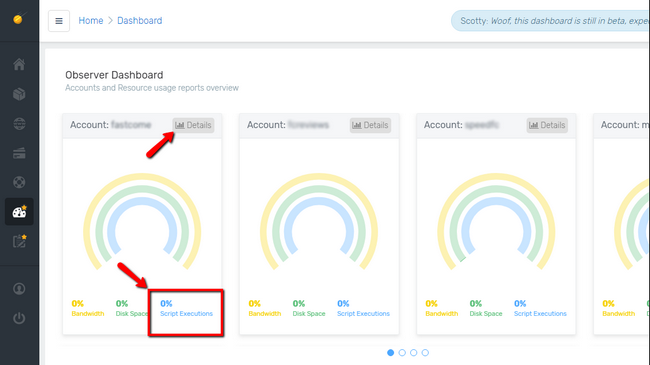 Please note that the percentage here is generated when comparing the current Script Executions and the total Amount of Script Executions per month depending on the Web Hosting Package. To receive a better understanding of the executed Scripts, the customer should click on the Details button at the top of every card.
This will redirect to the Account Summary page where there will be a precise graphical representation of the utilized Bandwidth, Disk Usage, Inodes Usage and of course the Script Executions.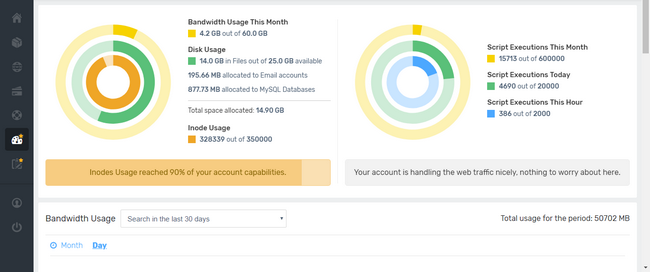 For more detailed information on that matter, however, the customer will need to scroll down until he/she reaches the Script Executions Section. It offers quite a good Column Chart representation of the structured data gathered based upon the Script Executions for the web hosting package.

At the top left corner of the chart we are providing different tools so the data can be filtered based upon certain period of time and in the right corner, the customer can check the total amount of Script Executions for the selected period of time.
Slightly below the Script Executions column chart, our customers are also provided with a table view of the most executed scripts. The table contains two columns - PHP File and Executions which respectively provide information for the absolute path to the executed script and of course the number of Executions it has been logged for.

In the upper left corner of the table, our customers can choose whether to see the scripts sorted based on their Number or based on the actual Time when the execution occurred.

The table can be sorted either by the PHP File name or by the number of Executions. In the upper right corner of the table, our customers are also provided with Search functionality which will allow for the search of concrete script and finally with an option to Show predefined amount of entries in the table.